Try to buy assets at a discount rather than earnings. Earnings can change dramatically in a short time. Usually, assets change slowly. One has to know much more about a company if one buys earnings. - Walter Schloss
Introduction
Taking a break from writing about natural gas equities, which I will return my focus too shortly, and taking a break from the U.S. election drama, I wanted to focus on U.S. Steel (NYSE:X), as rising global steel prices are providing both a catalyst and a tailwind that are not fully incorporated into U.S. Steel's current share price.
This hidden reflationary narrative, which seemed to be dying on the vine last week in the wake of an apparently gridlocked U.S. government, received a substantial boost on Monday, Nov. 9, 2020, as the Pfizer (PFE) BioNTech (BNTX) positive vaccine news jump started a historic capital rotation day in the markets.
This historic capital rotation is something I have alluded to, and written about frequently, and it now appears to be in sight, with a couple of more hurdles to pass until we get there, including a recent surge in COVID-19 cases. With each positive data point on the treatment front, with another upcoming vaccine update from Moderna (MRNA) on the horizon, investors should start looking forward to a historic capital rotation from the in-favor growth stocks to the out-of-favor value and cyclical stocks.
There are interesting bounce back recovery candidates in REITs, including Simon Property Group (SPG), which I wrote about here, in directly impacted sectors like travel, which I wrote about here with Boeing (BA), yet the heart of the upcoming value opportunity is going to be in the out-of-favor cyclical stocks, including energy equities, and basic material stocks.
Notably, there have been strong price recoveries in a number of these equities already in 2020. However, from a bigger picture perspective, these price moves are most likely just getting started. Personally, I think that's the case with U.S. Steel, a stock that really should never be an buy-and-hold equity, yet its shares are materially below its early 2018 highs, and that gap is the recovery potential in a best-case scenario.
U.S. Steel Performance Year-To-Date In 2020
It has been a roller coaster year for many equities, and commodity equities have had an amplified up and down ride, yet as a broader group they appear to be turning the corner.
However, U.S. Steel shares remain down year-to-date in 2020, even after a strong bounce from their March 2020 lows.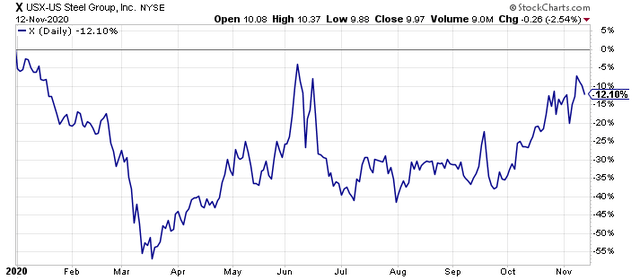 (Source: Author, StockCharts.com)
Compared to the S&P 500 Index, as measured by the SPDR S&P 500 ETF (SPY), and steel peers Nucor (NUE), Steel Dynamics (STLD), which I have worked with directly in a previous career financial analyst position, and Cleveland Cliffs (CLF), U.S. Steel shares have underperformed year-to-date in 2020.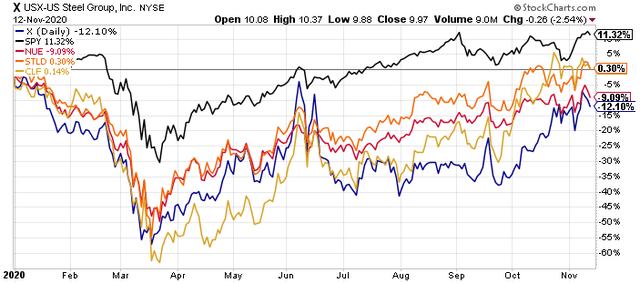 (Source: Author, StockCharts.com)
Many analysts question U.S. Steel's positioning in a consolidated market, particularly with the acquisition moves Cleveland-Cliffsmade in 2020, acquiring AK Steel, and acquiring the U.S. operations of global steel giant ArcelorMittal (MT). Despite the skepticism, this consolidation is a positive, from my perspective, as U.S. supply/demand will be better balanced with fewer market participants.
Rising Steel Prices Are A Real-Time Catalyst
Right on cue, or perhaps a bit of luck with timing, steel price have indeed surged higher, following this consolidation activity, with a notable rise the past six weeks.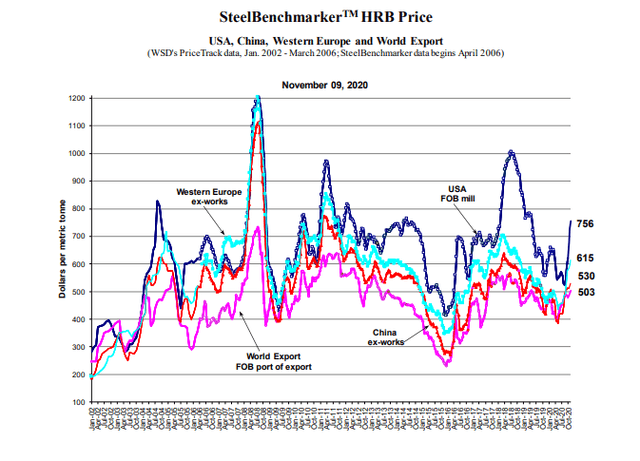 (Source: SteelBenchmarker)
Even though U.S. Steel's third quarter earnings came in better than expected, particularly on the EBITDA front (vs. previous guidance), and they raised EBITDA guidance for the fourth quarter of 2020, analysts are still behind the curve with their earnings estimates, given what has happened to steel prices over the past six weeks.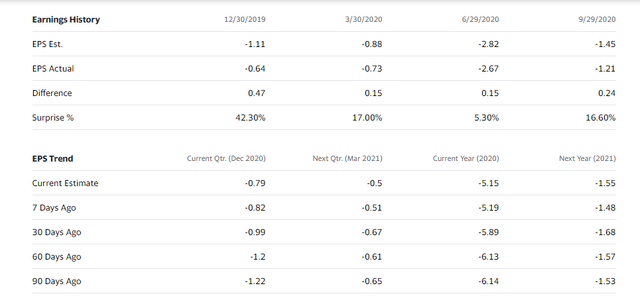 (Source: Yahoo Finance)
Looking at the earnings per share estimates above, look for these estimates to rise materially in the weeks ahead, as rising steel prices positively impact operating margins. Thus, the already expected improvement from 2020's results into 2021 will be even stronger than anticipated right now, as rising steel prices and rising margins get incorporated into the sell-side analyst forecasts.
Looking Back To 2016 and 2018 For Perspective
It seems like a decade ago, however, early in 2018, U.S. Steel was poised to earn $6 per share in 2018, and earnings had the potential to rise going forward with newly enacted steel tariffs.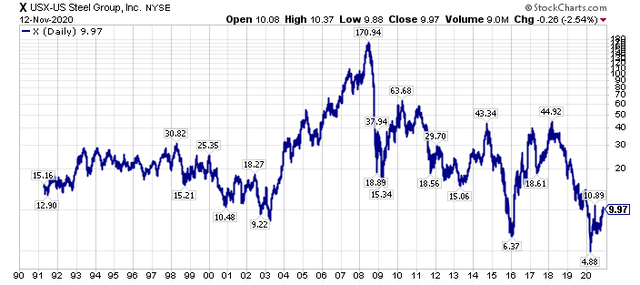 (Source: Author, StockCharts.com)
Clearly, things did not work out as planned, with U.S. Steel shares falling from their highs around $45 all the way back below even their late 2015/early 2016 lows. If you recall, at that time, I wrote an article on U.S. Steel titled, "U.S. Steel: Too Cheap To Ignore," and U.S. Steel shares ending up being one of our biggest winners in The Contrarian, during 2016, surging from around $7 at their lows to near $40 per at their highs.
Could history repeat itself in 2020, with a phoenix rise from the ashes like 2016?
In my opinion, yes, as if you look closely at the chart of steel prices, shown earlier, and shown again below, they actually made materially higher lows in this bottoming process, than they did in late 2015/early 2016.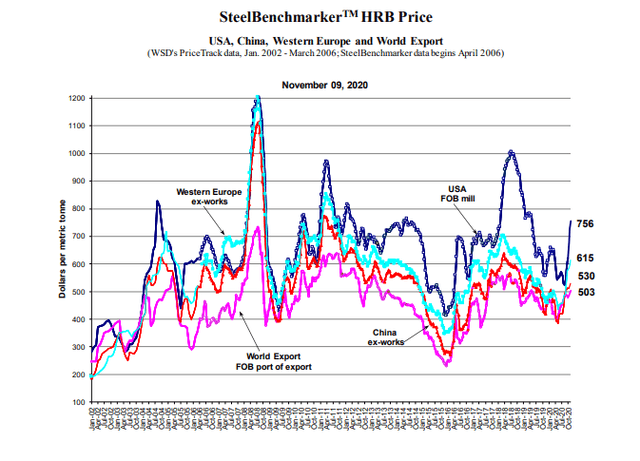 (Source: SteelBenchmarker)
Higher steel prices today, combined with a much better balance sheet than U.S. Steel had in late 2015 and early 2016 (the company has $1.7 billion in available liquidity today against a market capitalization of roughly $2.2 billion and an enterprise value of roughly $5.4 billion, yet they were near tapped out at the end of 2015) could lead to a similar, or better, share price outcome.
Closing Thoughts - A Historic Reflationary Narrative Is On Tap
U.S. Steel is never going to be a classic compounder, or a buy-and-hold equity, as the cyclicality of the steel business is too great for that, and their global competitive positioning is too weak. Having said that, shares of U.S. Steel can certainly offer upside to a historic capital rotation, something that I think is on tap, and something that we got a preview of on Monday, Nov. 9, 2020.
The two graphics above from Bloomberg show that global value stocks had their best day in over 20 years vs. global growth stocks on Monday, and momentum stocks, notably the FAANG quintet of Facebook (FB), Amazon (AMZN), Apple (AAPL), Netflix (NFLX), and Alphabet (GOOGL)(GOOG), stumbled badly on a relative basis.
This historic move came shortly after an almost equally historic move in the other direction on the day following the presidential election, which was Nov. 4, 2020, where investors rushed to FAANG, utilities, and perceived quality.
The whipsaw, back-and-forth nature of the markets on a day-to-day basis is confusing a lot of participants, however, the bigger picture is much clearer.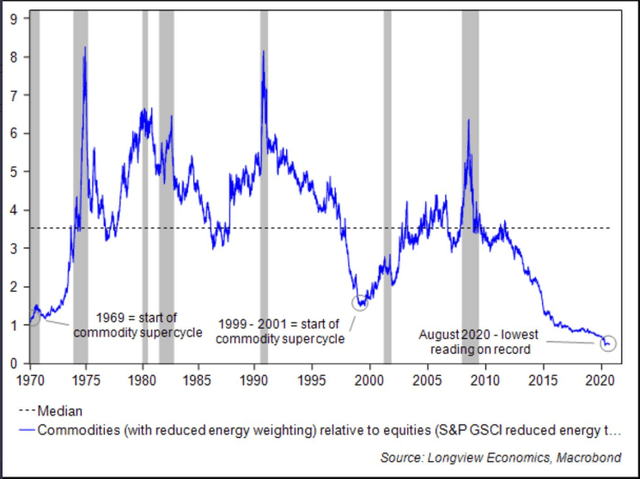 (Source: Longview Economics, Macrobond)
Specifically, commodities and commodity stocks are historically undervalued, both on an absolute basis and on a relative basis vs. the broader U.S. stock market. Individual and institutional investors alike, both struggle including non-correlated assets in their portfolios over the longer term, because these non-correlated assets often suffer streaks of incredibly poor relative performance. That has indeed been the case for commodities, and many commodity equities over the past decade, however, the great challenge of outperforming longer-term investors is to look forward, not backwards. If you think of that perspective today in the markets, the value opportunities should be clear.
In closing, U.S. Steel is hard to analyze on the surface. The company has negative EBITDA in 2020, it's trading at roughly 7.6 times its 2019 EBITDA today, and the future is beyond murky with an unknown global recovery path in front of us. Steel prices themselves provide some clarity, though, and steel prices today are materially above their 2019 levels right now, after falling earlier in 2020. If these steel prices hold up, U.S. Steel shares are going to start looking very cheap in the not too distant future, and investors want to be in front of this, looking forward, not behind it, looking backwards.