By: Brendan Gilmartin
Overview
Adobe Systems (NASDAQ:ADBE) is scheduled to report 1Q 2012 earnings after the closing bell on Monday, March 19. The results are typically released at 4:05 p.m. EST and will follow with a conference call at 5:00 p.m. Adobe shares are now up more than 20% YTD and within earshot of the 52-week high ($35.99) headed into the release.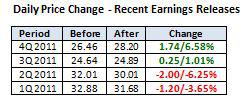 Outliers & Strategy
Key measures:
Non-GAAP Earnings Per Share: Adobe previously said it was targeting diluted earnings per share of $0.54 to $0.59 on a non-GAAP basis.
Revenues: For the first quarter of fiscal 2012, Adobe is targeting revenue of $1.025 billion to $1.075 billion.
The current Street estimates are $0.57 and $1.05 bln, respectively. (Source: Yahoo! Finance)
Back in December, Adobe shares surged after the Non-GAAP EPS figure of $0.67 topped the consensus of $0.60, representing the biggest beat since 3Q 2007.
Given that Adobe provides clear guidance for the ensuing quarter, keep a close eye on the guidance-related measures for 2Q 2012:
Adjusted Earnings Per Share Guidance (2Q 2012): The Street estimate is at $0.60. IF the high end of guidance is below consensus, Adobe could be vulnerable to significant weakness, given the recent run-up in the shares. Conversely, if the low end of the guidance range is above the estimate ($0.60), Adobe is more likely to extend the advance.
Revenues Guidance (2012): The current consensus is $1.10 bln.
Historically, Adobe shares have been more reactive to the upcoming quarterly guidance versus the reported actual results. Guidance will be especially critical during the 1Q 2012 released given the anticipated launch of CreativeSuite 6 during the May timeframe (2Q 2012).
Keep a close eye on Adobe's earnings for clues ahead of Oracle's (ORCL) earnings release on March 20.
Recent News
03/06: UBS maintained a Buy rating on Adobe Systems and raised the price target from $34 to $37, according to StreetInsider.com. The firm suggested survey data points toward a lull ahead of the anticipated launch of Creative Suite 6.
03/05: According to a report on Benzinga.com, Piper Jaffray expects Adobe to meet or exceed 1Q 2012 revenue expectations, following recent channel checks with domestic distributors. The firm maintained a Neutral rating and a $30 price target.
12/27: According to a 13-D filing, ValueAct Capital acquired a 5% stake in Adobe for "investment purposes."
Technical Review
Adobe shares are rallying ahead of the 1Q 2012 earnings release on March 19. Should earnings and guidance disappoint, look for initial support near the 20-Day SMA at $33, with downside risk to $32 (50-Day SMA is $30.75), followed by the 200-Day SMA near $29. Conversely, resistance is at the recent highs near $34, followed by the 52-week high near $36. (Chart courtesy of Stockcharts.com)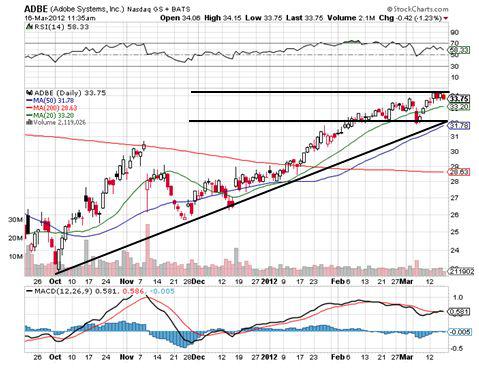 Summary
Adobe shares are at a 10-month high ahead of the 1Q earnings release on Monday, March 19. The strength can be attributed to the strength in domestic and international sales, coupled with the anticipated launch of Creative Suite 6 and Creative Cloud. Historically, the Street has centered its focus on the upcoming quarterly guidance. That is no exception this time around, given these critical product launches slated for 2Q 2012. Against this backdrop, if the 2Q Adjusted EPS and Revenue guidance comes in at the low end or below consensus estimates, Adobe shares are vulnerable to significant downside. Conversely, if the outlook for the 2Q surpasses expectations, Adobe could make a run back toward the 52-week high established last May.
Disclosure: I have no positions in any stocks mentioned, and no plans to initiate any positions within the next 72 hours.
Disclaimer: By using this report, you acknowledge that Selerity, Inc. is in no way liable for losses or gains arising out of commentary, analysis, and or data in this report. Your investment decisions and recommendations are made entirely at your discretion. Selerity does not own securities in companies that they write about, is not an investment adviser, and the content contained herein is not an endorsement to buy or sell any securities. No content published as part of this report constitutes a recommendation that any particular investment, security, portfolio of securities, transaction or investment strategy is suitable for any specific person.