By Roger Choudhury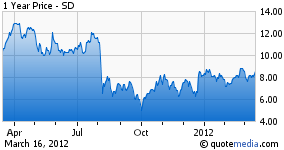 The oil and gas sector is rapidly changing and highly competitive, and Sandridge Energy (NYSE:SD) is no exception. The company has several positive catalysts that I believe will boost profitability and propel the stock higher in the long term. In early February, the company announced the acquisition of Dynamic Offshore Resources for $1.275 billion, which will help the company grow its revenue. The company is likely to boost profitability from lower costs due to its operations in shallower wells, which allows rigs to operate under lower horsepower, reducing energy consumption. Recent bond trades have also shown confidence in the company. Sandridge Energy has a lot going for it, and I will detail this below.
SandRidge Energy recently beat Q4 analyst estimates by $0.04 by bringing in $0.02 in non-GAAP EPS. For the full year, non-GAAP EPS was $0.01 compared to $0.11 in 2010. Additionally, oil and natural gas revenues increased 58% to $1,226.8 million in 2011 from $774.8 million in 2010 as a result of increases in oil production and realized reported prices. At the end of 2011, the company's estimated consolidated proved reserves were 471 MMBoe (+18%). Oil production shot up by 60% to 11.8 million barrels of oil (MMBbls), primarily due to oil production added as a result of the company's drilling programs in the Mississippian play and Permian Basin.
Across the industry, 487 horizontal wells have been drilled to date in the 17 million acre Mississippian play, including 232 drilled by the company on its roughly 2 million net acres. SandRidge estimates that 300 million barrels of oil equivalent (Mboe) to 500 Mboe would be gleaned per well alongside $3.2 million in capital expenditures for each well. Also, there is a projected 96% internal rate of return on projects here. Additionally, tamping down costs aids with profitability. The average drilling depth is a shallow 5,500 feet, which means that the rigs operate under lower horsepower, and the pumps utilize less energy as well. Overall, the company estimates that it has over 9,000 potential drilling locations.
In the Permian Basin, the company has drilled 803 wells during 2011. It has also found ~7,900 additional drilling locations on its 225,000 net acres in the Permian Basin. The company is the most active driller here, with 13 of 47 rigs operating, and has the fifth most active wells with 2,992. The top four include Occidental (NYSE:OXY) with 5,187 active wells, Apache (NYSE:APA) with 4,836, Exxon Mobil (NYSE:XOM) - 3,658, and Chevron (NYSE:CVX) - 3,583.
Per well, the company estimates to spend $644 million. The overall internal rate of return is estimated to be 72%. Adding a degree of security, this reservoir has a decent 80 year production history. Drilling is expected to be relatively shallow between 4,000 feet and 8,000 feet, driving down costs relative to other non-conventional plays.
The net realized oil price per barrel was $76.41. With Brent and WTI continuing to saunter around $120 and $100, respectively, SandRidge has an opportunity to continue to reap more revenues. Also, as it diversifies away from a natural gas emphasis, the company has even more to gain. For example, in 2010, the net realized price per million cubic feet (MCF) was $6.20, whereas in 2011, it was $3.27. Natural gas has a long way to return to the heyday of $5 or $6 per mcf, due to the production of the Marcellus Shale.
With a recent closing price of $7.79, reported revenues of $1,415,213,000 and diluted average shares outstanding of 406,645,000, shares currently trade with a price to sales multiple of 2.23. The five-year average ratio for these shares is 2.9, so there should be a pop in the share price soon. According to Morningstar, the industry peer average of the price to sales ratio is 3.0. Also, comparable ratios from notable competitors are as follows: Anadarko (NYSE:APC) at 2.9, Apache at 2.5, EOG (NYSE:EOG) at 3.0, and Devon (NYSE:DVN) at 2.7.
Another notable comparison is the return on equity, where SandRidge posted 3.32%, Anadarko at -13.66%, Apache at 17.71%, EOG at 9.54%, and Devon at 23.13%. You may balk at this statistic, but SandRidge's number is sensible because it is in the growth stage. I expect the ROE to rise modestly in 2012, as the firm makes more profits.
You may also be worried by the debt to equity ratio for SandRidge Energy at 1.74. Yet, the company has lowered this ratio from 2.97 in 2008. This enhances the firm's potential to increase profits. This shows up in the EBT margin at 11.06% after demonstrating negative figures in 2009 and 2010. The firm is also benefiting from lower cost of goods sold (COGS), with a gross margin of 64.63%, which is back to 2008 levels.
Another healthy sign is that recent bond trades convey confidence in SandRidge Energy. The 9.875% note due May 15, 2016, sold at 109.250 on March 1. The 8.75% note due January 15, 2020, sold at 107.405 on March 2. The 4.206% note due April 1, 2014, sold at 99 on February 29.
To put this in perspective, Anadarko has an EBT margin of -24.51%, Apache with 47.92%, EOG with 18.86%, and Devon with 37.45%. The debt to equity ratios for Anadarko is 0.83, Apache is 0.24, EOG is 0.40, and Devon is 0.28. There is a correlation between increasing debt levels and lower EBT margins.
For all these reasons, I believe that SandRidge Energy is a decent long-term buy. Also, the Reuters Research Average of 27 brokers maintains a current price target of $11.02. Now, would be a good time to purchase shares at depressed levels, as the markets reel from global uncertainties.
Disclosure: I have no positions in any stocks mentioned, and no plans to initiate any positions within the next 72 hours.