In early February I wrote an article which reflected on Fortune Magazine's Top 10 stock picks for 2011, and outlined its Top 10 stock picks for 2012, including the rationale for their inclusion. Three months on it is time to check how the 2012 picks are performing, and in doing so I will focus on the three current under performers (for the portfolio); Goodyear Tire and Rubber (NYSE:GT), Enbridge Energy Partners (NYSE:EEP), Johnson Controls (NYSE:JCI), and the one key outperforming stock being Apple (NASDAQ:AAPL).
Goodyear Tire and Rubber Company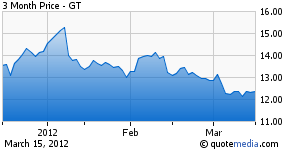 Goodyear is the only stock in the portfolio running at a loss, priced at $12.32 on 14th March, down 8.20%, with a 52wk high of $18.83 and a 52wk low of $8.53. It has EPS of 1.26, PE of 9.80, and a Market Cap of $3.02 Billion. As illustrated above, the stock has been trading on a consistent downward trend since early January 2012. Key challenges facing the company at present are balance sheet weakness and massive under funding of its pensions.
Enbridge Energy Partners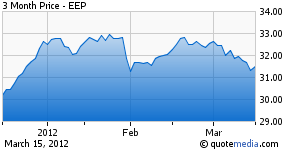 The weakest return at the moment for stocks in the black is Enbridge, priced at $31.29, up 2.42% since inception. The stock has a 52wk high of $34.58, and remains above its 52wk low of $24.66. It has EPS of 1.81, PE of 17.30, Div Rate of 2.13, Yield of 6.80 and a Market Cap of $7.5 Billion. Following early gains in December 2011, the stock retraced in late January, and has been in a flat trading band since. Potential issues affecting the company at present is the weakening price of natural gas against its current expansion plans for the East Texas Gas System, and its cash distribution profile.
Johnson Controls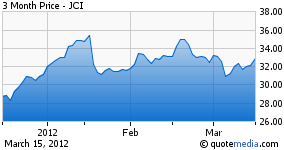 Johnson controls is the third of the underperforming stocks in the portfolio (narrowly outperformed by Halliburton). When I say underperformed, it's a bit of a misnomer; it's underperforming relative to the remainder of the portfolio, yet is currently priced at $32.04, up a healthy 6.84% since inception. While below its 52wk high of $42.92, it remains well ahead of its 52wk low of $24.29. It has EPS of 2.41, PE of 13.30, Div Rate of 0.72, Yield of 2.25 and a Market Cap of $22.39 Billion. It too has given up some of its earlier gains before stabilizing and beginning a relative flat trading band. The company's immediate challenges are weakened confidence after missing FQ1 estimates and lowering FY12 guidance, with JP Morgan and Needham downgrading the shares, citing reduced earnings visibility, softening markets and the potential for additional cuts in guidance.
Apple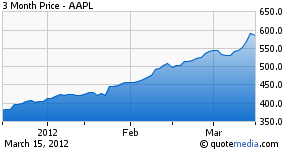 By far and above the stellar performer of the portfolio (and the stock market) is Apple. As one contributor on Seeking Alpha wrote recently, there is nothing, NOTHING, that Apple can do wrong at present (whether you agree with that is a different question altogether). Its stock performance over the last three months (illustrated above) is almost the perfect representation of steady growth. Its 52 week low is $310.50, and its 52 week high as at 14 March 2012 was $594.72. It is worth recapping that Fortune retained Apple in its portfolio, having had it included in 2011. In fact, its inclusion in 2011 is what presented the 2011 portfolio from having a disastrous overall return.
Apple's strong performance in 2011 provides a dilemma for fund managers and individual investors alike; to take some profit now, or let profits run and set defined stop losses (which is difficult in such a volatile market), or to hedge with options to protect the overall position. In this case though, we will assume that Fortune Magazine would hold its overall position, and report on the stocks ultimate performance at the end of the 12 month period (13 December, 2012). The stock currently has EPS of 35.11, PE of 16.80, and a Market Cap of $545.96 Billion.
Performance Overall
The portfolio overall is delivering an overall return of 16.98% capital growth since inception, helped along by Apple's phenomenal growth of 52.20%. Six of the stocks have returns greater than 15%, and even if Apple is excluded, the portfolio still sits comfortably on a growth return of 13.02%. The S&P500 has achieved a growth of 15.37% over the same period in comparison. A detailed overview of the Fortune Top 10 2012 Portfolio is shown below. The next quarterly update will be in mid June 2012.
Fortune Top 10 Portfolio: 3 Month Performance (14 March, 2012)
Disclosure: I have no positions in any stocks mentioned, and no plans to initiate any positions within the next 72 hours.
Disclaimer: This advice is general advice only. You should seek independent financial advice before making any investments of your own.