5G goes beyond the regular operator business; it's a business revolution. - Borje Ekholm
Defiance Next Gen Connectivity (NYSEARCA:FIVG) is an extreme-themed ETF that eyes 5G companies with a surgical focus. The fund invests mostly in stocks of domestic companies that are involved in manufacturing networking equipment, operating networks, enabling satellite communications, making chips, or having anything to do in rolling out 5G networks.
FIVG's portfolio turnover ratio is not known yet. Its website says that its holdings are reviewed semi-annually, and therefore, I estimate that the fund invests for the medium to long term, which seems like the right thing to do because 5G has just been recently introduced and has a long way to go.
I am very bullish on 5G's prospects in the U.S. because, believe it or not, our country lags behind on 5G speeds compared to eight other countries (see my tweet below). There is a lot of work to be done here, and 5G's prospects are exciting.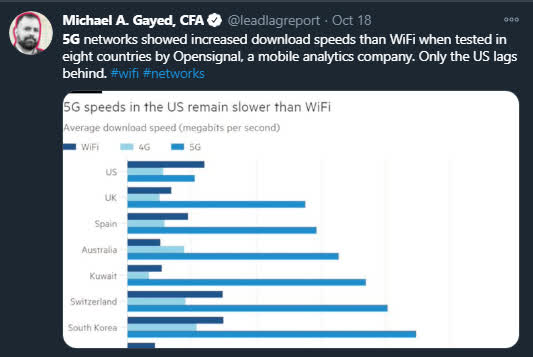 Source: My Tweet/The Lead-Lag Report
Here are some of FIVG internals that can help you make an investment decision:
5G's Prospects
As per Deloitte, advanced wireless technologies such as 5G and Wi-Fi 6 will become essential for companies working on AI, IoT, cloud, and edge computing applications - and these days almost all IT companies are working on such applications. New devices need faster speeds, lower latencies, time-sensitive information updates, location sensing, and higher device density, which cannot be fulfilled by current speeds.
In the Deloitte survey, about 86% of networking executives opined that 5G and Wi-Fi 6 had the power to transform their company for the better within a short space of 3 years.
Based on this survey and the work on 5G speeds that is required to be done in our country, I am extremely bullish on the prospects of quality 5G companies.
FIVG's Momentum
FIVG is a massive outperformer from the price action point of view.

Source: FIVG vs. SP500
Investors who have held on to FIVG for a year have gained 28.6% compared to 16.6% gains delivered by the SP500. Those who invested in it about 6 months ago are sitting on total returns of 22.7% compared to 16.3% total returns from the SP500.
Given its explosive growth prospects, I estimate that FIVG will continue to reward its investors and outperform the indices.
A Negligible Dividend Yield, but...
FIVG was launched in April 2019, and the great thing about it is that it has been paying dividends since its inception.

Source: FIVG's Dividend History
The fund declared about $0.20 as a dividend in 2019 and is on track to pay about $0.33 in 2020, giving it a dividend yield of 0.98% as of December 23, 2020. Though the dividend yield is tiny, it is good to see that FIVG has started distributing dividends from its inception.
Also, it is a growth ETF, and therefore, any dividend yield, especially in its early years, is an encouraging, bullish signal.
Holdings
As of December 24, 2020, FIVG's total assets were invested in 78 stocks, and about 38% of its total assets were invested in 10 stocks.

Source: FIVG's Website
Investors who pick their stocks based on ETF holdings should note that FIVG's top 3 holdings - Analog Devices (ADI), NXP Semiconductors (NXPI), and Qualcomm (QCOM) - manufacture semiconductors and integrated circuits.
Peer Comparison
I benchmarked FIVG's momentum with four of its peers - Vanguard Telecom Services (VOX), Pacer Benchmark Data & Infrastructure Real Estate SCTR (SRVR), First Trust Indxx NextG (NXTG), and Global X Internet of Things (SNSR).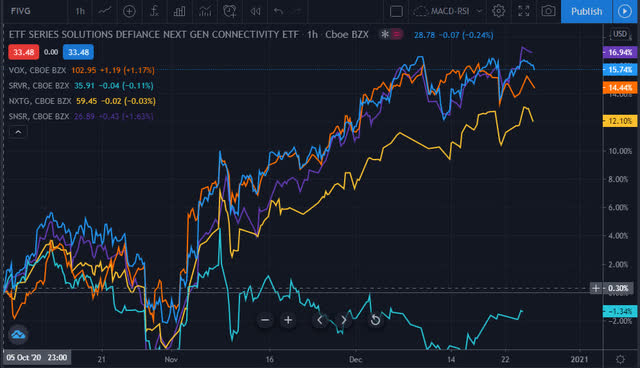 Source: Trading View
Between October 5, 2020, and December 24, 2020, SNSR delivered 16.9% gains and FIVG came in second at 15.7%. Both these ETFs delivered a higher return than the others (see the image above), and I estimate that though FIVG is not at the top, it will be among the top two gainers in the long term.
Summing up
5G is an emerging technology that will take workplace productivity to a new, higher level. It is obvious that it has solid growth prospects and FIVG is keeping its surgical focus on the right stocks.
The ETF has also paid dividends since its inception in 2019, and the future looks exciting. Our country needs to do much more to bring 5G speeds to levels experienced in Europe. So, yeah, there is tremendous scope going forward. Also, FIVG is among the top two performers as compared to its peers.
For these reasons, I am bullish on FIVG as a long-term investment.
Like this article? Don't forget to click the Follow button above.