Lemonade (NYSE:LMND) may be heading lower as its lock-up expiration date approaches on December 29. It could result in many more shares becoming available to trade, and one reason why the options market is pricing in so much risk, as the rate to borrow shares jumps.
The Offering
The company came public on July 2 and was priced at $29 per share. One of its biggest outside shareholders is SoftBank, which controls almost 22% of the shares. That is followed by several venture funds that appear to hold a little bit more than 25% of the shares outstanding when combined. While it seems unlikely that members of the board or executive will sell shares, it does appear to be entirely possible for a number of these venture funds to distribute their shares to their limited partners, who in turn could sell.
The offering size was only 11 million shares. Upon lock-up expiration, there will be nearly 44 million additional shares eligible to be sold. Of those, 38.2 million would be restricted under Rule 144. It means there will be a lot of stock coming for sale, should the venture funds choose to distribute their shares to their limited partner, and those partners choose to sell.
Volatility Looms
Due to this uncertainty, the options market is pricing a lot of volatility for the stock, suggesting it is preparing for big price movements. The options for expiration on January 15, at the $115 strike price, have an implied volatility of nearly 120%. It suggests the stock could rise or fall by as much as 27% over the next 18 days. It would place the stock in a trading range of $81 to $141.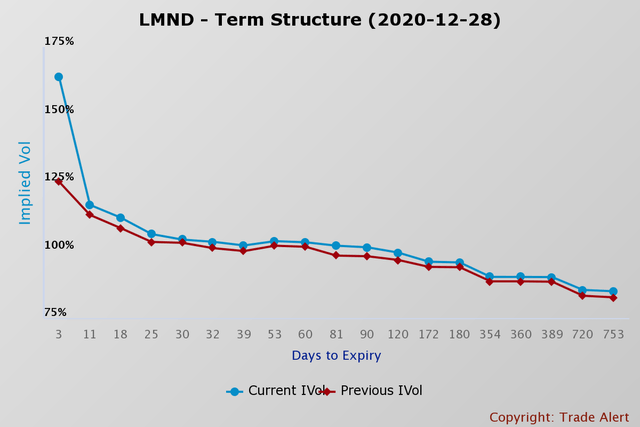 Shorts
But more important is that short-sellers are involved heavily in this name. According to data from Trade Alert, the rate to borrow the stock, which is the amount a trader pays to borrow shares to use to then short, is around 106%, annualized. It means the shares are in high demand, and traders are willing to pay a lot of interest to short this stock at these levels.
There are already 7.4 million shares short, which accounts for 13.1% of all the stock outstanding. But the deal size was only 11 million shares, and overtime, once the lock-up expiration passes, and more shares should become available, pushing the borrow rate down. However, the high rate suggests the demand is very high to short the stock, and once more shares become available, more short-sellers may enter.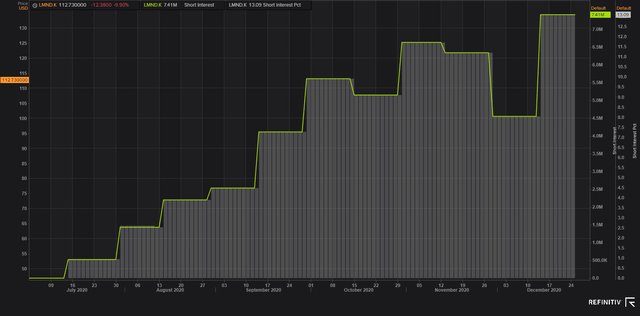 (Refinitiv)
Valuation Is Crazy
From a valuation perspective, the stock makes little sense at these current levels. The stock currently trades at 40.6 times 2022 sales estimates of $174 million. It is an incredibly high valuation, regardless of the revenue growth rate. Additionally, there is no other viable metric to use since the company is not expected to have positive EBITDA, Net Income, or Free Cash Flow until sometime after 2022. It makes valuing the stock a pure guessing game. One can wonder if the market value of just over $7 billion makes any sense at all.
The current market capitalization would imply that at 10 times sales, Lemonade is generating around $700 million in revenue at some point down the road. Trying to discount when that might would be a pure guess. But it is more than 3 times what current analysts' estimates are in 2022. Given that revenue is only expected to double from 2020 through 2022, reaching $700 million seems to be off in the distance at this point.
Momentum Fades Fast
The technical chart shows that the stock has been trending higher and formed a bearish pattern known as a bump and run. Once the stock falls below the first trend line and support at $106, it will likely fall further, perhaps to a low as $80.
Additionally, the relative strength index has been in overbought territory, rising above 70. More importantly, the momentum index appears to have broken the uptrend, suggesting momentum in the stock may soon shift from bullish to bearish.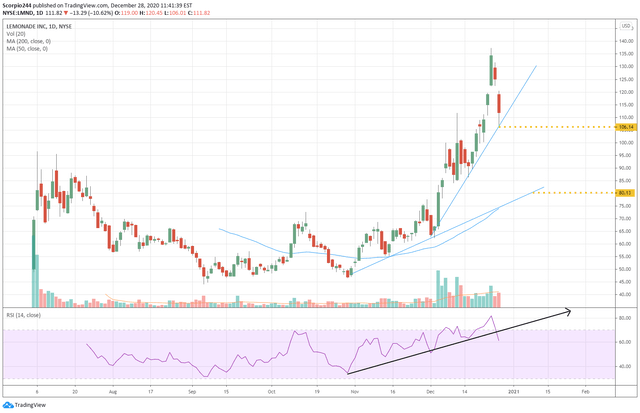 Overall, Lemonade may struggle in the near-term as the lock-up expiration date passes and short-sellers pile in. Another beyond that is too difficult to assess.
Love this article? Then hit the follow button at the top of the story!
I have been at this for 25-years and spent 10 of those years as a buy-side equity trader for domestic and international markets. Now, I manage the Mott Capital Thematic Growth portfolio and run Reading The Markets. I use my knowledge as a trader, analyst, and portfolio manager to help update my readers every day on what is driving trading and where indexes, sectors, and stock may be heading, from both a short-term and long-term perspective.
To Find Out More Visit Our Home Page