The iShares MSCI Poland Capped ETF (NYSEARCA:NYSEARCA:EPOL) is an exchange-traded fund designed to enable investors to gain direct, targeted exposure to a broad range of listed Polish companies. The instrument can be used to express a single-country view; in this case, a 'long-only' view on the country of Poland. The fund currently carries an expense ratio of 61 basis points (i.e. 0.61%).
While not cheap, one pays for a convenient, diversified, and USD-denominated instrument. With circa $300 million in assets under management, the ETF is sufficiently popular that there is likely to be enough liquidity for the vast majority of non-institutional investors to express a view on Poland.
EPOL's primary goal is to track its benchmark, which is the MSCI Poland IMI 25/50 Index, which, as MSCI explains, "is designed to measure the performance of the large, mid and small cap segments of the Polish market." While U.S. investors may be ordinarily familiar with equity indices such as the S&P 500, which is (unsurprisingly) comprised of 500 companies, EPOL's portfolio (and benchmark index) is comprised of only 35 holdings.
These 35 holdings are essentially the largest stocks available in the Polish equity market. The twelve-month trailing yield, as of November 30, 2020, was 3.76%, while the P/E ratio, as of December 28, 2020, was 14.05. This data can be found directly on the iShares website. We can invert the P/E ratio of 14.05 by dividing 1 into this figure to find the earnings yield. (i.e., if 14.05 over 1 represents the multiple of earnings that the fund trades at, we can divide 1 into 14.05 to find the "yield"). This works out to 7.12%.
With an earnings yield of 7.12%, this beats the P/E ratio of the U.S. equity index previously mentioned, the S&P 500, which traded at a multiple of 37.62 on December 29, 2020 (source: multpl). Dividing 1 into 37.62, we find an earnings yield of 2.66%. Therefore, Polish equities look rather attractive. The 10-year bond yield of Poland is currently circa 1.24% (source: investing.com), as compared to the U.S. 10-year treasury yield of circa 0.94% (source: investing.com). Therefore, EPOL offers an "excess yield" over its domestic 10-year bond of 5.88%, while the S&P 500 (tracked by funds such as SPY and VOO) offers an implied spread of 1.72%; certainly a much tighter spread.
What about currencies? The Poland złoty (hereafter abbreviated as PLN) is worth about $0.27 per current market prices (i.e., at 2020 year-end). We can reference two popular Purchasing Power Parity models to get an idea of PLN's fair value in terms of USD: the OECD's PPP model (last updated for 2019), and the Economist's Big Mac Index (which offers both unadjusted and GDP-adjusted figures). The OECD's model valued PLN at circa $0.58 (from 2019, down slightly from $0.59 in 2018), while the Big Mac Index implied a PLN fair value of circa $0.52 (unadjusted) as of July 2020, or about $0.33 after adjusting for GDP per capita differences.
In other words, PLN is thought to be worth anywhere from $0.33 to $0.58, indicating a USD/PLN exchange rate of 1.72 to 3.03, based on differences in international purchasing power. What this implies is that USD trades at a fairly significant premium to PLN. It would imply that PLN offers a potential upside of between 22% and 115%. While that is a broad range, it should provide EPOL investors with some confidence that they are not buying an attractive earnings yield on the one hand and exposing themselves to significant FX risk on the other. On the contrary, Polish equities look attractive from both a domestic valuation standpoint and from an FX perspective.
More could be said with respect to FX; for example, the country's current account has produced a strong surplus this year (which is a constructive sign for the economy and the currency), while the country's FX reserves (at the National Bank of Poland) have also been accumulating through 2020, which provides further support to the improved current account. A bounce-back in GDP is already reflected in year-over-year GDP growth being negative by only -1.5% as of 2020 Q3 (far higher than the initial dip of -8.4% year-over-year in 2020 Q2, following the emergence of the COVID-19 crisis). While this is not an FX-focused article, the macroeconomic picture for EPOL looks promising and broadly positive.
Top sector exposures of EPOL are as shown below. They include Financials (at 30.04% of the fund, as of December 28, 2020), Consumer Discretionary (15.90%), Communication (14.75%), Materials (12.15%), and Energy (11.24%). All in all, I would consider this mix of sector coverage to be quite risky, particularly with the heavier weighting on Financials, and yet this could also make the fund quite attractive on the basis that Financials are generally expected to recover after periods of recession (as we witnessed in 2020) and into new business cycles. The rebound effect would also typically support the Consumer Discretionary and Energy sectors, and as such, I would not view this sector mix as unattractive.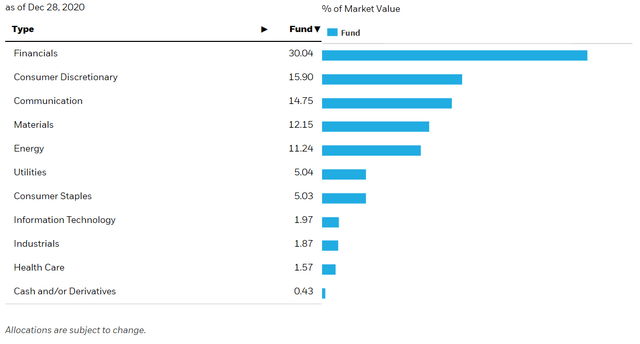 (Source: iShares)
Top holdings in this fund include PKO Bank Polski (at 9.88%), which is Poland's largest bank (founded in 1919); KGHM Polska Miedz S.A. (OTCPK:KGHPF) (at 9.84%), which is a Polish multinational copper and silver producer; Allegro SA (at 8.16%), which operates an e-commerce platform; Powszechny Zakład Ubezpieczeń (OTCPK:PZAKY) (OTC:PWZYF) (at 7.21%), which is the largest and oldest insurance company in Poland; and CD Projekt (OTCPK:OTGLF) (OTCPK:OTGLY) (at 7.15%), which is a video game developer, publisher, and distributor.
The last of the five holdings listed above, CD Projekt, caught my eye; you may also have read about the terribly unsuccessful launch of the widely-anticipated Cyberpunk 2077 game, officially released on December 10, 2020. The Guardian described the release as a shambles, while The New York Times described the launch as "one of the most visible disasters in the history of video games". Essentially, the game was found by users to be exceptionally faulty, with extremely buggy gameplay that ultimately led Sony (SNE) (which sold the game on the PlayStation Store) to offer refunds to customers who had purchased the game through their Store, and remove it from the Store until further notice.
CD Projekt's stock fell circa 42% (peak-to-trough in December 2020) but has since stabilized. Besides performance issues, which will likely be corrected in time, CD Projekt's (very effectively marketed) game did otherwise receive extremely strong reviews among critics.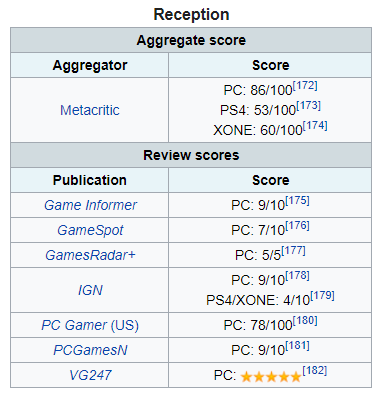 (Source: Wikipedia aggregate score and review scores table for Cyberpunk 2077.)
This piece is not to focus too much on any particular one of EPOL's holdings, but the point is, I do not perceive significant risk here. While CD Projekt may struggle to regain the trust of its users, it is possible that the stock has fallen about as much as it is likely to fall post-launch. The company and its new release still have significant potential once performance issues are corrected.
Holistically, EPOL's portfolio mix is sufficiently attractive and diversified to offer U.S. investors an ability to build a long position in Polish stocks, with sector exposures that would conventionally be expected to perform well into the beginning of a new business cycle (post-COVID-19).
While the pandemic that permeated the globe in 2020 is not yet over, at the beginning of a new business cycle, and as the world does begin to recover, Polish stocks look relatively (geographically) attractive from multiple perspectives: (1) the earnings yield in absolute terms, (2) the "excess yield" offered by Polish stocks over domestic bond yields, (3) a most probably undervalued domestic currency, and (4) cyclical and business-cycle-sensitive sector exposures.
There are risks to Poland economically, which include a so-called "brain drain" (i.e., the youngest and brightest fleeing Poland to places such as the United States where career opportunities are found as comparatively more attractive). This brain drain previously led the country to even go as far as scrapping income tax for roughly 2 million young workers from July 2019 (source: CNN).
There are also political risks; confidence in the government in Poland is not reputed to be especially strong. Still, per OECD poll data, Poland (as of 2018) still ranks higher than countries like the United Kingdom, Japan, France, the United States, and Italy. Further, the World Bank's Ease of Doing Business Index ranks Poland at 40 out of 190 (1 being the best, 190 being the worst). While Poland ranks at 128 for starting a business, its overall rank is better thanks to other factors such as getting credit, trading across borders, and resolving insolvency.
Overall, for the reasons mentioned above, I believe it is worth allocating some capital to Poland as part of an international equity portfolio, whether through EPOL (a diversified fund with an expense ratio of 0.61%) or otherwise directly. Another fund with a slightly lower expense ratio is Lyxor MSCI Eastern Europe Ex Russia UCITS ETF, which trades with the tickers CEC (on the Euronext Paris stock market) for EUR investors and CECL (on the London Stock Exchange stock market) for GBP investors. This fund is exposed to Poland (66%), as well as Hungary (23%), Czech Republic (11%), and Bulgaria (<1%), as shown on the official Lyxor website. These alternative geographies in addition to Poland look similarly attractive, although a full and separate analysis of these geographies would be warranted.
Want more analysis?
Please click the "Follow" button at the top of this article if you would like to receive notifications.