Loan CEFs have been out of favor this year with income investors. They have disappointed by having larger drawdowns than high-yield CEFs in March, despite their supposed greater structural strength. This was followed by a large distribution cut wave due to a drop in short-term rates. And finally, the sector has boasted discounts that have lagged other credit sectors during the recovery, keeping total price returns lower than they would be otherwise.
In this article, we take a look at some of the factors behind allocating between high-yield versus loan CEFs. Our main takeaway is that while high-yield CEFs remain attractive for a number of reasons versus loans, loan CEFs are probably ignored more than they deserve.
We also take a look at the Blackstone Senior Floating Rate Term Fund (NYSE:BSL) which has had strong historic returns in the loan sector, an attractive discount valuation and a share buyback program that should marginally support the discount.
Bigger Picture
In our Income Portfolios, we have favored high-yield CEFs over loans which have worked out fairly well given a nearly 4% outperformance this year of the high-yield CEF sector over loans in both price and NAV total returns.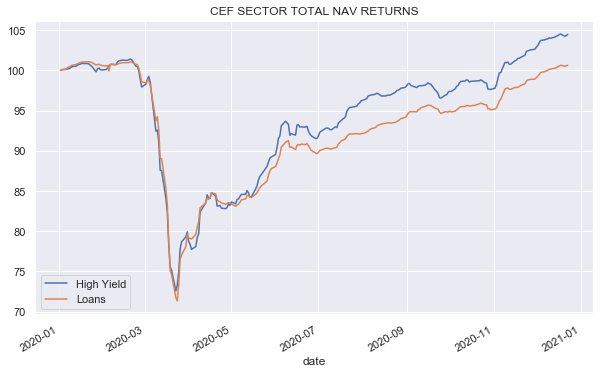 Source: Systematic Income
In the loan space, we have made exceptions for either tactical plays such as the First Eagle Senior Loan Fund (FSLF) which has outperformed the sector by about 6% in discount terms since our discussion. Another exception was a niche pocket of the loan space such as mezz-CLOs via the Eagle Point Income Company (EIC) which was very attractively valued in both underlying valuations as well as discounts in the post-drawdown period.
The common theme of these two opportunities was lack of information transparency. In the case of FSLF it was because the fund dropped off CEFConnect which made it difficult for investors to realize that its discount had blown wide open. In the case of EIC it was the fact that the fund doesn't provide daily NAVs which made it difficult for investors to gauge where its discount is trading. Estimating daily NAVs, as we do in the chart below, is not something individual investors have the time to bother with so the fund remains attractively valued in our view though not as much as it was just a few weeks ago.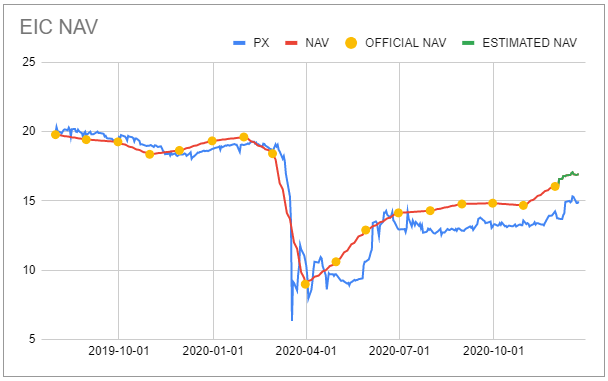 Source: Systematic Income CEF Tool
Coming back to broader sector exposure, we have tended to favor high-yield over loan CEFs for a few reasons.
First, high-yield bonds have duration exposure and will tend to outperform loans during a macro shock, all else equal, due to the drop in risk-free rates which was exactly what we saw happen in March.
Secondly, high-yield bonds don't have to undergo additional technical selling pressure from CLOs which are forced to sell down lower-quality loan collateral on downgrades in order to pass collateral tests.
Thirdly, though interest rates are low, they are well above LIBOR, particularly in the longer-end of the curve which can provide another source of carry for high-yield bonds over loans in addition to the credit spread.
Fourth, although interest rates are relatively low, the yield curve is fairly steep which offers rolldown tailwind for bonds. Rolldown is the additional expected gain from bonds "rolling down" the yield curve as their maturity shortens with time.
Fifthly, the structure of loans makes loan CEFs vulnerable to drops in income and hence distribution cuts. During a market stress event, short-term rates drop driving loan income lower due to the fall in LIBOR. It is true that LIBOR floors can mitigate this dynamic but LIBOR floors will tend to be negotiated lower as short-term rates drop so they are not a panacea. And secondly, during a reflationary market period when the macro situation is robust, loans will tend to get refinanced causing a drop in margin spreads and CEF income levels. This means that loan investors can get hurt when markets move sharply one way or another.
None of this means that investors should avoid loan CEFs. Rather, these features should be taken into account when putting together a portfolio allocation.
Loan CEFs can be attractive for other reasons. The discount valuation of the sector is more attractive than that of high-yield CEFs. Part of the reason for this has to do with a wave of distribution cuts in the loan sector that reflect lower loan coupons. It might seem counter-intuitive but the fact that loan CEF distributions have fallen doesn't imply that loans, as a sector, offer lower yields than high-yield bonds. Rather, it an outcome of the floating-rate structure of loans.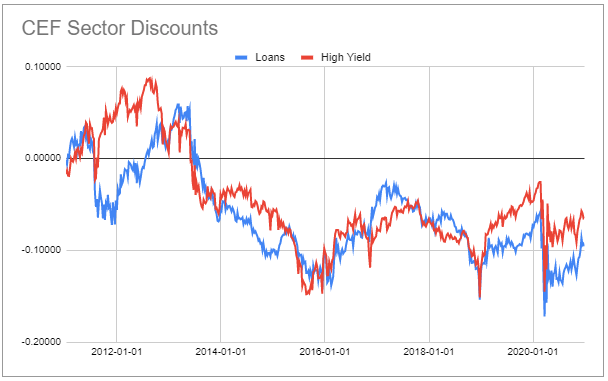 Source: Systematic Income CEF Tool
Secondly, loan margin spreads are trading wider than high-yield corporate credit spreads as the table below shows. This isn't quite apples-to-apples since rating quality breakdown is different across the two sectors. However, even when adjusted for rating composition loans should come out ahead as well.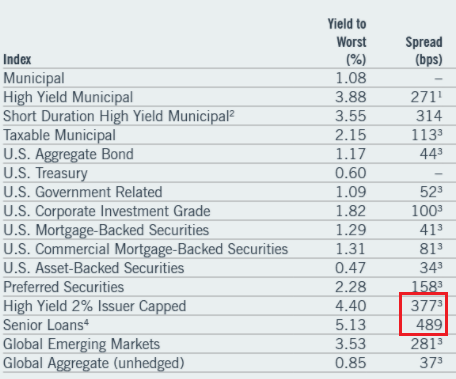 Source: Nuveen
And thirdly, despite a lot of noise around the push towards covenant-lite origination, loan-only issuers (meaning there is no other debt issued with lower down the capital structure and hence less subordinated debt cushion), an increase in capital-light issuers, collateral leakage, sidecars, a decrease in average rating quality of the sector and other problems, Moody's still estimates that first-lien loans should recover around 60% versus an average of 70% historically and about 40% for senior unsecured bonds. So, the worst case scenario for loans is still quite a bit better than that of high-yield bonds.
Share Repurchase Program
BSL has an unusual repurchase program - unusual in the sense that it clearly spells out what it will do and when. The gist of it is that the fund will repurchase up to 15% of outstanding shares if the average rolling discount over the 40-day business-day period is above 10% and the executable discount is above 10%.
There are three different criteria to satisfy for the program to be active: 1) 40-day rolling average discount > 10%, 2) current discount > 10%, 3) shares bought back < 15% of outstanding shares.
Let's go through these in turn.
The fund says in its last shareholder report that the program was triggered on 22-April of this year which lines up well with the picture below.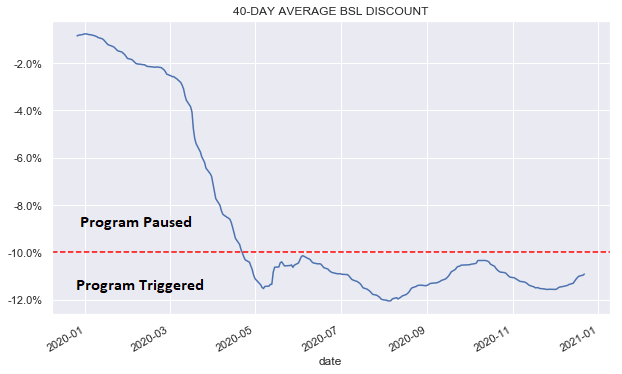 Source: Systematic Income
The chart also shows that currently the program is still in the triggered state.
Secondly, we know that, at the time of writing, the fund's discount is above 10% which allows the fund to actively buy back shares.
And thirdly, as of October, the fund had 13.95m shares outstanding and that the fund bought back 622k shares finishing June with 14.66m shares. All else equal this suggests the fund bought back 1.33m shares or 9.5% - close to 2/3 of the program. This is only an estimate since we don't know the fund's outstanding shares as of December and whether the difference between June and October figures were entirely due to buybacks.
It's entirely possible the program is completely spent and there is no more buybacks to be done. This seems unlikely however given the run rate seen since April.
What does this mean in terms of daily volume? The best case scenario is that there are about 750k shares left to buy. This is not a huge number relative to the fund's daily volume of 50-100k shares. That said, to make an impact the fund doesn't have to be an overwhelming buyer in the market.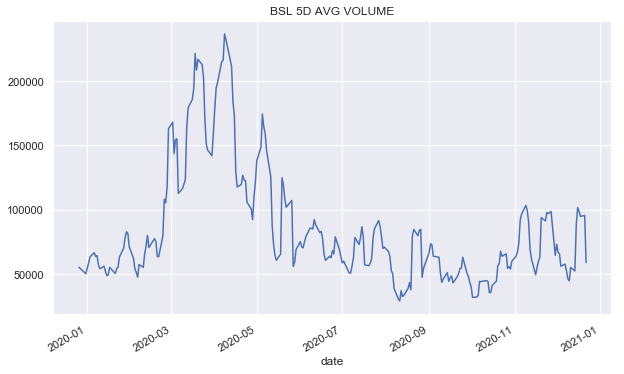 Source: Systematic Income CEF Tool
There are two risks for investors. First, if we see additional volatility the fund's buybacks are going to be swamped by the selling so the program won't make much of a difference in containing the discount.
Secondly, it is quite likely that the program may run out in the coming weeks or months at which point the discount may start to widen out once again.
Thirdly, the fund could carry on with its distribution cuts and drive the discount yet further.
There are some mitigants to this. First, with the Fed backstopping large chunks of fixed-income markets, if not the loan market, and vaccine distributions having commenced it seems unlikely that we will see March volatility come back.
Secondly, BSL is already trading at a cheap level relative to the broader sector and with the fund's current yield of 6.27% well below the sector average of 7.02% many of the yield-seeking weak hands have likely dumped the fund already. The fund's discount is trading at the lowest sector 5-year discount percentile (8% versus 38% average) and the lowest 5-year z-score (-1.8 vs -0.4 sector average).
The chart below shows how the fund's discount compares to the sector. The chart shows clearly that the fund used to trade at a substantial premium to the sector and has now moved to trade slightly wider than the sector average.

Source: Systematic Income CEF Tool
Some of this discount underperformance is not unexpected - the fund's current yield is below the sector average so, given that discounts tend to mirror current yields, together with the fund's series of distribution cuts, likely explains the behavior in the discount.
And thirdly, another distribution cut is certainly not out of the question given the fund's relatively low NII yield, however, investors may be able to avoid another cut announcement by lightening on the position into the second week of March when another 3 months of distributions should be announced. The fund's distribution level is also roughly in line with its current income, as we calculate below, which lowers the risk of another large cut.
It's worth stressing here that the buyback program is not, by itself, a massive alpha opportunity. It provides marginal discount downside support than the fund would otherwise have. All else equal, it is, of course, preferable to have this program in place rather than not but there have to be other reasons to hold the fund which we discuss below.
Income Picture
The loan sector was the most prolific distribution cutter in the CEF space this year. This is primarily due to the sector's floating-rate asset profile. The sharp drop in LIBOR from 2.8% at its recent peak at the end of 2018 to 0.23% currently took a big chunk out of the sector's earnings though some damage was limited due to the presence of LIBOR floors. The sector also took a hit from NAV volatility and subsequent deleveraging. BSL was not immune to this having cut its bank loan from $124m to $104m.
If we take a look at the fund's income profile we get the following picture. We start with a 5.16% portfolio yield which comes from the October-end average all-in rate of the fund's holdings. It's not clear whether this is a weighted-average or an arithmetic average but the two should not be far apart. We then add the impacts of leverage, various costs and the discount to arrive at a 5.5% net NII yield and a 6.17% price NII yield. The fund's current yield of 6.27% suggests that we shouldn't see another sizable cut.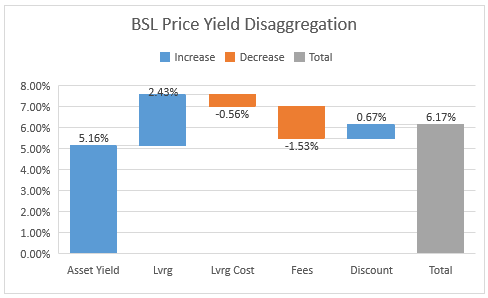 Source: Systematic Income
Return Profile
BSL has a very strong return profile within the sector, particularly over the last 5 and 7 years in NAV terms.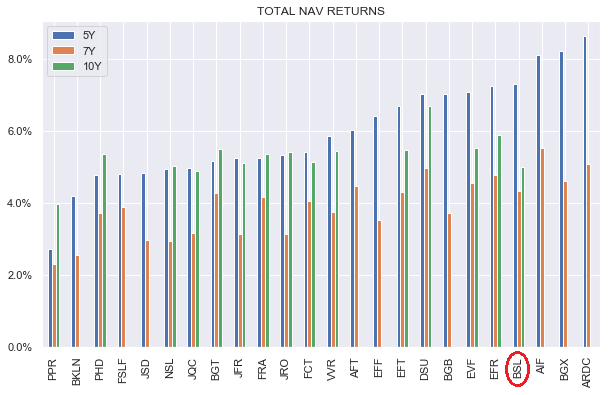 Source: Systematic Income
Its alpha - a measure of risk-adjusted returns - is the highest in the sector.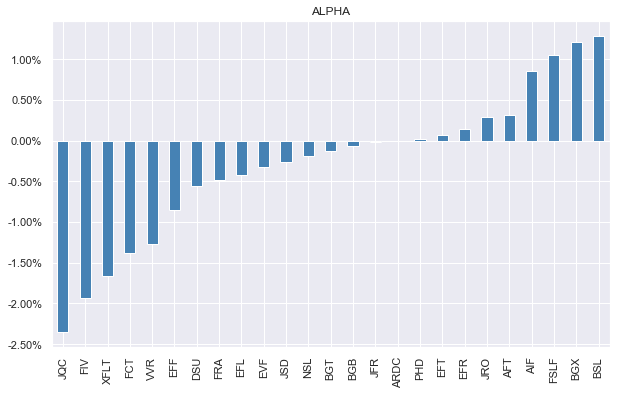 Source: Systematic Income CEF Tool
A return measure that we like is something we call COVID Resilience, which is simply the NAV performance of the fund from Feb. to around August when both major equity and corporate credit benchmarks retraced their drawdowns and were about flat. This type of measure can highlight which funds "break" rather than "bend". On this metric, BSL remained relatively resilient within the sector.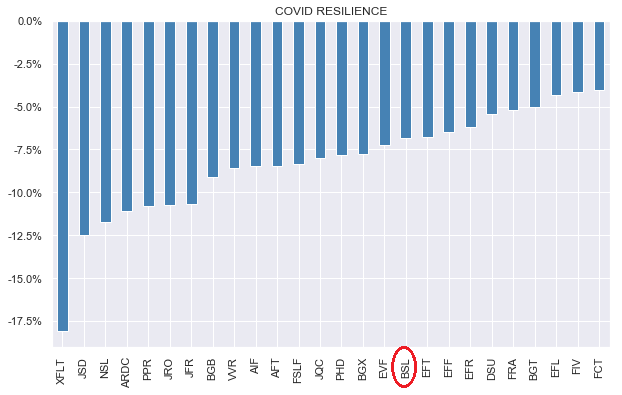 Source: Systematic Income CEF Tool
Takeaways
Loan funds have disappointed investors this year so many have been tepid in adding back exposure. However, the low level of interest rates, higher all-in yields of the loan sector versus high-yield and a stronger capital structure position argues for a modest allocation. With credit valuations nearly retracing the earlier drawdown and discounts compressed we find value in funds that offer some margin of safety. A buyback program such as the one that BSL has is one such feature. The fund also has a track record of strong absolute and risk-adjusted returns in the sector alongside decent discount valuation and is an attractive pick for investors looking at loan allocations.