Investment thesis
Mattel (NASDAQ:MAT) has experienced a long period of declining sales and has been going through a digitization process of its brands to recover ground lost in recent years. Their brands are very strong and have great potential in digital media, but it is a process that will likely take years to take shape before recovering lost sales. In parallel, the comeback of Toys 'R' Us could boost this recovery phase.
In the pipeline, we have a large number of films and series that will be released on well-known platforms such as Netflix (NFLX), as well as YouTube channels that will idly collect profits from visits by children who watch one video after another through the tablets that parents lend them, with an ad in between. The inclusion of YouTube in new TVs around the globe will also help this passive income to slowly increase. Also, new videogames are expected to be released, and there is still potential for new games to be announced soon given the strength of brands.
The company canceled the dividend in 2017, and this allowed the company to generate cash again. Even so, still very low sales have made it difficult to reduce net debt, so the consolidation of the recent increase in sales will be necessary for this reduction to be possible. The balance sheet is currently overleveraged and the management is committed to deleveraging it, which will only be possible in the short term if the Christmas campaign brings good results this year.
A reduction in losses during the off-season quarters suggests the company will be able to pay off debt little by little from here, freeing up new resources to grow in the future, especially now that there is no dividend expense. Also, the company is slowly improving margins, which will allow the generation of cash in the coming quarters.
A brief overview of the company
Toys and games have been around us since humans learned to shape the objects that surrounded them in nature. Mattel is a multinational toy manufacturer and entertainment company with products all of us grew with. Founded in 1945, the company operates in more than 35 countries, selling its products to over 150 countries worldwide.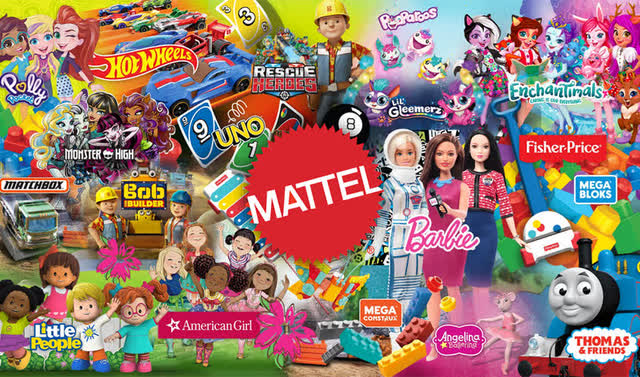 Image source: The Toy Book
The entertainment industry is evolving very fast, and the companies that comprise it are adapting all their brands to today's entertainment channels. The company owns iconic brands in the world of entertainment, especially focused on the children's market, including Barbie, Hot Wheels, UNO, Fisher-Price, Escape Room in a Box, and Tumblin' Monkeys, among others. The company also produces movies, music, live events, and videogames.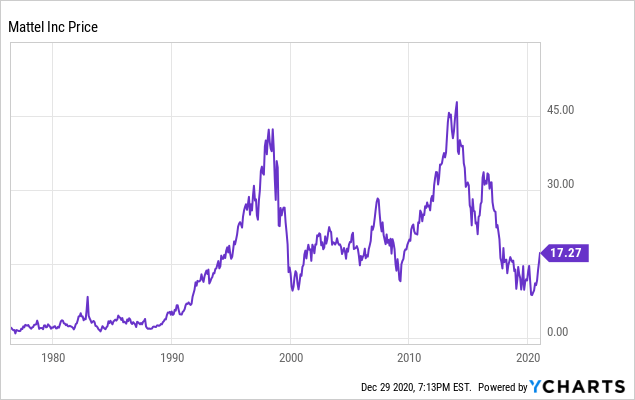 Currently, the stock trades at $17.27 per share, a 164.47% increase from the 52-week low of $6.53 in March. Still, the stock trades at a 63.88% discount from all-time highs of $47.82 on December 30, 2013.
New licensing agreements are constant
The great strength of the company's brands makes possible continuous partnerships with great players in the world of entertainment to create new products. Also, its capacity to produce toys and other media gives the company an edge to produce products related to the best entertainment brands in the world. Below I will summarize the most recent partnerships that have caught my attention.
In May 2020 the company partnered with Arts Music, a division of Warner Music Group, for the distribution of the more than 1,000 songs owned by Mattel in streaming services and the creation of hundreds of new songs under Mattel's most recognized brands. On October 6, 2020, the company announced plans to develop a movie based on Thomas & Friends in partnership with 2Dux². Thomas & Friends belongs to the Mattel universe thanks to the HIT Entertainment acquisition that took place back in 2011. This news puts a new audiovisual project in the queue of projects that are in development for Barbie, Hot Wheels, American Girl, Major Matt Mason, Masters of the Universe, Barney, Magic 8 Ball, Wishbone, View-Master, Fireman Sam, Polly Pocket, and also 104 new episodes of Thomas & Friends which will be released in parallel to the film.
Finally, on December 3, 2020, Mattel announced an agreement with PGS Entertainment to produce Gus: The Itsy Bitsy Knight's toys from 2022 for preschool kids under the Fisher-Price brand. Also, the company will make toys and games for DreamWorks Animation's Spirit Riding Free, a Netflix based TV series.
The digitization process is taking shape
The company has enormous untapped potential in the digital world. This has caused sales to suffer and allowed the closing of Toys 'R' Us stores to significantly affect their sales in recent years, given the company's dependence on the retailer. Slowly, it seems that the management has learned that it will not be possible to continue the growth path without transferring the potential of its brands to the digital world, going beyond the production of movies and series for conventional television.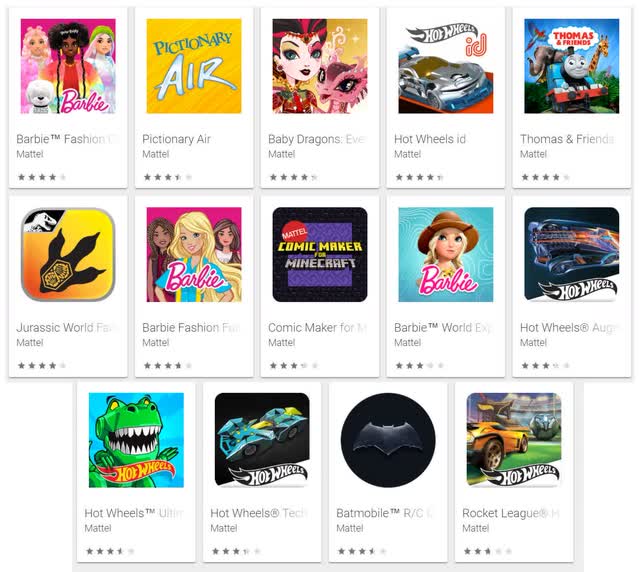 Source: Google Play
The company has a Google Play account with 14 apps with millions of downloads. The same apps are available in the Apple Play Store. These apps contain ads with which the company can monetize them and in-app purchases. On the other hand, it has a secondary account in which two UNO video games have been published with more than 50 million downloads. The conventional games category has been growing year-over-year for seven consecutive quarters, and this shows the digitization capacity of these brands.
Mattel is gaining ground on the Netflix platform, with movies like Barbie Dreamhouse Adventures and the recently launched Barbie Princess Adventure. Masters of the Universe: Revelation is also in the pipeline and is expected to be released during 2021 together with another series of the same brand. Also, YouTube is increasingly becoming a source of income thanks to the Barbie channel with over 10 million subscribers, which is also in more than 10 languages, with a different channel for each of them. The same is the case with American Girl, Monster High, Polly Pocket, Thomas & Friends, Fisher-Price, Bob the Builder, and other brands with their own YouTube channel. The frequency with which videos are uploaded to these channels has been increasing over time, as more and more children turn to YouTube to watch videos of their favorite brands.
In the videogame industry, the company is soon releasing its videogame Hot Wheels Open World, a massively multiplayer online videogame, and the World of Tanks: How Wheels expansion.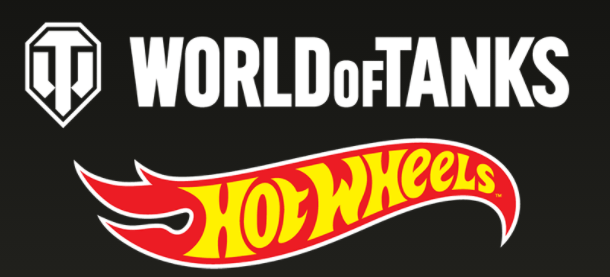 Image source: World of Tanks website
Not only the company is undergoing a deep digitization process but is also adapting perfectly to the new preferences of young and adult consumers when it comes to conventional gaming through product launches such as Escape Room in a Box.
Sales have been declining but are ready to get up again
The company's price to sales ratio currently stands at 1.353, which means the company makes $0.74 in sales from each dollar we have invested. This is great considering that gross profit margins are around 50%.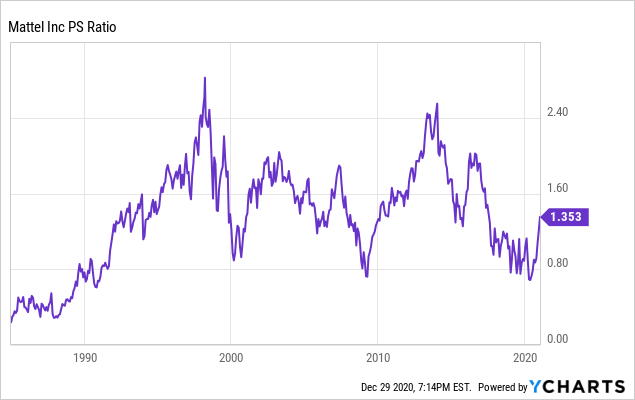 The company has been experiencing a steady decline in net sales during the last decade, a decline boosted by the bankruptcy of Toys 'R' Us. The recent increase in the price to sales ratio is due to a large increase in sales that has restored confidence among investors who had a very pessimistic sentiment about the company before, especially during the coronavirus panic selling behavior. As we can see, the company's price has risen faster than sales, which suggests the sentiment is very positive for the coming quarters. Still, we must bear in mind that gross profit margins have also increased, as well as sales forecasts for the coming quarters. Thus, this looks like the last call for those who want to become shareholders at a fair price.
| | | | | | | | | | |
| --- | --- | --- | --- | --- | --- | --- | --- | --- | --- |
| Year | 2011 | 2012 | 2013 | 2014 | 2015 | 2016 | 2017 | 2018 | 2019 |
| Net sales (in billions) | $6.27 | $6.42 | $6.48 | $6.02 | $5.70 | $5.45 | $4.88 | $4.51 | $4.50 |
| Change | +7% | +2.47% | +1% | -7.11% | -5.33% | -4.37% | -10.48% | -7.51% | -0.23% |
Source: 10-K filingsDuring the first quarter of 2020, net sales decreased by -13.81% year-over-year from $689.25 million in 2019 to $594.07 million in 2020 as the coronavirus pandemic crisis forced all the economies of the world to stop partially or completely, prompting massive store closures. This decline was followed by a slightly worse decline of -14.87% year-over-year from $860,063 to $732,136 during the second quarter as economies across the globe completely stopped. The good news came during the third quarter, when net sales increased by +10.13% year-over-year. This figure beat estimates by $171.73 million and caused a price appreciation that lasts to this day. Sales from E-commerce increased by 50% during the third quarter in comparison to the same quarter of 2019 and the company gained market share in the United States, Latin America, and Europe. In parallel, over 50% of sales already come from direct to consumer, a channel that will likely bring sales increases for the coming quarters and will keep healthy margins.
Just as Hasbro (HAS) is broadening the spectrum of potential customers by developing massive online video games, Mattel appears to be slowly adapting its brands not only by digitizing its children's products but also by adapting some brands for older ages. An example of this is the constant expansion of Little People Collector line and the Escape Room in a Box release. In the toys and conventional gaming sections, the recent announcement of the comeback of Toys 'R' Us should add some light to the end of the tunnel.
Buybacks are on pause, and share dilution is possible
The company has been reducing the number of shares outstanding for about 10 years until 2015, and the recent decline in sales has forced the company to stop the share buyback program for five years.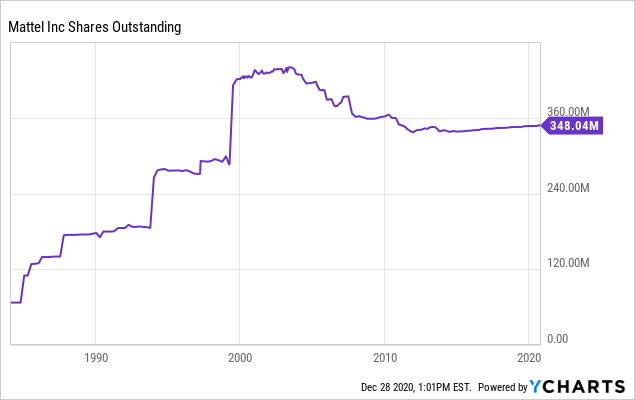 Far from continuing to decrease the number of shares outstanding so that each share represents a larger portion of the company year after year, the company has been forced to slowly issue shares to finance itself, something that does not hurt the balance sheet at this time, since there are no dividend payments to respond to, but it will slightly limit its resumption in the long term if the company decides to continue issuing shares to pay down debt, which I think would be the most conservative move from a risk/reward perspective.
Profitability is back
The company's high payout ratio has limited the company's ability to invest in innovation and acquisitions until 2018. This is so because the management team decided to cancel the dividend due to difficulties in paying it. This would also allow the company some flexibility to invest in growth. Since then, the payout ratio has declined to 81.13% in 2018 and 57.34% in 2019 because the interest expense is very high at ~$200 million a year. But debt has not yet been reduced since the level of sales is still very low. Still, profit margins have increased relative to 2018 and 2019.
| | | | | | | | | | |
| --- | --- | --- | --- | --- | --- | --- | --- | --- | --- |
| Year | 2011 | 2012 | 2013 | 2014 | 2015 | 2016 | 2017 | 2018 | 2019 |
| Unevered free cash flow (in millions) | $426.1 | $936.5 | $364.1 | $635.5 | $797.8 | $421.3 | $-60.6 | $224.2 | $350.6 |
| Dividend expense (in millions) | $316.50 | $423.38 | $494.37 | $514.81 | $515.07 | $518.53 | $311.97 | $0 | $0 |
| Interest expense (in millions) | $75.33 | $88.84 | $78.51 | $79.27 | $85.27 | $95.12 | $105.21 | $181.89 | $201.04 |
| Payout ratio | 91.96% | 54.69% | 157.34% | 93.48% | 75.25% | 145.66% | - | 81.13% | 57.34% |
Source: 10-k filings
Before evaluating the return to profitability during 2020, we must first understand the seasonal nature of Mattel. On a quarterly basis, the company is only profitable during the fourth quarter, so a trailing-twelve-month evaluation is needed to put things in perspective.
Unlevered free cash flow for the first quarter was $-53.4 million, a huge improvement from $-108.5 million during the same quarter in 2019. For the second quarter, unlevered free cash flow was $-250.2 million as the coronavirus pandemic hit became finally fully evident, a huge increase in expenses from $-157.0 million in the same quarter of 2019. During the third quarter, the company returned to a state of high profitability thanks to an unlevered free cash flow of $-35.5 million, which is much better than the loss of $-78.5 million during the same quarter of 2019. In a trailing-twelve-month calculation, unlevered free cash flow was $278.7 million during the first quarter, $192.5 million during the second quarter, and $236.0 million during the third quarter, a figure that is poised to improve as soon as the coronavirus crisis hit from the second quarter of 2020 leaves the equation.
Margins have been constantly improving
Gross profit margins have been improving for nine consecutive quarters on a year-over-year basis as the company has adopted a strategy of cost savings that have saved a total of ~$149 million during 2020 so far until the third quarter.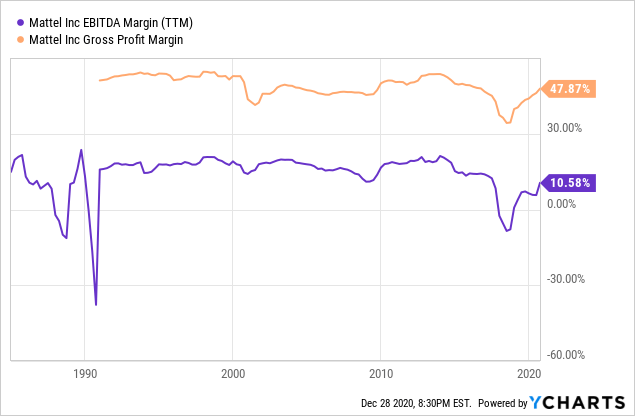 Gross profit margin usually dances around 50%, which is a very healthy margin that should allow the company to easily generate cash from sales. This means it makes around $0.50 from each dollar in sales after subtracting the cost of goods sold. The following chart will help us to see the gross profit margin trend closer:

Source: Seeking Alpha
As we can see, the company's profit margins and sales are expanding at the same time. The management expects an adjusted gross margin of 48.5% to 49% for the end of the year, which will be a much higher margin than the 35-39% in 2018. Ebitda margin has historically moved in the 10%-20% range, usually staying close to a very healthy 15%. In the third quarter of 2022, the company's gross profit margin increased 410 basis points, which has allowed an adjusted operated income of $401 million, a 131% increase year-over-year. This improvement, together with a huge increase in sales, is what allowed a much better unlevered free cash flow than in the third quarter of last year.
Risks worth mentioning
The main risk of Mattel has to do with the Christmas season. The company is totally dependent on the fourth quarter because it is when parents give gifts to their children, so a too weak Christmas campaign would be a blow to the company. This shows a weakening of the company that has dragged on over the years, and this is the seasonality of its business. While other companies like Hasbro (a company that I strongly recommend to consider) are profitable during other quarters, Mattel is only profitable during the fourth quarter of each year. For this reason, averaging down from here is the only way to reduce this risk. It is better to miss the opportunity to complete our position at current prices given a sudden increase after Christmas than to regret losing the opportunity to purchase shares at cheaper prices if the high season fails to meet expectations.
Another risk is share dilution. Honestly, I think issuing new shares to pay down debt would be a very wise movement since the company has not a dividend payment to meet as of now. The collateral damage is clear: the company would not be able to pay the dividends it used to pay per share in the past until it considerably reduced part of the shares issued, at prices surely higher. The point of this would be that this would considerably reduce the risk of remaining permanently overleveraged, with the high-interest cost that this entails, and would allow the company to use the savings from reduced interest expenses for innovation.
Conclusion
A few months ago, looking at Mattel's stock price was dizzying. It looked like the typical chart of a zombie company that keeps diluting its shares to stay afloat in some way, waiting for some miracle to happen, the typical company that you give thanks for not having bought, or that you curse yourself for having done it. Today, the picture is rapidly changing. Sales have been strong during the last quarter, and this Christmas season looks promising.
The company is increasing its digital presence through the development of 10 projected films, many TV series episodes, new video games related to the Hot Wheels brand, which will reduce its high seasonality component. Also, gross profit margins have been increasing steadily for nine consecutive quarters, and the management is forecasting a further increase during the fourth quarter of this year. This will likely allow the company to start a deleveraging process as soon as the beginning of 2021.
With a price to sales ratio of 1.353, which is below the historical average, increasing sales, new products to be released, lower seasonality, and high margins, this is a good opportunity to start a position in Mattel. But given the high dependence on the Christmas season, it would be conservatively wise to consider adding half position before the next earnings release and another half after it in case a weak Christmas season allows shareholders to increase the position at cheaper prices.