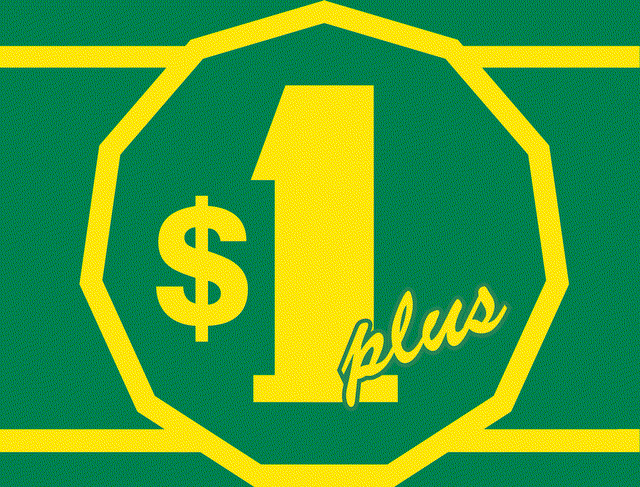 Dollarama (DLMAF) is the largest dollar store retail chain in Canada. Based out of Montreal, it currently has 1,333 stores across the country. In its Q3-2020 reporting, the company posted higher profits in the last 9 months than the 9 months in 2019 (pre-COVID-19). The company currently has a lot of momentum, and I foresee Dollarama ending its current fiscal year with record profits.
Dollarama and its Competitive Advantage
As parts of Ontario and Quebec had to shut down again because of rising COVID-19 cases, Dollarama stores with street access were allowed to remain open. These stores make up over 68% of the company's total stores across the country.
Also, in late December 2020, Ontario will be entering a province-wide lockdown, and non-essential businesses must remain closed. Since Dollarama is an essential service with most of its stores in Ontario, this should lead to another short-term bump in foot traffic and a slight improvement in profitability.
Since Dollarama was allowed to continue operating while the rest of the economy had to shut down, the company saw a surge in profits: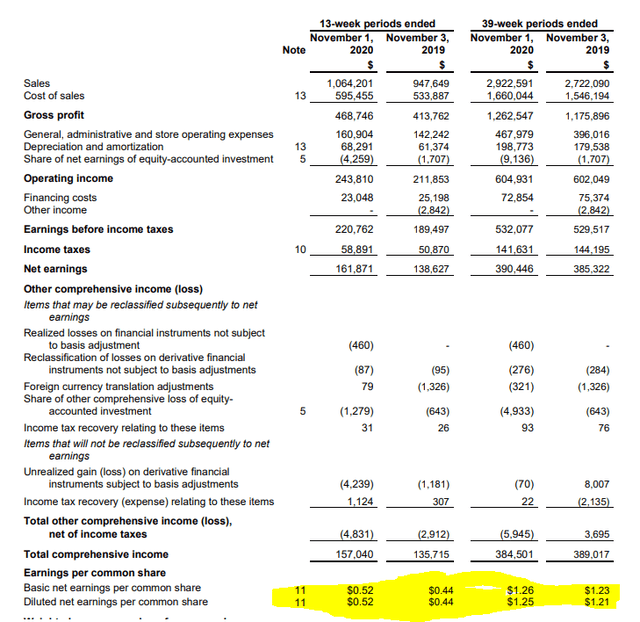 (Source: Q3-2021)
It is by the far largest dollar store chain in Canada. The next four largest competitors make up less than half of Dollarama's total store network. What this means is the company has been able to use its size to negotiate special deals and carve out an edge over its competition:
Expansion Continues
Dollarama has opened 42 new stores this year and is on track to open 60-65 stores by the end of the year. (Management has a goal to reach 1,700 stores.) As I may have mentioned in prior articles, to expand during the pandemic and in a recession shows how resilient and successful the company's business model has been.
On September 10, 2020, Dollarama completed the purchase of its 50.1% equity interest in Dollarcity. At the time of acquisition, Dollar City is priced at a 5x EBITDA multiple, giving it a value of $185.6 million USD, or $243.7 million CDN:

(Source: Company Financials)
A 5x EBITDA multiple is a good return to earn.
There are plans in place to expand into Peru in the near future. The target growth is to have 600 stores by 2029 (more than doubling the current Dollarcity store network in 9 years):

(Source: Dollarama Financials and Averagesalarysurvey.com)
Given the EBITDA numbers reported by Dollarcity, the expansion into Latin America is going to boost Dollarama's bottom line.
F Score Balance Sheet
The F Score where it measures Dollarama's financial strength continues to show the company is well-positioned financially. Dollarama consistently shows a score of 6 and 7 (out of 9):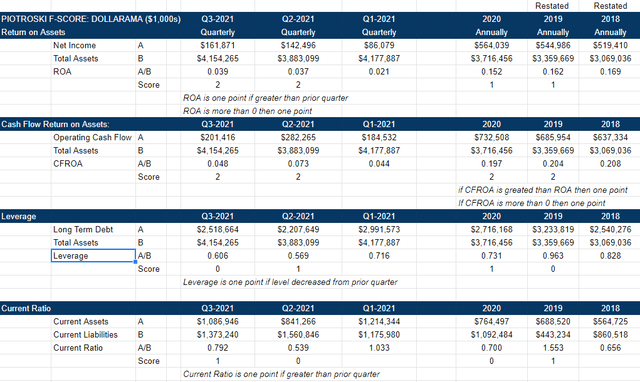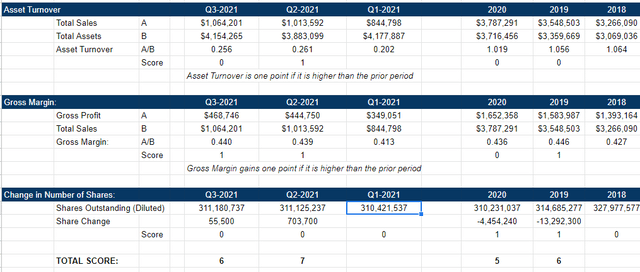 (Source: Dollarama Financials)
The company has substantially increased its cash holdings (almost 5x the amount in Q1), and its current ratio has improved from the prior quarter: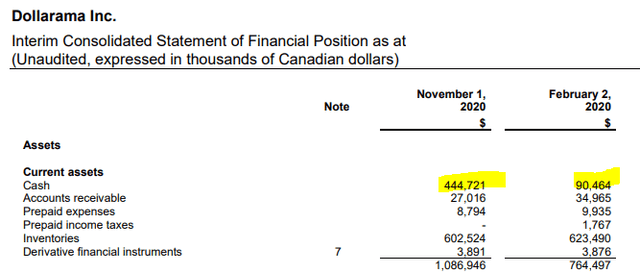 In analyzing Dollarama's sales figures, sales growth was 12.3% and same-store sales grew by 7.1%. Shoppers on average were making more purchases per visit and buying more of Dollarama's higher-priced items. Total sales growth had increased by more than 20% since Q1-2020 (from $844,798 in Q1-2020 to $1,064,201 in Q3-2020).
This has helped improve the EPS from $1.23 for the 39 weeks ending in 2019 to $1.26 in 2020. Given how the trends are moving and how Ontario will be under a lockdown, I do foresee Dollarama ending the current fiscal year on a high note.
Rising Costs Could Hurt the Business
Dollarama's gross margins are in the low to mid-40%'s range. These numbers are healthy, but they can be easily eroded if there is an increase in freight fees and taxes. The cost of doing business had already increased because of purchasing sanitizing, cleaning supplies and erecting barrier walls for its cashiers.
The strengthening Canadian dollar has helped offset some of the cost increase, but a Canadian dollar reversal could easily make foreign purchases expensive for the company.
Bullish Position
Overall, management does a good job in managing the company's risk. It does a great job in adapting to consumer tastes by offering seasonal products and switching out weaker-performing items. In the provinces of Quebec and Ontario, where Dollarama is an essential business, it's allowed to stay open while most other businesses are forced to close.
One important theme that stands out for Dollarama is its ability to adapt. The company created a mobile app to market its products and the ability to make digital payments (thereby helping to lower direct human contact).
Eventually, Canada will hit a saturation point where there are too many dollar stores in the country. There are about 1,333 stores in Canada, and Dollarama wants to grow to 1,700. If the company builds about 65 stores a year, it will hit its goal of 1,700 stores in 5 years. By that time, Dollarama will need to find new markets for growth. That new market appears to be Latin America, where it has a partnership to expand operations with new stores in Peru. The gradual rise in the company's stock price in the last several years is a clear sign that management has a good handle on its business.
I'm bullish on Dollarama.