Ammo Inc. (NASDAQ:POWW) is on its way to becoming a powerhouse in the ammunition business. Over the past two years it's been consolidating its business and has gotten to the point where it simply cannot keep up with the demand. It did this by reinventing the ammunitions business and creating products that gun enthusiasts, law enforcement and the military really want. Its STREAK visual ammunition allows a shooter to see the path of the bullet in dim lighting to its stealth subsonic munitions.
When you mix in the COVID-19 virus which created all out fear of potential martial law, social justice rioting in big cities, a political divide in which incoming democratic leadership with liberal policies may jeopardize citizens' second amendment rights, it created a recipe for gun and ammunition demand like no other. One could say Ammo Inc. is in the right business at the perfect time.
How Fear, COVID-19 and Politics Fueled a Run on Guns
As early as March of this year, as soon as government lockdowns from the pandemic hit the streets, there was a run on toilet paper, sanitizer and eventually ammo and firearms! Background checks, gun and ammo sales went through the roof earlier this year due to the invisible coronavirus.
Next came rising unemployment, social unrest due to racial issues amongst people of color and law enforcement. A cry for "Defund the Police" and rioting in many major democratic cities brought fear to many and a sense of urgency to be able to protect both themselves and their property.
Lastly, the inability for President Trump to control both the virus and our sputtering economy severely hurt his ability to win a second term in the Oval Office. Polling at double digit point leads and the mainstream media's dislike for the current president amplified Trump's days in the White House were limited. Trump, a Republican, now under the gun, rallied support among his followers with an underlying message that an election loss would severely jeopardize his gun toting faithful's Second Amendment rights in which U.S. citizens have the right to bear arms. Democratic candidates Joe Biden and U.S. Sen. Kamala Harris (D-Calif.) are calling for stringent gun control measures, including forcible confiscation, banning entire classes of firearms from lawful possession, licensing schemes and repealing the Protection of Lawful Commerce in Arms Act, which would expose the firearm industry to frivolous and harassing lawsuits.
Politics, Riots, Lockdowns, the virus, video games, and even the popular show The Walking Dead all had some level of influence which conjured an undeniable fear that resonated with over 8 million U.S. individuals (40% women) who decided to purchase a firearm for the first time in 2020.
Rise of the Female Consumer
Gun sales to women are up 40% compared to the same time last year, with an estimated 2 million women buying their first firearm in 2020, according to the National Shooting Sports Foundation. The spike can be attributed to jitters over the pandemic, the growing crime rate and the looming election.
As fears of post-election violence rise, gun sales are spiking. In some areas, sales of firearms are up 500% from this time last year. And women are among those arming themselves for the first time, in fact of the 8 million first time gun owners, a brow raising 40% are women.
Many are seeking safety in uncertain times. Besides women, another interesting statistic from the NSSF surveys revealed that 58 percent of firearm purchases were among African American men and women, the largest increase of any demographic group. Retailers noted that they are seeing a 95 percent increase in firearm sales and a 139 percent increase in ammunition sales over the same period in 2019, with some areas seeing an increase as high as 500%.
Experts See Ammo Shortage Lasting Deep into 2021
Ammo Inc's competitor Vista Outdoor's CEO and Director Christopher Metz recently commented during the company's quarterly earnings call last month that indicated ammunition will continue to be scarce well into 2021.
Like Ammo, Vista Outdoor (VSTO) has a significant backlog also as they currently have over a year's worth of orders for ammunition in excess of $1 billion. These numbers are unprecedented for both companies. With demand far outstripping supply and inventory levels in the channel at all-time lows, we see strong demand continuing.
"Simply put, consumer demand continues to outpace our ability to supply."
Experts cautioned there are notable differences between today's low-cartridge inventories and that of 2016, which may indicate the current situation may be longer lasting. The volume of new shooters is one driving factor due to the state of the world around us, 2020 has been full of uncertainty.
Ammo shortages are not a new dilemma for gun owners. In the last decade there has been significant periods of time where shelves were emptied due to fear caused by unprecedented events. There was a rise during the Obama administration. In December 2012, the mass shooting at Sandy Hook Elementary School in Connecticut made ammo fly off the shelves, causing shortages and prompting Walmart (WMT) to ration customers to three boxes a day. Cabela's (owned by Bass Pro Shops) also saw a run on ammo after the San Bernardino tragedy. The December 2015 shooting rampage caused a surge in sales in the first three months in 2016.
Top BRASS: Strategic Investments Paying Off
Jagemann Munition Company (JMC), formerly known as Jagemann Stamping Company, is the brass casing division of Ammo Inc. They targeted the brass casing division in 2018 and closed the transaction in early 2019 for $27 million, rebranding the operations as Jagemann Munition Components (JMC). It has a reputation dating decades as being the best in class brass supplier to the ammunition and munitions industry. This was a natural fit for Ammo Inc which holds innovation and quality at the core of their corporate mandate. More strategic investments are contemplated and in the company's last S-1 it has about $13 million set aside to take advantage of any opportunities.
Having multiple revenue streams is advantageous to any business, and while the ammunition literally can't be made fast enough, the company is generating additional revenue selling brass ammunition components. JMC strives for excellence, quality and consistency and continues to enhance their JMC brass casing and loaded ammunition operations by adding more cutting edge equipment to support exponential increases in manufacturing output while bringing on additional team members with an impressive depth of industry and manufacturing knowledge in support of our efforts to continue to meet the growing demand for their products. Whether one needs casings for pistols, rifles or customized ammunition, they will manufacture your brass to their highest standard. As one can imagine-- keeping up with the demand is a blessing and a challenge.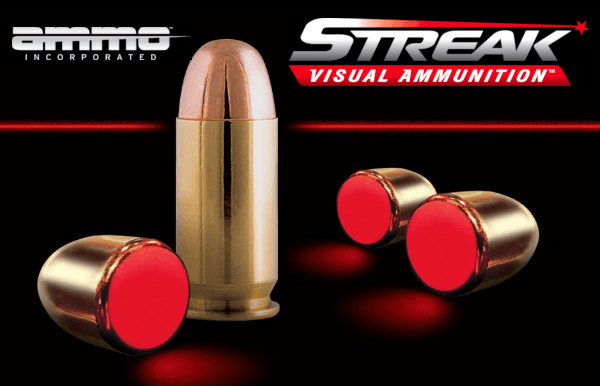 Source: Ammo Inc.
Revolutionary Ammo Technologies
STREAK Visual Ammunition has grown in both demand and popularity among the military and law enforcement. Those that have had the opportunity to use tracer rounds know that they are a load of fun, especially at night. Tracer rounds allow the military and police the ability to view their rounds' flight path which can help you more easily spot impacts as well as missed shots. Seeing the entire flight path gives you an idea of your bullet's trajectory and an opportunity to adjust one's aim which is advantageous for most shooters especially at night.
Ammo Inc.'s patented technology for their Streak round ammunition are non-incendiary and do not generate heat so they are safe to use in places where many tracers have been deemed prohibited. While most tracer rounds are seen as a hazard in indoor ranges due to their use of magnesium, a tracer round after shot contains a significant amount of gun powder dust left over in the casings which is a huge concern for range owners and the safety of their patrons.
The STREAK round is not the only unique ammunition in Ammo Inc's product line. The stelTH® line is more than just a standard round tuned for subsonic velocity. The stelTH™ is purpose-built for silence. The combination of technology, engineering, and collaboration with leading suppressor manufacturers make /stelTH/™ some of the most advanced subsonic cartridges in existence today. It's a round that slows baffle erosion and reduces build-up in your suppressor.
Another military and law enforcement favorite from AMMO Inc are Night OPS - ONE PRECISE SHOT® rounds which were developed to meet a wide variety of demanding engagement scenarios typically experienced by law enforcement personnel in the line of duty. With a HOLLOW POINT FRANGIBLE (HPF®) projectile that transfers 100% of its energy into the target, these rounds track straight through a variety of soft barriers like drywall, plywood, car doors and auto glass. Upon entering soft tissue, the jacket and core separate with furious force of impact, resulting in mass force trauma. These rounds are lead-free and California compliant, with lighter weight design to keep you on target when all hell breaks loose.
Having state of the art ammunition is what gives POWW the competitive edge over classic
brands like Remington, American Eagle, PMC and Winchester, which is owned by Olin (OLN).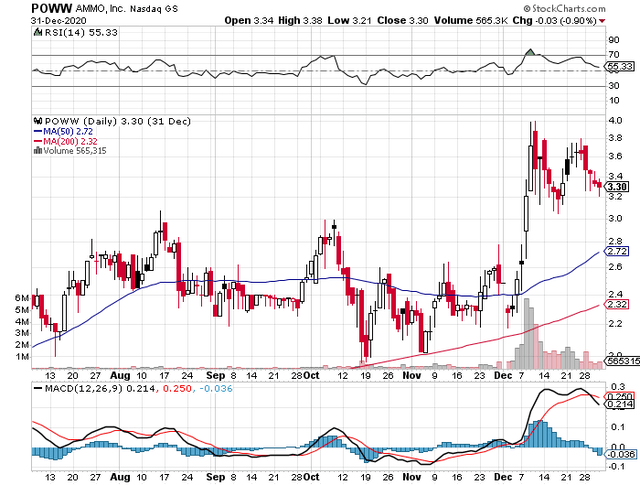 Financial Analysis
Ammo Inc. is on extremely sound financial footing. On December 1, 2020 the company was uplisted to the NASDAQ Capital Market with a concurrent S-1 offering of 8,564,285 at a price of $2.10 per for a total of $17,985,000. A couple weeks later the company closed the underwriters $2.6 million over-allotment for an additional 1,284,643 shares and strengthened the balance sheet by converting $2.1 million of the CEO's debt into common stock. The lead book runner in this transaction was Alexander Capital out of New York. There were about 48 million shares at the end of Q3. The offering added 9.85 million shares which represents 20.6% dilution in return for $20.7 million.
As of December 1st, 2020 the company posted a record backlog of $135 million. Ammo Inc's CEO Fred Wagenhals commented:
"Our record backlog has continued to grow, with booked orders coming in across all channels. We continue to expand our footprint with retailers across the country while continuing to build brand awareness and loyalty with customers."
The company expects to achieve revenues of $55.0 million during fiscal 2021. Revenue in fiscal 2020 was $20.2 million which would represent 272% growth year over year. The strength in the business comes from the military, law enforcement, and export orders. The company has over $33.2 million in net operating loss carryforwards ("NOLs") which could offset the expected profitability in the coming years.
In the latest earnings report the company guided to a "positive adjusted EBITDA to significantly increase over the next several quarters as we continue to maintain our focus on driving sales of our higher margin product offerings and enhancing manufacturing efficiencies across our entire product portfolio." In Q3 the COGS took a sizable hit due to non-cash charges related to the depreciation of the newly acquired casing operation which ramped up manpower, raw materials, and overhead to increase production capacity. Based on the latest guidance it seems like profitability could come in the final quarter.
Competition
Ammo Inc. has not yet provided any guidance with respect to gross margins or EBIT, but the ammunition business is highly commoditized. Competitor, Vista Outdoor Inc. ended the last quarter with 13.5% net income. Olin Corporation ended last quarter with a 13.3% net income. With Ammo's specialty products their margins should be higher than the industry average. OLN trades at a 1.4 multiple of sales and VSTO trades at a 1.5 multiple of sales. Revenue growth at these ammunition makers is relatively stagnant, whereas the revenue growth at POWW is exploding. Since revenue growth is close to 300% POWW should have a multiple of sales double or triple the current industry level. Assuming the $55 mil in sales this year a multiple of 3 to 4.5 places the market cap between $165 million to $248 million. At $200 million they are right in the middle of this range.
Risks
The company has one customer that accounts for 15% of net sales. This customer concentration could pose a risk to the business, but given that their expected growth rate is well above the customer concentration level it's really not a big factor. The biggest risk to the business lies in the company's reliance on third party suppliers for critical component parts like the primers. There is a worldwide shortage of primers. Guns & Ammo said "According to various sources, manufacturers are confirming to us that we are in the midst of the greatest primer shortage of all time." Only 4 domestic suppliers still make them: Federal, CCI, Remington, and Winchester. What puts Ammo Inc. in the catbirds seat is that they have something the other manufacturers want - brass. One can only imagine the horsetrading going on behind the scenes as all these ammunition manufacturers scramble to meet the demand. Assuming the domestic supply of primers dries up there are international sources like Armscor in the Philippines, and Sellier & Bellot in the Czech Republic.
Investment Summary
Investors looking to play the ammunition makers might consider POWW the best in class. The tailwinds of a strong democratic administration will continue to drive sales of weapons and ammunition. Women are setting records as first time gun owners and this trend seems to have legs that will translate into future demand. The new products STREAK and stelTH™ aim squarely at the demographic. The company has $135 million in backlog and that is assuming that they don't get any military or government business which could transform the company. Those contracts could have 50%+ gross margins. The company is strongly positioned to pounce on another acquisition. It has a strong balance sheet and is turning the corner to profitability. The company uplisted to the NASDAQ and has new institutional interest behind it. From a valuation perspective the company is right inline with the industry players, but POWW is nothing like them. POWW has distinguished itself as a disruptor and innovator in the space and demands a premium multiple. There are many positive catalysts that could transform the company overnight including the possibility of an exciting acquisition or even buyout. Additionally, any entry in the military market would be transformative on a basis of profitability. It is very possible that POWW could command a sales multiple as high as 10 with so many potential catalysts.
Regardless of what happens in the future, I believe this stock well perform well in 2021 and beyond as agencies become aware of the improved targeting safety it provides in the field.