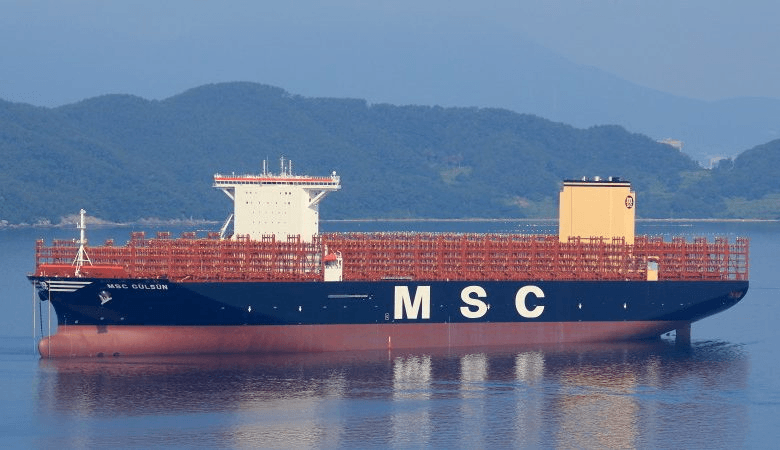 Welcome to the New Container Shipping Supercycle
The big concern in shipping has been and continues to be that when rates get good, shipowners rush to the shipyards to place more orders. This has absolutely been the case for the last decade as the hangover of excess shipbuilding capacity from the 2006-2015 shipbuilding boom made it easy to over order and cut short any rally in rates and asset prices since. This time is different for container shipping - we could see these rates go much higher and stay high for the foreseeable future.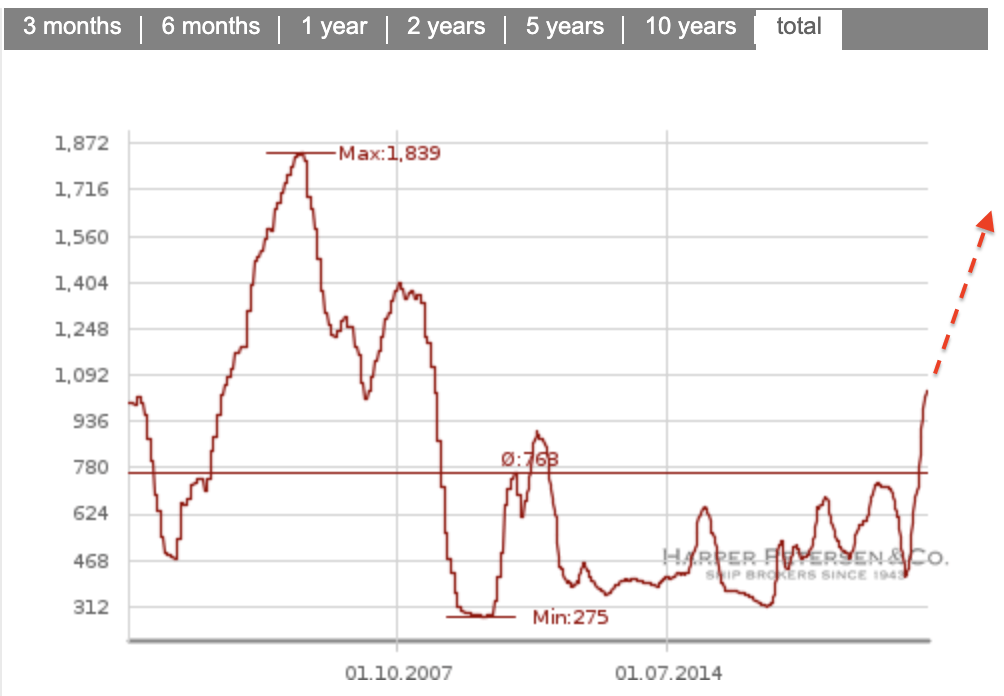 (Source: Harpex Index Representing container ship lease rates)
Due to uncertainty and overdone pessimism in the last 3 years related to trade tensions and Covid, far too few ships have been ordered to keep up with resilient trade growth. Sky high rates today show that we are already behind and unlikely to catch up anytime soon with 6 consecutive quarters of 15 year low new vessel deliveries starting in the second half of 2021. A December rush of new megamax ordering is too little too late as yards are now full into 2024 and simply don't have the capacity to catch up with replacements and growing trade.
It will take shipbuilders years to repair their broken balance sheets and rebuild order books from today's record lows before they think about adding capacity and then years to build new yards. Similar to the 2003-2008 shipping supercycle where demand outstripped shipbuilding capacity, we are entering a new phase of expected trade growth + replacements far exceeding capable shipbuilding capacity. These high rates we see today are more likely to be the norm for the foreseeable future than the exception. Every shipowner in the sector is likely to be a multibagger just like the last supercycle and the value buys like Navios Containers NMCI and Danaos DAC are likely to be 10 baggers in the coming years as valuations adjust to the new rate environment.
Capacity is Already Tight and About to Get Much Tighter in 2022
Due to trade war concerns 2018 and 2019 and Covid in 2020, the industry just didn't order many ships for delivery in 2021 and 2022. With about 24 months needed to crank out a ship, it is now too late to add for 2022 delivery and the supply shortage is likely to get much worse.
New ship deliveries are about to get super anemic starting in the second half of 2021: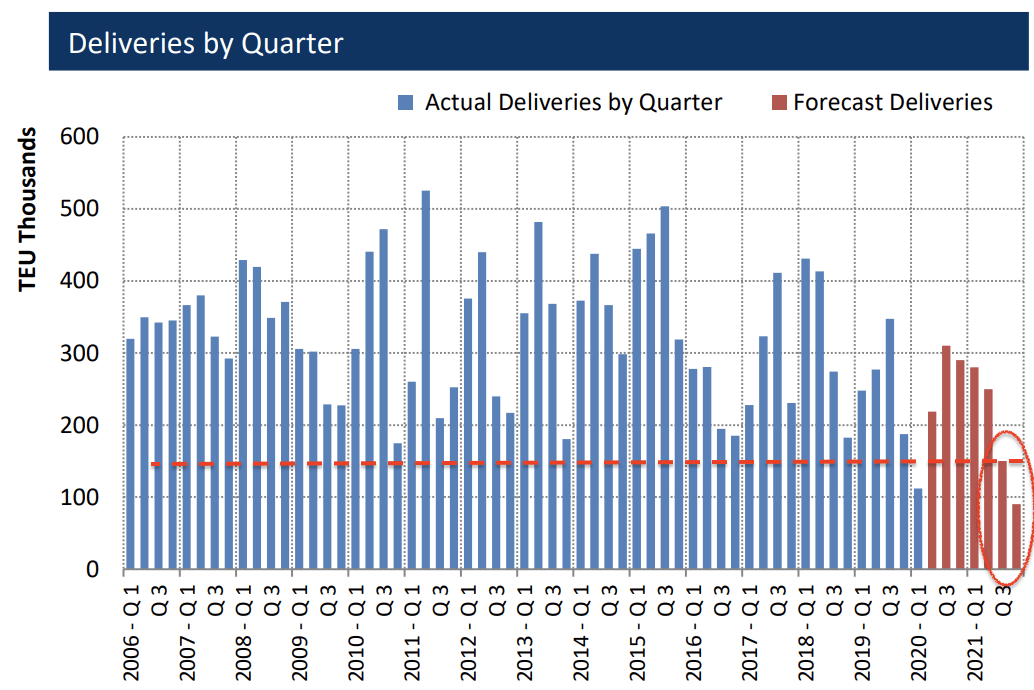 (Source: Alphaliner)
Q3 21 will see the second fewest quarterly TEU delivered in the last 15 years (after Q1 2020) and Q4 21 will be a fresh 15 year low. 2022 is far worse with total expected deliveries around half of the next lowest year in the past 15:
(Source: Danish Ship Finance)
We are about to see six straight quarters of new deliveries at 15 year lows. And this is on an absolute basis - fewer TEU's of new capacity will be added in these quarters than any set of quarters in 15 years. This is into a fleet that has tripled in size over the same period. On a relative basis, these 6 quarters of low deliveries are absurdly low by comparison. If trade grows at any amount more than the same absurd low relative to prior years, our current supply shortage is set to get much worse. With high consumer savings continuing to be spent on goods and trade tensions easing under the new Biden Administration, I see a return to robust trade growth much more likely than the anemic growth scenario.
Limited Shipbuilding Capacity for Big Containerships
The only ship size that operators want to buy right now is the Megamax and there are only a dozen shipyards capable of building these Megamax ships. So shunned are anything smaller than the biggest of the big ships right now that there is not a single ship on order for the old 23 row across megamax ships (105 of these delivered between 2013 and 2019) and there are a whopping 50 on order for the 24 across size.
Yes, 50 ships of this size are meaningful totaling 1.2 million TEU on their own representing half of the current orderbook on a teu basis. But the problem for the industry is that there are only about a dozen shipyards currently with orders for ships over 7,000 TEU and with the recent surge of ordering in December, these dozen yards with capacity to build megamax ships are booked through 2024 already. The earliest capacity at DSME group is early 2024 and other largest shipbuilders like COSCO booked out to September 2024 in the Megamax size. Judging by current orderbook and previous year deliveries which peaked in 2018 with 26 ships over 18,000 TEU delivered, I'd say world capacity for Megamax ships is less than 30 per year. 30 per year is only 720,000 TEU per year or 3% of the active fleet.
Total Megamax Shipbuilding Capacity Barely Offsets Expected Scrapping in 2023 and Beyond
1.6 million TEU of capacity is already over 20 years old with another 3.2 million TEU over 15 years old: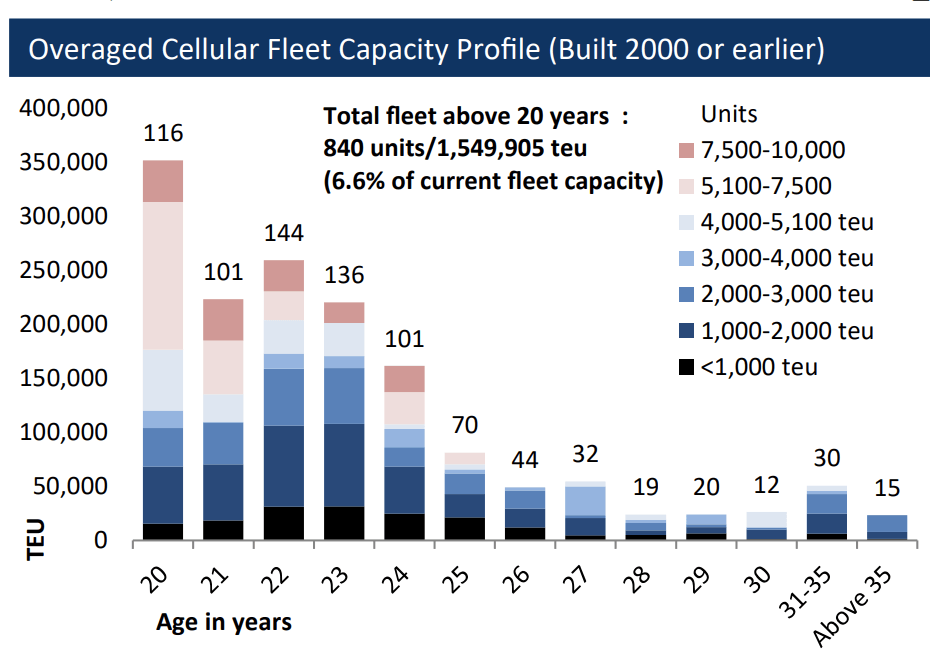 (Source: Alphaliner)
In order to maintain the same age profile in the coming years the world will need to scrap about 600,000 TEUS per year. Although scrapping tends to go down in high rates environments like the current one, new IMO regulations could put a backstop to how old these ships can actually get with some forced scrapping at similar ages to recent years or even earlier regardless of the rate environment.
Even with shipbuilders cranking out megamax ships as fast as they can, unless we build more megamax shipbuilding capacity or shipowners start ordering midsize ships again the megamax deliveries will barely keep up with expected scrapping activity.
New Shipbuilding Capacity Needed
Ironically, even though the writing is on the walls that the world will need a massive amount of new shipbuilding capacity to replace the ships from the last boom starting in 2005, the opposite is actually happening right now with scores of shipbuilders going bankrupt since 2015 and the worst year yet expected in 2022:
(Source: Danish Ship Finance)
Low ordering in 2022 was not unique to container ships. Pessimism on trade tensions, uncertainty with future IMO requirements, and covid absolutely decimated ordering. Per Danish Ship Finance November 2020 report, "59 yards, representing 6% of the global yard capacity, are due to deliver their last orders in 2020, while another 136 yards, representing 27% of global yard capacity, are scheduled to deliver their last order in 2021" You read that right - One third of the worlds shipbuilding capacity has nothing to build in 2022. Although orders may materialize in time to save some, many will go bankrupt and cease to exist.
The trouble is that these shipbuilders have the wrong type of capacity. The world needs much larger and more technologically advanced ships going forward and most of the world's shipbuilders are only capable of building small, simple ships like the ones built in the last boom. So even though we know that the world better start breaking ground on new shipbuilding capacity today, existing capacity cant pay the bills and the shortage is likely to get worse before it gets better.
New Midsize Ordering Wave Unlikely Anytime Soon
Yes, there is a ton of open shipping capacity available to build small and midsize ships right now. But ordering new midsize ships is not as easy as pulling out the blueprint for the last one built and building another in the series. There have been virtually 0 new ships in the 4,000 - 7,500 TEU range since 2015 and virtually 0 new ships built in the 7,500 - 10,000 TEU range since 2017: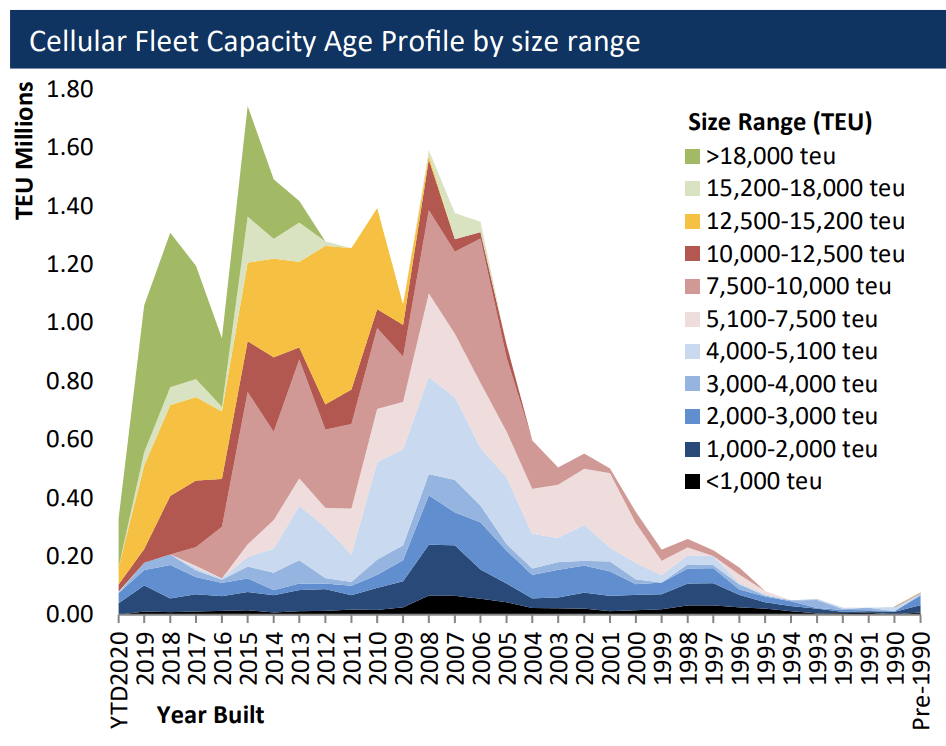 (Source: Alphaliner)
This means that it has been 5 - 8 years since ships in these sizes were ordered and that the last ships built in these sizes were last generation designs with last generation technology. Not only do we need new ships with modern designs, a push for low carbon shipping actually requires future designs with next generation technology and these midsize shipbuilders just don't have it. This is best summed up by Danish Ship Finance:
There are several factors constraining production capacity. Just 65 out of 287 yards have the capacity to build vessels larger than 100,000 dwt and only 60% of global capacity has experience implementing a non-fuel oil engine. While product assortment will be important, yards must build up track records, as vessel owners cannot afford to make wrong decisions.

(Source: Danish Ship Finance)
We will definitely see some new orders for midsize with sustained high rates, but ordering is likely to be muted as only the top shipbuilders are capable of building the next generation of ships. Capable shipbuilders are the same ones that are already booked up into 2023 and 2024. Other shipbuilders will simply go bankrupt or sit idle until balance sheets at the largest shipbuilders are repaired and have the capacity to absorb and modernize these defunct assets. Even then, small drydocks are not needed in a world that wants bigger and bigger ships.
What the market looks like in 5 years
In 2026, ships built in 2006 reach 20 years of age. This is significant because prior to 2005 shipbuilders delivered less than 500,000 teu of new ships per year which spiked to 1.3 million TEU by 2006 and stayed at or above that level all the way through 2015. This means that starting in 2006, 1.3 million TEUs per year will reach potential scrapping age. To put this in perspective, since 2015 the world has only delivered about 1.1 million TEU of new ships per year. Starting in 2006, the world will need to build around 20% more ships than we have been building for the past 5 years just to offset scrapping.
In order to accomodate a very modest 3% per year of trade growth the world will need to build an additional 830,000 TEU per year to keep up (on top of the 1.3 million TEU per year of replacement). That's over 2.1 million TEU of new ships needed each year starting in 2026 which is roughly DOUBLE what the world has built in each of the past 5. This will be a massive infrastructure challenge to build this much new shipbuilding capacity. It is almost certain to lag actual needs as finance for this area will want to see strong profits and balance sheets before making final investment decisions and breaking ground on new capacity.
Risks to this Thesis
Trade growth trends with world GDP growth. Any global recession in the future would likely also lead to negative trade growth and lower shipping rates

The prolonged period of high rates I am suggesting could be its own undoing as container rates this high are demand destructive. Companies will be looking to near-source production for more cost stability.

Governments may get involved and sponsor new shipbuilding capacity earlier than private finance otherwise would.

Severe recessions in other shipping sectors could open up large shipbuilding capacity for containers
Mic Drop - Welcome to the New Shipping Supercycle
Sky high rates have shown us that we are incredibly short on container shipping capacity today. A grossly insufficient orderbook in 2022 suggests that this problem is unlikely to be solved until mid 2023 at the earliest and that's only if trade is super soft. Unlikely. Even with megamax capable shipbuilders operating at full capacity and booked out into 2024, this is also likely insufficient to keep up with trade growth without a return to orders for mid-size ships or additional megamax sized shipbuilding capacity being built. Restarting mid-size shipbuilding capacity will take time as new designs need to be built and tested and many shipbuilders are not equipped to build next generation ships.
New megamax shipbuilding capacity also not coming anytime soon. Even if shipbuilders break ground on a new yard today to start building ships 2 years from now it results in the first new ships delivered 4-5 years from now. By the time new capacity is ready to build the containerships of the future (circa 2026), shipbuilders will need to be building almost double today's volumes to keep up with scrapping and trade growth.
To recap and beat this thing to death: supply is tight now, supply will be super tight in 2022 on a tiny orderbook, supply is likely to stay tight through 2025 on insufficient shipbuilding capacity in the megamax size and challenges building smaller sizes, and supply is especially insufficient post 2025 as double the level of recent shipbuilding will be needed to keep up with surging demolitions. This new era of insufficient shipbuilding capacity we are entering is much like the one that caused most shipping stocks to go up 5,000% from 2003-2008. Container shipping has entered the new supercycle.
Although we may see rates pull back from decade highs, I think there is an equal chance we go higher and very little chance we return below breakeven. Equities like Navios Partners/Containers NMM/NMCI trading at just 1.4x forward earnings and Danaos DAC trading at 2.3x 2021 earnings will continue to explode higher and are multibaggers from today's levels. For a more in-depth analysis supporting this thesis as it relates to the companies mentioned, please read my Seeking Alpha articles on NMM/NMCI here and DAC here. This is a sector call and the rest of the sector names like ATCO, CMRE, GSL are also great investments.