S&P Global (NYSE:SPGI) has several moats and is becoming very attractive as the share price continues to drift closer to $300. A known compounder, it is worth reviewing where its underlying strength comes from and how sustainable its moats may be.
S&P Global has four business segments, three of which have clear and lasting moats. Listed in the order the company presents each, they are:
Ratings Market Intelligence Platts Indices
Evidence of superior performance is everywhere not hard to find.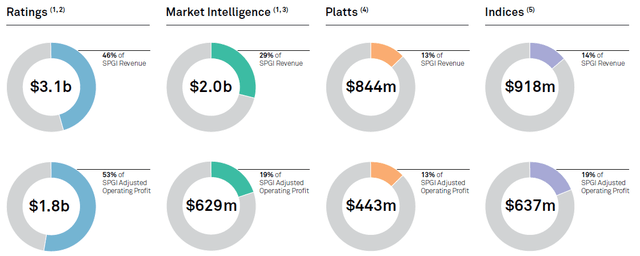 Source: S&P Global
Except for Market Intelligence, with a respectable but not remarkable 30% operating profit margin, all other segments show operating profit margins in excess of 50%. Indices shows an almost indecent 70% operating profit margin.
Ratings
This business came under fire following the 2008 GFC. I initiated my position in SPGI shortly after they settled the lawsuits that ensued. Structured finance has never recovered and is unlikely to reach the levels of that time. However, corporate borrowing continued growing.
S&P Ratings has benefited the persistent tailwind of ever-lower interest rates. The low rates have enticed companies and governments to issue record amounts of new debt. This growth will not continue forever, and likely not for long either, but debt will need to get refinanced nevertheless. this potential for growth slowdown may be one of the motivations behind the IHS Markit transaction.
S&P, together with Moody´s and Fitch are the three leading rating agencies. S&P´s position is dominant, with a market share consistently around 80% in the US (+60% in Asia and +70% in the rest of the world). Now, market share in this case relates to debt that is subject to ratings, however sales wins do not unnecessarily translate to a competitor loss.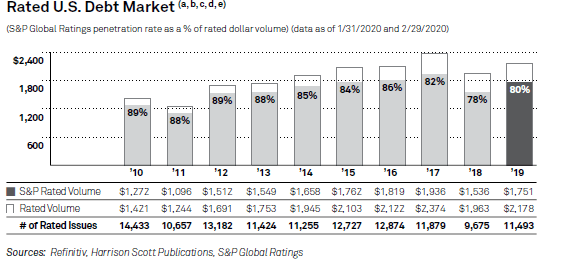 Source: S&P Global
Driven by institutional investor policies and charters, which often require "investment grade rating by at least two of the three major rating agencies"; clients usually obtain ratings from two or the three agencies on the same debt. That means the tree agencies can show market shares exceeding 50%.
Clearly, there is a moat around the "major rating agency" status. The ratings provide a uniform standard to buy side investors to discriminate and rank debt based on a consistent criteria. The market structure (concentrated in three major players) may be the result of the demand for this consistency across the huge range of traded debt. In any case, barriers to entry are clearly high. One may look at the fees they charge as a toll to access the debt capital markets.
That is not to imply there is no value for the issuer of debt. The value proposition on the issuer side is a lower interest rate. Rated debt has a wider market acceptance and liquidity than non-rated debt and therefore lower coupons.
Platts
Platts is the main reference for petroleum pricing and other commodities. In any market, before there can exist forward transactions (futures, options and derivatives), there needs to be a spot reference price published regularly and that "everyone can agree on". Without a spot price, there can be no settlement price in the future.
Platts provides this spot price by establishing individual links with market participant in the main trading hubs to gather daily information and develop, for instance, heavy fuel oil prices as delivered FOB in the US Gulf Coast. Once this becomes the reference for the product, then futures markets can develop. Once forward market contracts develop, the pricing index provider has a captive market.
Who subscribes to Platts? Practically everyone on the energy supply chain, from E&P and integrated oil and gas companies to utilities, transportation, refining, etc. Anyone who needs to sell or buy on a term basis a product (or a product like transportation or electricity whose main variable cost is tied to a petroleum product) needs to have access to the index price. Not to mention banks providing hedging and trading houses making markets on physical commodities.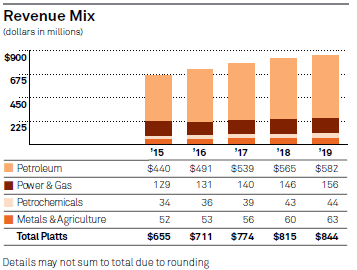 Source: S&P Global
Size and scale is an advantage in two ways. First, the cost of information gathering and analyzing/editing to publish a price is not low but it is largely fixed. Once this platform is in place, each marginal subscriber adds significantly to profit; this is operating leverage at work. Second, market participants, some of which enter long term contracts need to feel confident the reference index (and its provider) is highly likely to continue providing the service.
The future for petroleum and products may not be bright, but oil will remain very relevant for decades. Platts is becoming the benchmark for LNG, through its JKM price index, and LNG may very well become the future.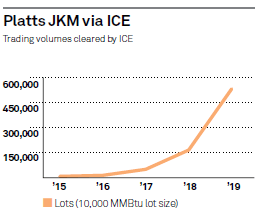 Source: S&P Global
S&P Dow Jones indices
The S&P 500 and the Dow Jones are the most widely used indices for referencing the US stock market. Because of this, asset managers use them as benchmarks to measure their own performance, either against the index or in tracking it. The company has developed a whole family of indices based on slicing up the market in different ways and licenses their use to asset managers and others.
The company charges asset-linked fees representing about 2/3 of revenue from this segment. The asset-linked fees provide a positive exposure to growing US stock market without adding to its costs. Obviously, the use of benchmarks that retail investors are familiar with is not a fad. The largest ETF, the S&P 500 tracking SPDR, for example, serves as a proxy for "the market" in many investor minds.
Market Intelligence
The MI business (formerly S&P Capital IQ) has no particular moat in my view. I will not discuss it in detail, as it is not central to the long-term value and compounding thesis. It may become more relevant after the merger. Certainly, the product offering will improve (adding transportation for example); and ESG (through Trucost) may be a significant growth opportunity that I am missing.
Merger with IHS Markit
A very good note on the merger was published by fellow SA contributor Daniel Jones here. In essence, S&P Global shareholders will end up owning roughly 2/3 of the combined entity. At current market prices, the combined company will have a market cap north of $100 Bln and less than $10 Bln in total debt.
I agree with the view the transaction seems fair to both sides. INFO has faster growth, which I suspect was a major motivation for S&P Global to initiate the transaction. And S&P has a more established franchise.
Management has guided to less than $500m in cost synergies. I am usually skeptical on merger synergies, but in this particular case, I believe the estimates are conservative (and will be expanded in the next couple of years). IHS Markit has about +$1bln in total SG&A. I see no reason why the company has to combine ANY SG&A costs.
Given the complimentary nature of the services and their digital delivery, it may not be too much of a stretch to imagine all $1bln to be a potential synergy. Essentially all corporate functions like Treasury, HR, Legal, Investor Relations, and Compliance are overlapping in the combined entity.
Moreover, the complimentary nature of IHS properties is clear. For example, S&P "owns" stock indices; INFO owns fixed income and credit spread indices. It is not difficult to imagine these products being sold by a single sales team using a single technology infrastructure.
The price paid was not low, at $44Bln including debt ($40Bln excluding debt). This was very close to the market cap at the time, very little premium as involved. This means IHS board could clearly see the potential synergies as well. Mitigating the high price is the fact that SPGI agreed to pay fully in stock, which had also appreciated considerably before the merger announcement.
Valuation
SPGI currently trades at around 25 times forward earnings. Moats this strong do not come cheap. I believe the multiple is justified and sustainable; because:
Growth will continue: the combined entity is guiding to revenue growth in the 6.5% to 8% range (and remember those margins!). Good, clean data sets are the raw material feeding algorithms for A.I. and M.L.

Revenues post-merger will become +75% recurring (subscriptions, royalty or asset based, etc.) and therefore very sticky.

Free cash flow generation will improve 25% in the next three years (from $4Bln on combined entities last 4 quarters to $5Bln by 2023).
Despite this, SPGI stock is 15% lower today than when the merger was announced.