Real Estate Weekly Outlook
U.S. equity markets finished mostly lower this past week as partisan tensions raged on amid a second impeachment vote while economic data and corporate earnings reports indicated that the U.S. economy stumbled into the start of 2021 amid the ongoing "second-wave" of the coronavirus pandemic. A boost from additional stimulus discussions was offset by pressure on mega-cap technology companies on reignited regulatory concerns following the de-platforming of President Trump and other conservative-leaning media outlets.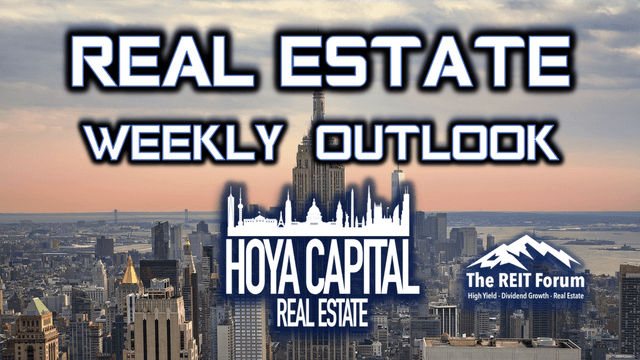 (Hoya Capital Real Estate, Co-Produced with Colorado Wealth Management)
After jumping 2.0% in the first week of 2021, the S&P 500 ETF (SPY) retreated 1.5% this past week while the tech-heavy Nasdaq 100 (QQQ) dipped more than 2%. The momentum continued for Mid-Caps (MDY) and Small-Caps (SLY), however, which gained 0.3% and 1.7%, respectively. Real estate equities led the way on the week, powered by a fresh wave of dividend increases, as the Vanguard Real Estate ETF (VNQ), finished higher by 1.9% with 13 of 19 property sectors finishing in positive territory while the iShares Mortgage Real Estate Capped ETF (REM) finished off by 0.5% on the week.

Seven of the eleven equity sectors finished lower on the week as the large-cap Communications (XLC) and Technology (XLE) sectors were under pressure while the Energy (XLE) sector continued its strong gains in 2021 after a brutal 2020. Meanwhile, the wild-ride for Bitcoin (BTC-USD) continued with the digital currently dipping 9% this past week after reaching highs above 40,000 last week. Twitter (TWTR) plunged more than 12% while Facebook (FB) and Amazon (AMZN) were also under pressure social media companies and tech platforms stepped into the center of the intensifying debate over monopoly power, censorship, free speech, and corporate influence in politics.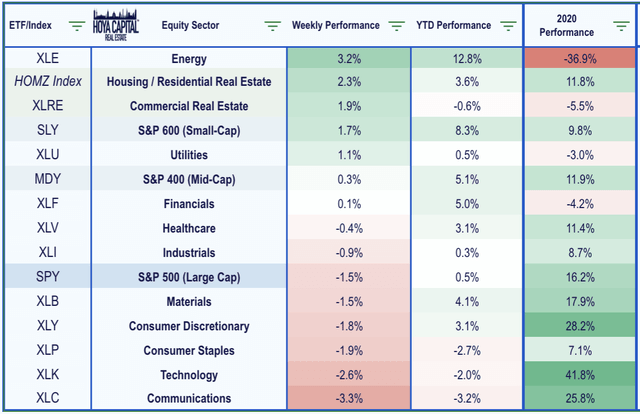 Homebuilders and the broader Hoya Capital Housing Index were also among the leaders this week following a stellar earnings report from KB Home (KBH). The single-family homebuilder gained more than 8% on the week after reporting that net orders surged 42% to 3,937, the company's highest fourth-quarter level since 2005. KBH's backlog ended higher by 63% from last year as the company commented that it "expects to achieve significant growth in its scale and profits in 2021." In our Homebuilder report, we discussed how a confluence of near-term positive factors and long-term tailwinds converged over the last eight months that have generated a highly favorable environment for the U.S. housing industry, tailwinds that are still in the early innings.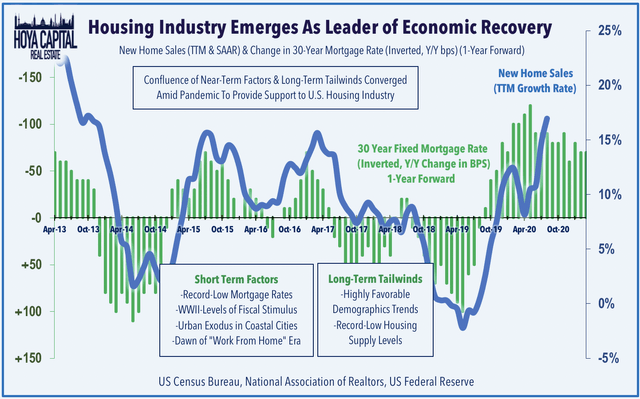 Real Estate Economic Data
Below, we recap the most important macroeconomic data points over this past week affecting the residential and commercial real estate marketplace.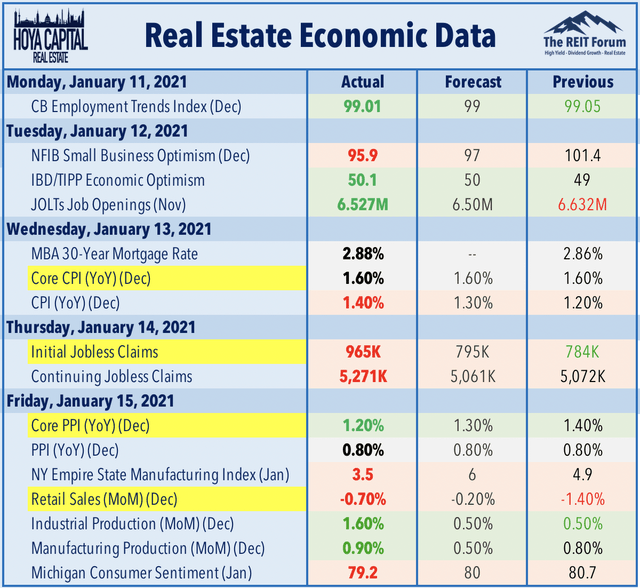 All eyes are on inflation data after Democrats won the "trifecta" of political control in Washington DC as investors expect that additional fiscal stimulus will be high on the political docket. Inflation expectations jumped to mid-pandemic highs with the 10-Year Breakeven rate closing at 2.10% despite cooler-than-expected inflation data this past week. The BLS reported that Core Consumer Prices rose just 0.1% in December, pulling the annual increase down to 1.62%. Later in the week, the BLS reported that Core Producer Prices rose also rose just 0.1% to drag the annual increase down to 1.19%.

Despite the rise in inflation expectations, the 10-Year Treasury Yield still ended the week lower, reflecting skepticism about the pace of the recovery. Initial Jobless Claims jumped to the highest level since August at 965k after showing signs of improvement in the prior three weeks. Continuing Claims ticked up to 5.27 from 5.07, but since the peak in early May at nearly 25 million, Continuing Claims have retreated by 19.5 million. Perhaps driving these increases, the recently enacted stimulus package provides an additional $300 per week in enhanced unemployment benefits on top of state benefits.

Retail Sales data this week also underscored the choppy and uneven economic recovery. The Census Bureau reported that Retail Sales were shy of consensus estimates in December, declining by 0.7% from the prior month, the third-straight month of sequential declines. Sales remained impressive on a year-over-year basis, however, as retail sales excluding food were higher by a strong 6.3% from the prior year. E-commerce and housing-related categories remained the strongest segments. The Building Materials category rose another 0.9% in December is now higher by 17.0% from last year.

Commercial Equity REITs
Manufactured Housing: UMH Properties, Inc. (UMH) jumped 2.4% this past week after it announced that it will increase its quarterly dividend to $0.19 per share up from $0.18 per share, the first dividend increase in fifteen years for the small-cap REIT. UMH joins the other two manufactured housing REITs, Sun Communities (SUI) and Equity LifeStyle (ELS), which boosted payouts in 2020 and have collectively achieved some of the strongest rates of dividend growth in the REIT sector over the past decade. UMH was one of five equity REITs to raise its dividend this past week and one of 54 equity REITs that have increased payouts since the start of 2020.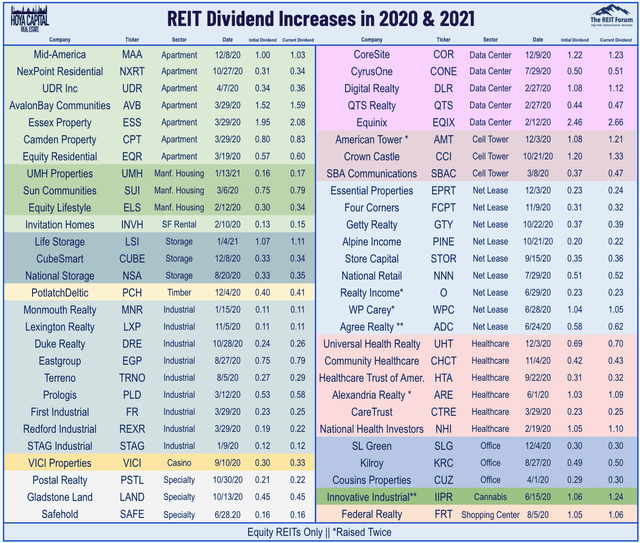 Industrial: Two industrial REITs also boosted their dividends this past week. STAG Industrial (STAG) finished higher by 0.7% on the week after boosting its dividend by 0.7%. Monmouth Real Estate (MNR) surged 6.3% on the week after boosting its dividend by 6.5%, becoming the ninth industrial REIT to increase its dividend since the start of 2020. MNR concurrently announced that it has rejected Blackwell Capital's proposal to acquire MNR for $18.00 per share and it will explore strategic alternatives including the potential sale or merger of the company. While industrial REITs are likely to report average FFO growth near 10% in 2020, MNR has been a laggard.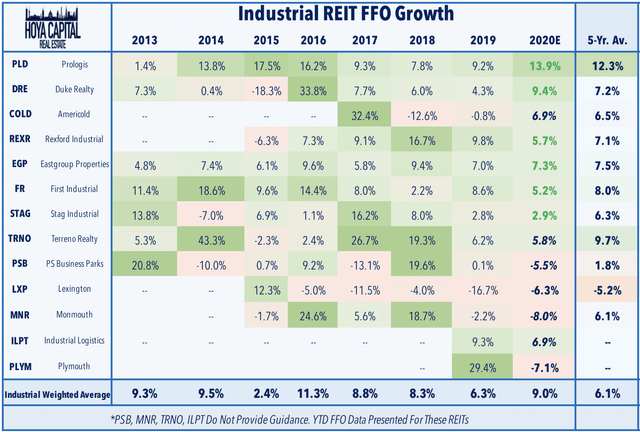 Net Lease: Agree Realty (ADC) finished lower by 1.8% on the week despite modestly boosting its dividend and officially switching to a monthly dividend payer. We also heard a flurry of acquisition and capital raising updates from a handful of net lease REITs. W.P. Carey (WPC) gained 0.8% after announcing that its total transaction activity in 2020 was $826M, above earlier projections. STORE Capital (STOR) finished lower by 0.5% after announcing that it invested more than $800M in Q4, exceeding its guidance range of $625M-$750M. Realty Income (O) finished lower by 1.8% after commencing a public offering of 10.5M shares of its common stock priced at $57.05/share, using the proceeds to fund property as the vaccine-driven rebound has "reopened the external growth spigot" for the well-capitalized REITs.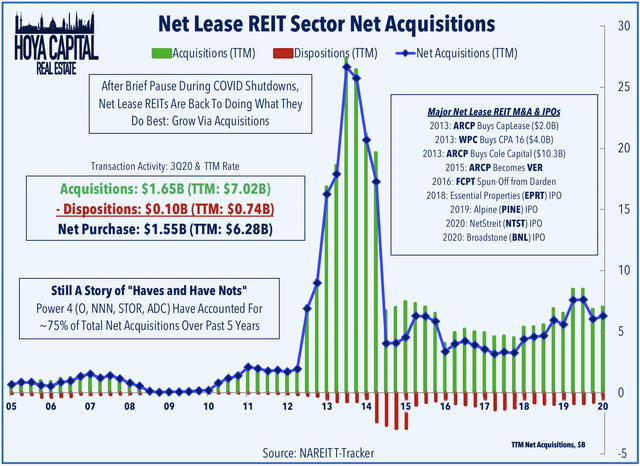 Malls: Tanger Factory Outlet (SKT) jumped 9.2% on the week after announcing that it will resume its suspended dividend at a rate of $0.1775/share dividend, which is roughly half of its prior pre-pandemic rate of $0.36 per share. Tanger provided a business update earlier in the week in which it reported that it collected 90% of Q4 rents and over 40% of the deferred rents due in 2021 had been collected and noted that it has recorded positive cash flow across 2H20. Despite the strong week, Tanger has been one of the worst-performing REITs over the past five years, losing more than half of its value during this time.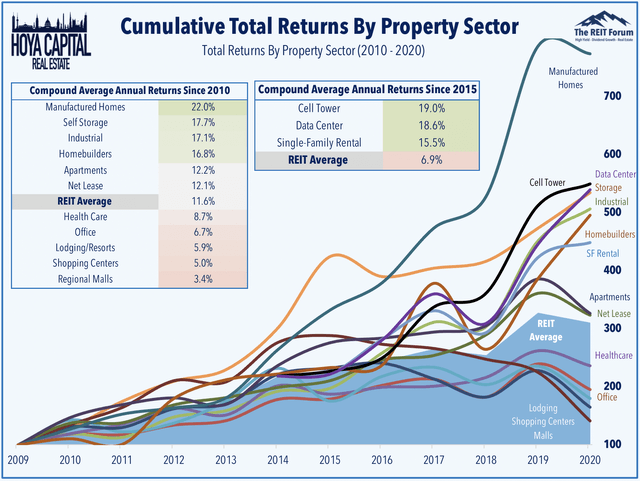 Prisons: GEO Group (GEO) gained 6.5% on the week despite announcing that it slashed its dividend for the second time, declaring a $0.25/share quarterly dividend, a -26.5% decrease from its prior dividend of $0.34. Prison REITs - the "darkest corner" of the REIT sector - were slammed in 2020 as pandemic-related operational struggles have clashed with ever-intensifying political headwinds. The abolition of the federal usage of private prisons was on Joe Biden's pre-election platform, and with Democrats now with the "trifecta" of political control, prison REITs face a highly uncertain future.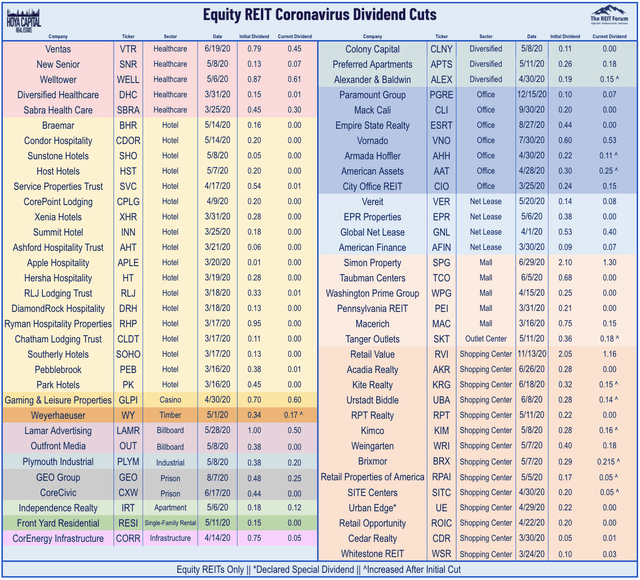 Cell Tower: American Tower (AMT) announced that it will acquire Telxius Towers for $9.4B, comprising about 31,000 existing communications sites in Germany, Spain, Brazil, Chile, Peru, and Argentina. This marks the second major acquisition of the past two weeks for AMT, the largest REIT by market capitalization. This week, we published Cell Towers: Tech Trouble where we discussed how cell tower REITs outperformed the REIT Index for the sixth-straight-year in 2020, but have dipped nearly 20% over the last quarter amid the sharp vaccine-driven REIT sector rotation. We believe that Apple's (AAPL) successful iPhone 12 launch represents the true "arrival" of 5G, the much-anticipated next-generation mobile network.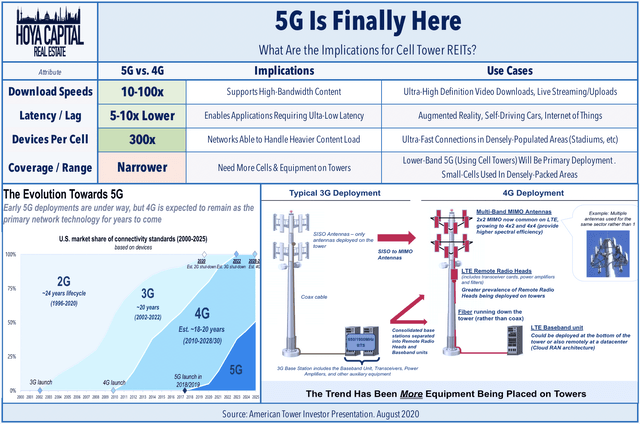 Healthcare: Finally, healthcare REITs - which have been "ground-zero" of the coronavirus pandemic - continued their post-vaccine rebound this past week. As discussed in Healthcare REITs: Vaccine Brings New Life, while the initial roll-out has been slow, the successful approval of coronavirus vaccines may have prevented a "lost decade" for senior housing REITs, which reported record-low occupancy rates in late-2020. In the report, we also highlighted that healthcare REITs have historically been one of the most interest-rate-sensitive REIT sectors due to their heavy use of triple-net lease structures.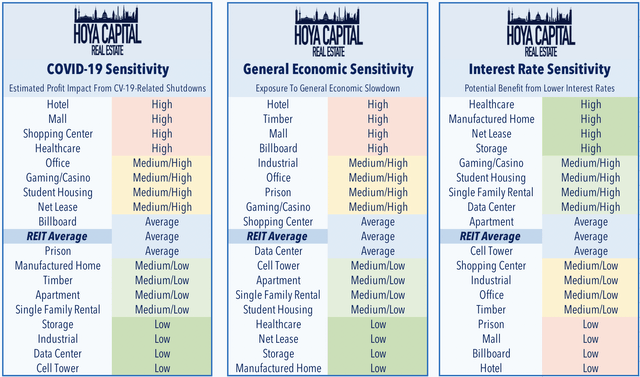 Mortgage REITs
Mortgage REITs finished mostly-lower on the week as residential mREITs finished lower by 1.0% while commercial mREITs declined by 0.4%. Broadmark Realty (BRMK) was among the leaders this week, gaining 4.0% after the homebuilding-focused mortgage REIT declared a $0.07/share monthly dividend yesterday afternoon, a 16.7% increase from its prior dividend of $0.06. Orchid Island Capital (ORC) gained 2.7% after providing a preliminary earnings report in which it noted that its book value per share at the end of 4Q was $5.46, up 0.3% from its BVPS at the end of 3Q.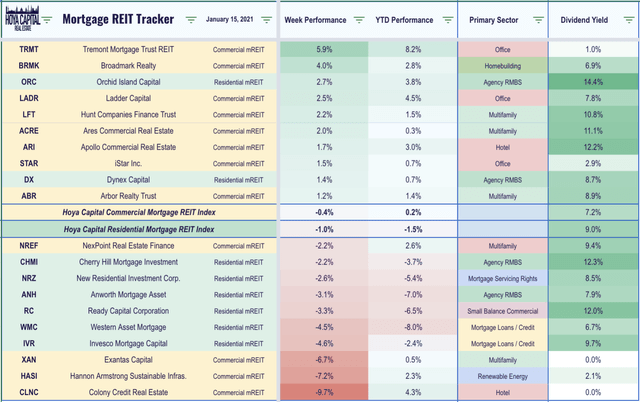 The iShares Mortgage Real Estate Capped ETF ended 2020 with total returns of -20.8%, but the market-cap weighted index hides some of the permanent scars of 2020 on a handful of mREITs. Using a simple average, among the 23 residential mREITs, the average price return in 2020 was -33.3%. Among the 18 commercial mREITs, the average price return in 2020 was -18.5%. Of the 41 mREITs in the NAREIT universe, just two paid higher dividends in 2020 compared to 2019, seven paid the same rate, while 32 paid lower dividends.

REIT Preferreds and Baby Bonds
The InfraCap REIT Preferred ETF (PFFR) ended the week higher by 0.4% and ended 2020 with total returns of -0.2%. Among REITs that offer preferred shares, the performance of these securities was an average of 15.47% higher in 2020 than their common shares. This week, mortgage REIT Dynex Capital (DX) announced that will redeem all of its Series B Cumulative Redeemable Preferred Stock (DX.PB) at par on February 15, 2021. The average REIT preferred stock trades at a roughly 5% discount to par value and has an average current yield of 6.61%.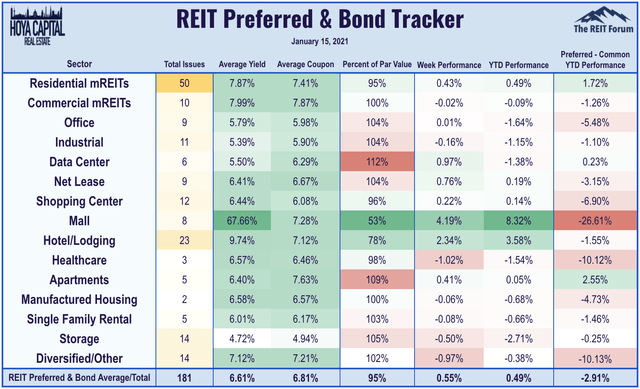 2021 Performance Check-Up & 2020 Review
Through two weeks of 2021, Equity REITs are lower by 0.4% while Mortgage REITs have declined by 1.0%. This compares with the 0.5% gain on the S&P 500 and the 4.1% gain on the S&P Mid-Cap 400. Nine of the nineteen REIT sectors are in positive territory for the year, while on the residential side, seven of the eight sectors in the Hoya Capital Housing Index are higher for the year. At 1.10%, the 10-Year Treasury Yield has climbed 18 basis points since the start of the year and is 58 basis points above its all-time closing low of 0.52% in August 2020, but 215 basis points below its recent peak in 2018.

The FTSE Nareit All Equity REIT Index ended 2020 with total returns of -5.12%. Despite the rough 2020, REITs have been one of the best-performing asset classes since the start of 2010, producing average annual total returns during this time of 11.1%. Interestingly, 2020 was the first year since 2009 that REITs finished in the bottom four of the ten major asset classes and despite the pull-back, still lag only the Small-Cap, Mid-Cap, and Large Cap equities over this time. REITs have produced far superior total returns to Bonds (AGG), TIPS (TIP), Commodities (DJP), ad International (EFA) stocks.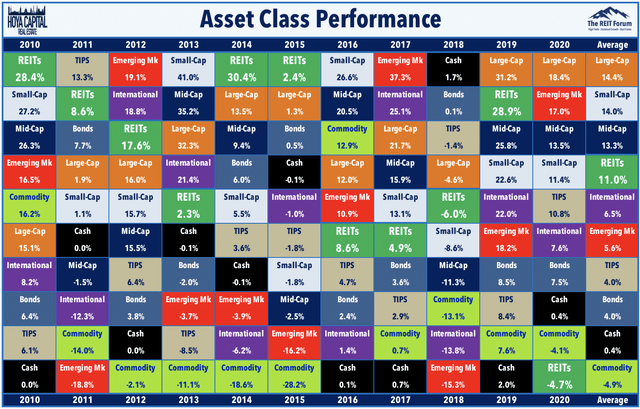 Economic Calendar In The Week Ahead
We have another jam-packed slate of economic and housing data in the week ahead. On Wednesday, the NAHB will release Homebuilder Sentiment data for January. On Thursday, we'll see Housing Starts and Building Permits for December. Then on Friday, we'll see Existing Home Sales for December. We'll see a flurry of PMI and manufacturing data throughout the week, and on Wednesday and Thursday, we'll be watching the weekly Mortgage Applications and Jobless Claims data as well.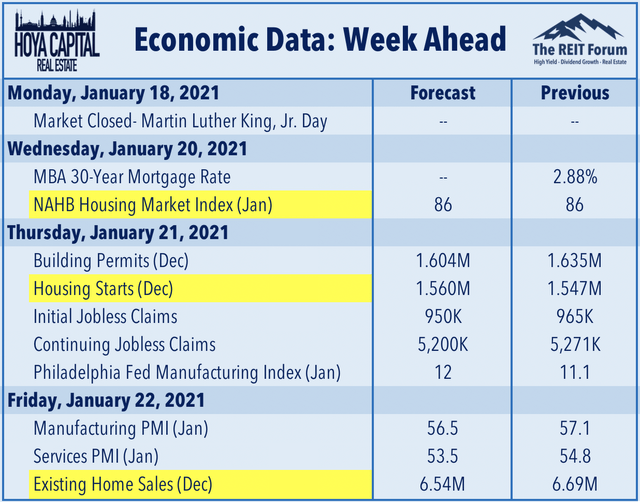 If you enjoyed this report, be sure to "Follow" our page to stay up to date on the latest developments in the housing and commercial real estate sectors. For an in-depth analysis of all real estate sectors, be sure to check out all of our quarterly reports: Apartments, Homebuilders, Manufactured Housing, Student Housing, Single-Family Rentals, Cell Towers, Casinos, Industrial, Data Center, Malls, Healthcare, Net Lease, Shopping Centers, Hotels, Billboards, Office, Storage, Timber, Prisons, Cannabis, Real Estate Crowdfunding, High-Yield ETFs & CEFs, REIT Preferreds.
Disclosure: Hoya Capital Real Estate advises an Exchange-Traded Fund listed on the NYSE. In addition to any long positions listed below, Hoya Capital is long all components in the Hoya Capital Housing 100 Index. Index definitions and a complete list of holdings are available on our website.