The name Halo Labs (OTCQB:AGEEF) has popped up several times in some of my research for investments. They are a cannabis company focused in Oregon and California. And, looking to expand internationally, they are actively working to purchase a dispensary, Kush Bar, from High Tide (OTCQB:HITIF) in Canada. The company is recovering from very serious issues with their vape business, as you will be able to see in the following charts. They have refocused and changed directions. Their newfound-love appears to be dispensaries and they intend on operating front-to-back in the future; focusing on the retail areas first then building up brands, then cultivation. Revenues are increasing and Halo is near profitability.
I'm very bullish on the cannabis industry and am driven to find companies that are potentially significantly undervalued with the opportunity to see price appreciation in their respective stocks.
So, I wonder, given the refocus and revamp, is Halo Labs a good buy?
First thing, first: The link to the website was down www.halocanna.com (it finally went back up after 2 days). At first, I went to a website that had the same Halo Labs company name. Then, I did a Google search and they were not coming up. As Churchill might have stated, "it was a riddle, wrapped in a mystery, inside an enigma." Something clearly happened.
Bottom line: If you are a cannabis company, a highly regulated company, and your website is not up, if you can't be readily found on Google, are you sure you are in business? That was my conversation with my computer.
According to press releases, they are in business and, as I mentioned, working towards developing their focus on California and Oregon, and then in Canada. Halo CEO Kiran Sidhu talked about how COVID was a real factor with their business as well as the riots over the summer. The CEO had also contracted COVID and the lessons from both the vape and virus recovery were to focus more intently. The main focus was on where they would sell products and what products. Halo will focus on flower, pre-rolls, and edibles. Then, they will stay focused in California, Oregon, and Canada.
Let's see how this is all playing out in the numbers.
Halo Labs Revenue
Here is a look at the revenue picture for Halo Labs: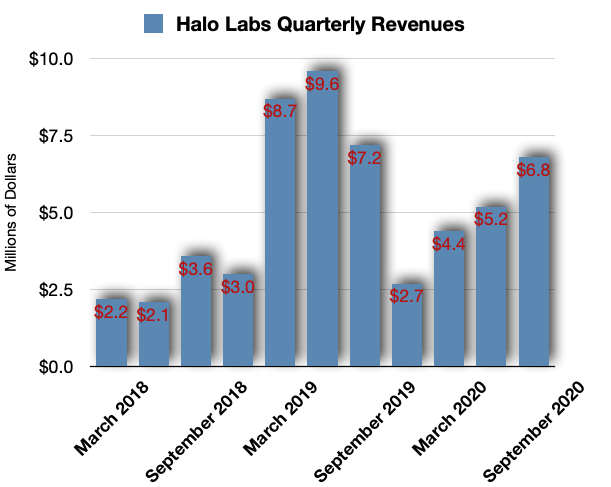 (Data Source: Halo Labs - Author's Chart)
As I mentioned, they had the same issues that a lot of other vape companies had, revenue that fell off of a cliff due to the Juul vape issues and deaths/illnesses during 2019. They saw a 70% peak-to-bottom decline in just two quarters. Impressively, Halo has bounced back to just below its recent highs. It might be that they reclaim these levels quickly in upcoming quarters. More on that in a moment.
Halo Labs Margins and Efficiencies
As is always the case, I am interested in how management manages. This is what I look towards to see if management is focused on what is important to become profitable. During the past quarter, gross margins were very high, but there lacks consistency: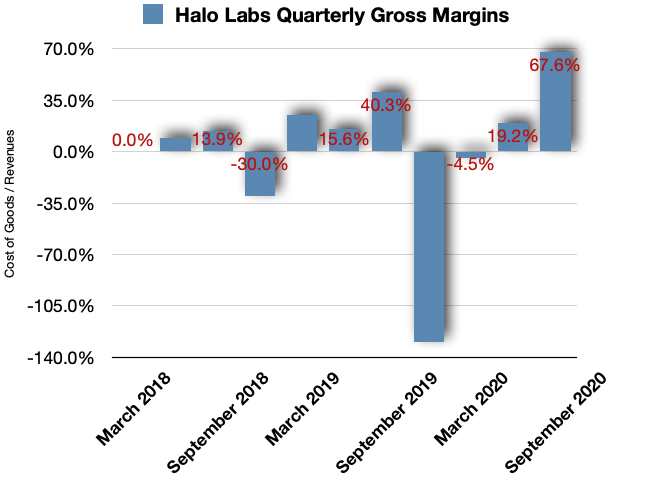 (Data Source: Halo Labs - Author's Chart)
I always look for consistency. With consistency in numbers, I can reasonably predict what future events are likely to occur given a consistent track record in the past. Looking at the chart above, there's no consistency at all despite the very positive margins.
I will note that one of the benefits of being a dispensary is that typically this kind of business model does not have too much variability in the margins since generally there is not much in the way of fluctuations. Products purchased by a dispensary are typically the same from one ordering cycle to the next. This is something that I have observed after evaluating so many cannabis companies and compared the dispensaries to growers and product marketers.
At the same time, Halo Labs has had issues with operating efficiencies but the trend is pointed in the right direction: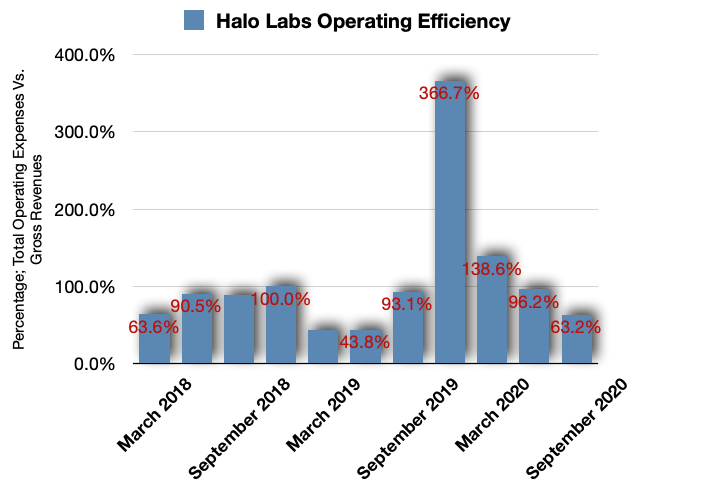 (Data Source: Halo Labs - Author's Chart)
The 63.2% is below the level for the gross margins, which is the requisite for being profitable. However, for me, there still is not enough consistency to claim a victory. Again, if there is sufficient consistency in the numbers, then when I evaluate a company I can reasonably predict where these cost metrics will come in. But, more importantly, so can management.
The goal of any public company is profitability, so gross margins need to be continuously edging higher while costs are pushed lower. For now, the small margin between the 67.6% margins and 63.2% costs is a good balance that Halo management can work with.
Halo Labs Net Income
Ultimately, the mathematics above will get to earnings per share. Halo Labs is nearly there with turning a profit: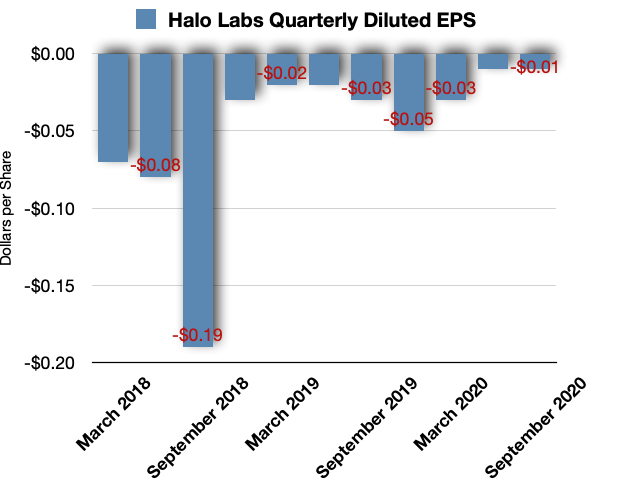 (Data Source: Halo Labs - Author's Chart)
Oddly, many, many cannabis companies are right at this point, just -$0.01 EPS. The industry is expected to double in the next 3-4 years with overall sales. Economies-of-scale will allow for these companies to cross over the level into positive territory. With the potential to generate 2x the revenue, this is a very likely scenario.
As it turns out, Halo is on track to hitting far bigger numbers quickly as they have just announced two consecutive months of record revenues - the month of November and the month of December, - giving them a run rate that will push them towards their peaks. This is what I am looking for to determine if they will hit these higher levels of revenues and ultimately turn a profit.
Halo Labs Book Value and Total Assets
The difference between book value and total assets is total assets are the product of assets minus liabilities whereas book value is the amount investors could get if the company was liquidated. I am mentioning this for a specific reason.
Here are the two charts for total equity and book value, respectively: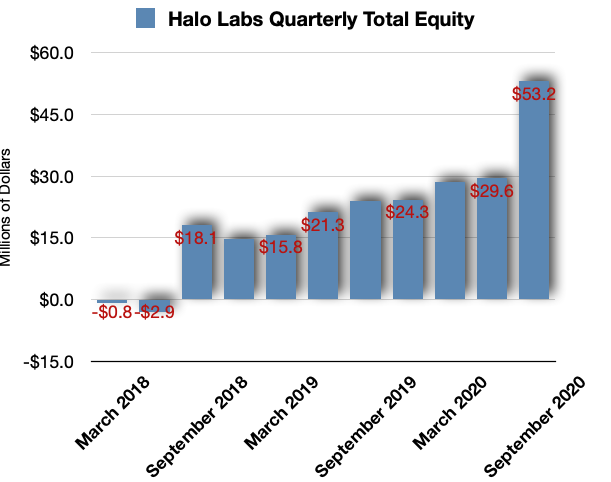 (Data Source: Halo Labs - Author's Chart)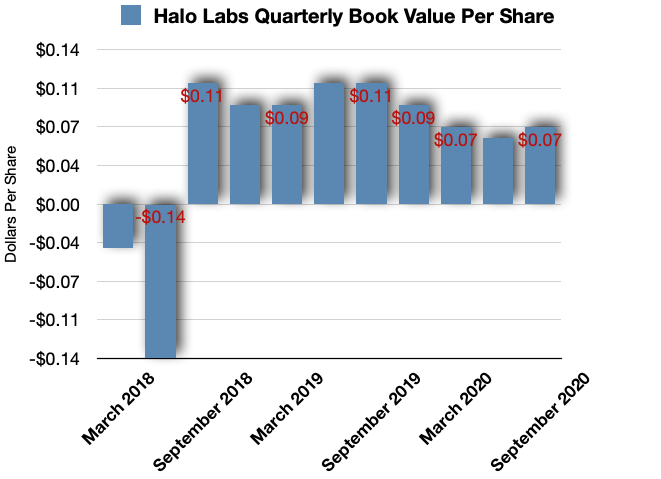 (Data Source: Halo Labs - Author's Chart)
There was a 60% increase in total assets. There was barely a budge in book value. My question becomes: If there is such a large increase in assets, shouldn't that translate into some kind of increase in book value?
I am well aware that there is not a straight-line correlation between assets and book value. But, if you take on assets on such a high level as they have, there should have been an in-kind move upward in book value.
This is important.
Using book value when you are investing in a company that is not profitable gives you a fair assessment of the worst-case scenario. If you did invest, you could fall back on book value as a possible support level for the stock.
AGEEF Stock
AGEEF stock has seen better days. But, maybe that is an opportunity: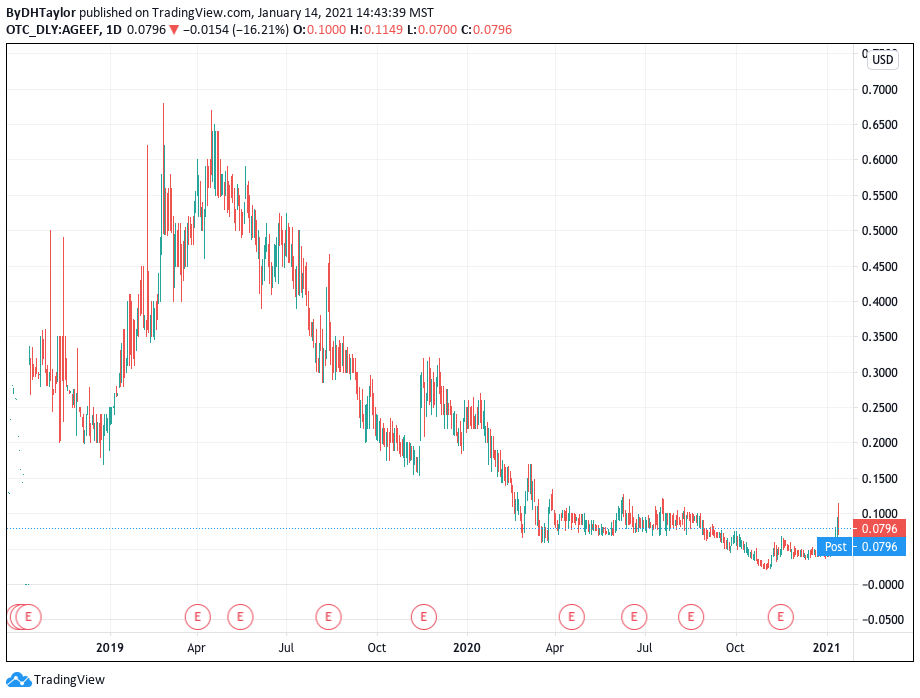 (Chart Source: TradingView)
First off, with book value sitting at $0.07 per share and the stock price sitting at the same price, it says that there is no real intrinsic value in the company. But is that true? With two consecutive record quarters reported, that means they are likely to print higher numbers overall quarterly and that also means they may hit either break-even, if not potentially being profitable.
For instance, what if over the next four quarters Halo Labs hits $0.00 for two quarters and then $0.01 for two more quarters. Given the trajectory of their current revenues and the possibility of turning profitable, this is a reasonable forward look at Halo's potential. That would be $0.02 total earnings for the year. Right now, the S&P 500 is sitting at 30x future earnings for companies that are not in industries with nearly as high of a growth rate. That would be a price of $0.60 per share. This puts Halo Labs significantly below their intrinsic value as they sit precisely at their book value.
That is an opportunity in my book.
Fact is, the stock is starting to get a bump in buying, and potentially other investors are taking note of both this stock and the general industry.
Is Halo Labs A Good Buy?
I have seen comments around that Halo Labs was "all over the board". This is a reasonable assessment. The company took a serious hit with its vape products. They then changed their strategy somewhat. Vape products were doing quite well until the very serious health risks erupted all over our televisions. But, by changing directions quickly, they have found a new direction to focus their efforts. Having California, the nation's biggest market for cannabis as one of its key markets is a very big opportunity. Becoming international will also likely benefit them if they can expand properly in Canada. This does not, however, necessarily mean that the dispensary they purchased in Canada is profitable, nor will be any time soon. I've not seen the specific numbers on this dispensary.
But, what I like most about Halo Labs is the fact that their current run rate will push them back up to their peak revenue levels but, with a different product line focus. The cannabis industry is expanding rapidly. Halo's revenues will likely continue to climb over the next year. Assuming Halo management can get a grasp on margins and costs, and maintain consistency, I believe that the economies-of-scale will win over and push the company to profitability. I am looking for Halo to hit about $0.02 EPS for next year. And, given that, a modest 30x future earnings multiple would push the stock above $0.70 per share from its current level of $0.07 per share. This would be an order of magnitude.
I will also say this about the company's prospects. I expect there to be a good deal of M&A activity this year. Halo could easily partner up with another cannabis company that is focused on other markets. With its footprint in the nation's biggest market as well as Canada, this may be an opportunity for another company to expand. Given that Halo is undervalued to its intrinsic future value, it may be an opportunity another company cannot pass up.