After a furious IPO calendar in 2020, it's been almost a month since the high-profile IPO of Airbnb (ABNB) since we've had any other notable unicorns come to the table. Bumble (NASDAQ:BMBL) is looking to fill that void with its recent S-1 filing, marking the first major social media IPO in years.
In the few years since online dating has really become the norm for millennial and younger generations, Bumble has carved out a name for itself as being the dating app where women initiate the messages. It is the #2 dating platform behind Tinder, and prides itself on being a more genuine, less harassing dating experience that puts women in control. The company is led by its founder, Whitney Wolfe, who founded Bumble in her mid-20s in 2014 and became one of the highest-profile female entrepreneurs.
Figure 1. Bumble's two key apps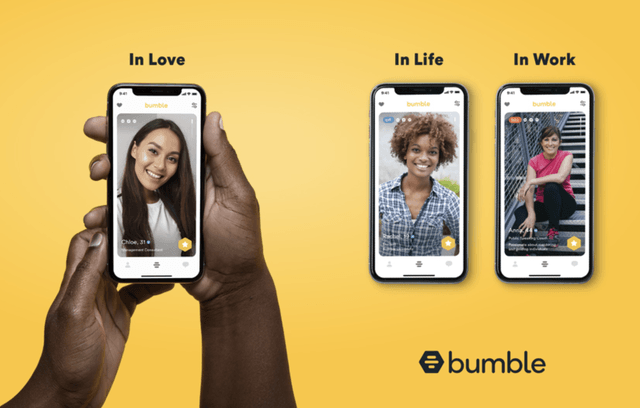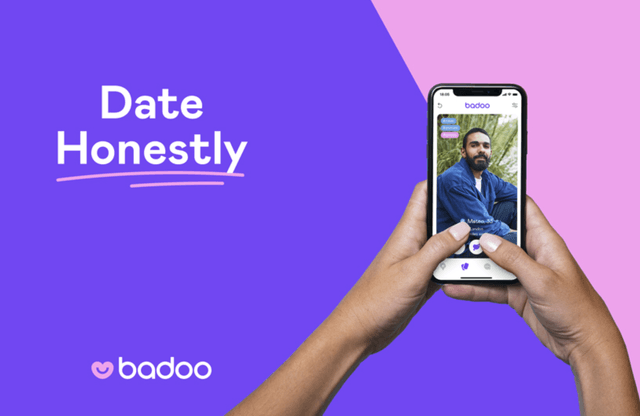 Source: Bumble S-1 filing
Bumble has an interesting history, a very compelling product, and a very clear growth story. The numbers are solid, with more than 40 million monthly active users, a growing paid subscriber base, and roughly a ~$500 million annual revenue run rate that is also generating positive adjusted EBITDA. Though the online dating space is very crowded, I think Bumble certainly makes its brand proposition - putting women in charge - incredibly clear.
On the flip side, Bumble's structure is rather complicated. It's not going straight as a VC-backed company to the public markets, which tend to be the most straightforward IPOs to buy into. In 2019, private equity giant Blackstone (BX) took a controlling stake in Bumble parent MagicLab at a valuation of $3 billion; now, Blackstone is spinning out two of these apps, Bumble and Badoo, out as its own public company under the Bumble brand. What this means is that there isn't a clean operating history for this company - though we can see the trend in user growth and monetization, the financial history is a little less straightforward.
Nevertheless - given the huge boost that COVID-19 has given to online dating and the fact that shares of competitor Match (MTCH) have soared dramatically over the past year, there is a precedent set that Bumble could attain a rich valuation and very enthusiastic trading.
The background on Bumble
Bumble takes a different spin on online dating and goes after users who are fed up with or turned off by Tinder's reputation of having a hookup culture. The company's mission statement, from the S-1 filing, reads as follows:
We created Bumble to change this. The Bumble brand was built with women at the center-where women make the first move. We are rewriting the script on gender norms by building a platform that is designed to be safe and empowering for women, and, in turn, provides a better environment for everyone. We are leveraging innovative technology solutions to create a more inclusive, safe and accountable way to connect online for all users regardless of gender."
The chart below shows how a match on Bumble happens. When two users "like" each other, women have 24 hours to send the first message:
Figure 2. Bumble matching process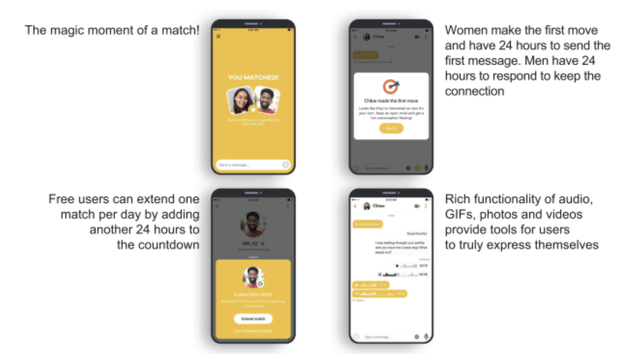 Source: Bumble S-1 filing
Premium users, meanwhile, have access to a set of features not accessible to freemium users. Bumble offers varying lengths of 7, 30, and 90 day subscriptions (which are the most common plans) and longer. The key features users pay for are:
Beeline, which allows you to see who has "liked" your profile without having to accept or pass on them first
Rematch, allowing users to connect again with matches after the twenty-four hour window has passed
Extend, which allows premium users longer than 24 hours to make the first contact
Other in-app purchases that can be purchased on an a-la-carte basis include SuperSwipe, which lets someone know that you "really like" them; and Spotlight, which makes a premium profile more prominent and seen by more potential suitors.
It's important to recognize as well that Bumble takes its women-first approach beyond just the dating sphere. One of the company's key marketing campaigns is "Be The CEO Your Parents Wanted You To Marry." In addition to its core dating apps, Bumble also offers a professional networking community called Bumble Bizz as well as a network for finding friends called Bumble BFF.
Then there's also Badoo. Though the less prominent of Bumble's two apps, Badoo is the fourth-largest (by gross revenue) dating app in the world. Its mantra is "Date Honestly" - founded in 2006, its roots extend back nearly a decade before Bumble's as one of the first dating apps. It puts an emphasis on personality traits and character matching, with a mission statement of: " our 'Date Honestly' mantra is about helping people overcome the self-doubt they might feel, to open themselves up to others, embrace the journey of meeting people to figure out what they want."
In terms of sizing: Badoo actually has more MAUs than Bumble, with 28.4 million as of the end of September 2020. This is more than double Bumble's 12.3 million MAUs. However, Bumble users are more likely to be premium users; hence, the Bumble brand actually generates ~60% of the combined company's revenue versus ~40% for Badoo. This is why Bumble, despite the smaller user base, is the #2 grossing dating app in the world, behind Tinder.
Online dating: the global opportunity
It's well-known anecdotally that more and more people are embracing online dating - not just younger but older generations, especially in the face of COVID. What may be surprising to some investors are the numbers around this market.
According to Bumble, the online dating market was collectively worth $2.0 billion in 2020 in the U.S. and Canada (with ~$500 million in annual revenue, most of which is domestic, Bumble took in roughly a quarter of this revenue; Match, meanwhile, generates roughly ~$2.5 billion in annual revenue, though slightly less than half of that revenue is in North America). This market is expected to grow at 11% per year to $3.4 billion by 2025.
Meanwhile, the global online dating market stood at $5.3 billion in 2020 and is expected to grow 13% y/y to $9.9 billion by the end of 2025.
Another interesting statistic: in the United States, there's a massive market of 103 million singles; globally, there are 804 million.
Yet another interesting factoid: despite the rapid and broad adoption of online dating in recent years, only 15% of users are paid subscribers. Given the normalization of paying for multiple services, especially driven by COVID-19, I'd expect this number to continue trending upward. When we consider the fact that Bumble's users generate ~$27 in monthly ARPU (Badoo has a lower monthly ARPU at ~$14; combined, the company's ARPU stands around $19), the potential market as opposed to the current size stands in the tens of billions.
Financial overview
As I said at the outset, the fact that Bumble is spinning out from Blackstone and has limited stand-alone financial history makes evaluating this IPO a bit trickier. There are, however, some trends that we can pick out from the numbers.
Paid user growth is among the most important factors for us to discern. Total paid users grew 19% y/y to 2.44 million, with the Bumble app indexing at a faster 30% y/y growth rate versus 11% y/y growth for Badoo. As previously mentioned, propensity to pay is also higher among Bumble users, with ARPU of $25.72 more than double that of paid Badoo users. We note, however, that ARPU has been trending slightly downward, with total ARPU of 18.48 down -4% y/y. This likely has something to do with the pandemic, with a number of new users coming into the service and trying it out, but having less overall retention and choosing less pricy packages.
Figure 3. Bumble user trends

Source: Bumble S-1 filing
Revenue is a bit more cloudy to dissect. The leftmost side of this table below shows how Bumble and Badoo together, as a consolidated entity as they will be post-IPO, have performed in 2020 - with revenue of $376.6 million, relatively net losses and positive adjusted EBITDA of $98.9 million.
The prior-year comp is shown as a predecessor entry called "Worldwide Vision Limited", which generated $362.6 million in revenue - against this compare, Bumble has grown at a ~4% y/y growth rate. My sense, however, is that with ~30% y/y paid user growth in the core Bumble app and ~20% total paid user growth alongside a slight single-digit ARPU decline, we might see Bumble deliver ~20% y/y revenue growth on a standalone basis.
Figure 4. Bumble financials

Source: Bumble S-1 filing
In 2019, the predecessor Bumble entity generated $488.9 million in revenue, and $126.3 million in the fourth quarter. If we assume 20% y/y revenue growth for the fourth quarter ending in December of 2020, the new Bumble entity will have generated ~$528 million in revenue.
Early rumors suggest Bumble's IPO might fetch a $6-$8 billion valuation. Assuming another ~20% y/y growth rate in FY21 (~$634 million in revenue), the lower end of that range would yield a ~9.5x multiple of revenue (without giving effect to the potential cash raised in the transaction, which would also be offset by the ~$381 million of net debt on Bumble's current September-end balance sheet), while the top end of that range would yield a ~12.5x multiple. Considering that Match right now trades at a ~15x forward revenue multiple, I'd say there's an opportunity to profit here, assuming investors can get in before the stock skyrockets.
Key takeaways
A lot of details on this IPO, including the official proposed valuation, the date, and the size of the offering are still TBD. More to come as the IPO draws nearer, but this will be an exciting one to watch.