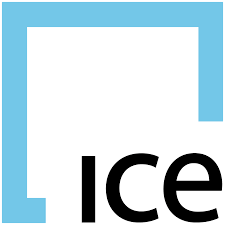 Lately, I came across quite a few readers who either asked or should have asked about dividend investing in general, and dividend growth investing in specific.
In this article, I use Intercontinental Exchange, Inc. (NYSE:ICE) as an example to answer various questions that have been asked about dividends.
Dividend investing strategies
Dividend metrics
All income investors know to check the dividend yield before opening a position. Most income investors know to ensure dividend safety in terms of the payout ratio before building a position. Some income investors know to assess the dividend growth rate before having a high conviction to a dividend idea.
These concepts come together in the so-called Gordon growth model, which states:

It follows

In other words, the implied rate of return of an income investment is determined by the sum of the forward dividend yield and dividend growth rate, under the condition that the underlying business is in stable, secular growth going forward.
For the above equation, there are two basic strategies to maximize the expected rate of return:
The high-yield approach, i.e., to max out the dividend yield while maintaining the business at the status quo. The majority of the earnings is paid out to the shareholders in the form of dividends (hence a high dividend yield); or
The high-growth approach, i.e., to keep dividend payout at a relatively low level so that the majority of the earnings can be reinvested to drive growth. As earnings grow, dividends will follow suit, even if the payout is kept at a constant level (Fig. 1).
There are plenty of dividend-paying companies that choose the middle ground between these two end-member strategies. As we can see in Fig. 1, among the 139 so-called U.S. dividend champions, most indeed chose the middle ground and they average 10.34% in the implied rate of return. There exists a negative covariance between dividend yield and dividend growth rate, just as predicted by the above equation.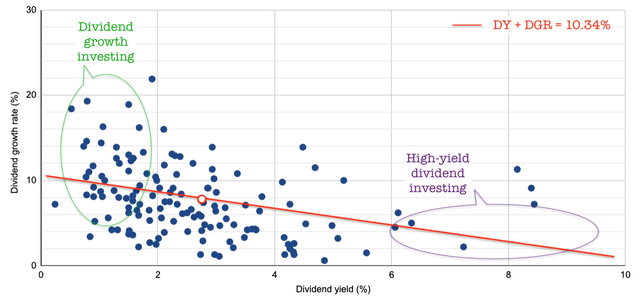 Fig. 1. The scatterplot of dividend yield vs. 10-year dividend growth rate for the dividend champions. The dividend yield of these 139 companies averages 2.63%, while their dividend growth rate averages 7.41%. Source: Laurentian Research based on data sourced here.
High-yield dividend investing
Companies in low-growth industries tend to pay out more of their earnings. The best among them can afford to pay high-yield dividends, the example being AT&T (T). AT&T has a dividend yield of 7.23%, but it has only raised the dividends at 2.20% per year over the last 10 years.
One should go for high-yield ideas if she/he is picking a stock for the purpose of generating a stream of income to support her/his ongoing retirement life.
The catch here, however, is that not all high-yield dividends are sustainable. In a lot of cases, the apparent high-yield is merely the superficial effect of a falling share price; oftentimes, the share price falls because the business outlook has soured. In that case, if a business turnaround cannot be pulled off quickly, dividends will have to be cut sooner or later. Worse, an investor chasing high yields risks a permanent loss of principal if the company goes bankrupt.
The sure-fire way to ensure the safety of both the principal and dividends is to insist on the presence of a sustainable competitive advantage or, in Warren Buffett parlance, a wide economic moat. There are a host of metrics that can be used to determine whether a company commands a wide moat, which unfortunately goes beyond the scope of this article.
Dividend growth investing
Dividend growth investing (aka, DGI) is one of the three winning dividend strategies I highlighted in a recent article. To a dividend growth investor, a specific stock can be treated as though it were a bond with a variable coupon.
To qualify for dividend growth investing, the variable coupon of a stock is supposed to keep increasing until the 'bond' is sold and the principal is collected. In other words, DGI requires the company to make more profit and generate more cash flow pretty much every year than the previous year; rising profit enables the company to pay an increasing amount of dividends year over year, yet retaining enough cash flow for reinvestment. Specifically, we want to see two traits hand in hand in a DGI target:
profit growth, considerably faster than inflation, and in high-quality (not funded by heavy debt load).
sustainability of such growth, as opposed to transient growth as often seen in cyclical plays.
Secular profitable growth is very hard to come across; it is only possible where the business is protected by a wide moat and, simultaneously, has an infinite growth runway. Outside the confines of that moat, rarely can a company allocate capital efficiently to generate returns in excess of the cost of capital (see here). Not all wide-moat businesses can grow rapidly and consistently year in, year out.
Yet harder is to have an adequate margin of safety on the way in. To that end, a DGI practitioner is supposed to exercise a great deal of patience while waiting for an entry opportunity, which usually coincides with a general recession or an idiosyncratic crisis.
It is also extremely difficult to hold onto a position for a long time, oftentimes decades, so that annual dividends can compound (at the dividend growth rate) to an enormous amount.
Intercontinental Exchange as a DGI target
I have pitched quite a few DGI ideas to the members of The Natural Resources Hub, e.g., Verisk (VRSK) and Cass Information Systems (CASS) (see here and here). Below, let's look at Intercontinental Exchange as a DGI target.
The business
Intercontinental operates global exchanges, clearinghouses, and provides mortgage technology, data, and listing services. ICE owns exchanges for financial and commodity markets, and operates 12 regulated exchanges and marketplaces, including ICE futures exchanges in the U.S., Canada, and Europe; the Liffe futures exchanges in Europe; the New York Stock Exchange (NYSE); equity options exchanges and OTC energy, credit and equity markets. ICE also owns six central clearinghouses: ICE Clear U.S., ICE Clear Europe, ICE Clear Singapore, ICE Clear Credit, ICE Clear Netherlands, and ICE NGX.
Intercontinental reports in three business segments:
The ICE exchanges segment includes global futures network, NYSE trading and listings, and associated data services. Brent crude oil contracts are its flagship service. Some ~34% of the segment revenue is recurring in nature.
The ICE fixed income & data services segment includes fixed income data & analytics offerings, fixed income execution (ICE Bonds), credit default swap (or CDS) clearing, and other multi-asset class data and network services. In this segment, ~85% of the revenue is recurring in nature.
The ICE mortgage technology supplies data services and technology to enable the U.S. residential mortgage market to achieve greater transparency and customer efficiency. Nearly 40% of mortgage technology revenues are recurring in nature (Fig. 2).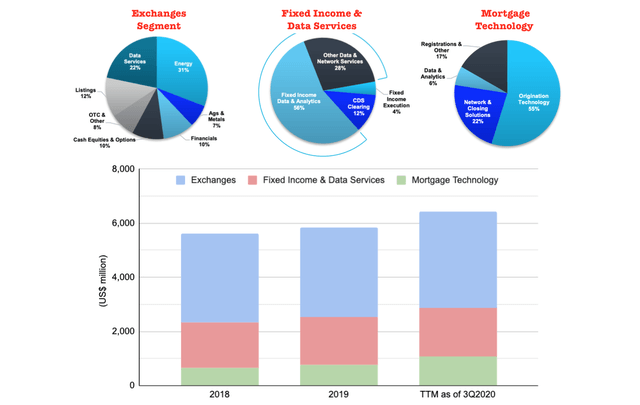 Fig. 2. Business segments of Intercontinental. Source: Laurentian Research modified from this.
Wide moat
Intercontinental operates in an oligarchic competitive space, which explains much of its wide moat:
In crude oil futures exchange, ICE dominates the trading of Brent oil, while CME Group (CME) leads the trading of WTI. The high barriers to entry have frustrated numerous new entrants, including mighty Nasdaq (NDAQ), which after a failed attempt of taking business from the duopoly, had to sell its NFX to Deutsche Borse (see here).
In the stock exchange business, the NYSE of Intercontinental is another duopoly that competes against Nasdaq domestically, and against Euronext N.V., London Stock Exchange, and Deutsche Borse, and so on internationally.
Data services are a core competency of Intercontinental that is applied across all of its asset classes. On the back of quality data, leading technology, and strong sales productivity, ICE has achieved 43 consecutive quarters of year-over-year revenue growth. Recurring revenue from data services accounts for 52% of the revenue mix as of 2019 (Fig. 3).

Fig. 3. The mix of recurring and transaction revenues for ICE, from this source.
Because of its data services, Intercontinental qualifies as a 'digital resources' play, which I define as a group of wide-moat businesses that generate recurring, subscription-based revenue from accumulating, processing, and vending big data, which develop built-once-sellable-countless-times data solutions and are hence capital-light and operationally efficient, and which grow rapidly through aggressive acquisitions (Table 1).

Table 1. The competitive landscape of the digital resources space, from this source.
Growth rate and its sustainability
Intercontinental is a secular grower, thanks to the resilience of its exchange revenue during times of market volatility and because of the consistent expansion of data services revenue.
As a fellow Seeking Alpha author pointed out, ICE benefits from volatility because market volatility leads to higher transaction volumes and ensuing higher transaction-based revenues. Indeed, revenue from energy futures and options contracts actually rose in the 1Q and 2Q2020 (see here and here). This provides ICE with a strong fundamental anchor even though its share price may tumble during a bear market.
The data services of ICE generate recurring revenue from multi-year subscriptions, which has experienced consistent growth (Fig. 4).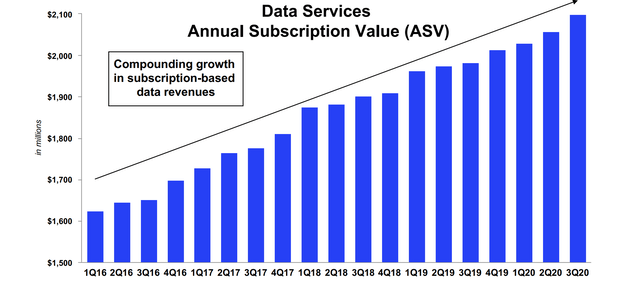 Fig. 4. The annual subscription value of ICE data services, from this source.
The consolidated revenue of Intercontinental, consequently, grew at a CAGR of 24.1% from 2006 to 2019 or 11.0% from 2014 to 2019. The EPS rose at a CAGR of 16.3% from 2006 to 2019 or 15.1% from 2014 to 2019. Because of its capital-light nature, ICE was able to grow per-share FCF at a CAGR of 18.5% from 2006 to 2019 or 13.7% from 2014 to 2019 (Fig. 5).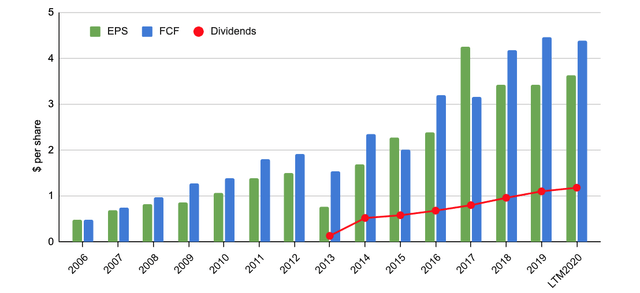 Fig. 5. The per-share earnings, free cash flow, and dividends of ICE, stock split-adjusted. Source: Laurentian Research based on Intercontinental released financial data.
Historically, Intercontinental was able to grow much faster than the GDP, which should continue going forward. Financial innovation and the resultant emergence of new financial instruments also make it possible for ICE to expand organically into new areas. The highly-differentiated financial services industry is a fertile land for further M&A. Therefore, I believe ICE has a nearly infinite growth runway in the future.
Dividend yield, dividend growth rate, and dividend yield to cost
Intercontinental currently pays quarterly dividends of $0.30 per share, implying a dividend yield of 1.04%. That dividend yield may seem unattractive to high-yield dividend investors, but as I shall demonstrate below, it is adequate to produce an amazing dividend yield to cost in the years to come.
At a CAGR of 16.2% (the historical dividend growth rate in 2014-2019), the annual dividend per share at $1.20 will compound to $6.24 by 2031 and $27.94 by 2041, which correspond to a dividend yield of 5.42% and 24.25%, respectively, relative to the original cost of $115.19 when the hypothetical entry was made on January 16, 2020 (Fig. 6). In other words, by 2041, the ICE shares will essentially be a bond carrying a coupon rate of 24.25%. Do not forget that the stockholder has already collected a total of $164.14 in dividends in the interim and seen the share price appreciating substantially.
Furthermore, if the investor buys ICE on a major market swoon (instead of taking the normal price of $115.19), he will not have to wait for 20 years to hit the 24% yield-on-cost. For example, if he enters on a 33% discount, it will only take him 18 years to get there. That's why one has to insist on having an adequate margin of safety on the way in.

Fig. 6. The projected dividend yield to cost for ICE, shown with EPS, FCF per share, and dividends per share. Source: Laurentian Research.
How well will the dividends be covered going forward? As the business grows, the dividend payout will only increase moderately from the current level of ~30% to ~40% by 2041. The dividends of ICE will be amply covered by the EPS and FCF (Fig. 7).

Fig. 7. The dividend payout of Intercontinental relative to EPS and FCF, shown with dividend per share. Source: Laurentian Research.
Investor takeaways
Dividend growth investing is a great way for someone who does not need immediate income to incubate stocks that will pay an extremely high-yield dividend in the future. During the long period of incubation, she/he will be paid dividends and rewarded with capital appreciation. Buying on a major market crash can significantly shorten that period of incubation.
The challenge is to find wide-moat, dividend-paying businesses that are poised to grow rapidly for a long time. Once such a target has been identified, a DGI practitioner will need to wait for the presence of an adequate margin of safety to make the entry; once a position has been established, she/he must hold onto the stock for the long haul and let compounding do its job.
Intercontinental is an excellent DGI target. It is a fast-growing, wide-moat 'digital resources' play. In the next 20 years, its dividend yield to cost is expected to rise to as high as 24%. An investor is estimated to receive $164 of dividends in the interim and be rewarded with substantial capital appreciation while waiting for the fruition of the 24% yield to cost. But if she/he buys on a major market swoon, that yield to cost can be reached much sooner.