Amerco (NYSE:UHAL), the parent company of U-Haul truck and trailer rentals and self-storage, has been a somewhat frustrating investment over the last five years. After rocketing from around $100 in 2011 to $400 in 2015, the stock was flat to down through the end of 2019.
2015-2019 Disappointing Years
The poor stock performance from 2015 to the beginning of 2020 coincided with poor operating performance and very high investments. Investors began to perhaps fairly question whether the business model was simply not that good; would U-Haul require ever-increasing amounts of capital with nearly no operating leverage to show for it? Looking at the financial results below is sobering, as it shows revenues increasing by 21.5% over the five year period while expenses increased 42.8%. The main culprit, as you can see, is lackluster growth in self-moving rental and product revenue and very high growth in operating expenses and depreciation. The growth in depreciation was due to significant increased investment in both trucks and trailers and the buildout of self-storage facilities.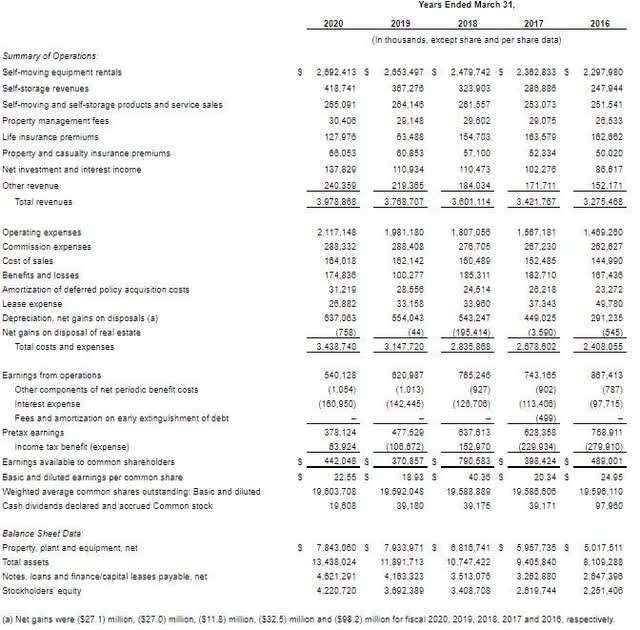 (Source: 10-K)
As a result of the high capex spending, Amerco was able to increase its moving equipment fleet from 161,000 trucks, 118,000 trailers and 42,000 towing devices at March 31, 2018 to 176,000 trucks, 127,000 trailers and 41,000 towing devices at March 31, 2020 (see 10-K). The more significant increase in PP&E related to self-storage real estate and facilities. Here the growth has been dramatic, with square footage increasing from 31 million square feet at March 31, 2018 to 42.1 million square feet at March 31, 2020.

To put this 11.1 million square foot addition in self-storage in perspective, Public Storage (PSA), the largest self-storage REIT, had 143.9 million net rentable square feet as of September 30, 2020 in its same store facilities, so U-Haul has added around 7.7% of Public Storage's same-store net rentable square footage in two years. It's a pretty incredible figure considering that Public Storage has a market cap of $39.3 billion while Amerco is $9.3 billion.


Unfortunately, that is where the comparisons with Public Storage start to look much less positive for Amerco. Public Storage has industry leading, or at least close to it, occupancy numbers, which clocked in at 94.6% in the most recent interim period. Compare that to U-Haul, which during these periods reported occupancy numbers closer to 70%, and the numbers were trending in the wrong direction (down).
2020 Shows Operating Leverage
All of these concerns (high investment, no operating leverage, low occupancy) changed in 2020, or more specifically in the calendar third quarter of 2020. In the calendar third quarter (fiscal second quarter), Amerco reported blowout earnings of $13.58 a share, compared to $7.97 a share in the prior year period. The blowout quarter was driven primarily by customer demand for self-moving products, which is a result of reduced lockdowns in the late summer and early fall and a high level of movement across the country as people change locations while working from home or in some cases leave urban environments. Some of these trends may be one-time in nature (or perhaps repeat once as people move back to urban environments) but regardless, self-moving equipment revenues increased 16%, a massive increase compared to U-Haul's performance over the past five years (see table above). Self-storage revenues in the quarter were up 10% over the prior year, with the occupancy rate ticking up to 71.9%.
But the real story in the quarter was the slashing to the capex budget and how that affected the results. Capital expenditures on new rental trucks and trailers were $395 million for the first six months of this fiscal year compared to $1.37 billion for the prior year period. While management planned to cut capex on trucks and trailers, the actual decline was larger than anticipated due to manufacturer delays. Similarly in self-storage, the company added 17,000 new rooms in the first six months of this fiscal year compared to 43,000 in the prior year period. Capex on real estate for the first six months of this fiscal year was $226 million, down from $423 million in the prior year period. The decline in capex obviously reduces depreciation expense, which was down in the most recent period and therefore increased profitability, but also affected self-storage occupancy. Jason Berg, CFO, explained:
For the first time in several years, our all-in blended occupancy rate for the quarter experienced an increase. I think this the first time that we've seen an increase in this since March 2015. This is a result of the increased pace of filling new rooms and also partially to a slower rollout of new rooms.
So while part of the increased occupancy to 71.9% is a result of filling additional rooms, the reduced capex and new rooms has also increased occupancy numbers. It's an important distinction because unless there is a strong underlying trend to fill new rooms, the occupancy rate will decline again as the company ramps back up new capacity additions that have to be filled from scratch.
Looking Ahead: More Capex
Management's dramatic reduction in capex in 2020 was driven by conservatism in the pandemic and equipment manufacturer delays. CEO Joe Shoen is quite clear that the cuts aren't permanent, and we should expect ramped up capex, potentially to levels higher than before the pandemic to make up for lost time in 2020. Joe Shoen stated in the earnings release:
We drastically cut rental equipment additions in March as OEM plants closed and we prepared for the worst. Likewise, we cut real estate acquisition and development investment. It will take about two years to normalize rental equipment investment, probably longer on real estate investment.
How will the market react if the company accelerates capex spending in 2021 and headline earnings show declines based on higher depreciation and lower self-storage occupancy?
It's tough to say, but I think the 2020 results have shown that the business model is not broken. There is operating leverage in the model. The company has done a good job reigning in operating expenses, which only increased 1.5% in the most recent quarter, a much better result than in prior years. Similarly, same store occupancy rates are increasing for mature properties. In the most recent quarter, management stated that occupancy rates for locations that have been at 80% for two years in a row was 93.2%, up from 92.3% in the prior period.
The company just needs time for more of its facilities to move to those mature occupancy rates. If it can get there, Amerco is still a strong buy here at all-time highs and a $9 billion market cap.
I would argue that its self-storage business alone could be worth its market cap when compared to peers like Public Storage. Public Storage's 2,224 same store facilities with 143.9 million square feet generated $611.5 million in revenue in the most recent quarter. Amerco's self-storage segment had 520 units with 44.0 million square feet that generated $115.3 million in revenue. Amerco thus has 30.5% of the square footage and only 18.8% of the revenue of Public Storage, and even less of a percentage of the profits. However, as occupancy rates increase, the revenue will increase faster than the square footage and profitability should increase even faster. While Public Storage is a best in class REIT with top notch locations, U-Haul has many well-located locations as well, and benefits from being connected to the country's most popular truck rental locations. With Amerco trading at 23.7% of the market cap of Public Storage, you can make a good case that Amerco is undervalued based solely on its self-storage business, without even ascribing any value to the country's number one truck rental business.