Shopify (SHOP), Wix (WIX), Big Commerce (BIGC), Square Online, and Weebly, with the last two being owned by Square (SQ), are big names in the world of web building. Each has its own pros and cons. In this article, we will make a comprehensive comparison between the web builders using both qualitative and quantitative analyses and attempt to objectively determine which would make the best investment if we had to choose one.
Let's begin with the basics. All four companies provide web building services to those who have little to no coding experience. As a matter of fact, we've used both Weebly and Shopify depending on the type of project we were working on. Additionally, we've also dabbled with Wix and Square Online. These services are great as they allow just about anyone to get a blog or e-commerce store up and running in no time.
However, there is a lot to consider when choosing a web builder. For starters, one would need to decide what features would benefit their particular business. A service-based business has very different requirements than a product based one. For example, the main use of a service business' website is to generate leads whereas a product-based business will need to be able to efficiently make sales through its website.
Another thing to consider is site speed. No matter what type of business one owns, being able to convert visitors into leads or sales is crucial. Nothing is more frustrating than slow load times and this will negatively impact bounce rates.
In addition, the ease of use is very important especially to people with no experience. Those who are new to web building will be competing with others who have extensive experience. Being able to easily design a website that is both visually appealing and efficient is what will give newcomers somewhat of a fighting chance. Ease of use is also important for determining how one's day to day operations may be impacted. For example, a store with a lot of products would need a platform that can easily manage inventory.
Furthermore, it is also important to consider the features and tools that are available. Does the web builder have an extensive selection of apps? Is it easy to implement effective SEO (search engine optimization)? Can the order fulfillment process be fully automated? Are these features worth the price?
Product Overviews
As you can see, it isn't a decision that should be taken lightly. Now, we will take a look at each platform and show what 6 different review/rating website have to say about each of the web builders.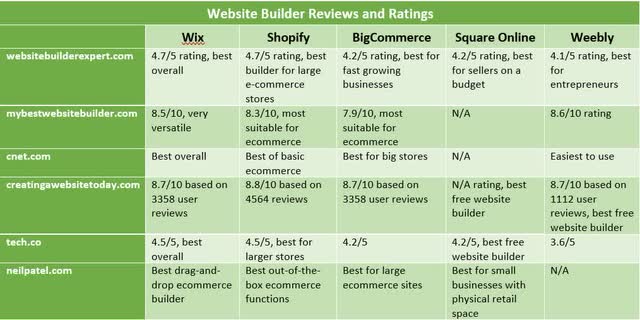 Source: Author
Wix Pros
Based on the reviews of multiple websites, Wix is consistently rated as best or second best. The features and services it provides are very beginner friendly and perfect for small to medium businesses. As an example, Wix has a feature called ADI (Artificial Design Intelligence) which leverages artificial intelligence to automatically create a website based on the client's answers to some questions. With A.I. in its current form, Wix ADI is not a perfect tool as it is mostly described as a hit or miss depending on the user's inputs and nature of the business. Nonetheless, it's very hard to make the process any easier for those times where the system does design a hit.
Fortunately, for those times where the Wix ADI produces a miss, you can always make modifications as needed. This tool is great for those who feel they are technologically hopeless because it is a more guided approach than the traditional editor.
In addition, a user has over 800 designer-made templates to fall back on should the ADI totally fail to impress. Making changes to these templates or building from scratch is extremely easy with their drag and drop platform which allows just about anybody to create stunning websites with no coding experience.
A great feature that we find very interesting about Wix is that you can make changes that are unique to your mobile site. This is something that you can't do with the majority of website editors.
We would say that Wix is truly great for the small to medium sized e-commerce businesses and fantastic for service-based businesses. Their scheduling and restaurant packages are top notch along with their SEO tools.
Wix Cons
Wix is not ideal for large e-commerce stores that have complex inventory requirements. In addition, Wix websites are not transferable which means that if a business outgrows the web builder's capabilities, it will have to incur large costs in order to re-create their website on another platform.
This could be a good thing from an investor's perspective because the large switching costs will act as a deterrent for customers going over to the competition and thus acting as a moat. However, this could also deter larger companies from wanting to use Wix in the first place.
In addition, a common complaint is the fact that users cannot call the company directly. Users can request a callback or support ticket but have to wait for Wix to contact them. This can be very frustrating if something is urgent or if the representatives aren't very helpful after a long wait.
Weebly Pros
Unlike Wix, Weebly's reviews are more mixed. Sometimes it's near the top and other times at the bottom. Like Wix, Weebly uses drag and drop software to be build websites. It's extremely easy to use and easily the most intuitive web builder by a long shot. As a matter of fact, our own blog - stockbrosresearch.com - was built using Weebly.
We love it because we can make changes instantly with no effort and because it's very cheap. For these 2 reasons, Weebly is great for bloggers, small businesses that sell a few products, or service-based businesses. We personally prefer clean and simple websites designs which we believe Weebly is best suited for. In addition, the SEO tools are also very straight forward and powerful enough for most.
Weebly Cons
Similar to Wix, we would not recommend Weebly for large businesses that sell a lot of products. In addition, its app market is very underwhelming and it doesn't help that Square has stopped accepting app submissions. It would appear that Square has decided to put Weebly in the backseat in terms of innovation and has chosen to focus more on their Square Online Platform instead.
Furthermore, it doesn't have the same level of customization as Wix and therefore doesn't have the same design potential. Although you can call Weebly directly, phone support is only available for their top tier plan and is not 24/7.
Square Online Pros
The beauty of Square Online is that businesses can start selling online for free. This is a great option for those who are unsure about e-commerce and want to test the waters with a few products. It's also great for existing brick and mortar stores who want to add an extra sales channel for no cost but whose main focus will remain in-person selling. It also offers paid plans for those who need a custom domain and extra features.
Square was the first company to make card processing widely available with a free card reader and mobile phone which we actually own two of. We can attest that it was a very useful tool for collecting payments especially for service-based businesses. Square also provides a POS ecosystem that is very powerful for brick and mortar stores. Those who are using either the square reader or its POS system will find Square Online to be a very easy transition to online selling.
In addition, it uses Weebly's software for its website building thus making it extremely easy to setup an online store. Its app market is also better than that of Weebly with some very interesting industry specific tools. It also does a great job of integrating local delivery and curbside pickup options to its websites.
Overall, we'd recommend Square Online for small to medium-sized businesses that are either service based, operate only in their local community, plan on focusing more on their brick and mortar stores, or who are already familiar with the Square POS ecosystem.
Square Online Cons
Square Online is not suitable for medium to large-sized businesses that produce a high volume of e-commerce sales. The website customization is limited and therefore not for those who require something that is visually stunning. In addition, although it can be used to make international sales, it is only available to merchants in Canada, Australia, the United Kingdom, Japan, and the United States.
From an investor's point of view, this can be viewed as both positive and negative. On the positive side, it can be viewed as the company trying to gain and maintain a strong foothold in 5 very large economies. On the other hand, if they were to expand to a new region in the future, they would find themselves behind other competitors such as Shopify who have merchants all over the world.
In addition, Square's POS system can process international credit cards, but only within the countries specified above. More specifically, cards can only be processed within the merchant's home country. Therefore, you would not be able to use its card reader if you are on an international business trip.
Shopify Pros
One of the first names that pops up into most people's minds when thinking about setting up an e-commerce store is Shopify. The company specializes in complex high-volume stores. It has an app market that is unmatched by any other competitor that offers almost any service you can possibly imagine. Like Wix, it also has a marketplace where merchants can hire developers to help with a wide range of services which include SEO, custom web designs and more. Unlike Wix, it has 24/7 customer support that is highly rated and extremely helpful. In terms of overall ratings, it is consistently neck and neck with Wix near the top.
However, an edge that it has over Wix, Weebly and Square Online is that it offers multiple transactional currencies through Shopify Pay. This means that a USA-based company whose default currency is in USD can display and accept payments in the local currencies of international customers. Wix can only display multiple currencies but not actually accept payments those currencies. Weebly and Square can't even display multiple currencies. Thus, the customer will usually be charged a conversion fee making the product slightly more expensive.
Like Square, Shopify also has a POS ecosystem for brick and mortar retailers along with mobile card readers. Thus, merchants can easily integrate with a Shopify website. Shopify has the advantage of being capable to cater to businesses of all sizes. It also provides 74 different templates to choose from and is available to merchants from around the world. Shopify is fairly easy to use despite not being a drag and drop builder. However, its massive app store has integrations that allow to convert it to drag and drop.
A unique feature to Shopify is its marketplace exchange which allows people to buy and sell e-commerce stores. These stores range from $50 start-ups to multi-million dollar stores with loyal customers. This gives entrepreneurs a potential exit strategy that is much easier to execute.
Shopify is highly recommended for product-based businesses of all sizes but especially for large businesses with massive sales volumes that are also very complex.
Shopify Cons
We would not recommend Shopify for small to medium-sized service-based businesses or local brick and mortar merchants with low online sales volume. These businesses don't require all the bells and whistles of Shopify which can be quite pricey. For example, the enormous number of apps give users tons of options but they are not all free. Therefore, costs can quickly add up depending on what tools are needed. In addition, the majority of its templates are not free either and can cost hundreds of dollars. As a result, Square Online would be a much better option for these types of businesses.
BigCommerce Pros
BigCommerce is very comparable to Shopify except it purely focuses on e-commerce. One can make the argument that BigCommerce is actually better than Shopify for large and fast growing corporations. The company doesn't have an app store the size of Shopify, but that is because a lot of advanced features are already built in right from the start.
In fact, it has the best in-house features of any e-commerce builder. This reduces a merchant's reliance on third party apps which can become very expensive as sales volumes increase. WebsiteBuilderExpert estimates that large businesses can annually save up to $30,000 from third party app fees alone. These are very significant cost savings for an e-commerce platform.
Nonetheless, BigCommerce still offers over 600 integrations in its app store and over 100 templates to choose from. A particularly useful integration is its own all-in-one shipping app which is free and offers special discounts of up to 80% off with USPS, DHL and FedEx. It also has a marketplace for merchants to connect with experts for help in areas such as designing, marketing and more. Like Shopify, it offers 24/7 customer support that is very helpful as well as multiple transactional currencies.
BigCommerce is great for businesses of all sizes but best for those who are large or are growing extremely fast and want the best tools available right from the start.
BigCommerce Cons
BigCommerce is not ideal for the same type of customers that are not a good fit for Shopify. It's also not ideal for beginners as a common complaint is that it has a steeper learning curve than the other web builders. Part of the reason is because the language used is very technical and those who are not experts will spend a lot of time trying to figure out what they mean.
BIGC will also automatically bump you to its more expensive packages once sales exceed prespecified thresholds whereas Shopify or the other web builders will not do that.
Operational Overview

We adjusted Square's revenue to remove the impact of Bitcoin because it adds an immaterial amount to its bottom line but also heavily inflates revenues. Therefore, we felt that focusing on Square's non-Bitcoin revenue would produce a more accurate picture of the company and better comparison.
As you can see, Shopify and Square have lower gross margins than Wix and BigCommerce. This makes sense since the former offers POS systems that require hardware whereas the latter offer only software services. All four companies require minimal Capex costs which is obviously what was expected from software companies. What's interesting is that Wix and BigCommerce spend a larger percentage of their revenue on SG&A and R&D but are expected to grow slower than both Square and Shopify.
This suggests to us that Shopify and Square are either more efficient operators or that they have more established brands. It could also mean that their POS systems and payment processing capabilities are providing them with an extra boost in revenues.
Moreover, we don't like that Wix's stock-based compensation as a percentage of revenue is in the double digits. We also don't like how adding back stock-based compensation is the main contributor to their positive cash flows from operations (excluding BIGC which has negative CFFO). However, we understand that all four companies are investing heavily in growth and could easily boost profits and cash flows should they choose to do so.
Do Individual Insiders Own Lots of Shares?
Individual Insider Ownership:
This is often a step that can often be overlooked when analyzing companies, but we feel that strong insider ownership is the icing on the cake, especially when the CEO is also the founder.
Wix - 1.5% insider ownership. The current CEO does not own a meaningful amount of shares (well under 1%).
Shopify - 9.3%, but insiders have been selling shares in relatively small amounts over the past 12 months for a total of around $14.5M worth of selling. CEO and Founder, Tobias Lütke, has a 6.1% stake in the company which shows confidence in the company.
BigCommerce - 19.7%. CEO owns 2.77% of the company, Co-Founders Eddie Machaalani and Mitchell Harper own 7.9%, and 7.18%, respectively. This is pretty impressive. Note that insiders have sold about $240M of the stock in the past 6 months. This is somewhat sizable considering the market cap is under $4.5B.
Square - 15%. CEO and Co-Founder, Jack Dorsey, owns 11.25% of the company. James McKelvey, the other Co-Founder, owns 3.19%. As many may know, Jack Dorsey is also the CEO and Co-Founder of Twitter (TWTR). Not everyone likes him, and he hasn't exactly created much shareholder value for TWTR, but he also hasn't done poorly with it. Some argue that you can't be a part-time CEO for more than one company, however, Dorsey has done a good job at SQ so far and he's not the only successful part time CEO (Elon Musk).
Based off this, we would rank SQ to be the best in terms of insider ownership, SHOP and BIGC tied for 2nd (SHOP has less insider ownership but also less insider selling, and its CEO is the founder, which warrants a tie for us), and then WIX comes in last for obvious reasons.
Insider data taken from simplywall.st
Valuation
The four companies have the ability to be more profitable than they currently are have instead chosen to reinvest the lion's share of their revenue into growth. As a result, we felt the best way to value them was to compare price to sales of the last twelve months to expected sales growth of the next twelve months. To do this, we ran a regression using over 350 tech stocks with a market cap of over 1 billion dollars and got the following result: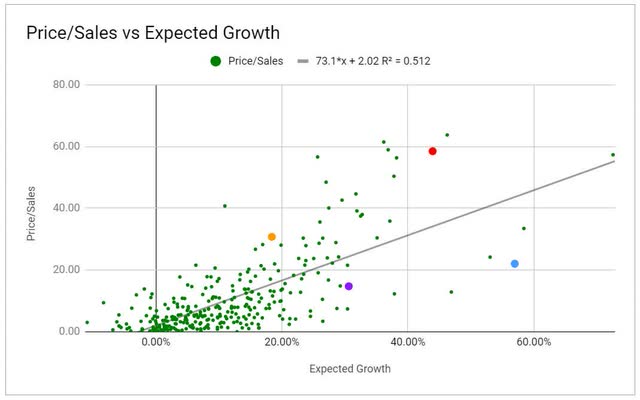 Source: Author
Orange = BigCommerce
Red = Shopify
Purple = Wix
Blue = Square (adjusted to remove Bitcoin revenue)
A regression statistically measures the relationship between two variables. The line of best fit on the scatter plot best expresses this relationship. With an R2 of 0.512, it can be interpreted that 51.2% of the changes that occur in a stock's P/S multiple can be explained by its expected growth in revenue. In this case, the line of best fit can be used to indicate a "fair value" multiple based on a company's expected growth. The equation for this particular line is calculated as 73.1x + 2.02 where x represents the expected growth.
The "Fair Values" of the companies are:
BigCommerce = 73.1(0.1839) + 2.02 = 15.46 P/S
Shopify = 73.1(0.4392) + 2.02 = 34.13 P/S
Wix = 73.1(0.3060) + 2.02 = 24.39 P/S
Square= 73.1(0.5695) + 2.02 = 43.65 P/S
Using this method, it would appear that Wix and Square are undervalued relative to their peers. On the flip side, Shopify and BigCommerce are trading at a premium.
The downside to this method is that it is a measure of relative valuation and does not necessarily reflect the true intrinsic value of companies. If an entire industry becomes inflated due to hype then all "fair value" multiples will become inflated as well.
Now it may seem that the entire tech sector is hugely overvalued because a lot of these companies have little to negative earnings. However, it is important to remember that most tech companies are asset-light businesses with the potential for very high margins should they choose to focus on profitability instead.
The need for very little capital expenditures affords these companies to be significantly more aggressive than those of other industries. This has resulted in strong revenue growth which given enough time has seen companies grow into their valuations. This of course can only happen if companies have strong competitive advantages or superior products.
Now to be clear, we are not saying we are super bullish on tech stocks. However, we just want to highlight that conventional valuation metrics sometimes blind investors to the bigger picture, especially in this current rock bottom interest rate environment. IF Square and Wix can continue to sustain their expected growth rates over an extended period of time, they might very well turn out to be bargains.
Risks
There are some general risks involved with SQ, WIX, BIGC, and SHOP. All of these companies make a good chunk of money from small businesses. This makes them prone to economic weakness as small businesses usually suffer the most in recessions. The current recession is much different as it actually helped out online businesses for obvious reasons. Looking into the future, when the next "normal" recession occurs, you can expect these stocks to take a larger hit than non-cyclical stocks as retail in general would be impacted. This is not an immediate risk though, just food for thought.
Also, the tech industry in general has seen expanding multiples due to the current risk-on environment. BIGC, and especially SHOP, have high multiples. This, of course, increases the overall risk in owning these stocks.
The riskiest stock in the list however, is BIGC because it has significantly less revenue than the other three. Moreover, based on reviews we've seen, BIGC is generally less adored than SHOP and WIX because it doesn't have the same brand recognition and is harder to use.
Final Thoughts
All four companies offer solid products that work best for their specific niche. Where BigCommerce and Wix are more pure-play web builders, Shopify and Square offer more of an ecosystem of products that we believe give them an edge over competitors. We believe that Shopify has the best overall products because they allow businesses to scale much easier than Square or Wix, but are also easier to use than BigCommerce.
However, if we had to choose only one of these companies to invest in then we would choose Square. If Square's non-Bitcoin operations can continue growing at a very rapid pace, or it increases the margins of its Bitcoin revenue, then Square could very well turn out to be a bargain. Their growth would need to be sustained for many years, but at the moment we don't see signs of them slowing down anytime soon.
In addition, we believe that Square is the better option for bloggers or small businesses that:
are service based
mainly focus on brick and mortar retail
sell only a few different products
Square allows companies to start selling for free whereas Shopify does not. In the USA, 89% of businesses employ less than 20 people, and 75% employ 9 people or less (micro businesses). With the average micro business getting off the ground with only $3,000 in capital, Shopify's monthly fees can be a real hurdle, especially if merchants don't need all the bells and whistles.
Sure, if businesses have large ambitions and believe they can grow to generate millions or billions of dollars in revenue then they should avoid square. However, 99% of businesses in the USA are classified as small and only 9% of them actually achieve revenues of over 1 million dollars. Thus, those who do need Shopify's ability to scale are the exception rather than the norm and Square seems better positioned to capture the small business market. To top it all off, Square ranked the highest when looking at insider ownership, which gives it bonus points.