Chasing yield has become an inevitability for a lot of income investors. After all, investors have money they want to put to work in lower risk ways to generate income, so money chases whatever is available, driving yields lower. That's exactly what we've seen with corporate bonds (among others) in the past few years, including the SPDR Barclays Long Term Corporate Bond ETF (NYSEARCA:SPLB), pictured below.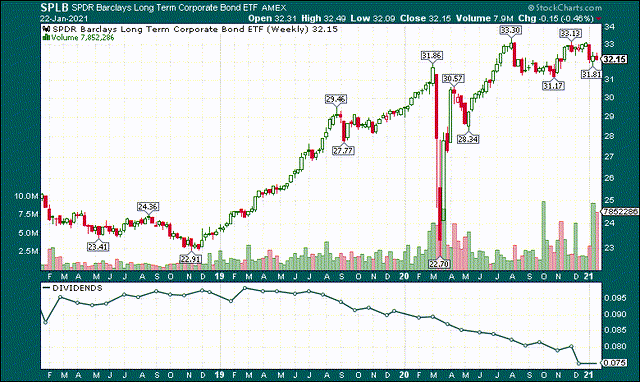 This weekly look gives us an idea of how far income investments have come in the past three years; the above chart is for an extremely well-diversified corporate bond index fund, effectively. The massive rally that occurred in 2019 continued until COVID-19 hit, and then promptly resumed. We've seen the fund consolidate in the past few months, which I think is indicative of a top more than a pause that refreshes.
We can also see that the dividends paid on the shares have gradually declined as the share price has moved steadily higher; this is not a good combo for an income investment. Given what I'll lay out below, I see SPLB as a victim of interest rates that may well have bottomed, and that leaves current investors exposed to lower prices.
What is SPLB?
Apart from a seemingly endless name that only an investment banker could love, SPLB, is essentially an index fund. It tries to mimic the performance of the Bloomberg Barclays Long US Corporate Index, which is a long duration, large issue bond index. The index requires maturity at least 10 years out, and total issuance of at least $300 million to be included, so you get long-dated, big issues from high-quality borrowers.
ETF legend State Street Global Advisors – the people behind impossibly popular stock index ETFs under the SPDR flag – has worked SPLB to be extremely low cost at just 7bps annually, or what amounts to nearly free for investors.

Source: Fund website
In addition, SPLB has a list of holdings longer than Cheesecake Factory's menu (always get the Orange Chicken), and that list stood at more than 2,200 as of the end of last week. My point about rate risk can be seen perhaps most clearly in the fact that the average coupon is 4.63%, but the average price in the portfolio is $124.81. For those of you keeping score at home, that means the average holding SPLB has is trading at a 24.81% premium to its par value. That means the actual yield on the portfolio is down to 3.66%, and the average yield to worst is an offputting 2.98%.
Duration risk is ever-present as the adjusted duration of the portfolio is still 15.3 years, commensurate with the funds' mission to copy the returns of a long-dated issuance index.
Interestingly, SPLB is also highly concentrated from an industry perspective.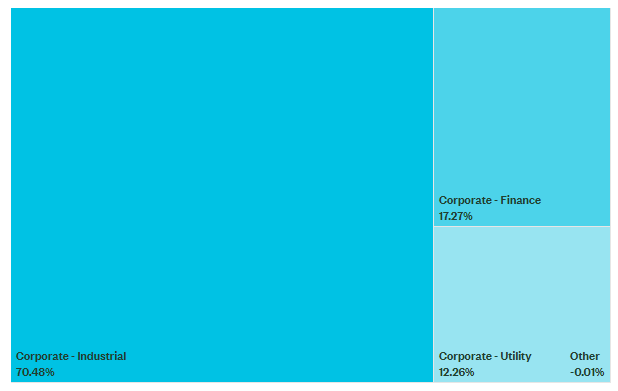 Source: Fund website
Finance and utility issues are about 30% of the portfolio, but the other 70% is in industrial issues. Given the sheer number of issues in this fund, I'm not necessarily sure this nearly complete lack of sector diversification is a huge deal, but it is worth noting if you're interested in buying.
On the credit quality front, SPLB gets good marks for its investment-grade portfolio.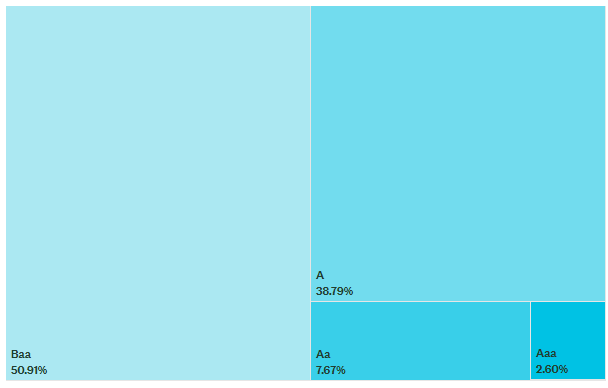 Source: Fund website
51% is in Baa-rated issues, while the balance is even better rated securities. The lack of sector diversification is made less important by the fact that this index holds issues from the best issuers in the US, which you can see below.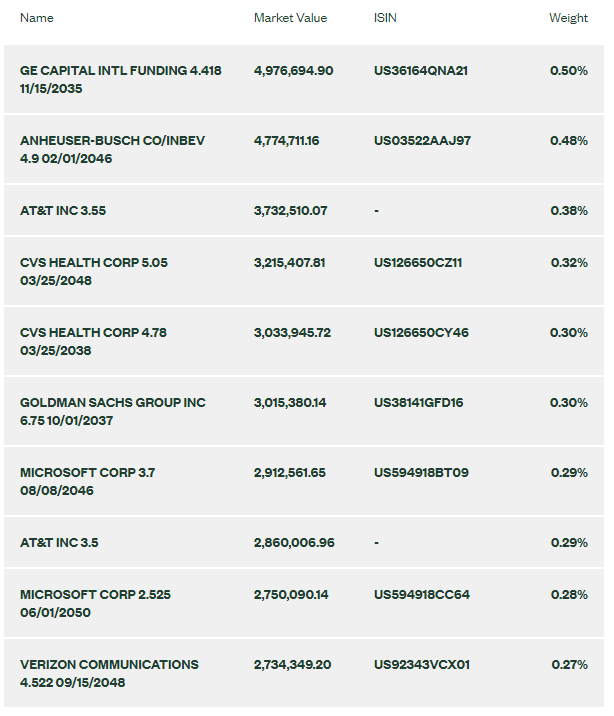 Source: Fund website
This top 10 is a who's who of US corporate debt issuances, so I think of SPLB as a very high-quality portfolio of diversified, investment grade debt.
So why am I not bullish?
That's a very simple question to answer. First, rates have moved well off the lows of the initial panic.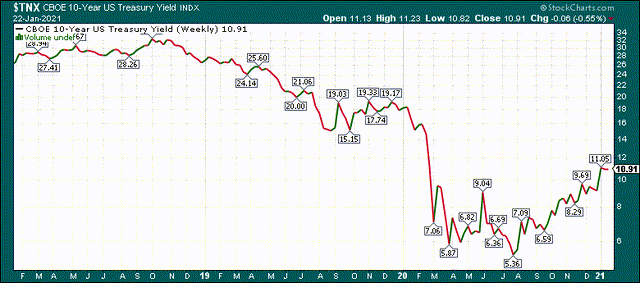 Not only that, they don't appear to be slowing down all that much in their upward momentum. I'm not here to say that interest rates are going one way or the other; I'm simply saying that if you're buying a bond index fund with an average premium to par of 25%, you should be very interested in the direction of this chart.
Should this move in longer rates be sustained, SPLB may suffer. I'm fully aware that SPLB has managed to just consolidate in the face of rising rates thus far, but keep in mind that since the fund owns long-dated issues, when rates do rise, SPLB won't be able to react; it can't because of the types of issues it is forced to own. The sort of debt SPLB owns is issued primarily because borrowers can get low long-term rates. If you're the one extending the credit, that's not great in a rising rate environment.
We can see this in action below with the dividend history of the fund.

Source: Seeking Alpha
Monthly dividends have gradually fallen off in the past couple of years, making each share of SPLB worth relatively less than it would have been from an income perspective. But wait, says you, the observant reader, hasn't SPLB been rallying during this time? Yes, it has. That's a problem for the yield, however, as we can see below.

Source: Seeking Alpha
The combination of higher prices but lower dividends has produced a rather ugly yield chart. This fund yielded nearly 5% five years ago, and is down to just over 3% today. That's another low, and while that doesn't mean it cannot go lower, I'd say the odds of a great deal of price appreciation from here is rather unlikely. The more likely scenario is that if rates rise, investors find better places for their money and sell SPLB until its yield is back in line with the move in risk-free rates.
The bottom line is that while SPLB's concept and execution are good, this just isn't the right time to go lending long. Near the bottom of an interest rate cycle is about the worst timing I can think of for lending long, and that's what buyers of SPLB are doing today. I can't tell you if rates are going up or down, but the weight of the evidence suggests a heaping portion of caution is warranted here, so I don't want anything to do with SPLB at this price.