Warning. You should stop reading this article now if over the past week you:
Bought GameStop
Spent more than five hours trading naked options
Thought "Wow, this company has a huge addressable market"
No disrespect meant, but this story is not for you. It is for you if you like buying dollars for cents. Because that is what MGIC (NYSE:MTG) and its peers Radian (RDN), National Mortgage (NMIH) and Essent (ESNT) offer right now. And MGIC's story is even easy to understand.
MGIC has three assets:
The net cash currently on its books
Its mortgage insurance currently in force
Its new business generation capacity
At last check, you got these assets for $12.37 per share, or $4.2 billion. How much are the assets reasonably worth? Let's do some homework.
MGIC's net cash - $16.25 per share.
Yes, that's right; MGIC's stock price is only 76% of its cash on the books. $1.00 for $0.76. How can that be? Sounds fishy. Well, here are the numbers at the end of last quarter, September 20, 2020: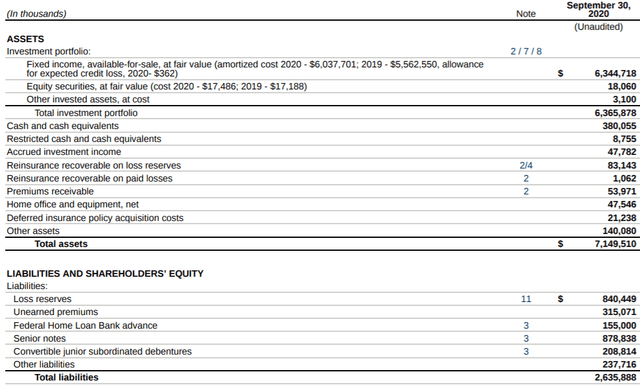 Source: MGIC Q3 '20 10-Q
Cash assets are (A) the investment portfolio (nearly all medium-term investment grade bonds), (B) cash and (C) restricted cash. Cash liabilities are (A) Federal Home Loan Bank advance, (B) senior notes and (C) convertible debentures. I calculate a net of $5.5 billion. If you don't trust me, do the math yourself. Dividing the $5.5 billion by MGIC's 339 million outstanding shares gives $16.25 per share.
So Mr. Market implies that MGIC's other two assets are material money losers. Let's see.
MGIC's mortgage insurance in force (IIF) – worth at least $3 a share.
MGIC ended Q3 '20 with $239 billion of IIF. Those policies generated an annualized $500 million of cash flow during the first three quarters of 2020, calculated as follows: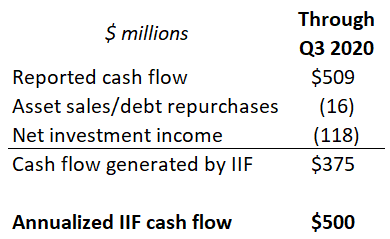 Source: MGIC Q3 '20 10-Q
To estimate the present value of the IIF over its earning life, we need to make two assumptions:
The rate at which the underlying loans pay down.
The amount of claims payments MGIC will have to make due to mortgage defaults.
The paydown rate. A mortgage insurance policy generates premium income to MGIC over the life of the underlying loan (there are occasional additional cancellations). Mortgage insurance policies normally pay down at about 20% per year as borrowers move and refinance. But of course these aren't normal times. The Pandemic drove mortgage rates to record lows, which in turn sent mortgage refinancing skyrocketing and home sales surging. During Q3, MGIC's annualized repayment rate was over 40%.
But the repayment rate should slow a lot beginning this year for two reasons. First, by year-end 2020 nearly half of MGIC's IIF will have been written at last year's low interest rates, which should inhibit future refinancing. Second, mortgage rates have stabilized in recent weeks because the 10-year Treasury yield is well off its 0.55% bottom to 1.05% at present. So let's assume a 25% repayment rate going forward.
Claims payments. Through the first three quarters of 2020 MGIC paid $96 million in mortgage default claims, or $128 million annualized. What will claim payments do over the life of the existing IIF? The bad news threatening higher claims payments is clearly centered around the Pandemic:
The current unemployment rate is a high 6.7%, and new unemployment claims are running near 1 million a week.
As a result, 5.6% of MGIC's IIF was delinquent on mortgage payments, double the pre-Pandemic rate.
At present, the federal government has required lenders to grant forbearance to borrowers, which in at least some cases has just delayed a default and a possible claims payment. About two-thirds of MGIC's delinquent loans are in forbearance at present.
The good news arguing for continued lower claims payments is centered on the behavior of the housing market despite the Pandemic. Check out the news:
"The S&P CoreLogic Case-Shiller National Home Price Index…rose 9.5% in the year that ended in November, up from an 8.4% annual rate the prior month. November marked the highest annual rate of price growth since February 2014." (Wall Street Journal, January 26, 2021)

"U.S. home sales in 2020 surged to their highest level in 14 years, fueled by ultralow interest rates and a pandemic that sent buyers scrambling for more spacious homes to accommodate remote work." (Wall Street Journal, January 22, 2021)

"[Homebuilder] D.R. Horton Reports Fiscal 2021 First Quarter Earnings…Net income increased 84%...Consolidated revenues increased 48%...Pre-tax profit margin improved 440 basis points to 17.4%." (Company news release, January 26, 2021) D.R. Horton's stock is near its all-time high.

"The housing industry is keeping a close eye on the Biden administration's proposal of a $15,000 first-time homebuyer tax credit. If passed, the funds could be accessed immediately by the buyer at the closing table." (HousingWire, January 27, 2021)
I could cite lots more, but you get the idea; housing is hot, and public policy wants to keep it that way.
Net/net, it seems harder as each day goes by to imagine that claims payments arising from MGIC's current IIF will be substantial. Without any claims, MGIC's IIF is worth nearly $5 a share. Taking $2 per share off for claims payments is reasonably conservative.
So MGIC's cash plus IIF value is $19.25 per share…
MGIC's stock price is 64% of that value. And you get for free the opportunity to benefit from MGIC's new business going forward, which in the past I've valued at about $7 a share.
…But it could get better.
MGIC has a lot of excess capital. At the end of Q3 it had $1.4 billion of excess capital above its regulatory requirement. And with all that cash flow rolling in, the excess capital is growing. MGIC is paying a modest $0.24 dividend. But prior to the Pandemic it started an active share repurchasing program. Like most financial companies it halted repurchases last spring to see how the economic consequences of COVID played out. But increasing numbers of financial companies have resumed repurchases. MGIC will do so as well at some point.
Let's say MGIC spends $500 million to buy back shares at $14. Its cash plus IIF value increases to $19.85. Another $500 million at $14 brings the value to $20.65. Now your stock bought today at $12.37 is only 59% of liquidation value. Cents on the dollar, people. Cents on the dollar.