FingerMotion Inc. (NASDAQ:FNGR) has been on a tear higher for the past 3 months. The Chinese mobile data and services company has been increasing sales and margins while developing its insurtech business. It also uplisted to OTCQX, but when it struck a deal with Pacific Life on January 25, 2021 the stock actually traded down. This is as much an insult to the reputation of Pacific Life and the intelligence of shareholders who sold on the paradigm changing news. This is the same Pacific Life with the whale that comes out of the water and makes a huge splash. Most have seen this commercial. Pacific Life has $1.1 trillion in life insurance policies, $171 billion in assets, and a 150 year plus history. There is clearly a disconnect in the market and this article should clear things up.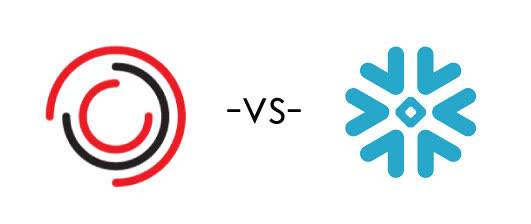 Author Graphic - FingerMotion vs Snowflake
Reason for Pacific Life Partnership - BIG DATA
It's all about the data. FingerMotion is the only company in the world with the exception of Snowflake Inc. (SNOW) that could give the depth of data to profile users and assess their insurance risk. The primary difference between Snowflake and FingerMotion is that Snowflake has to integrate with the customers database to extrapolate behavioral analytics but FingerMotion has access to 1.1 billion mobile users. The actual data resides in their database and can give the most accurate assessment of behavior. Investors should consider FingerMotion as the Chinese version of Snowflake with a much more accurate database. It appears as though FingerMotion has cornered the market on the mobile data in China. So, investors then need to ask, what it's really worth. Investors should also be asking, why on earth did Pacific Life choose FingerMotion instead of Snowflake. Snowflake has an $83 billion market cap versus a $415 million market cap for FingerMotion. What does FingerMotion have that they don't? What is their special super secret sauce? If you guessed algorithms and actuaries, then you are in the top 3%.
Impact of Partnership
This partnership is likely to revolutionize the insurance marketplace because insurance is all about assessing the risks. The insurance providers with the best actuaries and the best predictive models are the most profitable. It's clear that these two companies are partnering to test a real time underwriting model that is custom tailored to the insured. The structure doesn't seem to be worked out yet but Pacific Life's Re Head of Greater China said:
"Pacific Life Re is focused on serving our partners and their customers through our data-driven and technology-led approaches. We are confident that this joint undertaking will provide us with greater opportunities to present a wider range of novel and innovative solutions in order to grow and reinvigorate the China insurance industry."
Most of the time when partnerships are done "jointly" it's a 50/50 deal of whatever new business they create. Pacific Life is looking for innovative solutions that grow the Chinese insurance industry. To understand what direction they plan on going, it's important to look at what the issues are now. China doesn't really have any credit reporting agencies which is a big determining factor of risk assessment in the American market. In the Chinese marketplace the big data will serve as a surrogate for a credit score. The joint venture will be able to see if the insured frequents fast food places, drives over the speed limit, texting while driving, or even smokes cigarettes. These core behavioral factors are analyzed in an algorithm. Instead of a credit score the big data analytics will more effectively map a person's behavioral tendencies that will be used as inputs in algorithms that assess insurance risk.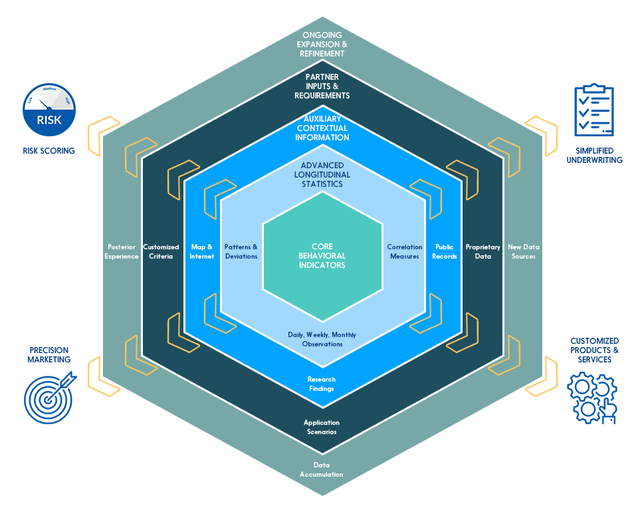 Credit Reporting Agencies Comparable
Some of the credit reporting agencies in the United States are attempting to refine their ratings by supplementing data that is entered by the consumer. They are trying to get the type of data that FingerMotion has readily available at its fingertips. Experian (OTCQX:EXPGY) has a market cap of $32.7 billion. Equifax Inc. (EFX) has a $21.7 billion market cap. TransUnion (TRU) has a market cap of $17.5 billion. If FingerMotion is doing in China what some of these players are doing in the United States, then investors need to start asking serious questions about the valuation of FingerMotion.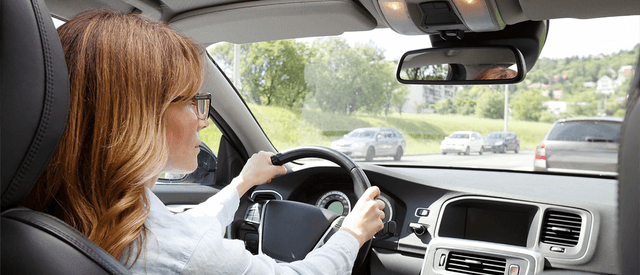 Photo: Nemanja Otic
Usage Based Auto Insurance Evolves – Insurance Apps
Auto insurance is evolving very quickly in the United States and it's all about the connected car and the apps. Before the connected car iteration, auto insurance providers would scrape the databases for outstanding tickets and points on your driving record. They would look at your credit score and even lump you in different categories of risk based on your age, sex, and marital status.
Usage based auto insurance is where insurance quotes are generated based on recent driving history rather than demographics, age and location. What typically happens is the insurance company installs a tracking device on the car or provides a smartphone app that monitors the driver's behavior. They are looking for behaviors like hard braking, sharp turns and flooring the gas pedal. This data is simulated into a quote that more accurately represents the insured and assesses the risk of the individual on a much more efficient level and is a fairer representation of the risk. The idea is to lower premiums or provide discounts if the driver meets certain safe driving criteria.
Many insurance companies have already embraced this concept. They realize it's more efficient to keep an existing customer happy than to try to convince a new customer to try their insurance product. Actually, giving a discount for good behavior pays off in the long run when it comes to policy renewals. Consumers are less likely to change insurance carriers if the insurance is at a price point they consider a bargain.
Progressive Corp. (PGR), one the largest insurers in the U.S., offers its customers discounts based on their driving through "Snapshot," an app that tracks users driving and offers discounts to safe drivers. The app works in the background of your smartphone. Allstate Corp. (ALL) has a "Drivewise" app that gives cash back every 6 months for safe driving and provides tips along the way to keep you safe. Geico has a "DriveEasy" app that is looking for distraction-free driving and provides individualized scoring and credits for good braking and other driving behaviors. Even USAA has a "SafePilot" app which tracks you and tells you how well you are driving and gives insights and trend analysis as well as a record of all your trips. All these programs are permission based and need the consumer to opt into the program.
Sapientus is expected to have the capability to analyze historical data on a prospective consumer and perform a risk assessment using their own proprietary algorithms in real time. What this means is that they can do a retrospective analysis of driving patterns and consumer behaviors to determine a real time rate. In comparison to the United States, the Chinese driver is technically able to get "the savings discount" upfront instead of having to prove it by using one of the driving apps. This could be a new paradigm with respect to car insurance and could take the industry by storm. Insurance companies are conservative by their nature and would rather charge for more than what they need versus holding the bag with respect to risk. So any insurance company operating in China without this data would be at an extreme disadvantage. Offering an enticing rate that is suited for the customer and the insurance company is a more efficient way of doing business. It is for these reasons that this type of auto insurance could become the insurance of choice.
The Chinese Effect
Chinese stocks in general have made a comeback after it was clear that the Biden administration was in control and this bodes well for FNGR. The disruptive risk premium depressing Chinese stocks has started to dissipate. Biden has delayed Trump's ban on Chinese companies thought to have ties to the Chinese military. The bottom line from the administration is that it is against the national interest for investors to hold stock in Chinese companies with ties to the Chinese military. Some notable mentions in the proposed ban are Huawei, but the good news is that the New York Stock Exchange reversed its prior plan to delist China Mobile (CHL), China Telecom (CHA), and China Unicom (CHU). These are all companies that FNGR has a business relationship with. It's doubtful that FNGR faces any delisting threat because they have a Canadian CEO and are domiciled in New York State. They have also made a number of moves to improve their compliance and have audited financials. The Company that is operating in China has an independent board of directors who are all outside of China. They have an audit committee and compensation committee and over 90% of shareholders are outside of China.
Financial Analysis
Analysis of the latest 10-Q balance sheet shows $9.4 million in current assets, but what is so interesting are the subcategories. Equipment, intangible assets, and the right of use assets only total $406,195. This means that FingerMotion's primary current assets of $9.0 million are constantly churning from cash to receivable and back again. To a large part the success of their business and growth is determined by the amount of cash they have on hand. So a growth in the current assets from $5.8 million to $9.4 million or 62% is a net positive. However, upon closer examination of the balance sheet, it shows $2.226 million in stock subscriptions payable. This means that at the end of the quarter the money didn't quite hit in time to make the end of the quarter, but it did hit. Making a quick adjustment, this reveals that FingerMotion really grew over 100% in current assets. So the growth in this section of the balance sheet is quite understated. This is also going to significantly affect shareholder equity in the next quarter and should flip it from a red $385,576 to a green $1.84 million assuming no other changes. Revenues and stockholder equity are a formula for an uplisting to a major exchange.
Gross margins for the company are typically small, and came in at 12.71% for the quarter versus 16.25% for the quarter last year. The slight decline was attributed to onboarding costs related to new customer acquisition. It's widely expected that this will improve going forward as that additional money goes to work. Expenses as a percentage of sales are improving and are currently sitting at 26.6% versus the prior year comparison of 37.2%. The company is scaling nicely if you look at the expenses on a line item basis. The category with the biggest increase in expense was salaries and wages which is expected when running a technology company. This really shows that they have a scalable and potentially profitable business model coming in the near future provided sales ramp.
Quarterly revenues continue to set records. In the latest quarter they did $4.88 million in revenue which represents a $20 million annual run rate. They reported 81% growth year over year in their SMS & MMS business. Their telecom and products & services business was up 84%. Given the inflow of cash, it's likely to see an acceleration of sales growth in the next quarter. Their EPS recorded a $.02 loss, but tight cost controls virtually assure a turn to profitability in the coming quarters. Based on their revenue trajectory and a turn to profitability it's reasonable that FNGR could be uplisted to the NASDAQ in the coming 6 months.
Risks
Although there is no cause for concern now, if they hire too quickly and increase their burn rate before they can monetize some of their new programs like in the big data arm, they could face a cash crunch that would steal money from their core business to fund operating expenses. If their partner Pacific Life puts too much pressure on them to innovate quickly and creates a spike in new hires it could affect their bottom line. Their business is all about cash flow and they need to keep sustaining it until their revenues from the new insurtech business start contributing. In the insurance business you are only as good as your actuaries, so if they were not able to get the right human capital it could affect operation. This means they have to have the right stock options and incentive plans in place. The biggest risk is the availability of capital. Since they have proven their business model little risk rests in managing the receivables which are from credit worthy China Unicom and China Mobile.
Investment Summary
FingerMotion is immensely undervalued with their $415 million market cap. All comparable valuations are measured in the billions. They are partnering with one of the world's top 5 Insurance companies (Pacific Life) in an attempt to reinvent insurtech and have gotten little to no credit from the market with respect to valuation. If behavioral analytics profiles work better than a credit report, it reasons that FNGR might be worth more than some of these credit reporting agencies valued between $20 - $30 billion. Putting aside the potential of the insurtech business, they have a core business that seems to be chugging along with consistent revenue and earnings growth. They are the only company that has a license to the mobile data of China Unicom and China Mobile which represents over 1.1 billion phones. In comparison, Pinduoduo (PDD) has 634 million active users and has a market cap of $204 billion and has an EPS of -$2.09. JD.com (JD) has 442 million active users and has a market cap of $142 billion and has an EPS of $.15. Right now, FingerMotion is the sole source of phone metadata with a license to analyse the Chinese data taking into account consumer privacy. They are perhaps in a more enviable place than SNOW because they have the real data of the consumer not a "simulation" or "guess" of what the consumer did.
The downstream applications of big data are endless, and this move into insurtech with a top 5 insurance company (Pacific Life) is just the tip of the iceberg. More insurance announcements should be expected as they develop the model, but the core business is a huge driver of profitability, while their subsidiary Sapientus rolls into action with new insurance products that should generate significant margins. The annual spend for a PDD active user is $247.10. The average auto insurance policy in China is $1,865. FingerMotion doesn't have to maintain a user base and has a tiny fraction of the expenses unlike the other large e-commerce platforms. All they have to do is find clever ways using their behavior analytics to monetize the active users with this new insurtech product.
If just one out of every 7.5 (13.5%) active users buys an insurance policy, they are on par with PDD. Insurance is mandatory in China and their behavioral algorithms combined with backing by a top 5 Insurance carrier position them to continue to aggressively penetrate this market. The only questions are how long it will take to roll out their insurance product and what the profit sharing percentages look like. We think investors should do a thorough examination of this deal because the stock looks to be a keeper that will gouge out a strongly market position rapidly. Capitalize off of its low revenues before it becomes apparent that its revenue growth is a hallmark of the company and its business strategy.