Altimeter Growth Corp. 2: SPAC Investing In Tech Companies Alongside A $16 Billion Hedge Fund Manager
Summary
Altimeter Capital is a $16 billion investment firm run by Brad Gerstner and has an impressive track record investing in technology stocks.
I expect that Brad Gerstner will focus on a high-quality SPAC target because it is important to his reputation that the company succeeds after the de-SPACing process.
Altimeter seems to have good access to deal flow and has invested in Expedia, Zillow, Facebook, Uber, AirBnB, ByteDance, AppDynamics, MongoDB, Okta, Twilio, Unity, and Snowflake.
AGCB traded down last week, which presents a better entry point.
Investors should check out AGC, Altimeter's first SPAC as well.
I am interested in SPACs from high profile sponsors that I followed even before they got in the SPAC game. Furthermore, I prefer sponsors that have access to deal flow in high-growth industries (like technology).
For these reasons, I am interested in the SPACs from Altimeter. The following is an analysis of Altimeter Growth Corp. 2 (NYSE:NYSE:AGCB). AGCB is a new SPAC and its share price traded down amid the volatility last week.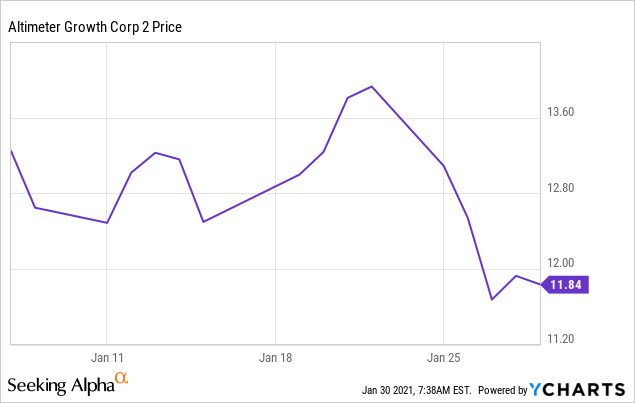 Investment Thesis
1. High Quality Sponsor
Brad Gerstner founded Altimeter Capital and has grown it to $16.3 billion of Assets Under Management (AUM). He is a winner!
The key point is that he doesn't need to do a SPAC. If he invests in a controversial company (such as Nikola) he could face reputation risk, which could impact his main business. For somebody in this position, the bar is high when deciding to go after a target to merge into the SPAC. Furthermore, he has an infrastructure at Altimeter that he can leverage for diligence.
2. Technology Investing Track-Record
Altimeter focuses on investing in technology companies, especially the type of companies that are leading the current market rally. SPACs generally get a pop when they announce a target. However, if the SPAC can find the right target, it can deliver to shareholders for the long-term. The prospectus states:
"Some of Altimeter's prior investments include Expedia, Zillow, Facebook, Uber, Airbnb, ByteDance, AppDynamics, MongoDB, Okta, Twilio, Unity, and Snowflake."
3. Experienced & Well Connected Board Members
In addition to Brad Gerstner, the board includes the following:
Richard Barton - Co-founder & CEO of Zillow, serves on the board of Netflix and Qurate Retail
Anu Hariharan - Partner at Y Combinator's Continuity Fund, focused on growth stage investments. Led investments in: Boom, Instacart, Convoy, Brex, Gusto, Faire, Monzo, Rappi, Vouch, Snapdocs and Groww.
Anita Lynch - Vice President of Data Governance for Disney Streaming Services (DIS). Previously, Head of BI & Analytics of Amazon Prime Now (AMZN).
Lexi Reese - Chief Operating Officer of Gusto. Previously, vice president of programmatic sales and strategy globally at Google (GOOGL

).

Hab Siam - General Counsel of Altimeter
The board has a lot of experience at leading technology and media companies, which will help with deal flow. Please see the company's SEC filings for full bios of the board member.
4. Top Underwriters
The book-runners on the deal were Citigroup, Goldman Sachs and Morgan Stanley. There are SPACs from all types of investment banks. Bulge Bracket book-runners is a signal of quality.
5. Forward Purchase Agreement Increases Chances of Success
As part of the AGCB offering, it signed a $50 million forward purchase agreement with an Altimeter entity. The benefit of this agreement is that if AGCB wants to raise capital through a PIPE, it already has a $50 million commitment from Altimeter. Furthermore, this provides a backstop in case some of the AGCB shareholders want to redeem their shares. Obviously, the $50 million forward purchase agreement has good terms for Altimeter (i.e. being able to purchase shares at $10.00), but I think it is good for AGCB investors too.
Key Stats
Amount raised: $400 million ($450 million with over-allotment)
Offering price: $10.00
Warrants: None ("Unlike other initial public offerings of special purpose acquisition companies, investors in this offering will not receive any warrants")
Sponsor ownership: 20% (of outstanding shares, excluding private placement shares)
Term: 24 months (possibly, up to 27 months)
It is really interesting that AGCB has no warrants. Although warrants are an attractive way for investors to get outsized gains if the SPAC works out, they create a complicated structure.
Altimeter's Current Investments
Altimeter's investment portfolio demonstrates its experience with fast-growing technology companies, including some recent IPOs like Snowflake (SNOW). This background should help it source and execute a successful deal.
According to Altimeter's 9/30/20 13-Fs, the following are its top positions: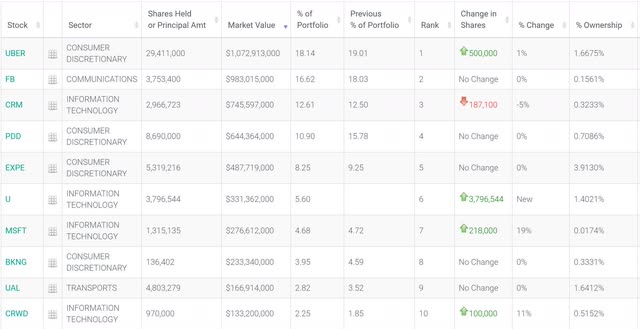 (Source: Whale Wisdom)
Additionally, the following are its top recent purchases (as of the 9/30/20 13-Fs)

(Source: Whale Wisdom)
ETF Exposure
I have a position in The SPAC and New Issue ETF (NYSE:SPCX). This is a new ETF that has quickly grown to about $115 of NAV. It gives me exposure to a broad range of new issue SPACs. I then look to augment my SPAC exposure by investing in specific SPACs.
Also, SPCX focuses on investing in SPACs before they announced a target acquisition. Other SPAC ETFs focus on SPACs after de-SPACing process.
Interestingly, AGCB is the #6 holding in SPCX (see here).
AGCB vs. AGC
AGCB is the second SPAC from Altimeter. The first one can be found with the following tickers:
Altimeter Growth Corp. (AGC)
Altimeter Growth Corp. Units (AGCUU)
Altimeter Growth Corp. Warrants (AGCWS)
The AGCB prospectus states:
"Altimeter 1 [i.e. AGC] may seek to complete a business combination in any location and is similarly focusing on the technology industry for business combinations. Further, Mr. Gerstner, our Chairman and Chief Executive Officer, serves as Chairman and Chief Executive Officer, and Mr. Siam, our General Counsel, serves as General Counsel and a Director, for Altimeter 1, respectively. Any such companies, including Altimeter 1, may present additional conflicts of interest in pursuing an acquisition target. However, we do not believe that any potential conflicts with Altimeter 1 would materially affect our ability to complete our initial business combination, because while we expect that Altimeter 1 will have priority over us with respect to acquisition opportunities until it completes its initial business combination, our management team has significant experience in identifying and executing multiple acquisition opportunities simultaneously and we are not limited by geography in terms of the acquisition opportunities we can pursue." (emphasis added by author)
Altimeter is not the first SPAC sponsor to have multiple SPACs on the market at the same time. Chamath Palihapitiya is another example of a SPAC sponsor doing this.
Investors in AGCB need to know that Altimeter's first target company will likely go to AGC. I am long AGCUU for this reason.
However, I am watching AGCB closely. It traded down last week and is closer to the $10.00 level, which means it has less downside. Investors should weigh the benefits of less downside with AGCB vs. waiting longer for the announcement of a target.
Conclusion
I am excited to invest alongside Brad Gerstner of Altimeter. I am currently long AGCUU.
I have AGCB on my watchlist because it is trading closer to $10.00 and it would give me exposure to Brad Gerstner #2 SPAC target idea as well.
This article was written by
I am an investor and operator in private companies. I mostly write about stocks in my personal portfolio or on my watch list. Currently, I cover the following themes:1. Airlines and the rebound from COVID-19 (see articles about LUV, DAL, UAL, AAL, JETS)2. Long-term compounders (see articles about AWK)3. Market dynamics (see articles about SPY)4. SPACs (see articles about AGCB)5. Special Situations (see articles about XSPA)It's great to get comments and feedback from readers. I look forward to hearing from you!
Analyst's Disclosure: I am/we are long AGCUU. I wrote this article myself, and it expresses my own opinions. I am not receiving compensation for it (other than from Seeking Alpha). I have no business relationship with any company whose stock is mentioned in this article.

I am also long SPCX. I may trade any of the securities mentioned in this article at any time.
Seeking Alpha's Disclosure: Past performance is no guarantee of future results. No recommendation or advice is being given as to whether any investment is suitable for a particular investor. Any views or opinions expressed above may not reflect those of Seeking Alpha as a whole. Seeking Alpha is not a licensed securities dealer, broker or US investment adviser or investment bank. Our analysts are third party authors that include both professional investors and individual investors who may not be licensed or certified by any institute or regulatory body.