(This report was first issued to members of Yield Hunting on Jan. 12. All data herein is from that date or prior.)
I got bullish on the floating rate ("loan") sector of the CEF market over the summer stating that they were relatively cheap. The cheapness was driven by a wave of distribution cuts but also investor sentiment that believed interest rates were staying low and thus floating rate was not a good place to invest. But any place can be a good place to invest if the price is right. And with short-term rates effectively at zero, they couldn't go down any more.
Our conclusion was that the spread between high-yield bonds ("HY") and bank loans was too wide to pass up. The average price for a loan was about $4 below that of HY and yields were higher. So, by investing in a security that actually rests higher on the capital structure compared to bonds, you get more upside and a higher yield.
We think the sector is going to garner a large amount of inflows given rising inflation expectations and higher long-term rates (even though these securities price on short-term rates like 30-day LIBOR). But sentiment matters. Prices of the loans should rise pushing up loan CEF NAVs. At the same time, discounts are still wide to provide some alpha.
The funds we like best are:
(1) Pioneer Floating Rate (PHD)
(2) Blackstone Senior Floating Rate (NYSE:BSL)
(3) BlackRock Floating Rate (BGT)
(4) Vertical Capital Income (VCIF)
---
Why Are Loans So Cheap?
Most floating rate securities, like bank loans, are priced off LIBOR (either 30-, 60-, or 90-day). Today, those rates are near zero. The one-year chart for both 30-day and 90-day LIBOR is below. A year ago, the rates were above 1.50%.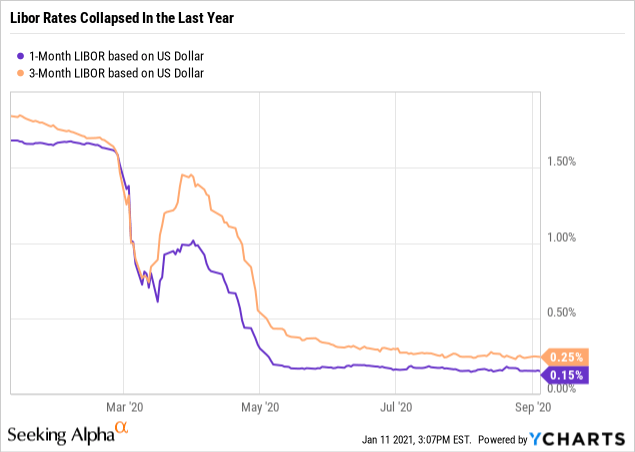 Most loans are priced on a spread of one of those rates. For example, company ABC will be 30-day L + X (some rate). That X today averages about 475 bps so with 30-day LIBOR is 15 bps (per the chart above) so a loan would carry a yield of approximately 4.90%.
A CEF then levers that portfolio up by approximately 30% to get to a total investment income of 6.4%. From that, we have to pay about 1%-1.5% in management fees and interest expense of about 20 bps for a net investment income ("NII") yield of approximately 5.2%.
So as LIBOR fell, the earnings power of funds declined. This is why we saw so many distribution cuts - in fact more cuts than there are funds as many cut more than once. We used Blackstone Strategic Credit (BGB) as an example because they announce distributions in three-month blocks and based on the current earnings power of the portfolio. You can see that they have cut several times in the last year going from $0.152 in January to $0.073 today.
Some of that decline is due to the drop in LIBOR and some due to the deleveraging that the fund experienced in March. At the start of the year, the fund had $365M in outstanding borrowing for leverage. By June 30, that was down to $305.5M, or a reduction of 16%. That aided the decline in the distribution.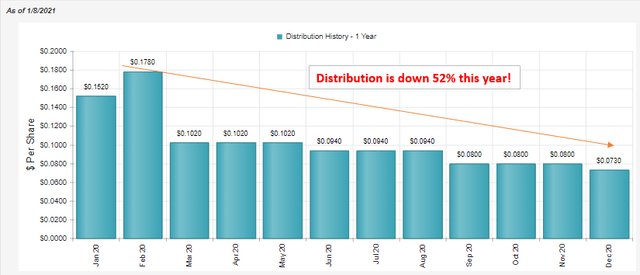 (Source: CEFconnect)
Why Do We Like Loans Over Bonds?
The high-yield bond market continues to break new record lows for effective yields. That's a combination of lower interest rates on Treasuries and tighter spreads compared to those treasuries. Spreads are now back below February ("pre-COVID") levels and even back to 2018 levels. That's incredible given defaults are up.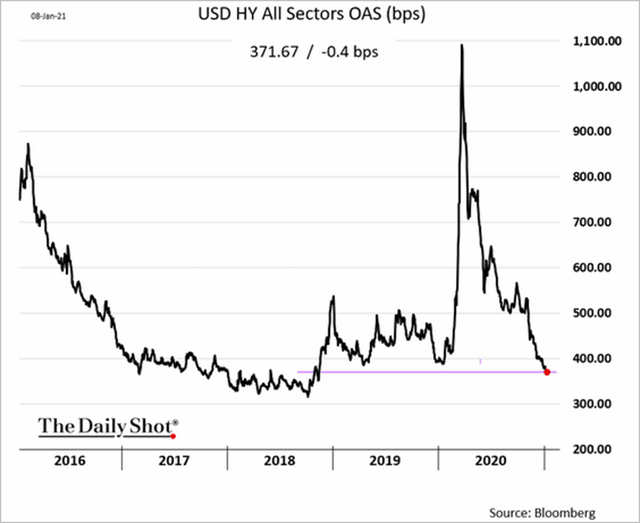 To me, this is the hunt for yield at any cost. We can see that in the average price for a high-yield bond rising to $105, with a yield-to-worst of just 4.24%. That is the lowest yield-to-worst on record.
Conversely, the average price of a bank loan looking at the leveraged loan index is just $96.20. While average coupons are lower for loans (at 3.90% vs 5.97%) the yield to worst (which is the more important measure) is higher at 4.70%. So you get additional yield of nearly half a point and sit higher on the capital structure.
So we believe the underlying securities of a leveraged loan are fundamentally better today. Additionally, the CEF wrapper housing these securities is cheaper than the high-yield sector. So you get a double-relative discount. What that means is you are buying discounted securities (compared to bonds selling at a premium with HY) and can buy those discounted securities at a discount to NAV. That's a win-win.
We look at the average discount for the high-yield sector vs. the average yield for the loan sector. When the discount is wider for bonds, they are usually out of favor and more attractive. When the loan space is wider, then they are typically out of favor and more attractive. As of Friday, the loan space had an average discount that was wider by 3.3%. It was far wider a few months ago (up near 6%) but since Halloween, bonds have widened out by nearly 2 points while loans have tightened by more than 2 points. We think this dynamic has room to run.
I also look at the relative discount spread. This metric shows how cheap a sector is relative to the average sector discount. Today, that's nearly 4.2%. In the taxable bond space, there is no sector trading at such a wide discount of just over 9%.
Top Selections And Why
First, some sector data points to know when considering the funds below:
The average NII yield (covered yield) of the sector is 6.15% and average distribution yield is 6.51%.
The trailing 12-month yield is 7.38%
The one-year z-score is 0.80 and three-year z-score is 0.21
The average fund is leveraged by 31%.
1- Pioneer Floating Rate (PHD), yield 7.20%, discount -10.20%, Lev: 26.5%.
The first fund we like is PHD. The fund did a tender offer recently which left very little shares for investors who took part. Most investors then sold the cigar butt which caused selling pressure on the share price. The current discount is only slightly wider than its three-year average but the rest of the sector has been rallying significantly. Thus, it's being left behind. The chart below from CEFConnect shows the spread widening recently.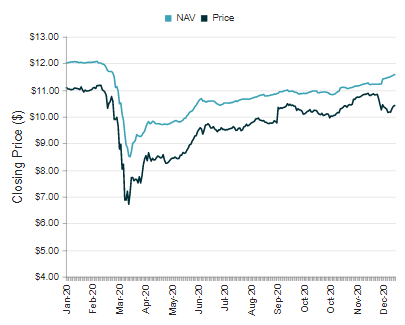 Additionally, we like the NAV trend. A lot of that has to do with the allocation to CCC (~10%), and not rated (~11%) providing that more equity-correlated uplift. But the fund is also less leveraged than most other loan CEFs. Of course, we don't know what the post-tender fund will be composed of. They could have "sold" for the tender the junkier loans and kept the higher-quality or vice versa.
But right now, we think the discount is wider and the yield higher than the sector average. It also performed well on a NAV basis relative to the sector in the last year and I think that could continue. The current buy-under discount is set at -7.5% though newer iterations of my regression model show the true level to buy at closer to -8%.
2- Blackstone Senior Floating Rate (BSL), Discount -10.05%, Yield 6.14%, Lev: 30.6%
We've been strong proponents of this fund family for a few years now as they successfully avoided the blowup in the energy complex by having nearly no exposure to the sector. The three funds that they have are fairly similar but some differences have emerged in the last few quarters in terms of performance. BGB has lagged (though it has a higher yield). BSL has been one of the top performers on a NAV basis with less leverage (30.5% vs. 35.3%).
The NAV has been on a nice and steady climb since the crisis in March and is nearly back to its pre-COVID levels in February. The current discount is over -10% which is FAR wider than the three-year and five-year averages of -3.4% and -2.7%.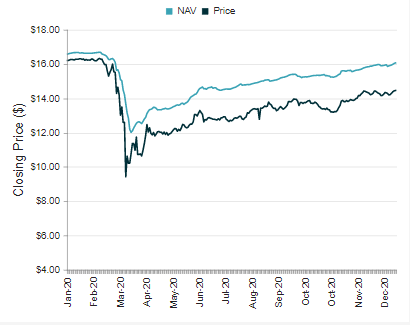 The reason for the wider discount is simply because of the shift to the modified distribution policy where they adjust their distribution every three months based on net investment income production. Given what has happened in the sector, it's not surprising why the discount has widened (see the discussion above regarding sister fund BGB).
But look at the sector data above. The covered yield of the sector 6.15% but the average yield of the funds in the loan space is 6.51%. That means the average fund, all else being equal, is over-distributing and will need to adjust lower.
BSL has sector-beating NAV performance and a great opportunity vis-à-vis the wider than average discount. The covered yield is also higher than the sector average without having to dip heavily into CCC (~14%).
3- Blackrock Floating Rate (BGT), Discount -11.5%, Yield 6.48%, Lev: 29.8%
BGT has been high on our scoring list for some time. The yield is about average and the NAV performance is top quartile (ninth out of 28 funds over the last year and 6/27 over the last three years). The leverage is slightly below the sector average at 29.8%.
The fund is a bit safer than the average loan CEF with just 8% in CCC or below. Most of the fund is in single-B rated loans with about 5% in investment grade. The average price of the loans in the portfolio is nicely discounted providing a yield-to-worst of 6.50%. That should provide support for the distribution.
The current discount is -11.5%, which is tighter than the one-year average but wider than the three and five-year averages. We have a buy threshold of -12.5% for the fund's shares.
4- Vertical Capital Income (VCIF), Discount -17.5%, Yield 8%, Lev: 11.6%
This is a smaller fund made up of 808 whole loans (mortgages). The weighted avg. coupon being earned on those loans is 5.33% of which the fund was able to acquire those loans at a 16.2% discount on average to their unpaid loan balance (data below).

There's a lot of activism in this fund but the more acute catalyst is the recent shift to a managed distribution policy which will be as a percentage of NAV. The new rate will be adjusted every three months using an 8% rate multiplied by the NAV, divided by 12. The new yield of 8 cents per month equates to a new current yield of 9.68%. The current yield is much less at 3.39%.
Our thesis on this is A) short-term investors will discover the fund and its juicy yield and B) activists may be successful in monetizing the discount with some sort of special situation outcome.
The current discount is -17.5% which I think could mean that share price closes moderately. Using the BlackRock Multi-Sector Income (BIT) as a proxy - a fund that's much riskier in terms of the underlying portfolio - the fund trades at 8.5% yields. If VCIF trades there it would equate to a share price of $11.30, or about 14% higher than current levels.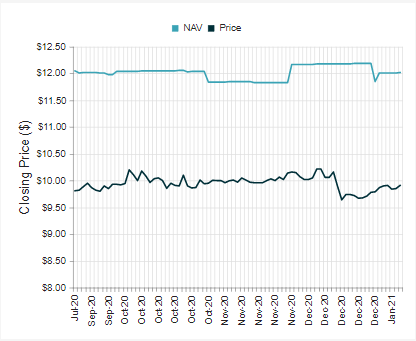 Quick Update
Since the publication of this article, some of the funds mentioned have moved up nicely but we think they are still good opportunities. I would still buy all three here today.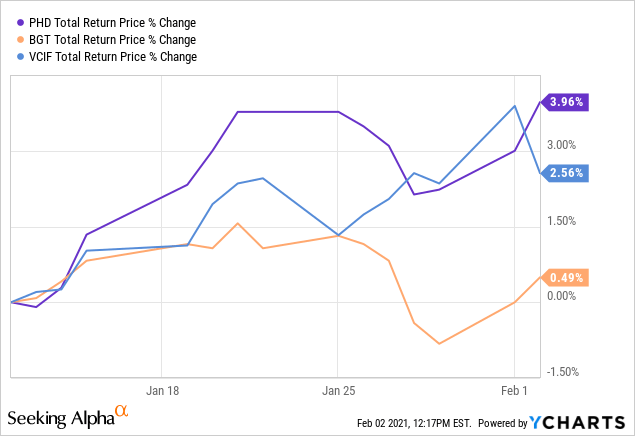 Concluding Thoughts
We think the floating rate sector is one of the better sectors to be buying at this point. The underlying loans remain at a discount to par giving some upside to the NAVs of the funds. In addition, the taxable bond CEF segment discount is getting tight at -3.6% while the loan space remains over -9%. With renewed interest in the space, we think fund flows could really find a home here and drive up prices and NAVs.
From an allocation standpoint, we think of having about 10% or more in floating rate. The Core has about 12% today devoted to the sector but we will likely add more in the coming months. We may also swap out BGB for BSL given the rationale outlined above.