Blockchain ETFs And Their Holdings Have Finally Come Of Age
Summary
When the first blockchain ETFs launched in 2018, many investors were skeptical that these products could really provide exposure to the theme.
Other critics claimed blockchain was a technology in search of an application, despite the many promising use cases.
Flash forward three years, and investor opinions have evolved along with blockchain technology, its applications, and the companies at the forefront of this important theme.
One of the criticisms of the first Blockchain ETFs when they launched back in January of 2018 was that there were too few "pure-play" names to hold. Indeed, at the time, regulators would not even let these products use blockchain in the name, as they could not easily meet revenue test standards. But that was three years ago, and applications such as blockchain and digital payment have evolved with many new companies now publicly traded and many others now deriving significant revenue from blockchain and its associated use cases.
Let's take a look at some of the companies profiting and innovating on the blockchain. All of these companies are held in the Amplify Transformational Data Sharing ETF (BLOK), an actively managed ETF. Among its ETF competitors, BLOK has the most "pure-play" exposure and the highest correlation to cryptocurrency over the last year as seen in the table below, with a .628 correlation to Bitcoin and a .574 correlation to Ethereum.
1-Year Daily Return Correlation (1/31/20 - 1/31/21)

Security

BLOK

BLCN

XBTUSD

XETUSD

KOIN

LEGR

BLOK

1.000

0.819

0.628

0.574

0.844

0.792

BLCN

0.819

1.000

0.483

0.470

0.911

0.842

XBTUSD

0.628

0.483

1.000

0.785

0.447

0.440

XETUSD

0.574

0.470

0.785

1.000

0.420

0.414

KOIN

0.844

0.911

0.447

0.420

1.000

0.931

LEGR

0.792

0.842

0.440

0.414

0.931

1.000
Source: Bloomberg, EQM Indexes
Part of the reason for that higher correlation to digital assets relative to its ETF peers is the ETF's diversified exposure to many crypto miners and crypto trading and digital payment stocks.
Here are BLOK's top five holdings as of January 31st, 2021:
1. MicroStrategy (MSTR) - MicroStrategy is the largest publicly traded business intelligence company. It is buying Bitcoin and according to CEO Michael Saylor, intends to continue to "actively manage" its balance sheet by continuing to acquire the digital asset. Per its latest filing, MicroStrategy holds 71,079 BTC as of 2/2/21. The company has made a pioneering decision to make bitcoin its primary treasury reserve asset, positioning it as a thought leader in the cryptocurrency space.
2. Marathon Patent Group (MARA) - Mara is a self-described "digital asset company" that mines cryptocurrency with a focus on the blockchain ecosystem and the generation of digital assets. The company operates a data center in Hardin, Montana and co-hosts a bitcoin mining facility in North Dakota. The company is also buying Bitcoin, and recently purchased $150 million worth.
3. Silvergate Capital Corp. (SI) - Silvergate is a bank catering to the needs of the digital currency industry. In Q4 2020, Silvergate Bank took in $2.9 billion in new deposits from new and existing digital currency customers. The majority of those new deposits came in from crypto exchanges. Silvergate's customer base includes Coinbase, Kraken, Bitstamp and others.
The Silvergate Exchange Network (SEN), a fiat on-ramp for bitcoin markets, processed 90,763 transactions and transferred $59.2 billion over the network during the last quarter.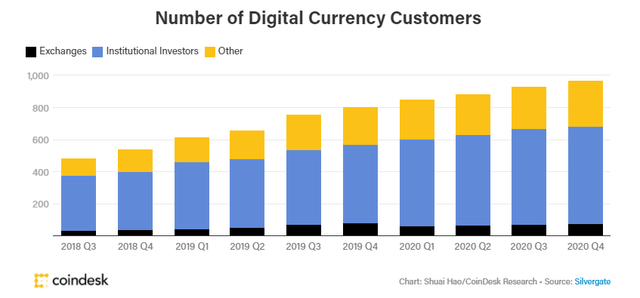 4. Square (SQ) - Square Inc. is a fintech company known for its mobile point of sale and payment solutions. But in the last year, Square has also made investments in bitcoin and is supporting digital currency payment. In 2018, Square started to allow its peer-to-peer Cash App users to buy and sell bitcoin. Another initiative at the firm called "Square Crypto" is focused on bitcoin projects. And last October, Square got investor's attention when it purchased $50 million worth of bitcoin to "expand its balance sheet." CEO Jack Dorsey, also the CEO of Twitter, has been a longtime proponent of bitcoin. Dorsey believes "bitcoin has the potential to be a more ubiquitous currency in the future," calling cryptocurrency "an instrument of economic empowerment" that "provides a way for the world to participate in a global monetary system."
5. PayPal Holdings (PYPL) - PayPal's 361 million users can now buy, sell, and hold cryptocurrencies through the PayPal app, including Bitcoin, Ethereum, and LiteCoin. Furthermore, crypto payment is coming to PayPal's Venmo app for peer-to-peer transactions later this year. In addition, PayPal also announced it will be accepting crypto as a form of payment for purchases in its 28 million merchant network. One analyst expects that crypto could add more than $1 billion to PayPal's annual revenues by 2022.
All of these companies and their actions have helped lend institutional credibility to blockchain and cryptocurrency applications. Furthermore, the pandemic has also helped accelerate demand for cashless, digital payment solutions.
Investors can choose to own individual stocks to get exposure to this theme or utilize ETFs to get broader, more diversified exposure.
Here is a comparison of the ETF offerings that are dedicated to blockchain:
| | | | | | | | |
| --- | --- | --- | --- | --- | --- | --- | --- |
| Symbol | ETF Name | Inception | AUM | Expense Ratio | Mgmt | YTD | 2020 |
| BLOK | Amplify Transformational Data Sharing ETF | 01/17/18 | $535,857,000 | 0.70% | Active | 12.32% | 90.15% |
| | Reality Shares Nasdaq NexGen Economy ETF | 01/17/18 | $219,102,000 | 0.68% | Passive | 1.72% | 60.56% |
| | First Trust Indxx Innovative Transaction & Process ETF | 01/24/18 | $57,184,600 | 0.65% | Passive | 2.04% | 18.71% |
| | Innovation Shares NextGen Protocol ETF | 01/30/18 | $23,587,300 | 0.95% | Passive | 2.23% | 32.72% |
Source: ETFDb, Bloomberg, as of 2/2/2021
Clearly, BLOK's active approach and pure-play focus have helped both from a performance and asset gathering standpoint as blockchain and its investment case continues to evolve and come of age.
This article was written by
EQM Indexes, LLC is a woman-owned firm dedicated to creating and supporting indexes that track growth industries and emerging investment themes.
Analyst's Disclosure: I am/we are long BLOK.

Business relationship disclosure: See additional disclosure

Disclosure EQM Indexes and Emerita Capital Indices are research partners in the Amplify Transformational Data Sharing ETF (BLOK) and the co-developers of the EQM-Emerita Blockchain BLOK 50 Global Index (BLOK-50). It is not possible to invest directly in an index. Exposure to an asset class represented by an index is available through investable instruments based on that index. EQM Indexes and Emerita Capital Indices does not sponsor, endorse, sell, promote or manage any investment fund or other investment vehicle that is offered by third parties and that seeks to provide an investment return based on the performance of any index. EQM Indexes and Emerita Capital Indices makes no assurance that investment products based on the Index will accurately track index performance or provide positive investment returns. EQM Indexes and Emerita Capital Indices is not an investment advisor, and makes no representation regarding the advisability of investing in any such investment fund or other investment vehicle. A decision to invest in any such investment fund or other investment vehicle should not be made in reliance on any of the statements set forth on this website. Prospective investors are advised to make an investment in any such fund or other vehicle only after carefully considering the risks associated with investing in such funds, as detailed in an offering memorandum or similar document that is prepared by or on behalf of the issuer of the investment fund or other vehicle. Inclusion of a security within an index is not a recommendation by EQM Indexes or Emerita Capital Indices to buy, sell, or hold such security, nor is it considered to be investment advice. The author owns shares in BLOK.
Seeking Alpha's Disclosure: Past performance is no guarantee of future results. No recommendation or advice is being given as to whether any investment is suitable for a particular investor. Any views or opinions expressed above may not reflect those of Seeking Alpha as a whole. Seeking Alpha is not a licensed securities dealer, broker or US investment adviser or investment bank. Our analysts are third party authors that include both professional investors and individual investors who may not be licensed or certified by any institute or regulatory body.