In an article that I posted last October on the iShares Silver Trust ETF (NYSEARCA:SLV) titled SLV: An Incredible Buying Opportunity, I discussed how investors need to find assets that will generate real returns over the coming years, given that we are in an environment where the financial system is being continuously flooded with trillions and trillions of dollars of newly printed fiat, and the Fed is begging for inflation. Physical gold and silver are logical choices as they are proven inflation protectors that can generate real returns.
As I stated about silver:
What will continue to drive the price of silver will be investment demand. Subtle shifts in investors' appetites for the metal can have a profound impact on price, and I expect surging demand for silver by investors....As investors flock to silver over the coming months and years, this will create greater supply/demand imbalances in the market as investment demand will overwhelm the minute supply.
We are now seeing this "profound impact on price" in action as a deluge of investment demand overwhelms the available annual supply.
Over the last several days, the daily fund flows into SLV have spiked. More than $800 million flooded into SLV last Friday, another ~$500 million at the start of this week, and then $1.7 billion yesterday (on a big down day in silver). Yes, that's a pittance in a world where companies have $1+ trillion market caps, and the fact that the crypto universe is worth ~$1 trillion as well (more on this in a bit). For SLV and physical silver in general, though, this is a meaningful influx.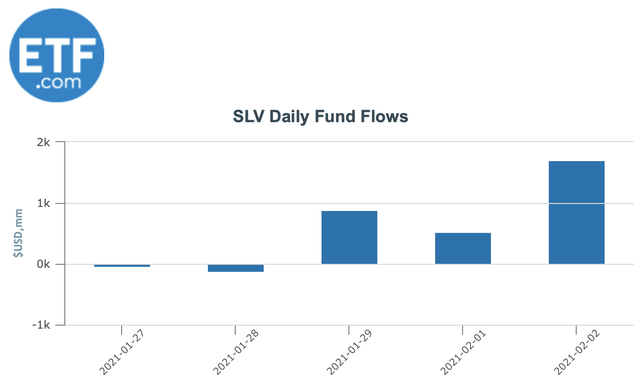 (Source: ETF.com)
But let's back up...
The Silver Institute's most recent estimates for physical silver's supply/demand fundamentals show a market that had a significant supply deficit last year thanks to surging net investments in ETPs (Exchange-traded products) such as SLV. Last year, the annual mine supply dropped by ~6% because of COVID-19 related disruptions in the mining sector, particularly in silver-rich countries in South America such as Peru. The mining industry in Mexico, another major silver producer, was also impacted as many mines were shut down or operating at reduced capacity to allow for strict COVID-19 protocols. Of course, industrial and jewelry demand took a hit, which more than offset the drop in supply. However, it's always investment demand for silver that is the true driver of market balance and price. I will reiterate, it only requires tiny changes in investment dollar volume to move silver. Net physical investment demand increased in 2020 as investors rushed to buy coins and bars, but it was the ~350 million-ounce print from ETP investments that was the difference-maker. The silver market was out of balance to the tune of 300+ million ounces last year.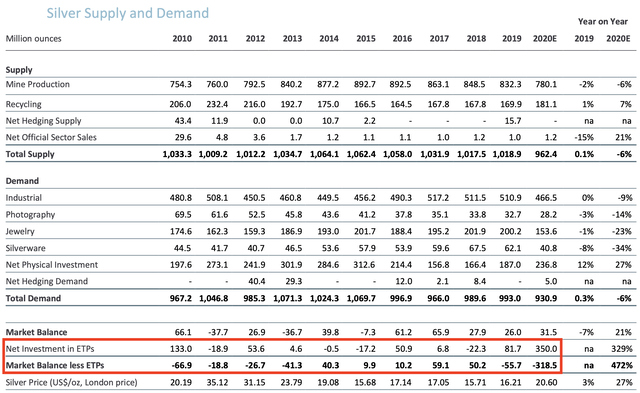 (Source: Silver Institute)
That's why SLV ended up being such an outstanding performer in 2020. After a rocky start to the year, as silver experienced a sharp decline in industrial and jewelry demand, it was investment demand that came on strong and more than filled the gap.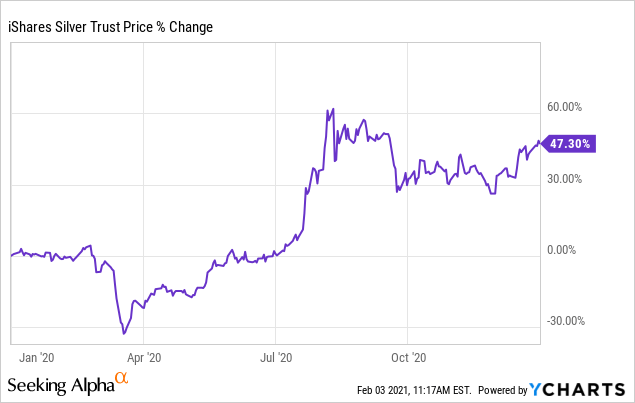 That trend continues this year, as shown in the daily fund flows above, and a broader view in the middle graph below (which reflects the total ounces held in the SLV trust over the last 5 or so years). Notice the spike to the far right, as over 100 million ounces were added to the trust already this year, thanks to investors' insatiable appetite for silver.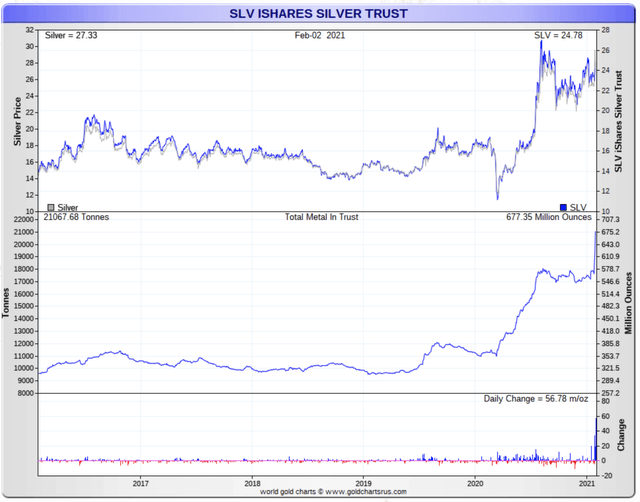 (Source: goldchartsrus.com)
The Reddit Impact?
Even if you don't follow the markets, one of the biggest news stories lately has been one from Wall Street, as over the last several weeks, the coverage of the Reddit crowd and the impact they are having on the stock market and short sellers' pocketbooks has been the hot topic of conversation across all media outlets.
Rumors started to swirl that the physical silver market was the next target by this group, given silver is a heavily shorted (and proven to be manipulated in multiple instances in the past) market. As also alluded to above, it doesn't take much to move the metal higher. The idea was that investors on Reddit would shift profits — and focus — to the silver sector and create an avalanche of buying, overwhelming the physical market and crushing those trying to manipulate/short the metal.
This potential event was all over the news this past weekend, and SLV spiked on Monday, reaching new multi-year highs and prices not seen since 2013 — seemingly indicating that "it has begun." However, the next day, silver gave back all of its gains, and the potential Reddit-induced run never materialized. Or if it did, it turned out to be a dud or false dawn.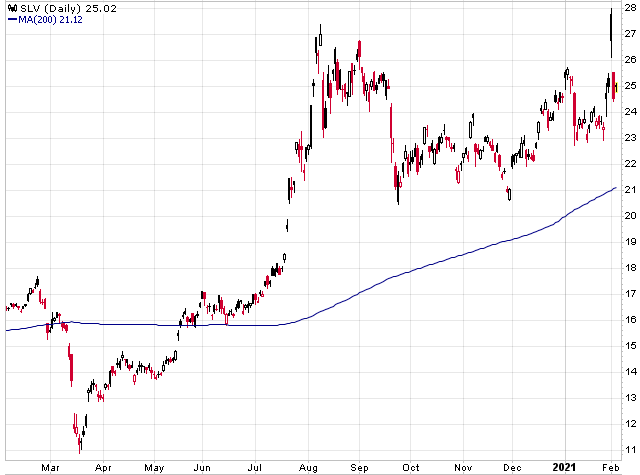 (Source: StockCharts.com)
But as I've been discussing with subscribers of The Gold Edge in recent days, SLV has seen substantial momentum for the past few months, as clearly indicated by its noteworthy outperformance of gold during that time. In other words, SLV was already moving higher even before last week and was on the verge of breaking out.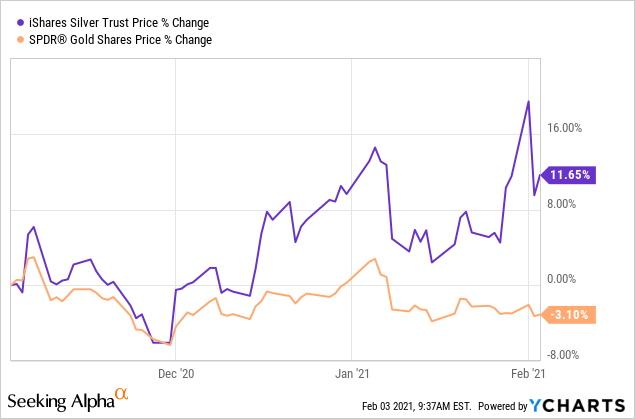 I'm not convinced the spike on Monday was even the result of the Reddit crowd entering the silver market. I think the vast majority of buying activity was from traditional gold and silver investors, either; 1. anticipating a breakout in silver, 2. because they believed a surge of new investors would soon enter the market and were buying before the herd piled in, or 3. silver shorts were spooked by what WSB was doing to certain stocks and they feared they might be the next victim on the list, so they rushed to cover positions. It might have been all three that contributed to the spike.
I think on Tuesday, it became clear that Reddit investors weren't impacting (i.e., buying into) the silver market (at least not en masse, or not yet). The CME also raised margin requirements for silver that day, which didn't help the bulls. As a result, traditional gold and silver investors backed off long positions, and shorts likely pilled on again. This is why SLV is back to square one for the week.
However, I will reiterate, this move was already well in motion, and SLV will soon breakout anyway as there is a real and growing demand for the metal. Not because investors are trying to pound the short-sellers. Rather, investors are looking for ways to protect themselves from inflation, with the key focuses on solid fundamentals, real returns, and wealth preservation (all things SLV offers at the moment).
SLV Is Almost 50% Below Its 2011 Peak, And I Expect A Retest Of Those Highs
Gold has already eclipsed its 2011 bull market top; SLV is almost 50% below its peak of that year. If you adjust for inflation, the percentage from the high is even more extreme. SLV is incredibly cheap compared to where it has historically traded — both in terms of its price now vs. the peak in 2011 and vs. gold. The breakout/rocket launch on Monday might have failed, but there will be another attempt likely in the very near-term that will be successful.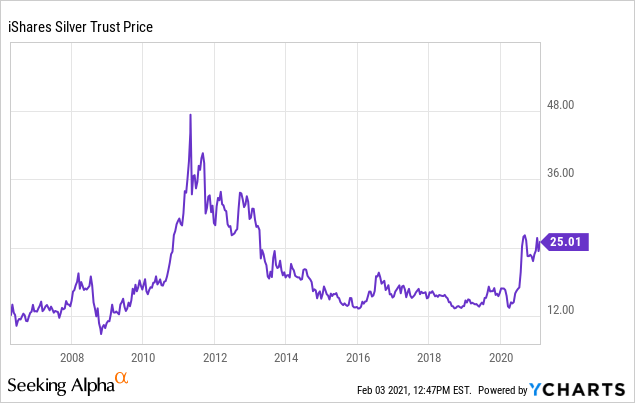 The fundamentals for SLV are resoundingly bullish. Industrial demand has picked back up and is expected to rebound further this year as the global economy continues to recover. Mine supply has been on a downtrend and fallen each of the last 6 years (from 892.7 million ounces in 2015 to 780.1 million ounces in 2020). That's what a vicious bear market can do to supply, and it will take years and years before the mine supply will increase to 2015 output totals again. Whether the current calendar year's supply can rebound back to 2019 levels will depend on when countries like Peru and Argentina reduce COVID-19 outbreaks. Either way, expect a still tight supply in 2021 and not nearly enough silver to satisfy the ever-increasing investment/ETP demand.
Let's revisit the size of the silver market again compared to other asset classes that offer (proven or not proven) protection from fiat currency debasement due to out-of-control debt/deficit spending.
Take the cryptocurrency market, for example, which again, is around $1 trillion in total value. This year's 100+ million increase in silver ounces held in SLV is only a little over $3 billion worth of investment demand. Despite it being a next to nothing amount, this inflow has serious ramifications on the price of silver. A paltry $10-$20 billion of additional ETP/coin/bar buying would take SLV to new heights. Double or triple that amount, which isn't much in the grand scheme of things, and this isn't how silver gets to $50; it's how it gets to $100+.
Silver is one of the few asset classes that not only trades at an extraordinary value but also protects purchasing power. It's the best of both worlds in this current climate of seemingly unlimited money creation. There is no valid bear argument against the metal at the moment. Investors will keep buying into this asset class and the bull market will continue until supply/demand are more imbalance, which will occur when silver reaches a fair(er) value.
I've been long SLV in anticipation of renewed interest in silver as an inflation hedge and deep value play. However, the leverage to silver is in the Ag miners, and those have been incredibly rewarding to The Gold Edge portfolio over the last few years. I expect that trend will continue.
I recently highlighted Gatos Silver (GATO) in an article posted a little over a month ago (Gatos Silver: The Cat Is Out Of The Bag). The stock was at $6 when I first discussed it with subscribers back in November, soon after the company went public. On Monday, the stock was up 70% at one point intraday, hitting $24. The return back down was equally as swift. Many silver stocks had huge 20-30% intraday moves on Monday, only to give back those gains. But I don't believe those vertical ascents weren't transitory; I think they were a harbinger of what's to come. I'm maintaining exposure to silver stocks like GATO as I believe that SLV will not only soon break through the $27 barrier but will eventually retest and surpass 2011 levels. Fundamentals support this move continuing.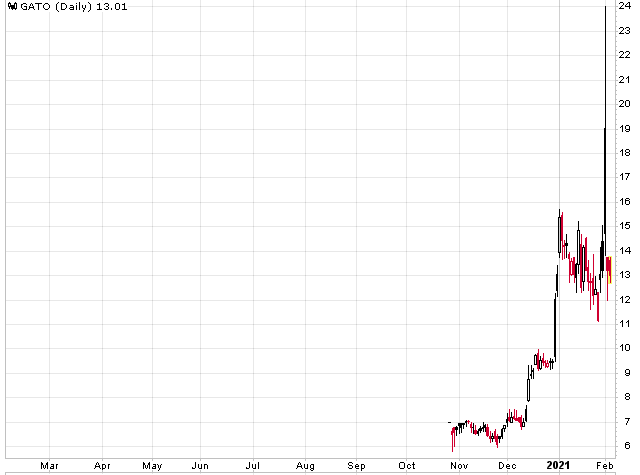 (Source: StockCharts.com)
Subscribe To The Gold Edge
The opportunity in this sector is here, but to succeed, you need a deep knowledge of gold and the miners. The Gold Edge is my premium, research-intensive service that provides that knowledge as I'm sharing all of my thoughts, ideas, and research on the gold sector. If you would like access to all of my analyses, including my top gold and silver mining picks, subscribe to The Gold Edge. Click here for details.