As most are already aware, Skillz Inc. (NYSE:SKLZ) is a mobile gaming platform that provides app developers with an audience and an opportunity to monetize their games. However, unlike other platforms, Skillz does not rely on strategies such as "pay to win" or advertisements to monetize their users. Instead, they allow users to make bets on contests and take a 14% cut of the entry fees with the game developer taking the rest.
Skillz is able to generate very strong gross margins as a result of not having to actually develop the games itself. This has allowed the company to aggressively reinvest in marketing in order to grow its revenue. Although not currently profitable, its structure allows it to have very high profit and cash flow potential.
Industry Overview and Positioning
Skillz is a fast-growing company in a fast-growing industry. The mobile gaming industry has grown at a CAGR of 20% from 2014-2019. According to their investor presentation (which is dated September 1st, 2020), the mobile gaming market is $68 billion. However, a more recent industry report estimated that it might be $76.7 billion by the end of 2020. Either way, the industry has grown larger than that of movies and music. It is estimated that there are 2.6 billion mobile gamers of which 38% will pay for games.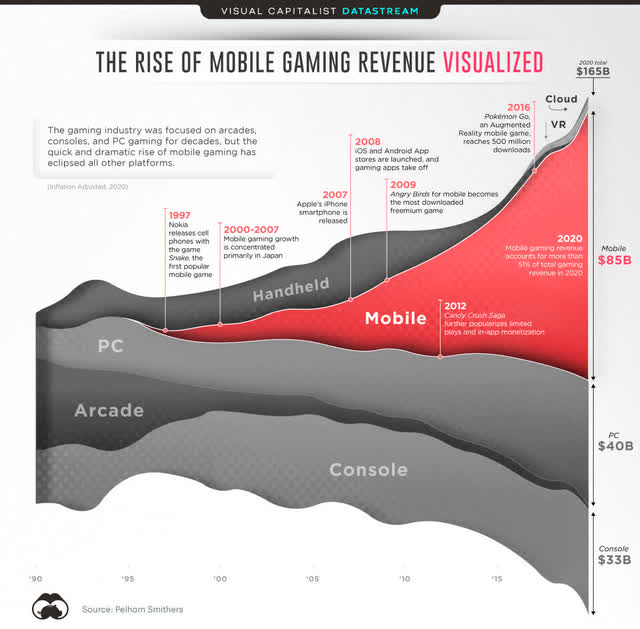 Source
As you can see from this picture, mobile gaming has been the fastest-growing subcategory of the whole gaming industry with the PC and console subcategories actually declining. Mobile has become so important that gaming companies are focusing on developing platform-agnostic subscription services that can penetrate mobile.
An interesting industry trend is that the cost to acquire a player dropped significantly to $1.47, which is a 66% decline from 2019. However, the cost to acquire a paying user has increased 24% to $43.88. This has resulted in developers shifting their focus onto acquiring non-paying players and using ads to monetize them.
This puts Skillz into an interesting position. To be clear, paying users are classified as "pay to win" users. The way we see it, it's possible over the long term that users who are not willing to make in-game purchases might be willing to enter paid contests on Skillz's platform. Although it may be hard to quantify the validity of this idea at the current moment, it does make logical sense.
Using ourselves as an example, we have never and will never make in-game purchases because we don't believe it adds any material benefit to our gaming experiences. In addition, it's hard-earned money that is permanently leaving our pockets. On the other hand, paying a small entry fee in order to compete and possibly make money is much more enticing to us. This is especially true if the game is based on skill because we have the opportunity to practice in non-paid games before putting any money on the line.
As a result, Skillz might be able to get away with targeting the cheaper audience and still be able to monetize them through paid contests. However, even if this never actually happens, the company will eventually monetize this crowd through non-intrusive ads. The non-intrusive part is crucial because intrusive ads ruin the user experience. Skillz has emphasized how ads interrupting gameplay is part of the "old business model" and that it doesn't work anymore.
Long-Term Catalysts
It is very likely that Skillz will eventually become the preferred platform for website developers for three main reasons.
First off, the company's ability to easily monetize its users without relying on advertisements gives it a strong edge over other companies. This is especially true now that Apple has made changes to its privacy guidelines which will require all apps to ask permission from users to track their data. It's expected that most will not grant access, therefore making ad optimization or monetization much more difficult. As a result, Skillz could become an attractive alternative for developers looking to maximize revenue.
Also, the number of mobile games on Skillz's platform generating over $1 million in gross marketplace volume has steadily been increasing.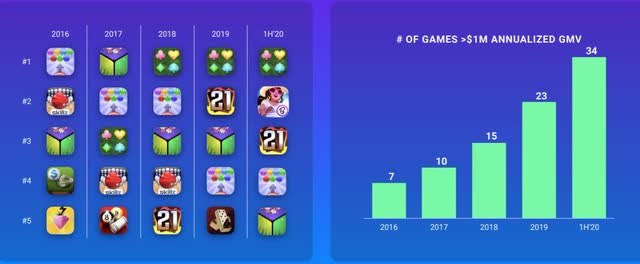 Source: Investor Presentation
This points to a healthy ecosystem that is gaining traction. If this trend continues, it will definitely catch the attention of developers especially as the platform becomes more popular with users.
In addition, the company's take in 2020 was only 14% with plans on increasing it to 15% in 2021. The company plans to gradually increase its cut by 20% which will further increase revenues. However, even with a take of 20%, it's still much less than the 30% demanded from Apple and Google on their app stores.
Lastly, the user engagement on the platform is phenomenal. At 62 minutes per user per day, it beats TikTok and blows platforms like Facebook, YouTube and Snapchat out of the water.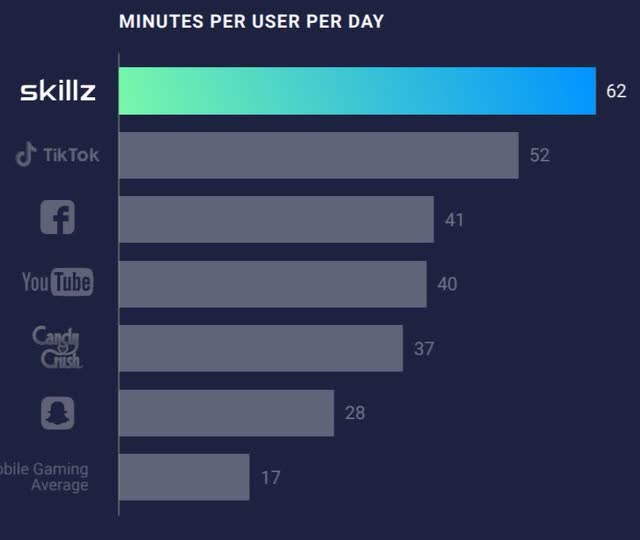 Source: Investor Presentation
Simply put, the more time users spend on a platform, the longer they can be monetized. As the company begins introducing new ways of monetizing, the ability to hook users longer than other platforms can potentially allow it to experience faster revenue growth than peers.
Short-Term Catalysts
Also, the company has recently announced a new partnership with the NFL. The two organizations will host a global game developer challenge in which developers compete for the opportunity to build an NFL-themed mobile game. This agreement is beneficial to both parties. For Skillz, this introduces the company to millions of NFL fans and adds even more legitimacy to the brand. For the NFL, tapping into the mobile Esports market is the next logical step for expanding their business and engaging new or existing fans.
Football games have been very popular for decades as proven by Electronic Arts' (EA) Madden NFL series. Although the series has been for console and PC, there is little reason to believe that a mobile football game won't very successful given the industry trends.
Similar to the NFL partnership, Skillz also entered into a partnership with Big Buck Hunter which is one of the best-selling arcade games of all time. It has a loyal following and robust fan base which continued to grow through live and virtual tournaments in thousands of arcades and other venues worldwide. This marks Skillz's expansion into the first-person-shooter genre.
We believe these 2 partnerships are just the start. As Skillz continues to gain traction, there's no doubt that similar partnerships will continue to be struck. The fact that the company operates as a platform is great because they don't have to actually spend money on developing games. As the number of partnerships continues to grow, the company's high gross margins will allow it to continue spending aggressively on marketing resulting in explosive revenue growth.
Valuation
Given that Skillz is heavily reinvesting its revenue into growth (along with most of its high-growth peers) we decided to use linear regression to compare price to sales of the last 12 months versus the expected growth in sales for the next 12 months. A regression statistically measures the relationship between two variables. The line of best fit on the scatter plot best expresses this relationship. Our sample includes over 300 different companies within the tech industry from high growth to mature. The result was as follows: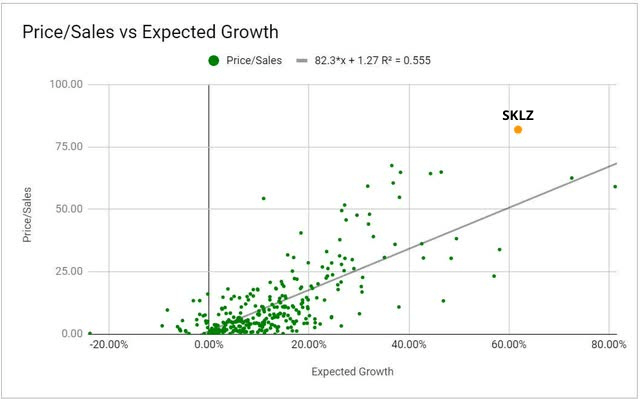 Source: Author with data provided by Finbox
The orange dot found above the line of best fit is SKLZ, which suggests that the company is trading at a premium relative to its peers. This is mainly due to its run-up this past week from its NFL deal which has made the price jump about 40% in 2 days. The "fair price" for Skillz is a P/S multiple of 52.16 which is calculated as follows:
82.3(61.84%) + 1.27 = 52.16
However, it is really important to note that the growth rate is the expected value of the next 12 months only. We expect Skillz to be able to sustain an elevated growth rate for a very long time thanks to its impressive margins. It might not grow at 60% but it can definitely sustain 20-30% for a long time. As a result, an argument can be made that Skillz deserves to trade at a premium.
Nonetheless, value-conscious investors may want to wait for a pullback whereas aggressive investors may consider a small starter position and scale in or out accordingly.
Great Insider Ownership
As mentioned in some of our previous articles, we love companies that are founder-led and have a high amount of individual insider ownership. This is because stocks that fit this criteria usually tend to outperform the overall market due to higher amounts of innovation, an "owner's mindset", and other reasons that you can read about here.
When taking a look at SKLZ, we can see that the co-founders Andrew Paradise (who is also the CEO), and Casey Chafkin, own 21.79% and 4.44% of the company, respectively. CTO Miriam Aguirre and Board Member Kent Wakeford also own a respectable amount.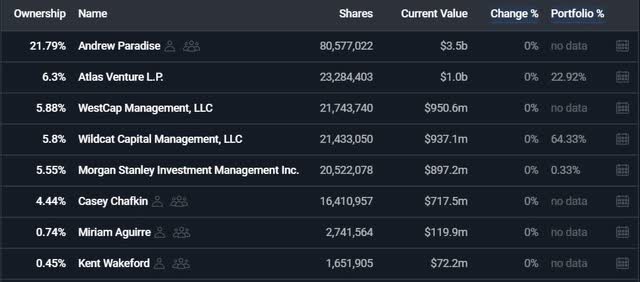 Source: Simplywall.st
Andrew Paradise has had previous success as well. Before SKLZ, he founded AisleBuyer, which was best known for pioneering mobile self-checkout before it was sold to Intuit Inc. (INTU) in 2012 for a reported 100M. Co-Founder Casey Chafkin was also involved with AisleBuyer. He was AisleBuyer's 4th employee and had the responsibility of overseeing the company's strategic partnerships and brand-oriented solutions.
With this ownership structure and the past success that the Co-Founders had with AisleBuyer, we are confident that SKLZ's management team is great and will be working in the best interest of long-term shareholders.
Risks
Besides general risks such as high levels of competition between different companies, SKLZ is subject to a few other risks that are worth mentioning.
Sales and Marketing
As seen in the image below, selling and marketing expense is growing almost in tandem with revenue. This only goes back about 2 years, but it is something to note for now. In the future, we would like to see revenue outpace marketing expense, proving that SKLZ's marketing is being done efficiently and that the platform itself retains paying users.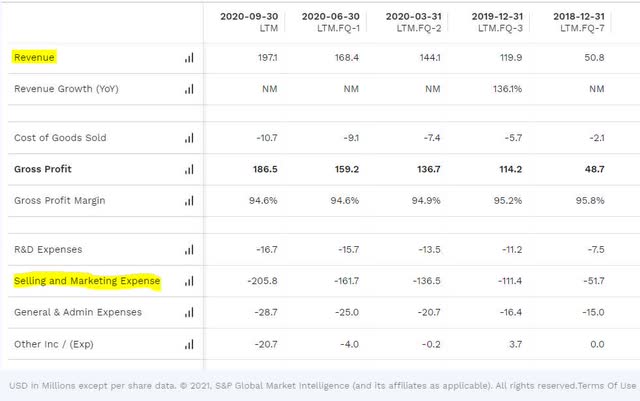 Source: Finbox
High Revenue Concentration
Below, is a risk that we took from SKLZ's December S-1 filing:

Having such a high concentration of revenue in a few games is risky of course. Only 3 games accounted for 79% of revenue during the nine months ended September 30, 2020. If these few games become less popular or are removed from the Skillz platform without a suitable replacement, the company can see some headwinds.
High Valuation
As explained earlier, SKLZ is not cheap. Clearly, a lot of growth is being priced into the stock, meaning that any growth disappointments can cause a large drop in price fairly quickly. That's why it is crucial for SKLZ to be able to execute its growth plans.
Final Thoughts
Skillz is definitely not a value stock today at 82 times sales. When we initially bought it, it was about half its current price. Nonetheless, its high growth and measurable competitive advantage can very well make it a value stock when looking towards the future. It's very likely that there will be much volatility with this stock as there generally is with growth stocks. There is also more risk involved in this company because of its valuation and concentrated revenue from three games. However, given the great management team and future outlook, those who have the ability to stomach the ups and downs could be rewarded handsomely in the long run.