Biogen (NASDAQ:BIIB) has long known the day would come when Tecfidera sales would be seriously impacted by generic competition. That impact began in 2020 and will accelerate in 2021. It is hitting a drug that formed a disproportionate part of overall sales. Meanwhile, Biogen expanded its pipeline. While that looks good, commercial approvals are not yet coming fast enough to make up for lost Tecfidera revenue. That leaves two paths for 2021: the path where the FDA approves aducanumab for Alzheimer's, and the path where the FDA rejects it.
Biogen management included the approval of aducanumab in its 2021 guidance. Not very much revenue was included, since an approval would be mid-year. But a fair amount of sales expense since the company wants to roll the drug out fast if it does get approval. So far, judging by the stock price, investors are betting the drug will be rejected. That is the rational bet, as corporate managements have a long record of being too optimistic and more so because the FDA Advisory Committee recommended against approval. So at the end of trade on February 5, two days after Q4 results were released and the analyst conference was held, the stock price closed at $265.09. The 52-week high was $355.63.
This article will focus on the aducanumab situation, but will also review Q4 results, 2021 guidance, and the state of the pipeline. My thesis is that with the revenue decline from Tecfidera and a rejection of aducanumab already priced into the stock price, Biogen is currently undervalued. Despite that, if the FDA rejects aducanumab, I expect the price to decline further. The other path would likely see Biogen ascend to perhaps $500 per share soon after an FDA approval of aducanumab.
Biogen Q4 2020 results summary
Biogen revenue plunged in Q4 2020, both sequentially and y/y, with generic or biosimilar competition for Tecfidera and other drugs as the culprit. Revenues were $2.85 billion, down 16% sequentially from $3.38 billion and down 22% from $3.67 billion in the year-earlier quarter. The decline was led by Tecfidera, with revenue of $647 million down 45% y/y. Avonex and Rituxan also showed substantial drops. The drugs that did show annual revenue gains, like Vumerity and Flixabi, lacked magnitude.
The poor revenue led to substantial declines in profitability, though Biogen remains a profitable company. GAAP net income was $358 million, down 49% sequentially from $0.70 billion and down 75% from $1.44 billion in the year-earlier quarter. EPS (earnings per share, diluted) were $2.32, down 48% sequentially from $4.46 and down 71% from $8.08 year-earlier. Non-GAAP net income was $706 million, down 49% sequentially from $1.39 billion and down 53% from $1.49 billion year-earlier. Non-GAAP EPS was $4.58, down 48% sequentially from $8.84 and down 45% from $8.34 year-earlier.
In Q4 2020 Biogen entered a collaboration with Sage Therapeutics to jointly develop and commercialize zuranolone (SAGE-217) for major depressive disorder, postpartum depression, and other psychiatric disorders plus SAGE-324 for essential tremor and other neurological disorders. Under the agreement, Biogen made an $875 million upfront payment and an equity investment of $650 million and may pay up to $1.6 billion in potential milestone payments, profit sharing and royalties.
2021 Guidance
Full year 2021 Biogen revenue is expected between $10.45 and $10.75 billion. Non-GAAP diluted EPS guidance is between $17.00 and $18.50. Note that the revenue guidance is below using Q4 revenue as a run rate, reflecting an expected continuing decline in Tecfidera revenue.
The big news in the guidance is that it assumes the FDA will approve aducanumab for treating early Alzheimer's disease. Because the decision is not expected until June (PDUFA date is June 7), and it is a lengthy process to get patients on drug, this inclusion does not add much to revenue guidance. It does add a great deal to expenses as Biogen preps to be able to sell the drug. Any expense made before the decision will be wasted if the drug does not get approval.
Management seems to be making a point with the guidance: they expect an FDA approval. They could have said they expect an FDA approval and then left that out of the guidance. That would seem like management happy talk. The guidance may not make it seem real, but it does make it seem more probable than most investors calculated before the announcement.
Aducanumab: the failure path
After the adverse FDA Advisory Board vote last fall, I assumed there was no significant chance of commercial approval, except perhaps if another clinical trial were conducted. Despite management's confident statements at the February 3 analyst conference, I would still assume at least a 50% chance of failure. That does not leave Biogen in such a bad place. Just a guess, 2021 revenue in that scenario would be about $10.15 billion and non-GAAP EPS would be $17.00. The stock closed at $265.09 on February 5, 2021. That implies a forward, non-GAAP PE of 15.6. That seems reasonable, despite currently declining revenue, given the rest of the pipeline.
Aducanumab: the approval path
My view is that there is considerable support for Biogen management's confidence. There is currently no approved treatment that slows the progress of Alzheimer's. In addition to being deadly, the disease is costly because it tends to be slow and patients need a great deal of care. In my view the aducanumab trial results, if somewhat ambiguous, were essentially positive. One of the two main trials did not reach statistical significance, but it was not a big miss, and one trial was significant. Following the patients longer may have provided a more nuanced view of the less good trial. Also, I see no problem that FDA staff worked closely with Biogen on the aducanumab presentation to the Advisory Committee. That is their job; it does not imply a lack of neutrality.
If the FDA approves aducanumab, all that does not matter. It will be great for people first developing Alzheimer's. And aducanumab will be way bigger than Tecfidera ever was. Future revenue numbers depend on pricing, doctors' willingness to prescribe, and insurers' willingness to reimburse. It will take some time to educate physicians and get testing systems in place. After a ramp up the revenue sums will be staggering. The big variable I have not heard speculation about yet is Length of Time on Therapy. If aducanumab does slow progression, patients could be on therapy for years before they progress to the point that it is recommended to discontinue therapy. That means it will take many years for the drug to hit peak sales.
In very round numbers, $500 a share the day after FDA approval. Likely more if investors get over-excited. I will reserve any further guessing until Biogen reveals pricing. However, keep in mind that Biogen has other Alzheimer's drugs in the clinic, and rivals do too. At some point there is likely to be a better drug, though not likely for at least a few years.
Rest of Pipeline
There are many articles, including my past articles, that examine the specifics of the Biogen pipeline. I am not going to re-argue the value of that pipeline here. Nothing in late-stage trials looks like it could generate the kind of revenue that Tecfidera does, aside from aducanumab. But there are many products that have generated good efficacy and safety data so far that could generate significant revenue longer term if approved by regulators. Biogen has built on its expertise in multiple sclerosis to attack a wide range of neurological diseases that do not currently have good therapies. These should gradually come to market over the next decade. I encourage readers to take a look at the Biogen pipeline. My read is that at some point later in this decade Biogen revenues will climb beyond what has been achieved in the Tecfidera era.
While an aducanumab rejection might cause a stock price drop, there are a number of data readouts expected in 2021 that could, if positive, boost the stock, as shown in this slide: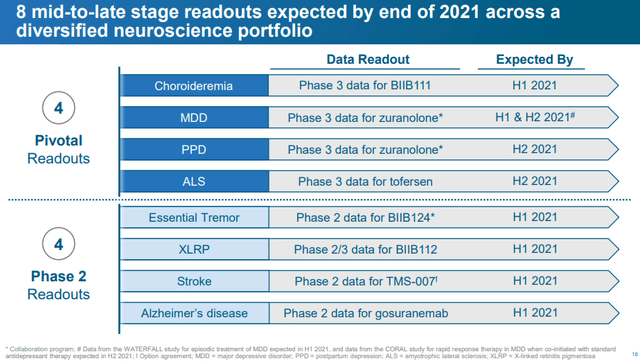 Source: Biogen Q4 2020 presentation
Conclusion
What is a smart choice for an investor, or a trader, when the two paths are going to veer so sharply apart when the FDA announces its aducanumab decision? Buying options may sound like it makes sense here, since one could bet that the stock will either rise or fall significantly. The problem is guessing how significantly, and what is the probability of rising versus falling. Those of us who avoid options fall into two classes: those who already own Biogen, including me, and those who do not. Within those two classes there is a wide range of risk appetite.
If you can stand the risk of (my estimate) a greater than 50% chance of FDA rejection, then the only variable is how much to buy. The upside is huge, the downside is relatively small. If the stock price does slide significantly after a negative decision, at some point I would be a buyer, adding to my current position, because I think failure is priced in, but the future value of the rest of the pipeline is not.