Microsoft: Leading The Cloud Software Market
Summary
Microsoft is one of the largest technology companies globally, with a strong market leadership across various market segments and a diverse range of products enabling the digitization trend.
The company's growth is attributed to its key segments that enjoy dominant market positions with Microsoft Azure cloud, Office 365, and Windows OS accounting for 70% of total revenue.
Besides its key segments, its tail-end segments provide diversification benefits and enable strong product integration, enhancing the Microsoft ecosystem.
From a macro perspective, the recovery of enterprise IT investments after a sharp decline in 2020 could prove to be a major tailwind for the company in 2021.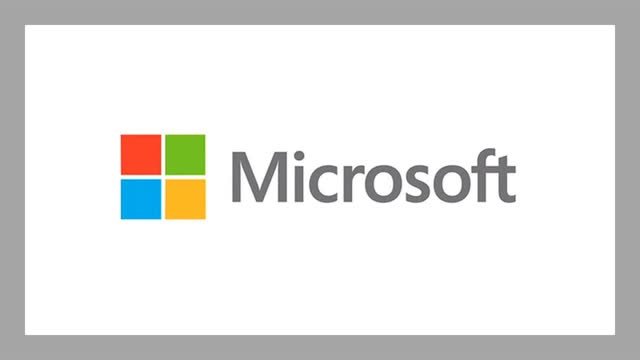 Source: Microsoft
Headquartered in Redmond, Washington, Microsoft Corporation (NASDAQ:MSFT) is a multinational technology company that develops and sells software products & hardware devices across various market segments. The company has a wide range of software products such as operating systems, cross-device productivity applications, server applications, business solution applications, desktop and server management tools, software development tools and video games. On top of that, it also designs and sells PCs, tablets, gaming consoles.
Its revenues are concentrated among three main segments which account for more than 70% of its revenues. These segments are the server products, office products and windows segments which the company has a strong market position with dominant market share. In server products, Microsoft Azure growing at 49% YoY last year and is competing fiercely against market leader Amazon (AMZN) by gaining market share and could reach parity within the next 5 years. Meanwhile, Office 365 is poised to grow further as businesses digitize workflows and emphasis productivity benefits. Windows 10 is proving to be the company's most popular OS update with the share of Windows 10 growing against previous generation software.
Complementing its core product segments, the company's products in gaming, search engines, social networking, devices and enterprise services not only provides diversification benefits to its revenue streams but also enhances the overall Microsoft ecosystem with integrative products and services. Another key driver highlighted is the anticipated recovery in IT spending by enterprises after experiencing a sharp decline of 7.3% in 2020. Overall, we believe Microsoft's growth is supported by secular trends of digitization from businesses including the migration to cloud-based workloads which the company has a diverse range of highly capable products.
Market Leadership & Superb Growth of Core Segments
Although Microsoft has exposure to various market segments, it still relies heavily on three main segments which cumulatively account for more than 70% of revenues. These segments include:
Server Products
Office Products
Windows Operating Systems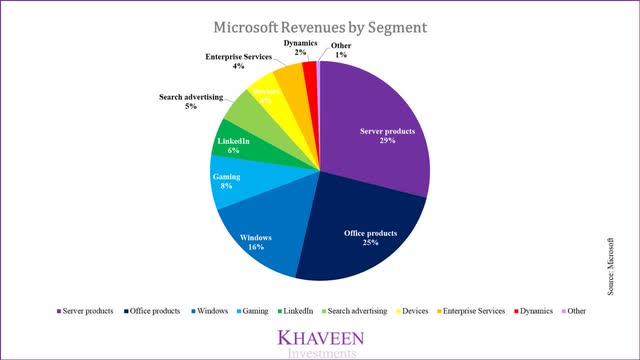 Source: Microsoft
In these three main segments, Microsoft has achieved strong market leadership with decades worth of expertise in these fields. The company is also highly capable as it strategically entered these segments which are high growth and have become the company's key growth engines. As examined in the table, these segments have a solid track record with high average growth rates.
| | | |
| --- | --- | --- |
| Segment | Revenues ($ mln) | Average 5-year Growth Rate |
| Server products | 41,379 | 21% |
| Office products | 35,316 | 10% |
| Windows | 22,294 | 6% |
Source: Microsoft
Server products
Microsoft's server products and cloud services are one of its highest growth segments. It has grown into the company's largest segment contributing 29% of revenues and its growth momentum does not appear to be slowing down. Products under this segment include Microsoft Azure IaaS and other complementary SaaS products such as SQL, Windows server, Visual Studio, System Center and GitHub. Azure is a comprehensive set of cloud services that customers can use for computing, networking, storage and web application services powered by AI, IoT and machine learning.
Microsoft Azure has strong market leadership with a market share of 19% and is only behind Amazon's AWS at 32%. However, Microsoft's cloud revenues are growing at a higher rate than Amazon with a 3-year average of 70% compared to 39.8% for Amazon. To be fair, Amazon is growing from a larger base and Azure growth has slowed down in 2019 at 65%. Notwithstanding, Microsoft is still expected to close the gap with Amazon in market share. This view is echoed by BofA analyst Brad Sills who sees Microsoft's market share growing past 30% and just 2 percentage points behind Amazon in 5 years. Also, the BofA projects the cloud service infrastructure market to continue growing at a CAGR of 33% by 2025 as the migration to cloud-based solutions by enterprises continue.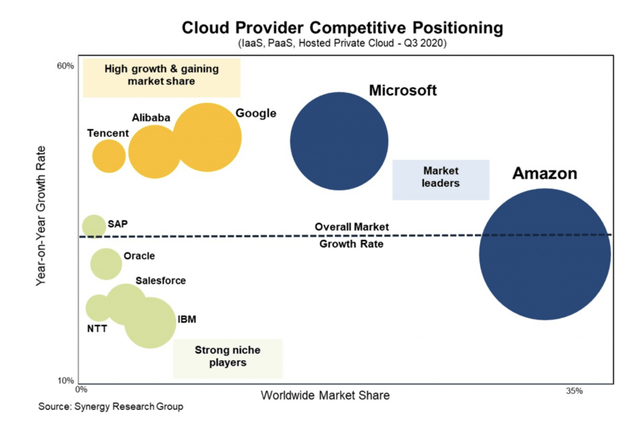 Source: Synergy Research Group
As examined in the competitive positing map, Microsoft continues to experience rapid growth which is very impressive accounting for its larger size. We believe Azure can close the gap with Amazon and maintain its growth momentum which outpaces the overall market growth rate. One of Microsoft's key strengths in cloud with Azure is credited to its large enterprise partner ecosystem. It utilizes its enterprise relationships to drive Azure's growth. Examples include long-standing relationships with hardware providers Dell EMC (DELL), HPE (HPE) and Lenovo (OTCPK:LNVGY) to create the ability to run consistent Azure services on-premises. Moreover, Microsoft claims that its Cloud Solution Provider ('CSP') program which enables providers to develop cloud-based solutions, has over 90,000 partners which is more than Amazon and Google combined. It allows SaaS companies such as Nextech, BizSight, Airnet and more leverage the Microsoft brand to showcase proprietary platforms and technologies and expand their market reach. Additionally, governments also favour Microsoft for its security and reliability as seen with the JEDI contract worth $10 bln over 10 years awarded by the Pentagon. This trend is common globally as the UK, Canada and Australia governments have chosen Microsoft as its cloud provider.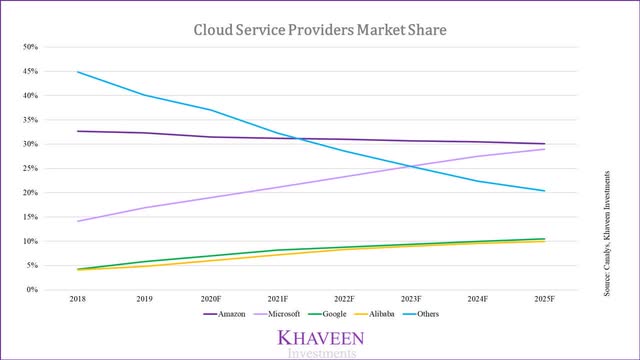 Source: Canalys, Khaveen Investments
Overall, we believe this segment continue growing driven by Azure and remain one of the company's key growth engine. As Microsoft does not disclose Azure revenues, we estimated Azure's revenues to be around $22,301 mln in 2020 based on data by Canalys. The IasS market is projected to grow at a CAGR of 23.2% on migration to the cloud but we expect Azure to grow at a higher rate as it gains market share. We estimated the other server products based on the overall SaaS market growth rate of 11.7% as businesses increasingly utilize cloud-hosted software solutions.
| | | | | | |
| --- | --- | --- | --- | --- | --- |
| Server Products Segment ($ mln) | 2019 | 2020 | 2021F | 2022F | 2023F |
| Microsoft Azure ('a') | 14,959 | 22,301 | 30,512 | 41,510 | 55,968 |
| Microsoft Azure Growth % | | 49.1% | 37% | 36% | 35% |
| Other Server Products ('b') | 17,663 | 19,078 | 21,310 | 23,803 | 26,588 |
| Other Server Products Growth % | | 8.0% | 11.70% | 11.70% | 11.70% |
| Total Server Products Revenues ('c') | 32,622 | 41,379 | 51,822 | 65,313 | 82,557 |
| Total Server Products Revenues Growth % | | 26.8% | 25.2% | 26.0% | 26.4% |
('c')=(a+b)
Source: Microsoft, Canalys, PRNewswire
Office Products
Its second largest segment features its suite of productivity software. Productivity software enhances employee productivity by optimizing workflows with organizational tools, presentation software, word processing programs, design programs, spreadsheet tools, and more. Microsoft's productivity software offerings include the Office 365 subscription, Exchange, SharePoint, Microsoft Teams, Skype and other related Client Access Licenses (CALs).
Microsoft has come to dominates the office suite market with its featured Office 365 offering a complete suite of integrative solutions. There are more than 1 bln Windows 10 active devices and with over 258 mln paid Office 365 users reported by Microsoft. Gartner estimated that it has a market share of 87.5% of the office suite business users.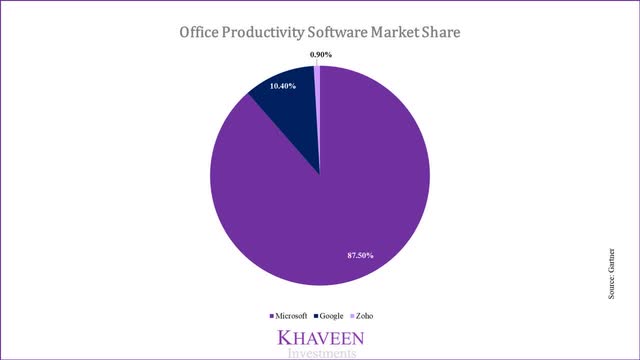 Source: Gartner
We believe Microsoft Office will remain the dominant software as the default productivity software. Microsoft Office is described by Microsoft CEO, Satya Nadella as Microsoft's most important API. Additionally, user familiarity of application functions and layout is another reason to believe the company's main offering to remain popular. The productivity software market is expected continue to growing healthily at a CAGR of 12.6% by 2024 as businesses emphasize software to maximize productivity. According to Forrester's estimates, Office 365 can save about 30 minutes of lost productivity per user per day or about 130 hours per year. One of the most powerful features of Office 365 is the capability to streamline the entire workflow process. The comprehensive cloud-based applications are also well-integrated with each other, enabling employees to work securely anytime, anywhere, across any device. For example, Microsoft Teams integration with SharePoint.
| | | | | | |
| --- | --- | --- | --- | --- | --- |
| Office Products Segment ($ mln) | 2019 | 2020 | 2021F | 2022F | 2023F |
| Office Products Market Share | 87.5% | 86.5% | 86.5% | 86.5% | 86.5% |
| Productivity Software Market Growth Rate % | | 12.60% | 12.60% | 12.60% | 12.60% |
| Office Products Revenues | 31,769 | 35,316 | 39,766 | 44,776 | 50,418 |
| Office Products Revenues Growth | | 11.2% | 12.6% | 12.6% | 12.6% |
Source: Gartner, BusinessWire
Windows Operating Systems
On top of that, Microsoft's renowned Windows operating systems make up its third largest revenue segment. The company has strong market leadership but its market share has slowly been eroding due to Apple (AAPL). That said, it still has a dominant market share of around 76.5% ahead of Apple at 17%.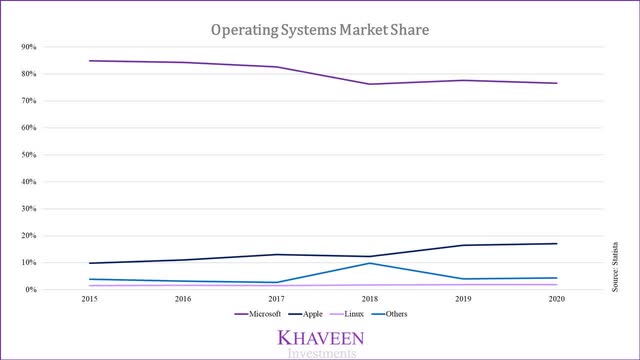 Source: Statista
Despite the market erosion and the overall stagnation of the PC market, Microsoft has been able to achieve consistent growth in this segment by refreshing and transitioning its user base to the latest Windows update. Released in 2015, Windows 10 is the company's successor to Windows 8 and is proving to be extremely successful with a consistently growing user base. According to StatCounter, around 75% of Windows users are currently using Windows 10 with the remaining 25% still on previous versions. The chart below shows the continued growth in Windows 10 users since its launch.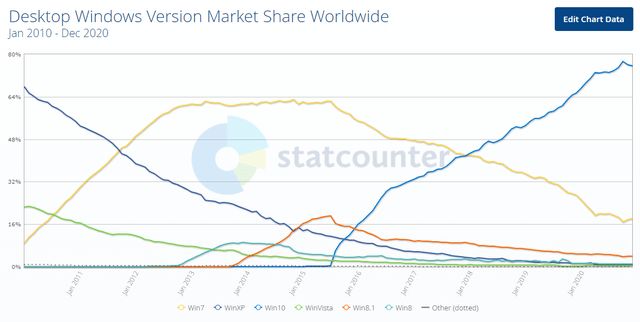 Source: StatCounter
We believe its growth outlook should remain fairly robust as Microsoft could switch the remaining 25%. While stagnating PC sales are a headwind and its market share has been slowly eroding to Apple, Microsoft still has several options left. This may include raising the prices of its Windows OS or refreshing its offering with a new update.
| | | | | | |
| --- | --- | --- | --- | --- | --- |
| Windows Market Share | 2019 | 2020 | 2021F | 2022F | 2023F |
| Windows 10 Market Share | 52.0% | 65.4% | 76% | 82.2% | 85.5% |
| Windows 10 Market Share Growth % | | 25.8% | 16.2% | 8.1% | 4.1% |
| Non-Windows 10 Market Share | 48.0% | 34.6% | 24.0% | 17.8% | 14.5% |
Source: StatCounter
We based our revenue estimates for Windows on further gains in Windows 10 market share. As a conservative estimate, our growth projections taper off as it becomes more challenging to transition the remaining non-Windows 10 user base to the updated version.
| | | | | | |
| --- | --- | --- | --- | --- | --- |
| Windows Segment ($ mln) | 2019 | 2020 | 2021F | 2022F | 2023F |
| Windows Revenue | 20,395 | 22,294 | 24,101 | 25,077 | 25,687 |
| Windows Revenue Growth | 4.5% | 9.3% | 8.1% | 4.1% | 2.4% |
Source: Microsoft, IDC
Microsoft Ecosystem Provides Revenue Diversification
Gaming
Microsoft also has a long history in the gaming market with the successful Xbox ecosystem. It forms one of three major gaming giants. Although it is edged out by Sony's (SNE) PlayStation (52%) and Nintendo (OTCPK:NTDOY) (25%) who both lead the market, it still commands a solid market share of 23% of the gaming console market. With the anticipation of the next generation gaming console, the Xbox Series X, it is set to grow its install base with forecasted shipments of 13.5 mln this year and its install base rising to 44.3 mln by 2024 representing a 228% increase. Overall, the global gaming market is projected to grow by a CAGR of 10.5% to 2026 by Modor Intelligence as next-generation gaming takes fold globally.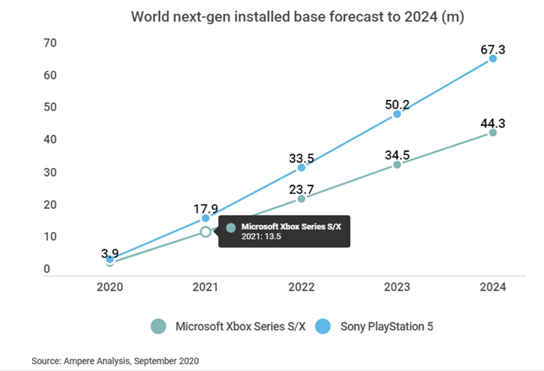 Source: Wccftech
LinkedIn
LinkedIn is one of Microsoft's largest acquisitions at $26.2 bln. LinkedIn is one of the top professional networking social media sites. In terms of market share, it is still thwarted by the social media giants of Facebook (FB), Pinterest (PINS) and Twitter (TWTR) with a market share of below 2%.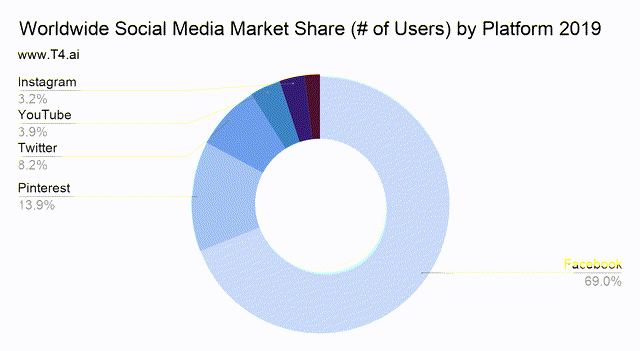 Source: T4
However, LinkedIn strengths is attributed as a leading employee networking site. According to eMarketer, over half of US marketing professionals are utilizing LinkedIn. It also has a leading share of 21% among recruitment sites which is more than CareerBuilder, Axel Springer and Monster combined. The recruitment services market is projected to grow at a CAGR of 7% until 2024 by Business Wire. Overall, LinkedIn is a key asset for Microsoft which is increasingly integrating it with its core products including Office 365 and Dynamics to enhance employee connectivity and client relationships.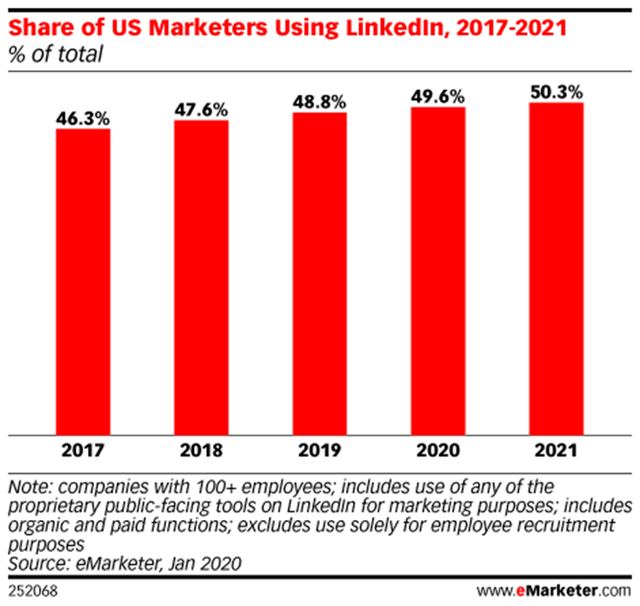 Source: eMarketer
Search Engine
This is one area where Microsoft lacks strong market leadership. It still loses out to Google (GOOG), the king of search engines handling over 5.6 billion search queries a day. Still, Microsoft's Bing search engine should not be completely discarded. This is because Bing is natively integrated into Microsoft products, including the Amazon Echo, Skype, Xbox and Office. Moreover, Microsoft has found ways to better integrate Bing with Windows 10. Bing has managed to gain market share slowly but steadily in the past 5 years since Windows 10 was released. Overall, while the segment is not expected to be a significant driver of growth, it enables Microsoft to tap the vast data pool generated by users to gather useful insights and advance AI and machine learning capabilities. For our revenue projections, we estimate the segments growth based on its average 5-year revenue growth rate of 9.4%.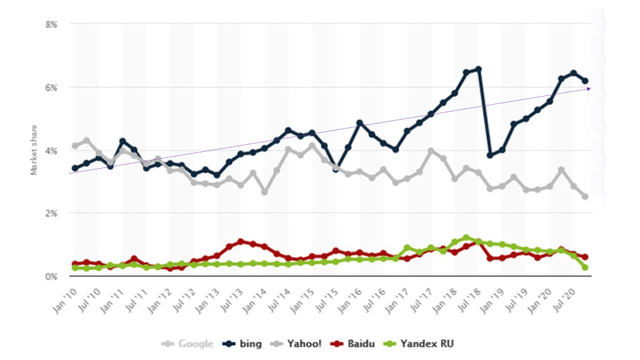 Source: Statista
Devices
Microsoft has the Surface product line of laptops and tablets which has a very small market share globally compared to leading manufacturers such as Lenovo, HP and Dell which makes up over 60% of global PC shipments.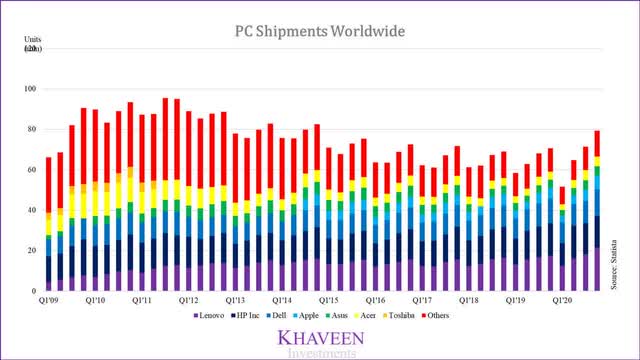 Source: Statista
In the US market, the company has a 4.4% of market share of PC market shipments behind HP, Dell, Lenovo and Apple which makes up 88% of the market share. Whereas in the tablet market, Microsoft only has 6% of market share and is dominated by Apple's iPad which has three quarters of market share. Like all other device vendors, Microsoft faces the challenge of a declining PC and tablet market with shipments forecasted to decline at a CAGR of -0.77% over the next 4 years. However, the developments of Arm-based processors could revive the market outlook.
The company is transitioning away from x86-based processors from Intel for its in-house Arm-based processors. The primary reasons for the switch to Arm are lower costs from in-house production, enhanced energy efficiencies due to the low-power consumption nature of Arm chips and to create a universal platform integrating PC, tablets and smartphones for enhanced software compatibility. It has collaborated with Qualcomm (QCOM) to introduce its SQ processors. Similarly, Apple is following a similar strategy and has recently launched its self-designed Arm-based M1 chips. Reports indicate M1 is at least twice as fast than Microsoft's SQ chips with higher single-core and multi-core points, providing Apple with a technological advantage over Microsoft.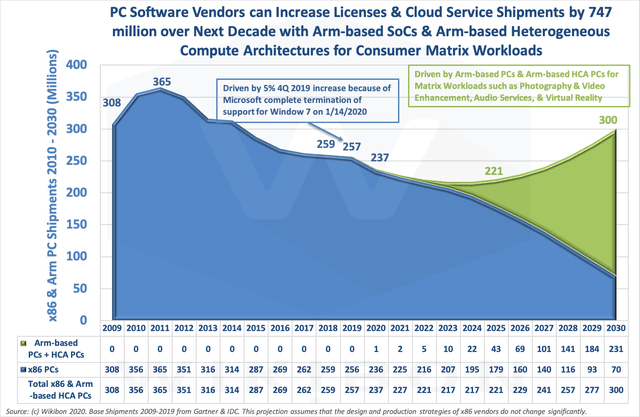 Source: Wikibon, SiliconAngle
That said, based on the chart, shipments of Arm-based PCs are only projected to accelerate from 2024 with the development of well-optimized devices. Current Arm-based chips including Microsoft's SQ processors have decent performances but software support and integration is still a work in progress as admitted by Microsoft. The introduction of future processors will be more powerful and energy efficient and support complex computing workloads via a Heterogeneous Compute architecture such as photography and videography enhancement, audio services and virtual reality.
Enterprise Services
The next segment is Enterprise Services which features Premier Support Services and Microsoft Consulting Services to assists customers in developing, deploying and managing Microsoft server and PC solutions. The company employs Microsoft certified solution providers specialized in assisting clients with Microsoft technology-based challenges. The segment is highly integrative with its core segments in Office and cloud services has been growing steadily at a rate of 3% in the past 5 years.
Consulting at Microsoft has never been more important, as customers will continue to depend upon us to prime their digital transformation efforts and deliver horizontal and vertical solutions that meet their business needs - Microsoft's Worldwide Commercial Business Executive Vice President Judson Althoff.
Dynamics
Finally, the last segment is Microsoft Dynamics which provides a cloud-based and on-premises business solutions for financial management, ERP, CRM, supply chain management and other applications for businesses. The company competes against major global business solutions providers such as SAP (SAP), Oracle (ORCL) and Salesforce (CRM). The market is highly fragmented with multiple players but Microsoft has a leading market share of 7.2% which is only behind SAP at 8.1% as enterprises continue to digitize their business processes. The enterprise software market is projected to grow at a CAGR of 8.1% until 2027The segment provides beneficial integration with other Microsoft Office products to create a productive, adaptable, intelligent, and purpose-built solution for enterprise customers.
| | | |
| --- | --- | --- |
| Other Segments Growth Projections | Revenues ($ mln) | Projected Growth Rate |
| Gaming | 11,575 | 10.5% |
| LinkedIn | 8,077 | 7.0% |
| Search advertising | 7,740 | 9.4% |
| Devices | 6,457 | -0.8% |
| Enterprise Services | 6,409 | 3.2% |
| Dynamics | 3,005 | 8.1% |
| Other | 763 | 9.1% |
Source: ModorIntelligence, BusinessWire, Statista, Bcfocus
Growth Underpinned by Rising Enterprise IT Spending
Feeling the impact of the downturn last year, companies globally became cautious over economic uncertainty leading to a poor investment climate and affecting IT spending. According to Gartner, global IT spending is projected to decline sharply at 7.3% in 2020 after a 2.3% growth in 2019 despite the work from home theme as enterprises cut down on spending and became cautious over the weak economic sentiment.
However, a recovery is anticipated in 2021 with a growth rate of 4.3% driven by enterprise software and cloud growth with the easing of lockdown restrictions and greater certainty on businesses' cash flows providing confidence for enterprises to commit to their IT investment plans.
The migration to cloud-based workloads continues to remain a key trend by enterprises. A recent survey conducted last year among business executives found that companies are planning to reduce on-premises workloads by 41% by 2021 while cloud-based workloads could grow to 62% of total workloads. In all, 68% of companies ranked cloud migration as the top IT spending driver.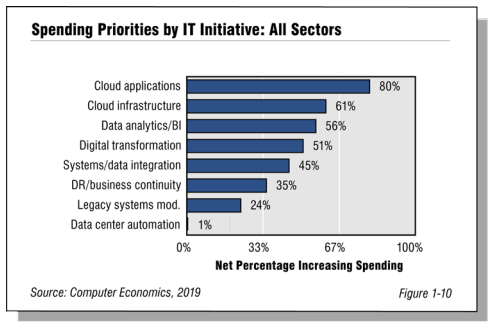 Source: Techvera
Overall, this provides strong tailwinds to Microsoft in the age of continuing digitization of business globally. Microsoft highlights the rapidly growing data ecosystem which could increase more than 4 times to 175 zettabytes from 40 zettabytes today.
In the current global environment where companies are moving to rapidly adopt the latest technological advancements and place their products and services to cater for the digitalized future, Microsoft is amazingly already well positioned for this future. With 100% of its revenues derived from technology related products and services, we view Microsoft a key beneficiary to emerging technological advancements.
Big Tech Break Up Risks
As a Big Tech firm, the company faces a heightened risk of antitrust and a crackdown of its core business. The company has established market leadership in its core segments which makes up more than 70% of revenues. In cloud, Microsoft Azure is chipping away market share from Amazon and could one day become be the top cloud provider as well. This would make it the number one player across cloud, office productivity software and operating systems. The consequence is it may attract even greater scrutiny on its business practices. Politically, the Democrats have previously called for a breakup of Big Tech companies. Now that the Democrats have garnered control over the house and senate, there is a greater possibility of a shakeup with Microsoft. In addition, President Joe Biden has said that company breakups should be considered. The result of a break up of Microsoft would not only impact its earnings but also the integration potential across the software suites and result in a less competitive company with a weaker revenue growth outlook.
Valuation
As a cloud and software powerhouse, Microsoft has seen consistent growth in its earnings and margins. The company has a 9-year average revenue growth rate of 8.4% with an average gross and net margin of 68.9% and 24.9% respectively.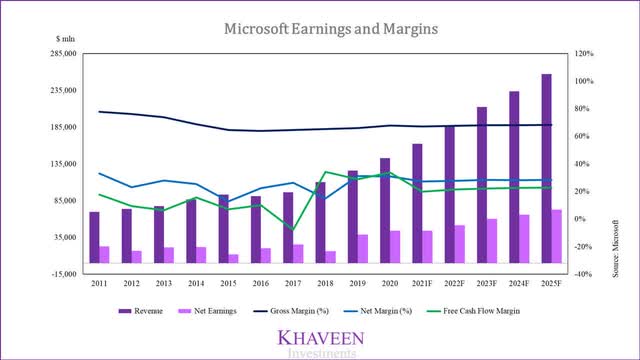 Source: Microsoft, Khaveen Investments
Besides that, the company has impressive free cash flow generation abilities with an average FCF margin of 15.62%. More importantly, it has never had negative FCF margin except for 2017 when it acquired LinkedIn for $26.2 bln.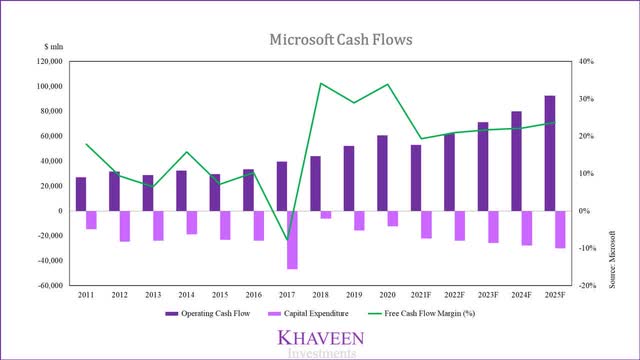 Source: Khaveen Investments
Due to its solid and stable cash flows, we applied a DCF analysis to value the company. The table below shows our revenue projections compiled. Our revenue projections are derived from industry estimates and a 5-year average revenue growth which was discussed throughout the analysis above.
| | | | | | |
| --- | --- | --- | --- | --- | --- |
| Microsoft Revenues Projections ($ mln) | 2019 | 2020 | 2021F | 2022F | 2023F |
| Server Products Revenues | 32,622 | 41,379 | 51,822 | 65,313 | 82,557 |
| Server Products Revenues Growth % | | 26.8% | 25.2% | 26.0% | 26.4% |
| Office Products Revenues | 31,769 | 35,316 | 39,766 | 44,776 | 50,418 |
| Office Products Revenues Growth % | | 11.2% | 12.6% | 12.6% | 12.6% |
| Windows Revenue | 20,395 | 22,294 | 24,101 | 25,077 | 25,687 |
| Windows Revenues Growth % | | 9.3% | 8.1% | 4.1% | 2.4% |
| Other Segments | 41,057 | 44,026 | 47,001 | 50,244 | 53,780 |
| Other Segments Growth % | | 7.2% | 6.8% | 6.9% | 7.0% |
| Total Microsoft Revenues | 125,843 | 143,015 | 162,689 | 185,410 | 212,442 |
| Total Microsoft Revenues Growth % | | 13.6% | 13.8% | 14.0% | 14.6% |
Source: Microsoft, Khaveen Investments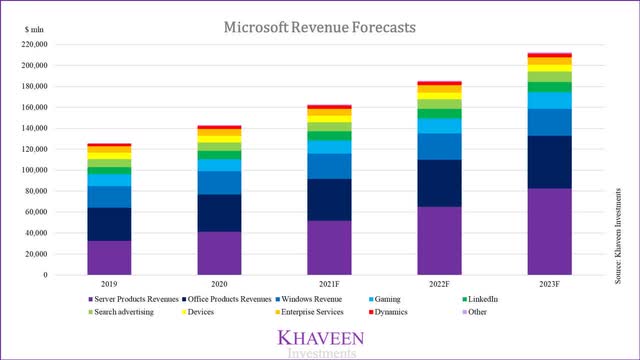 Source: Khaveen Investments
As for the industry average EV/EBITDA, we selected the leading companies Microsoft competes with in each segment including Server Products (Amazon), Office Products (Google), Windows (Apple), Gaming (Sony and Nintendo), LinkedIn (Facebook, Twitter and Pinterest), Dynamics (SAP, Oracle and Salesforce). Overall, this comes to an industry average of 26.75x.
| | |
| --- | --- |
| Company | EV/EBITDA |
| Microsoft | 24.88 |
| Amazon | 38.16 |
| Google | 23.36 |
| Apple | 25.42 |
| HP | 7.39 |
| Dell | 11.99 |
| Lenovo | 7.31 |
| Sony | 11.91 |
| Nintendo | 9.38 |
| Facebook | 17.92 |
| Twitter | 135.62 |
| SAP | 15.21 |
| Oracle | 12.51 |
| Salesforce | 33.41 |
| Industry Average | 26.75x |
Source: Seeking Alpha
Based on an EV/EBITDA of 26.12x and a discount rate of 11.2% (company's WACC), our model shows an upside of 11.79%.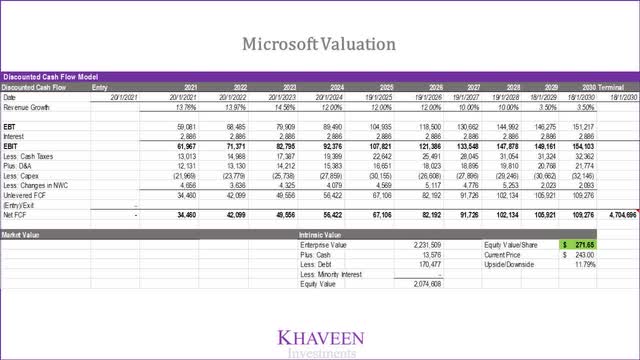 Source: Khaveen Investments
Verdict
Microsoft is a leading tech multinational with an incredible track record to execute its strategy to establish a strong market leadership and expand across key high growth market segments. Already dominant in office productivity software and operating systems, the company is well positioned to strengthen its market leadership in cloud computing with Microsoft Azure's growth outpacing Amazon. Reaching parity in market share would be a major win for the company as it benefits from the migration to cloud-based workloads. Also, it is expected to remain dominant with Office 365 and Windows 10 proving to be highly successful software and overall remain its main growth engine.
On top of that, it has a diverse range of products and services spanning across gaming, search engines, social networking and more with enhances the Microsoft ecosystem and provides unique integration potential to improve user experiences. It also provides diversification benefits to its revenue streams. After a sharp decline in IT spending by enterprises last year, Microsoft has a lot to look up to in 2021 on an anticipated strong recovery in IT spending as businesses return to the trend of digitization and migration to cloud providing Microsoft a major tailwind. Overall, we rate Microsoft as a Buy with a target price of $271.65.
Note: For more research and analysis of high-quality companies within the global cloud industry, please click the "Follow" icon at the top of this page.
This article was written by
Khaveen Investments is a Global Macro Quantamental Hedge Fund managing a portfolio of globally diversified investments. We have interests in 100+ investments across multiple asset classes, countries, sectors and industries. Our investment approach takes both a top-down and bottom-up approach encompassing macro-economic, fundamental, and quantitative analysis. We serve accredited investors throughout the globe, which include HNW individuals, SMEs, associations, and institutions. Our investment managers have decades of investment experience between them, with research expertise in emerging technologies such as Artificial Intelligence, Cloud Computing, 5G, Autonomous & ElectricVehicles, FinTech, Augmented & Virtual Reality and the Internet of Things.www.khaveen.com
Analyst's Disclosure: I/we have no positions in any stocks mentioned, but may initiate a long position in MSFT over the next 72 hours. I wrote this article myself, and it expresses my own opinions. I am not receiving compensation for it (other than from Seeking Alpha). I have no business relationship with any company whose stock is mentioned in this article.

No information in this publication is intended as investment, tax, accounting, or legal advice, or as an offer/solicitation to sell or buy. Material provided in this publication is for educational purposes only, and was prepared from sources and data believed to be reliable, but we do not guarantee its accuracy or completeness.
Seeking Alpha's Disclosure: Past performance is no guarantee of future results. No recommendation or advice is being given as to whether any investment is suitable for a particular investor. Any views or opinions expressed above may not reflect those of Seeking Alpha as a whole. Seeking Alpha is not a licensed securities dealer, broker or US investment adviser or investment bank. Our analysts are third party authors that include both professional investors and individual investors who may not be licensed or certified by any institute or regulatory body.