(The above video covers similar and additional Tesla (NASDAQ:TSLA) topics discussed in this report. Included in the video are comments on our 2022 EPS and target, RoboTaxi, Bitcoin, Fund managers, all as it relates to Tesla.)
In our last Tesla report, we wrote about Full Self Driving (FSD), its importance, and potential impact in 2021 earnings. Achieving FSD will unlock the potential for Tesla's RoboTaxi Program.
The RoboTaxi program is a ride-hailing service, similar to Uber (NASDAQ:UBER) or Lyft (NASDAQ:LYFT), that aims to use Tesla cars to transport people around. The program intends to leverage FSD and the network of Tesla to provide ride-hailing services without the need for a human driver. According to Musk, the network would be composed of both company-owned and private cars.
The RoboTaxi program aims to change the concept of car ownership by allowing Tesla owners to use their car when they need to, but rent it whenever they're not using it.
"You've got the car you have to share with friends and family. You can add or remove it from the network. You can have it be entirely in the network. I mean, if you're an Uber or Lyft driver, you could be managing a fleet of 10 cars. This sort of seems like a shepherd tending the flock type of thing." - Elon Musk
Above you get an idea of the huge fleet of cars available to this potential Tesla RoboTaxi network.
Musk outlined a process to launch the RoboTaxi service:
Complete full self-driving software: FSD currently requires a human driver in case of any malfunction. However, with so many miles of data, Tesla says it can achieve FSD in the coming year. In our previous report we go into more detail on the state of Tesla's FSD plan.

Roll out the RoboTaxi software. This part is probably the easiest one, since a ride-hailing app should be fairly easy compared to the FSD software. In the early stages, Tesla could roll out the software but still require a human driver to ensure it's completely safe.

Remove the need for a human driver: This would require level 5 driving automation and regulatory approval. Years ago, Musk said that to get regulatory approval, the company would need around six billion autopilot miles. In April of 2020, they reached half that milestone.
The Market
In the short run, Tesla will compete in the ride-hailing taxi app market, against brands such as Uber and Lyft. Fair to say this is expected to be a large market.
The key points for the RoboTaxi program to succeed are:
Price: The fare ride price is one of the most significant factors between competitors.

Wait time: How long people will need to wait to get a ride. This factor will depend mostly on the fleet size of the company and its relation with demand. This ratio will determine the vacant cars the company has near you.

Territory: Especially at the beginning, RoboTaxis won't be capable of arriving at all destinations, so the wider the range, the higher the opportunity to take more market share.

Brand & Style/Luxury & Features: Companies will need to offer different brands and levels to capture all kinds of targets, even though it's not the most important topic, customers value the nameplate of the car.
Tesla Advantages Over the Competition in the Ride-Hailing Market
Tesla could have many advantages over other ride-hailing services. They could offer lower fares, because of Tesla's lower operating expenses, lower insurance costs, and more financing opportunities.
1. Lower expenses
It's estimated that the cost of driving a Model 3 is around $0.26 per mile, in comparison with a Toyota Camry at $0.38 per mile. That's a 30% difference. When factoring in automation and the possibility to make passive income with a Tesla, it gets more appealing.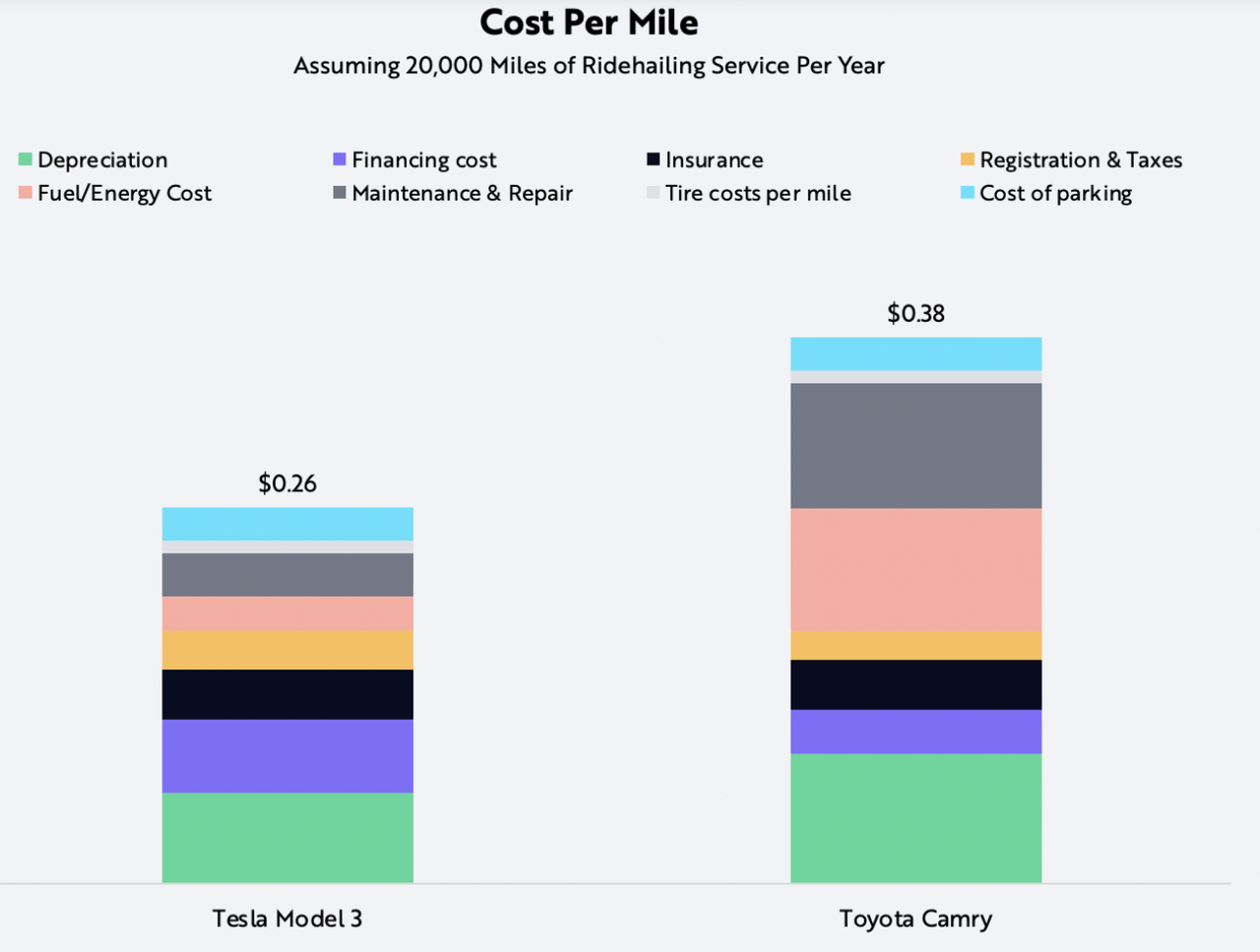 2. More Efficient Financing and Insurance
In the previous cost analysis, car insurance is a key component in the cost distribution. However, it assumes insurance is equal for both a Tesla Model 3 and a Toyota Camry. That assumption is conservative.
In the chart below you see the annual cost to insure a Tesla with different companies. The average price between insurers comes to around $4,539 per year. Tesla offers their own insurance, Tesla Insurance, which comes to around $3,315. That significant price difference is a big cost advantage to Tesla owners, and also should provide significant additional revenue for Tesla.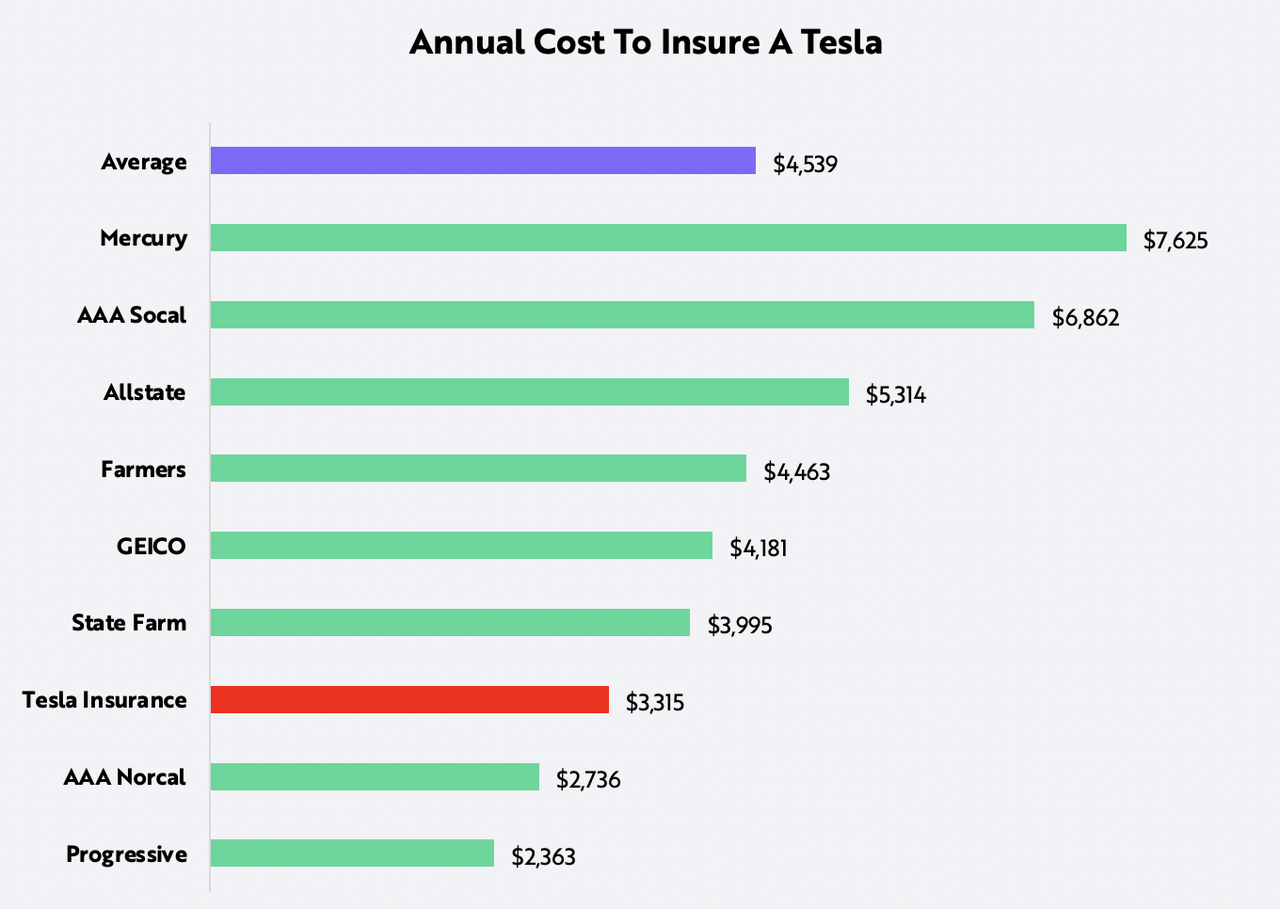 3. Higher Trade-In or Residual Value
All cars lose value over time, but Tesla, due in part to over-the-air software improvements and up-to-date technology, have retained more value over time. For car owners, retaining value is important. For business owners looking to create their own fleet of Tesla RoboTaxis, it will be crucial.
All of these considerations take into account current Tesla technology. However, Tesla's cost-benefit lead could continue to grow.
Tesla has said it aims to deliver a sub-$25K car with FSD in the coming years. That would push driving costs down even further and increase the competitiveness of Tesla's ride-hailing service.
Also, once FSD is achieved, not needing the driver or their compensation will provide huge cost benefits.
With time, RoboTaxi will not just compete with other ride-hailing services, but also with car ownership, car rental and public transit market. Analysts estimate that after the market matures it will be cheaper than transit tickets or owning a car.
RoboTaxi Potential Impact
The RoboTaxi service could be a significant part of Tesla's business. For reference, Uber's valuation is at $100Bn, Lyft at $15Bn, and Didi (DIDI), the biggest ride-hailing company in China, is looking to IPO at a $60-80Bn valuation this year. Tesla getting this business producing revenues and earnings should add to the company's valuation.
Once Tesla achieves FSD, coupled with their lower cost per mile, it will have an important advantage over the competition.
Uber drivers take home on average 75% of the ride fare. With Tesla, cars in the network will either be owned by Tesla or by individuals. In the first scenario, Tesla would take home all revenue. In the other scenario, individual owners could have a take rate of around 75% like Uber until FSD is achieved, at which point there's potential for owners to accept even less, since Tesla would only have to compensate them for their capital and not their time.
One model estimates that Tesla could have a RoboTaxi network with 2.75 million vehicles that generate over $92Bn in revenues and $31Bn in profits by 2026. If true, it could add more than the company's total current valuation.
On the Q4 2020 earnings call, Musk commented that a way to justify the company valuation is based on the RoboTaxi potentials.
"... if Tesla's ships, let's say, hypothetically, $50 billion or $60 billion worth of vehicles, and those vehicles become Full Self-Driving and can be used in RoboTaxis - used as RoboTaxis, the utility increases from an average of 12 hours a week to potentially an average of 60 hours a week, if they're capable of serving as RoboTaxi. So that's like roughly a 5x increase in utility. But let's - even if you say like, OK, let's just assume that the car becomes twice as useful as - not 5x as useful, but merely twice as useful, that would be a doubling again of the revenue of the company, which is almost entirely gross margin." - Musk
You can see Musk is pumped about the profit and valuation potential benefit to Tesla. It's not this year but it's likely approaching.
FSD Additional Impact
Musk has talked about a RoboTaxi system that could be huge for Tesla once FSD is available and effective. However, FSD also will benefit Tesla's insurance program and their ability to sell more productivity or entertainment features in Tesla.
Tesla Insurance
During Q3 2020 earnings call, Musk said:
"Insurance is substantial. So insurance could very well be 30%, 40% of the value of the car business, frankly. And as we've talked about before, with a much better feedback group, instead of being statistical, it can be specific."

"It's going to cost less and be better."

"So, we made the insurance product and connect it to the car, look at the data, calculate the risk. This is all internally - there's basically internal software application."

"It's pretty low capital, but it has very high return."
A key word Musk mentioned is that the insurance could be "specific." With the amount of data that Tesla cars can collect, they can assign specific insurance prices to every user that fit their style and take into account their usage and risk. That allows risk pricing to be more efficient, cheaper and maybe more profitable than traditional insurance.
If the FSD software can help reduce the likelihood of accidents, Tesla could offer price incentives for drivers that use it. In 2020 Q3, Tesla registered one accident for every 4.59 million miles using Autopilot and 1 for every 1.42 million miles when drivers didn't use the active safety features. That means using the software helped reduce crashes, and could help Tesla insurance by reducing the number of claims.
Musk also said that it's going to cost less and be better. That makes sense. Since you are cutting out the middle man, Tesla can get a bigger piece of the pie and users can deal directly with the company. Tesla already gathers a ton of data on the car, so it makes sense to leverage it into an insurance product that is both specific and superior.
Entertainment
Similar to how Apple (AAPL) generates significant amounts of money from apps and selling other iPhone features, Tesla could sell entertainment and productivity features to improve the car experience.
"And I think actually as we go to a more autonomous future, the importance of entertainment and productivity will become greater and greater. I mean, to the degree that if you're just basically sitting in your car, the car is fully autonomous and driving somewhere, the car is essentially your chauffeur and then the things that become important are, okay, well let's have good entertainment and if you want to do some productivity stuff, then that actually starts to become much more important because you're no longer spending your attention driving the car. So it will be extremely important in the future." - Musk
Apple's App Store revenue is significant to their profits. Tesla could take a similar route and develop their own app store and take home a significant cut. Years ago, the primary function of a phone was for calling, but nowadays it has thousands of other uses. Cars can clearly evolve and provide many added functions. That may be why Apple is eyeing the EV business.
Conclusion
FSD should be a game-changer. In 2021, it should be an EPS driver. But in 2022 and beyond, the potential is larger. The RoboTaxi program could change the industry of ride-hailing services, and alter the concept of car ownership. It could also drive down insurance costs and increase the potential productivity and entertainment features in cars. All of these activities can continue driving margins up and expand Tesla's TAM.