Applied Materials' (NASDAQ:AMAT) FYQ1 2021 earnings call is scheduled for February 18. In the last 10 quarters, the company beat earnings nine months and revenues nine months. The only quarter the company didn't beat was FYQ2 2020 ending April 2020 during uncertainty in the impact of Covid-19.
Nevertheless, with AMAT's history of lowballing earning guidance, we can assume AMAT will beat on revenues. Chart 1 presents AMAT's FYQ1 2021 business outlook from its FY2020 Earnings Presentation, indicating a guidance of $3.45 billion.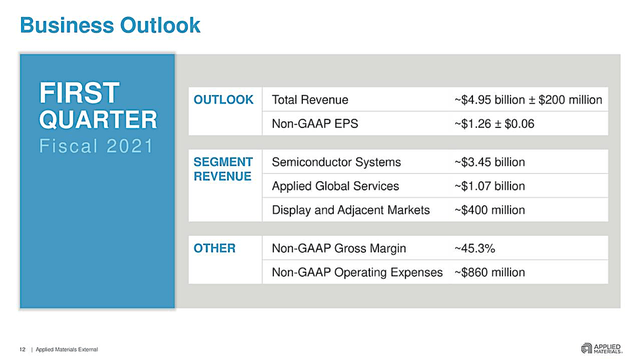 Chart 1
Can AMAT Get There?
If AMAT is to generate $3.45 billion in FYQ1 (ending January 2021), as illustrated in Table 1, then:
That means a QoQ revenue growth of 12.4%, higher than the QoQ revenue growth of all the other top equipment suppliers.
Total CY revenues would reach $12,003 million, making AMAT the top WFE equipment supplier in 2020, and overtaking ASML Holding (ASML), which was the top company in 2019.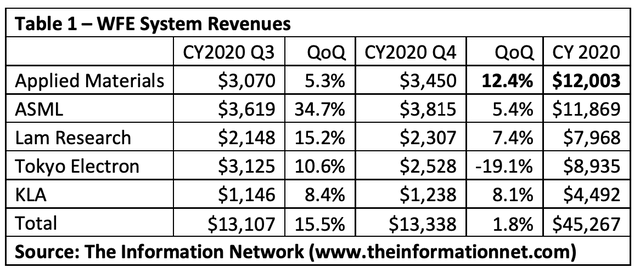 According to The Information Network's report entitled "Applied Materials: Competing Analysis of Serve Markets," Table 1 shows that AMAT's QoQ growth would need to be 50% greater than KLA (KLAC), and 67% greater than key competitor Lam Research (LRCX).
Although Q4 2020 was a positive quarter for Lam and ASML, QoQ revenue growth was only half of what it was the previous quarter. That's because in Q3 China's Semiconductor Manufacturing International Corp. (OTCQX:SMICY) pulled in equipment before U.S. sanctions stopped imports, and as Taiwan Semiconductor Manufacturing Company Ltd. (TSM) increased capacity to make chips for Intel (INTC).
Growth in Q4 was a result of a jump in equipment spending by Samsung Electronics (OTC:SSNLF), the largest NAND memory supplier. The company reported in its earnings call that it spent semiconductor related capex of $10.27 billion (KRW 32.9 trillion) in Q4 2020, compared to just $5.56 billion in Q3 2020. This represented a QoQ growth of 84.7%.
Outlook 2021
Chart 2 shows my estimates for capex spend between 2019 and 2021, with WFE equipment spend corresponding to 50-55% of that amount in each chip sector.
The high percentage of logic/foundry spend in 2019 and 2020 parallels the growth in WFE equipment for those chip sectors. For 2021, I see continued strong spend in foundries, as a result of competition between Samsung and TSMC for leadership in the foundry sector. TSMC, the world's largest contract chipmaker, said in early 2021 it expected to spend between $25 billion and $28 billion in 2021 to make advanced chips. As a result,
Capex spend from foundries will continue to dominate as...
DRAM capex is flat YoY, and
NAND capex is weighted to 1H 2021.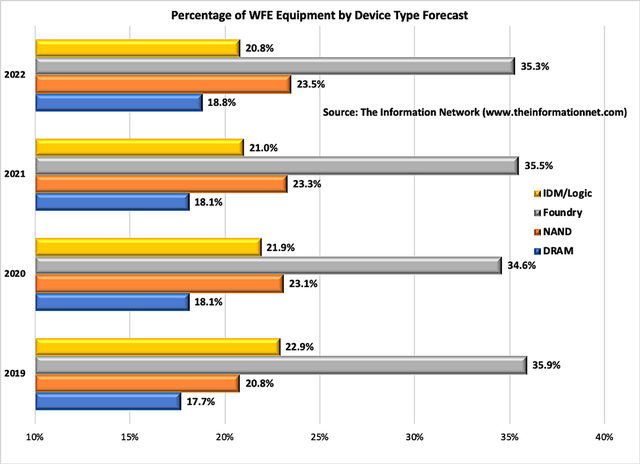 Chart 2
Finally, Table 2 presents revenue by equipment company by chip type. Based on anticipated WFE spend weighted to logic/foundry, ASML and KLAC have the greatest exposure to those sectors. DRAM WFE spend is expected to be flat, and AMAT has the greatest exposure to DRAM among the U.S. companies.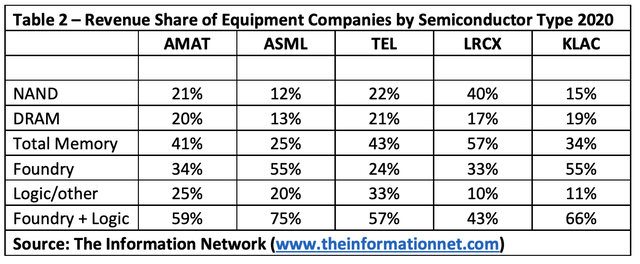 Investor Takeaway
Chart 3 shows market share for the top five companies. Here we are able to discern the share growth of ASML, my top WFE equipment company pick in 2021. ASML, the market share leader in 2019, was impacted by QoQ revenue growth of -49.6% in Q1 2020.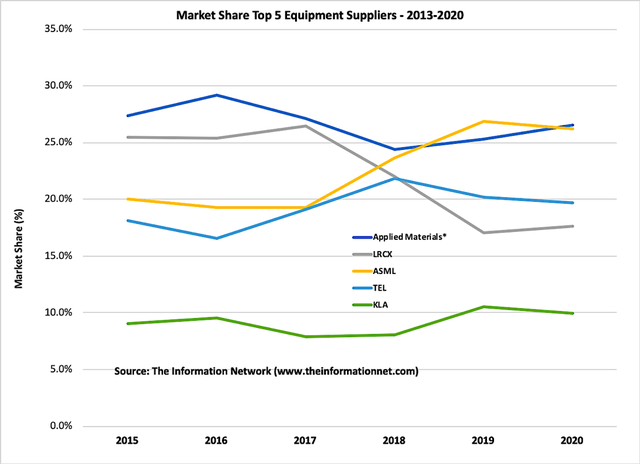 Chart 3
Mean revenues for the top five WFE companies grew 21.4%. However, market share was less impacted.
In fact, of the top five WFE companies, only AMAT and LRCX gained market share, as shown in Chart 3. Again, keep in mind that these shares are dependent on AMAT's revenues, and the company can move back to the top with these revenues in the current quarter.
Fundamentally, of the three U.S. companies:
Applied's operating margins are 26% and its return on equity is 38.5%.
Lam Research's operating margin is 29% and its return on equity is 60%.
KLA had an operating margin of 38% and a return on equity of 65.5%
But with respect to top line revenues in 2021, I expect ASML and KLA to benefit from large logic/foundry capex spend, which could move ASML back to the top, as AMAT will find headwinds from flat DRAM spend.