In 2020 Netflix (NASDAQ:NFLX) had its first cash flow positive year since 2014, delivered an operating margin of 18% (5%-point increase from 2019), grew its subscriber base by 22% to almost 204m and had multiple successes in its original content launches. NFLX share price surged to $590/share (+18%) following the earnings report on January 19th, despite the company missing slightly on EPS. Netflix also announced that the company had enough cash to pay down the $500m bond in Q1 2021 and afterwards planned to focus on returning the capital to shareholders via share buybacks, the news that has been a likely catalyst for the share price surge.
In our article we go through different parts of NFLX valuation and lie down the assumptions justifying a $600 share price.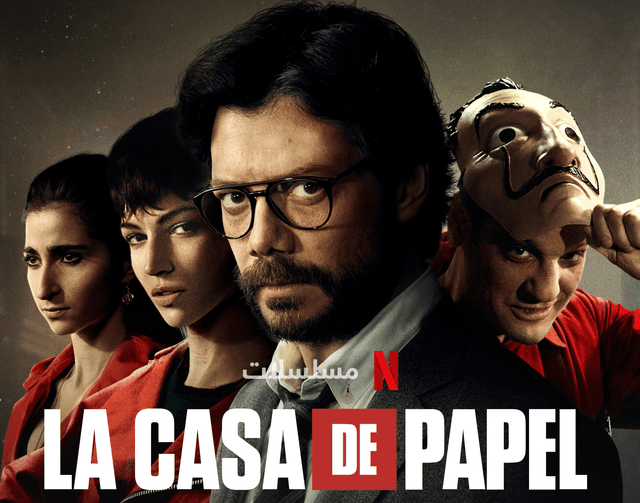 Source: netflix.com
The Netflix Model
Netflix spends tens of billions of dollars on content, both licensed and its own production. In the past 5+ years the company shifted more and more from licensed content to the original content, which allowed for a greater differentiation of Netflix from other streaming services and gave the company more control over its content costs (protecting from movie studio price hikes). Another benefit of producing its own content was that Netflix could use the data from its subscribers on their tastes to produce subscriber-tailored content. Netflix became the only place to watch some of its recent hits, such as Cobra Kai, The Queens Gambit (watched by estimated 62m households in the first 28 days) or Money Heist (65m households), thus introducing stickiness to the system and mitigating the risk of losing subscribers. In 2021 the company has announced that they will release at least one new original film per week and currently has over 500 titles in post production, thus keeping its subscribers hooked for more content.
Netflix started early with globalization, compared to its competitors. Already in 2016, about half of company's subscribers were located outside of UCAN and currently only about 36% of subscribers are in UCAN region.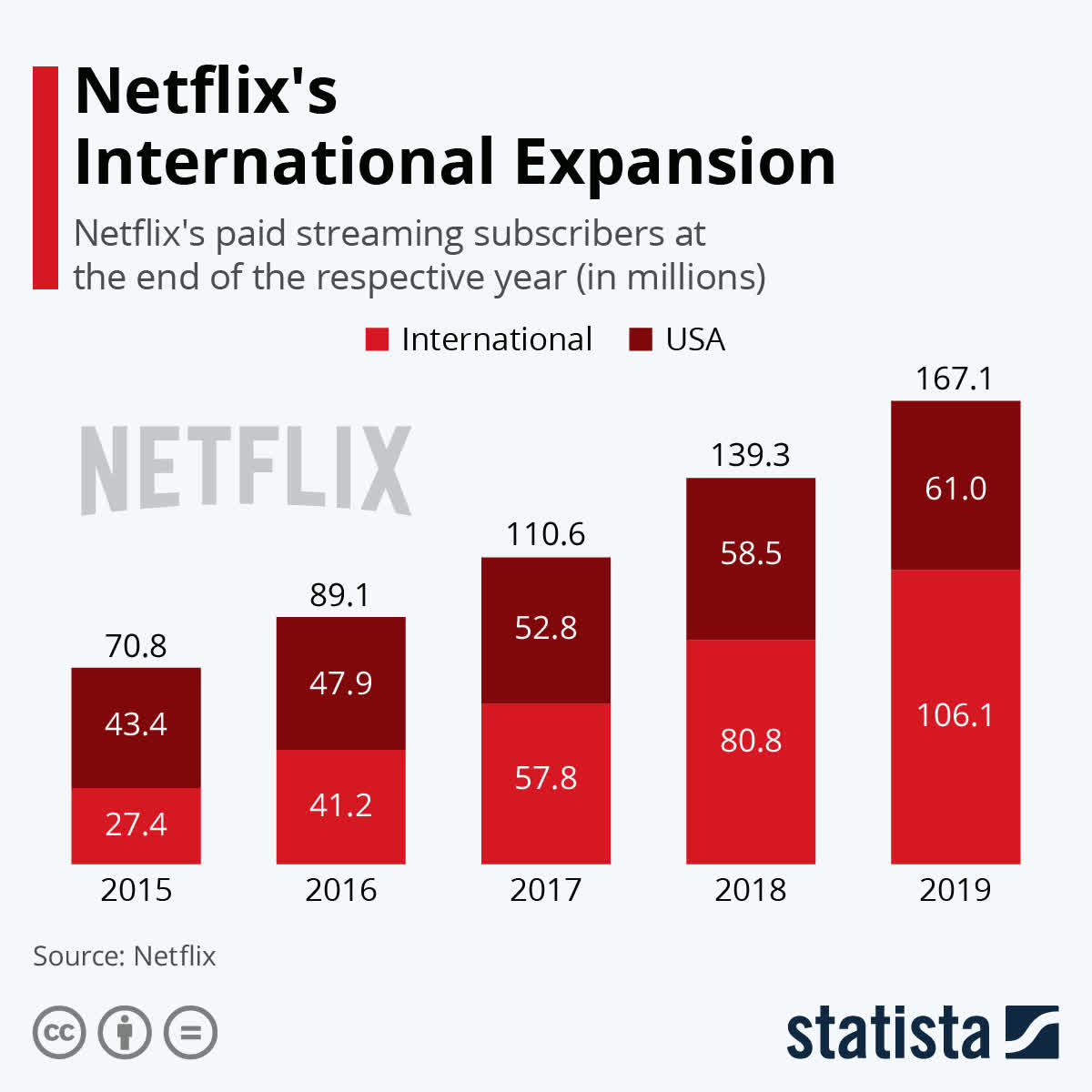 Source: Statista, Netflix
In 2020, which was by far the record year, Netflix added 37 million net subscribers, with APAC delivering the highest growth in relative terms (+100% y-o-y), however starting from a low base. Europe accounted for the highest absolute number of subscribers, with the region adding almost 15mln net paid subscribers last year.
The competition in streaming entertainment such as Disney (DIS) with Hulu, Disney+, ESPN+; Warner Media and Discovery has been awaited by Netflix management for years. The company used its the time to increase the breadth of its content and geographical reach.
How big is SAM? Over 1bn households
At the end of 2020 from almost 204 total subscribers, 74m (36%) were located in Unites states and Canada (UCAN), translating into Netflix household penetration in the region of around 50%.
This number is significantly lower for EMEA, where Netflix had 67m paying members at the end of last year. In the table below we estimate Netflix total addressable market (TAM), serviceable addressable market (SAM) and serviceable obtainable market (SOM). For different regions we use different estimations as to the percentage of households that can afford Netflix. For example, EMEA includes European Union with 221m households, whose level of income is comparable to the US and Canada. Should the penetration rate in the EU reach 50%, it would translate into 43m new additions. That is lightly above the last year's total subscriber growth at Netflix. TAM for EMEA is 1.1bn households. However, the purchasing power in Eastern Europe, the Middle East and Africa (all parts of EMEA) is lower than in the European union. Therefore, we estimate that only about 50% of households (550m) from the EMEA region will be able to afford Netflix. We used similar estimates for other regions of the world to come up with SAM of 1,2bn households. After that we estimate SOM (1bn) by distracting the current subscribers from SAM.

Source: Netflix, Author's estimates
Why is SOM important? In the valuation section we will project company's subscribers and revenues for the next ten years till the company reaches maturity. At the end of year 10 Netflix should have 480m subscribers. SAM/SOM calculation serves as a reality check for our projections.
As you can see from the last column, EMEA and APAC region have the most potential in terms of new additions. However, it would also require more regional content to satisfy customer's tastes. In 2020 the company has proved that it can also regional hits such as Lupin or Money Heist can become an international sensation. Therefore, we believe Netflix is well positioned to expand in the local originals category and build up on its experience of making them international hits.
Financial performance and key drivers
The key to Netflix future success is the revenue growth outpacing content cost growth. Company's management was able to deliver consistently, as the cost of revenues dropped from 63% of sales in 2018 to 61% of sales last year. This could be an encouraging sign of the economies of scale, which has been eagerly awaited by the market for quite some time now.
Another positive development in Netflix 2020 results was $2,7bn in operating cash flow for the year. The company historically had a large discrepancy between the operating profit ($4,6bn) and operating cash flow. The reason behind it is the way Netflix accounts for its content cost. Partially those costs are expensed (cost of revenues on the income statement), while the others are capitalized and can be seen on the cash flow statement. Due to the fact that Netflix has been capitalizing the content cost for years, the annual amortization of those content assets amounted to $10.8bn in 2020, almost covering the additions to the content assets of $11.8. Therefore, it can be expected that the growing depreciation will contribute to the positive operating cash flow in the coming years. This will come in addition to operating profit growth, so that the company will become self-sufficient in terms of content cost financing and will not need to raise additional debt to finance its content investments. Company's management believes that the company "is close to being sustainably FCF positive".
On the operating profit level, Netflix is committed to increase its operating profit margin by 3% points per year. In 2020 the company delivered an impressive 5%-point margin improvement from 13% to 18%. The management expects to increase it to 20% in 2021.
In its Q4 letter to shareholders, Netflix management announced its plan to resume share buybacks, which undoubtedly has been well received by the markets:
As we generate excess cash, we intend to maintain $10B-15B in gross debt and will explore returning cash to shareholders through ongoing stock buybacks, as we did in the past (2007-2011).
In the next section we turn to the Discounted Cash Flow (DCF) valuation and use the assumptions we discussed above to come up with the fair share price for the stock.
Discounted Cash Flow (DCF) Valuation
Assumptions:
Revenue growth: starting from 19% in 2021 and gradually reducing to the terminal growth rate of 2%. Revenues in 2021 and 2022 are in line with analysts' estimates ($30bn and $35bn). In ten years' time we estimate Netflix' revenues at $70bn and the number of subscribers reaching 480m. This will correspond to 40% of SAM as described above.
Net additions: Netflix will have to add 37m subscribers p.a. over the next 4 years to stay on its growth path. Currently the company is very cautious in its forecast, providing only 6m net additions for Q1 2021 as guidance. Since this is the most watched KPI at Netflix, any slowing down here can cause a significant share price drop.
Revenue growth per subscriber: 2% per year. This is one of key value drivers. Netflix was successful in increasing its subscription cost in the past, however, in 2020 the revenue growth per subscriber amounted to only 1%. After the pandemic and over the long term we believe 2% is achievable.
Operating Margin: as described above, Netflix is targeting 20% in operating margin in 2021 and 3% point increase in the next few years. We use 21% operating margin in 2021, which grows to 22.5% in 2022 and remains constant throughout the forecast period.
WACC: We used 4.7% cost of capital to reflect the Equity Risk Premium (ERP) of 4.8%. NFLX has a beta of 0.83 and proportion of debt is minor compared to its market value of equity.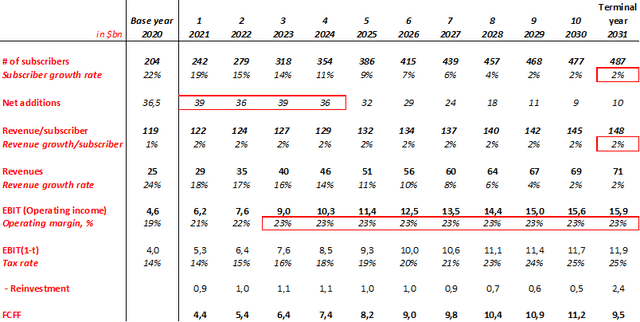 Source: Author's calculations
As a result, the fair value for NFLX share is estimated at $596, which suggests an almost 10% upside to the current share price.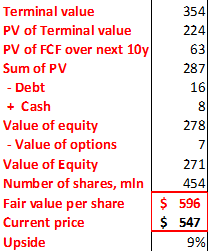 Source: Author's calculations
On one hand, to justify this valuation, Netflix will have to tick a lot of boxes, such as simultaneous strong subscriber and revenue per subscriber growth as well as an increase in operating margin. In the next section we describe how share value changes if those assumptions change.
On the other hand, over the past decade Netflix has proven its ability to reinvent itself. And with the pandemic continuing into 2021, we believe Netflix will continue to grow its subscriber base and content, which will support its $600/share valuation.
Sensitivity Analysis
Revenue growth per subscriber: Netflix is expanding into the areas of the world where the purchasing power is significantly lower than in the US and subsequently its subscription prices. Therefore, even though Netflix may succeed in adding another 37m net subscribers in 2021, it might grow its revenue per subscriber only by 1%. Should that be the case for the years to come, it will result in fair share value of $544.
Operating Margin: should Netflix achieve only 21% operating margin going forward, which is still way above the average 13,5% for the entertainment industry, its fair share value will drop to $554.
WACC:4.7% might seem unusually low, even though it is derived from the current market equity risk premium. Should we use 6.5% WACC, fair share price would decrease to $340. WACC of 8% would warrant $243 in stock value.
Conclusion
Netflix had a perfect storm in 2020, which is expected to continue in 2021. Most of the positive developments are already priced in with the share price surging 42% in the past year. However, there still might be some upside potential in stock. If you believe the company will succeed in delivering continued subscriber and revenue growth combined with margin expansion, then NFLX share price of $600 is justified.
If you liked the article, please follow to receive real-time updates on articles like this one.