(UPDATE NOTE: This article has been updated post-publication to reflect evidence that SLV does hold physical bars of silver.)
PSLV Vs. SLV: The Battle For the Best Silver Trust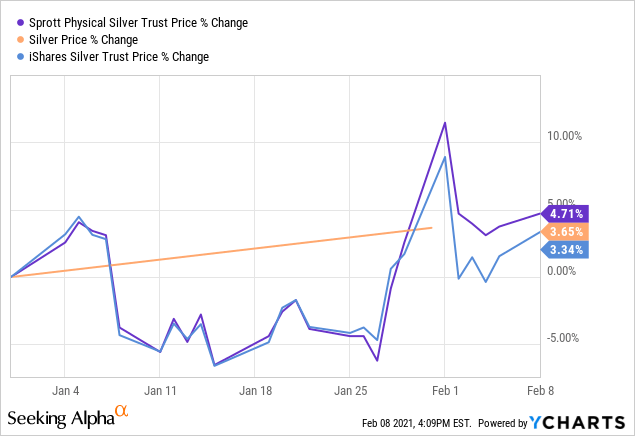 Silver is likely to outperform gold this year due to a bounce-back in industrial demand and its undervaluation compared to gold, as I outlined in a recent blog post. But investors hoping to get their hands on some physical silver are running into two obstacles: A shortage in supply, and sky-high premiums and shipping delays for dealers that actually have the metal.
The price of silver is technically $27/oz (as of writing on 2/9/21), but the lowest cost I could find for American Silver Eagles is $39.50 at APMEX.com, for orders of 1,000 or more coins, and $33 for silver round buffaloes, as dealers have raised premiums substantially.)
Investors are turning instead to silver ETFs/funds to gain exposure to rising silver prices. The two most popular trusts - the iShares Silver Trust (NYSEARCA:SLV) and the Sprott Silver Trust (NYSEARCA:PSLV) - are highly liquid funds that can be bought and sold easily as they trade on major stock exchanges, and volume on both funds is surging with the silver short squeeze movement gaining momentum.
While these ETFs have proven effective at tracking the price of silver, one of these funds is a superior option for investors as it's backed by more trustworthy counter-parties, as I argue below.
iShares Silver Trust (SLV)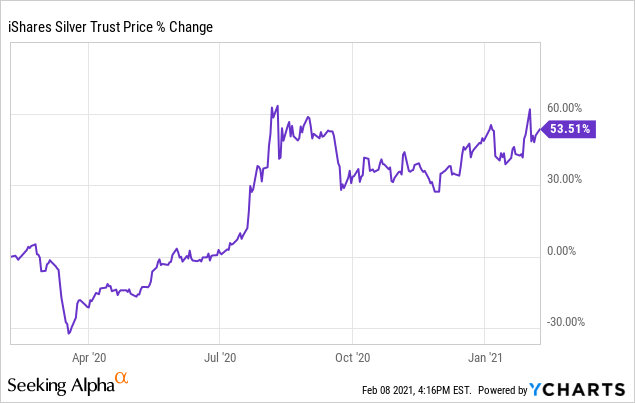 Stock Price: $25.39 (as of 2/8/21)
Avg. volume: 38 million
Market Cap: $14.79 billion
Expense ratio: .50%
1-year return: 53.51%
The iShares Silver Trust has generally traded in tandem with the price of silver, but I don't believe it's the ideal choice for investors.
The biggest warning sign for me is the fact that the silver trust's custodian is none other than JPMorgan (JPM), tied to precious metals manipulation in the past.
JPMorgan's alleged manipulation of silver is not a "conspiracy theory" as one Seeking Alpha author (and others) have recently opinioned. In 2020, JPMorgan paid nearly $1 billion for alleged "spoofing" - the alleged illegal act of placing buy or sell orders in the metals market with no intention of execution the transaction (this doesn't mean JPMorgan is manipulating the SLV, but it's certainly not the custodian of choice for investors).
If you read the prospectus carefully, you'll see that the SLV aims to reflect the price of silver, unlike the PSLV ETF, I couldn't find any mention of it actually purchasing physical silver:
The Trust issues and redeems Shares only in blocks of 50,000 or integral multiples thereof. A block of 50,000 Shares is called a "Basket." These transactions take place in exchange for silver. Only registered broker-dealers that become authorized participants by entering into a contract with the Sponsor and the Trustee ("Authorized Participants") may purchase or redeem Baskets.

Shares are created to reflect, at any given time, the market price of silver owned by the Trust at that time less the Trust's expenses and liabilities.
While I find the SLV's prospectus confusing and I could not find a mention of physical silver purchases, SLV's profile page contains a link to a silver bar list which contains a full list of the silver bars owned by the trust, including the identifying code for each bar.
There's also other language in the prospectus that I think should concern investors, or at least raise some eyebrows.
For one, the trust says that it "may suspend the delivery or registration of transfers of Shares, or may refuse a particular deposit or transfer at any time, if the Trustee or the Sponsor think it advisable for any reason."
The SLV prospectus also admits that it's not protected from illiquidity in the physical silver market, and a divergence from its NAV and the price of silver may develop in such a case.
The prospectus reads:
If the process of creation and redemption of Baskets encounters any unanticipated difficulties or is materially restricted due to any illiquidity in the market for physical silver, the possibility for arbitrage transactions by Authorized Participants, intended to keep the price of the Shares closely linked to the price of silver may not exist and, as a result, the price of the Shares may fall or otherwise diverge from NAV.
Another warning sign is the fact that the ETF can be terminated by authorized participants with large holdings.
Holders of 75% of the Shares have the power to terminate the Trust. This power may be exercised by a relatively small number of holders. If it is so exercised, investors who wished to continue to invest in silver through the vehicle of the Trust will have to find another vehicle, and may not be able to find another vehicle that offers the same features as the Trust.
Finally, the SLV made a change to its prospectus in early February, adding the following lines to protect itself from a potential squeeze in the physical silver market.
The demand for silver may temporarily exceed available supply that is acceptable for delivery to the Trust, which may adversely affect an investment in the Shares.

It is possible that Authorized Participants may be unable to acquire sufficient silver that is acceptable for delivery to the Trust for the issuance of new Baskets due to a limited then-available supply.
The SLV has mostly done its job to date in tracking the price of physical silver, and while it claims to have physical silver bars as posted in its silver bar list on its profile page, I don't view this ETF as a trustworthy vehicle for silver investors.
Sprott Physical Silver Trust (PSLV)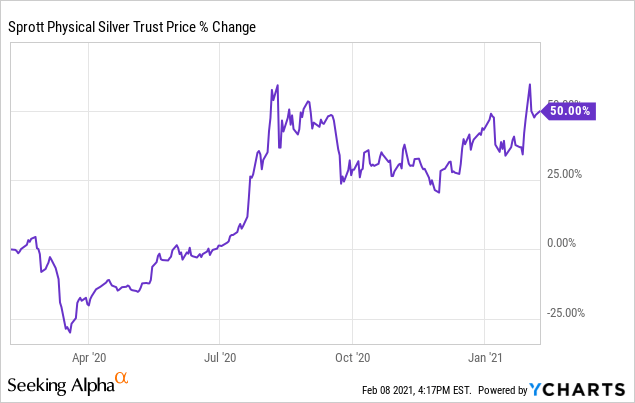 Stock Price: $9.81 (as of 2/8/21)
Volume: 8.07 million
Market Cap: $2.42 billion
Expense ratio: .68%
1-year return: 50.00%
PSLV is run by Eric Sprott and the Sprott family of funds. Sprott is a well-known and highly regarded billionaire precious metals investor. He has a good reputation in the community and is a supporter of the junior mining sector, in particular.
When you buy into PSLV, you are actually buying shares in a fully allocated, and redeemable, physical silver trust. The fund says it does not purchase, sell or hold any silver derivatives (such as futures contracts).
The funds assets consists of physical silver held by its custodian, The Royal Canadian Mint, which produces all of Canada's circulation coins. The Mint is a Canadian Crown corporation, and acts as an agent of the Canadian Government, so its obligations generally constitute "unconditional obligations of the Canadian Government."
According to the PSLV prospectus, the Mint is "responsible for and bears all risk of the loss of, and damage to, the Trust's physical silver bullion that is in the Mint's custody (subject to certain limitations, including events beyond the Mint's control and proper notice by the Manager.)"
The Royal Canadian Mint is a far superior and trustworthy custodian compared to JPMorgan, for the reasons mentioned above. Most recently, on Dec. 31, the Mint audited the PSLV's physical silver holdings, which at the time amounted to 91,834 bars equaling 91.108 million ounces of silver (I have not been able to find the last SLV audit).
PSLV also updates investors on its silver holdings on Sprott Asset Management's Twitter page.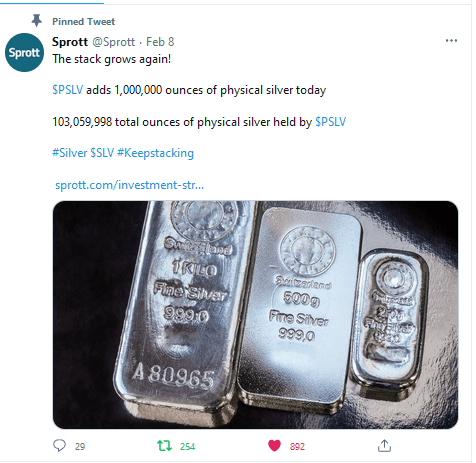 On Feb. 8, the trust reported that it added 1 million ounces of physical silver, growing its total holdings to over 103 million ounces. The trust has now added more than 10 million ounces of silver to its vaults in the past 10 days.
[2/23/21 UPDATE: The PSLV added 4 million ounces of silver to its trust on Monday, Feb. 22, bringing its total holdings to 120.26 million ounces of silver. This is partly due to the "PSLV challenge" going viral on Twitter, where the poster adds a share of the PSLV for every new follower received. Volume reached 34 million shares on Monday, well above avg. volume of 5.12 million shares.]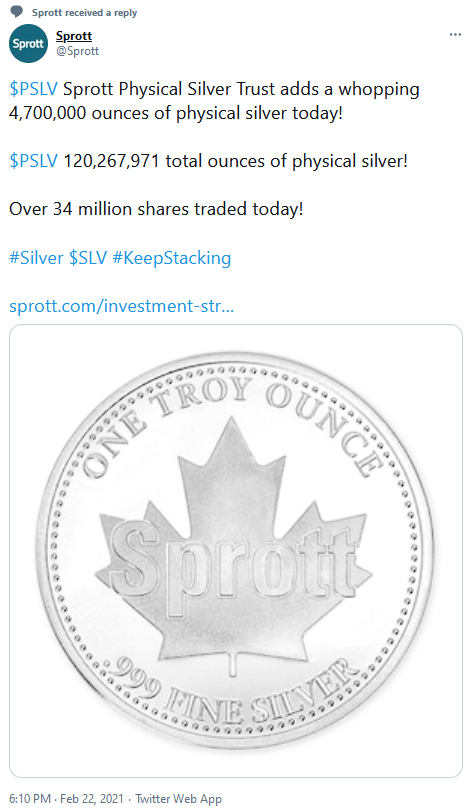 Also note that investors with a large enough position in PSLV have the option to take physical delivery of silver (although you will need a very large holding.) According to the prospectus, redemption requests must be for at least the value of 10 London Good Delivery Bars, which comprise of 1,000 silver ounces each.
PSLV vs. SLV: The Bottom Line
Silver has a very bright future and investors who want exposure to silver should first look to buy physical silver, and then look into buying the PSLV fund over the SLV ETF.
While SLV is a large ETF with more trading volume and while it has a lower expense ratio than PSLV, I believe PSLV is a more trustworthy fund for silver investors.
What do you think of silver ETFs that hold physical silver? Let me know in the comments.