HVAC Pulls Carrier To Growth In 4Q
Carrier Global Corp. (NYSE:CARR) shares enjoyed an impressive run in 2020, more than doubling after being spun off from United Technologies on April 3. This was in spite of overall sales being down for the full year, largely due to the pandemic. The company has a different mix of business than its peers, operating in three segments: HVAC (50% of 2020 segment sales), Refrigeration (20%), and Fire & Security (30%). Of the three segments, HVAC performed the best and finally turned positive year-on-year in 4Q, enough for total company sales to show positive growth compared to 4Q 2019. Within HVAC, Residential was the outstanding performer with 25% growth in the quarter, compared to Commercial, still down around 5% due to the pandemic.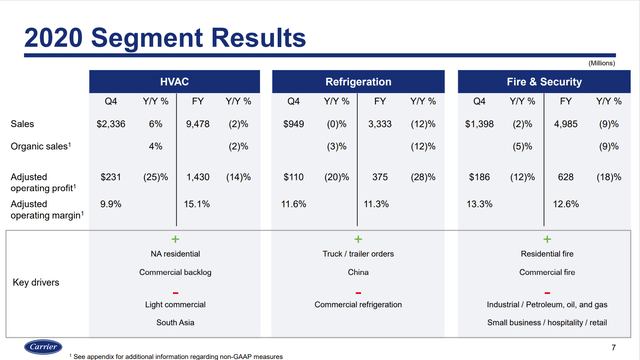 Source: Carrier 4Q 2020 Earnings Presentation
Carrier outperformed its domestic competitor Lennox (LII) in HVAC during the fourth quarter, as Lennox's residential sales were only up 11% and commercial sales were down 13%. For Trane (TT), fourth quarter residential HVAC sales were up 20% while commercial sales were down mid-single digits in the Americas and Europe, and high single digits in Asia Pacific.
Growth Mix Shifts For 2021
Based on orders in 4Q, Carrier's sales growth drivers will change in 2021.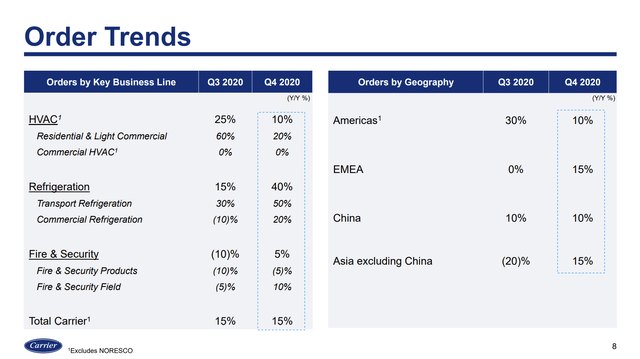 Residential and Light Commercial HVAC order growth has slowed as customers in the field have restocked, but remained strong at 20%. Commercial HVAC growth is still flat due to pandemic-related business closures. Carrier is looking to grow commercial sales through a focus on air quality and monitoring through its Healthy Buildings program. The company is also focused on growing its services business in HVAC to provide an ongoing revenue stream after the equipment has been installed. The pandemic has hindered this effort but reopenings should help.
The good news for the aftermarket is that we actually come in - HVAC services backlog ended the year up about 20%. So we are seeing people get out there, even in Europe where it's a bit spotty and some markets are more closed than others. Even though they've been distributing the vaccine in England, we still see some pockets of closed down locations there. Same with Germany. But by and large, we are getting our field support and our technicians out into buildings, certainly in the United States. So, we're looking at double-digit HVAC aftermarket growth in 2020, and it'll be fueled by folks getting back into the buildings.
Source: CEO Dave Gitlin, Carrier 4Q 2020 Earnings Call
Refrigeration order growth is now outpacing HVAC heading into 2021. Growth is particularly large in transport refrigeration. This demand is coming from food distribution as online shopping grows. There is also a current need for refrigerated transport for COVID vaccines. Stationary commercial refrigeration demand should also increase for food warehouses and distribution centers as well as for restaurants as they recover from the pandemic.
Fire and Security now has the slowest order growth of the three divisions. This division is sometimes subject to speculation about it being sold, which would give Carrier a more similar business mix to its peers and would raise cash for debt paydown or bolt-on acquisitions in HVAC or Refrigeration. The CEO discussed this at the end of the earnings call.
So we look at all aspects of the portfolio, whether they're worth more to someone else than they are to us, and whether they fit in our long-term strategy. And that applies - I mean, you mentioned Chubb. It applies really across the board. So we will continue to assess. We will continue to do what's right for our shareholders. If we make that determination, we will look at what to sell and what's the right time to sell.
Translating the order growth into sales, Carrier expects Refrigeration to be the growth leader in 2021 with sales up mid-teens percentages while the other two divisions will be up mid-single digits. Overall for the company, sales will grow 6% - 8%. Operating margin will also go up as the company implements the Carrier 700 cost savings initiative it announced last year. Tax rate will be down about 1%, so EPS is expected to grow 11% - 17%.
Compared to the two peers, Carrier has the best sales growth of the three and EPS growth in the middle of the group.
| | | | | |
| --- | --- | --- | --- | --- |
| | Sales Growth | Midpoint | EPS Growth | Midpoint |
| Carrier | 6% - 8% | 7% | 11% - 17% | 14% |
| Lennox | 4% - 8% | 6% | 6% - 12% | 9% |
| Trane | 5% - 7% | 6% | 19% - 23% | 21% |
Valuation And Capital Management
Carrier was extremely cheap at the time of the merger. In October 2019 in my article evaluating the parts of the upcoming United Technologies spin-offs, I valued Carrier at $35.10 per share. The spin-off transaction unfortunately occurred on 4/3/2020, just after the bottom of the March COVID crash. Carrier shares closed at only $16.92 that day. The extreme undervaluation partially resolved itself since then, gaining twice as much as Trane and Daikin (OTCPK:DKILY) and over three times as much as Lennox.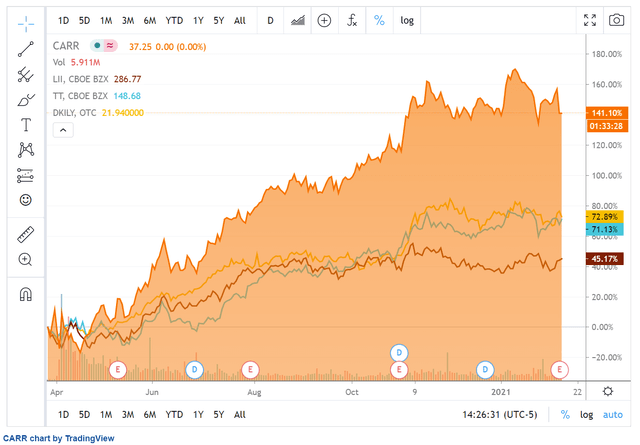 Source: Seeking Alpha CARR Advanced Chart Page
Even after this big run, Carrier is cheaper than its competitors based on 2021 estimates. Using either P/E or EV/EBITDA, Carrier is valued at a discount to Lennox and Trane. If Carrier was valued at the average multiple, it would be worth $50-$52 per share, over 35% above the current price. Another way to look at it is that with Fire & Security comprising about 35% of Carrier's Q4 operating profit, you are effectively paying market multiples for HVAC and Refrigeration and getting Fire & Security for free. A sale of this division should be a profitable event for shareholders if it happens.

Carrier expects $1.6 billion of free cash flow in 2021. They just raised the dividend to $0.12 per quarter, a 50% increase from the initial payout after the spinoff and a yield of around 1.3%. This will consume about $422 million of cash. They also authorized a $350 million buyback which basically just offsets dilution from share-based compensation. The company is limited by debt covenants from buying back more shares than this through the end of the year. The nearly $1 billion remaining will reduce net debt, split between paydown of gross debt and cash build. After this year, Carrier has no debt maturing until 2025. This sets up well for continued strong dividend increases in 2022 and beyond.
Conclusion
Carrier faced a tough time to become an independent company and a lot of debt assigned to it by United Technologies. Although results were down in 2020 from 2019, by the fourth quarter the company was again showing sales growth due to Residential HVAC. Looking forward, Carrier will also see strong demand in Refrigeration which should help deliver EPS growth of around 14% in 2021. Even after the impressive run in the stock price since the spin-off, Carrier is still valued below domestic peers Lennox and Trane. This may be due to the presence of the Fire & Security division which management seems open to selling. Even without any more asset sales, Carrier has sufficient cash flow to reduce net debt in 2021 leading to continued dividend growth in the future.