I am long Compute Health Acquisition Corp. (NYSE:CPUH.U). It is a new SPAC that started trading on February 5, 2021, and closed its offering (including over-allotment) on February 9, 2021. The units include a warrant, but the shares and warrants are not trading separately yet.
I am excited to invest in this stellar team of operators that have deep expertise in this high-growth sector.
Investment Thesis
Strong team led by former Medtronic CEO
Medtronic is investing in the SPAC
Healthcare AI is a great focus for a SPAC
Top underwriter and $862.5 million war chest
Strong team led by former Medtronic CEO
The SPAC is led by Omar Ishrak (Chairman) as well as Jean Nehmé and Joshua Fink (co-CEOs).
Omar Ishrak was CEO of Medtronic (NYSE:MDT) from 2011 until April 2020. He stayed as chairman until December 2020. Prior to Medtronic, he was CEO of GE Healthcare Systems. Ishrak is also the chairman of Intel (INTC).
Medtronic's stock price had a great run under his leadership.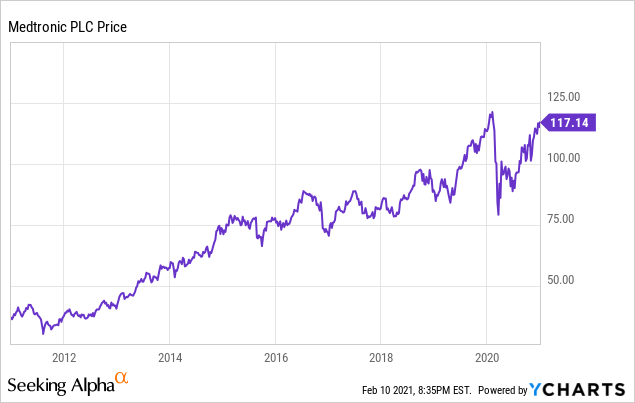 When I analyze SPAC teams, my top questions are:
Is the sponsor's reputation on the line with this SPAC?
Will the sponsor's background provides an edge in sourcing a high quality target?
Regarding Ishrak, he was a successful CEO at one of the leading medical device companies. His reputation is certainly on the line with this SPAC. Some SPACs have invested in controversial companies, like Nikola. When the SPAC sponsor is already successful and has a reputation to protect, the chances of the SPAC going after a high-quality target go up.
Furthermore, his reputation will give him an edge. His network and industry experience would be very valuable for target companies. This increases the chances of this SPAC getting access to the most attractive companies.
The SPAC isn't just about Ishrak. The other team members have an interesting story. In February 2020 when Ishrak was still CEO, Medtronic acquired Digital Surgery. Dr. Jean Nehmé was the CEO and co-founder of Digital Surgery and Joshua Fink was involved with the company too.
Digital Surgery was a company focused on surgical artificial intelligence (AI). Medtronic's press released said, the "acquisition will accelerate Medtronic's strategy to provide AI and data within Laparoscopic and Robotic Assisted Surgery." This team has operating experience in the specific area that the SPAC is focused on.
The SPAC also has board members with impressive industry experience. Please see the prospectus for their biographies.
Medtronic is investing in the SPAC
The company's prospectus said, Medtronic "has expressed to us an interest to purchase an aggregate of up to 1,500,000 units in this offering at the offering price." That is a $15 million investment, assuming Medtronic got the full allocation.
Medtronic is already active in venture capital investing. Now it is one of the first publicly traded organizations to back a SPAC.
Ishrak spoke about how the SPAC can leverage the relationship with Medtronic for diligence in an interview here.
The Medtronic investment is a key differentiator for this SPAC.
Healthcare AI is a great focus for a SPAC
The SPAC prospectus states:
"While we may pursue an acquisition opportunity in any industry or sector, we intend to focus on opportunities that are emerging at the intersection of computation and healthcare. Data access, artificial intelligence, or AI, algorithms and computational power feed each other in an endless cycle, rapidly creating opportunities for new streams of innovation. Technology companies are also creating a software development environment where subject matter experts with limited AI algorithm experience can quickly build solutions. These dynamics are rapidly creating a new era of growing computational power and AI.

We see the application of this growing computational power and AI to healthcare as ubiquitous, from the home to primary and secondary care services. Many companies and services have adopted mobile and cloud computing and are moving quickly to computational intelligence, or CI, often at the point of care, or "edge". In imaging services such as ultrasound, the increasing speed of image generation combined with the ability to use algorithms at the edge promises to expand the use of these services in existing as well as new care settings. In operating rooms, computational intelligence has the potential to reduce variability and ultimately power surgical guidance." (emphasis added by Author)
I am interested in SPACs that are going after high-growth sectors, such as technology and healthcare. Since SPACs are valuing target companies at high valuations, there needs to be a high-growth opportunity for the target company to justify the valuation.
Furthermore, there are a lot of investors looking to put money into these types of companies. This seems like a thesis that could attract Cathie Wood and the ARK funds in the future.
Top underwriter and $862.5 million war chest
Goldman Sachs was the sole book running manager on the offering. There are a lot of investment banks that are underwriting SPACs and I focus on SPACs from the top firms. This is a sign of quality.
The SPAC raised $862.5 million, including over-allotment. In his interview on CNBC, Ishrak talked about finding a business with scale. The $862.5 million war chest puts this SPAC in an echelon above many smaller peers. The amount raised is a competitive advantage, especially when trying to win deals in top companies.
Conclusion
Compute Health Acquisition Corp. has a top team. The probability that the SPAC will acquire a good target increases based on the team's reputation. Furthermore, Medtronic is investing in this SPAC, which makes it more attractive for potential targets.
There is a lot of opportunity in the healthcare technology space and this team is uniquely positioned to find a company that can be a long-term winner.