Real Estate Earnings Halftime Report
In this Halftime Report, we provide our "quick take" commentary on the earnings results thus far across the real estate sector which we've been tracking in real-time in our Real Estate Daily Recaps.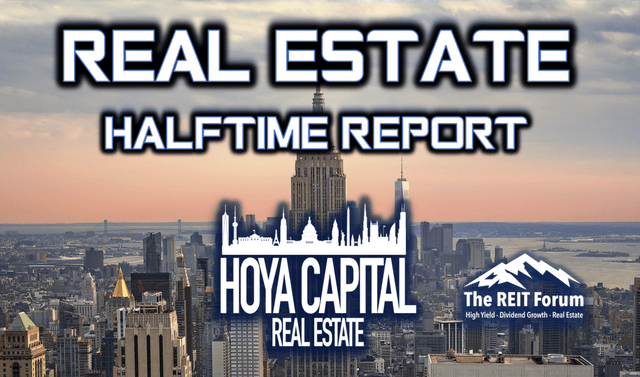 (Hoya Capital Real Estate, Co-Produced with Colorado Wealth Management)
We're now at the halfway point of another newsworthy REIT earnings season. Results thus far have been better than expected as dividend cuts have given way to dividend boosts. We recently published REIT Earnings Preview: Who Paid The Rent where we explained that we're expecting a historic year for dividend increases following the wave of cuts last year. On cue, we've seen 12 more equity REITs boost their dividends since the start of REIT earnings season on January 25th. Among the 18 equity REITs that have boosted their dividend this year, 14 of these REITs are paying dividends above pre-pandemic rates while 4 remain at levels below 2019 rates.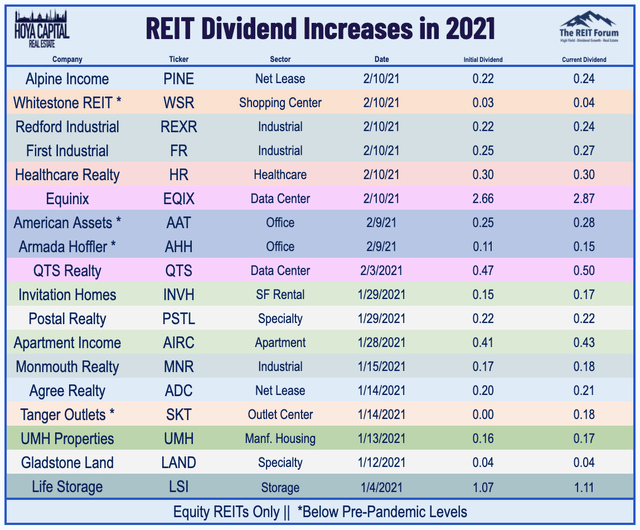 While missed rents and dividend cuts were the prevailing themes in the REIT sector in mid-2020, the vaccine-driven sector rotation - and more recently the "short-squeeze frenzy" - have been the dominant themes over the past quarter. The first half of earnings season served as a "reality check" for several of the recently high-flying REITs which we discussed in Game Stopped For Shorted REITs. Rent collection - and interest collection for mREITs - has recovered to "normalized" levels across all major property sectors outside of retail where collection rates have approached 90%.

A solid first-half of REIT earnings season has lifted the broad-based Vanguard Real Estate ETF (VNQ) to year-to-date gains of 5.5%, outperforming the 4.5% gains from the S&P 500 ETF (SPY). Seventeen of the nineteen REIT property sectors are in positive territory for the year. On the residential side, all eight of the U.S. housing industry sectors in the Hoya Capital Housing Index are in positive territory for the year. Below, we provide our commentary and our "Midterm Grade" for each of the property sectors.

Retail REIT Halftime Report
Malls: (Midterm Grade: C-) We've now heard results from three of the seven mall REITs. While the vaccine-driven sector rotation has propelled mall REITs to gains of nearly 30% so far in 2021, earnings results from Simon Property Group (SPG), Macerich (MAC), and Brookfield Properties (BPY) indicate that even the highest-quality of mall REITs may not be "out of the woods" quite yet. While these three REITs reported that rent collection rebounded to roughly 90% in Q4, these metrics significantly overstate the "true" level of rent collection. SPG, for example, collected 90% of "Net Billed Rents" but this amounted to just 74% of "Gross Contractual Rents."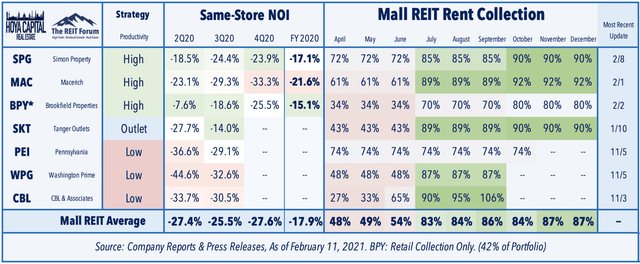 While CEO David Simon commented that it "feels confident we have turned the corner," forward-looking metrics still look concerning as leasing spreads remain under pressure at -6.8%, the worst quarter on record for Simon, while occupancy rates declined by a sizable 3.8 percentage points to 91.3%. Macerich, meanwhile, reported a -8.6% dip in leasing spreads as occupancy rates dipped 4.3 percentage points to the lowest levels since the Financial Crisis. After the roughly 30% dive in FFO/share between these three REITs, both Simon and Macerich see modestly positive FFO growth in 2021.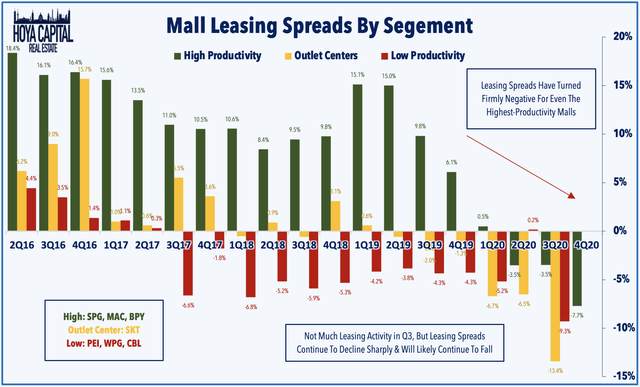 Shopping Centers: (Midterm Grade: B+) We've now heard results from eight of the seventeen shopping center REITs. "Normalization" in rent collection was the hope for Q4 earnings season, but we're still not quite there yet as collection rates have averaged 92% in Q4 thus far. Unlike the aforementioned mall REITs, however, this collection rate is more of a "true" reflection of rent collected relative to pre-pandemic expectations. Consistent with that collection rate, same-store NOI growth improved sequentially with the year-over-year rate improving to -10.2% in Q4 from the -15.7% rate of decline in Q2.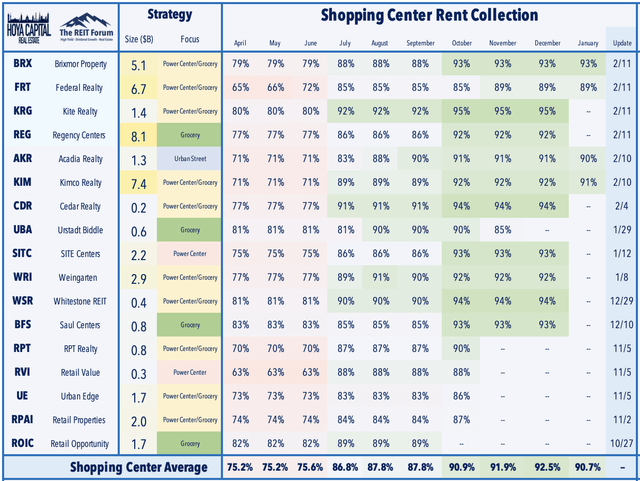 Most encouragingly, however, leasing spreads remain positive for the majority of shopping center REITs in both Q4 and for full-year 2020, suggesting that these REITs still maintain some degree of pricing power. While FFO per share will ultimately end 2020 with sharp declines of around -20%, forward-guidance suggested that these REITs expect conditions to stabilize rather quickly. The five REITs that provided FFO guidance forecast a mildly positive year of growth while Brixmor Property (BRX) and Regency Centers (REG), the two REITs that provided same-store NOI guidance, forecast growth of 1.0% in 2021.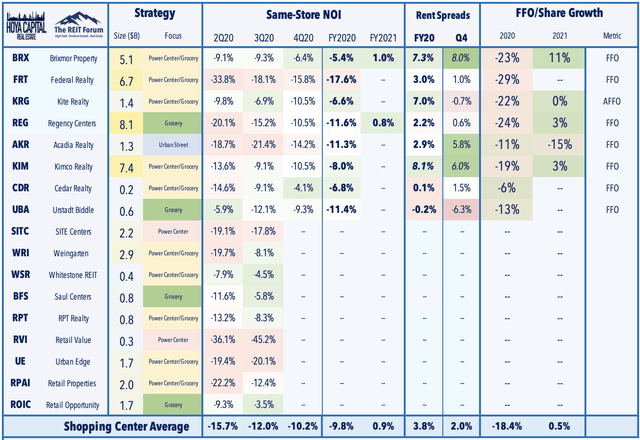 Net Lease: (Midterm Grade: N/A) We've only heard results from two of the sixteen net lease REITs thus far, setting up a busy slate of earnings over the next two weeks. National Retail (NNN), one of the harder-hit REITs due to their "experience-oriented" exposure, reported a better-than-expected Q4 with rent collection recovering to 96% While NNN recorded a 10.4% dip in FFO for full-year 2020, the REIT expects to be back at pre-pandemic levels by the end of 2021 with expectations for FFO growth near 12%. Alpine Income (PINE) also reported a strong quarter to go along with its 9% dividend boost. PINE reported 100% rent collection with expectations of double-digit FFO growth in 2021 as well. For both REITs, acquisition activity - which is critical to FFO growth - picked-up after a sharp slowdown in mid-2020.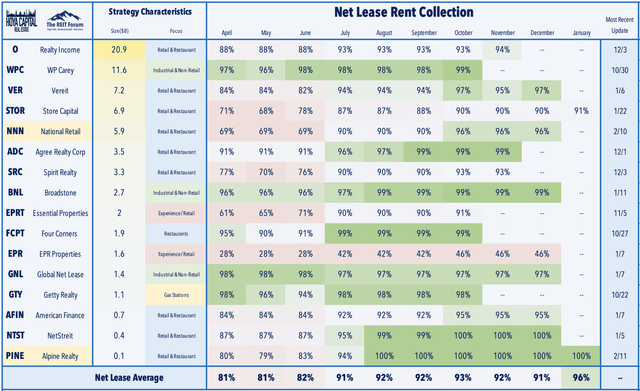 Tech & Industrial Real Estate Halftime Report
Industrial: (Midterm Grade: A) We've now heard Q4 results from eight of the thirteen industrial REITs and results thus far have been very strong across the board with clear signs of reacceleration in core metrics in 2021 following an already strong 2020. Same-store NOI growth will average around 3.5% for full-year 2020 and is projected to accelerate to between 4.0% and 5.0% in 2021 based on guidance by Prologis (PLD), Duke Realty (DRE), Rexford (REXR), and First Industrial (FR) as annual market rent growth continues to rise in the high single digits as occupancy rates remain near record highs.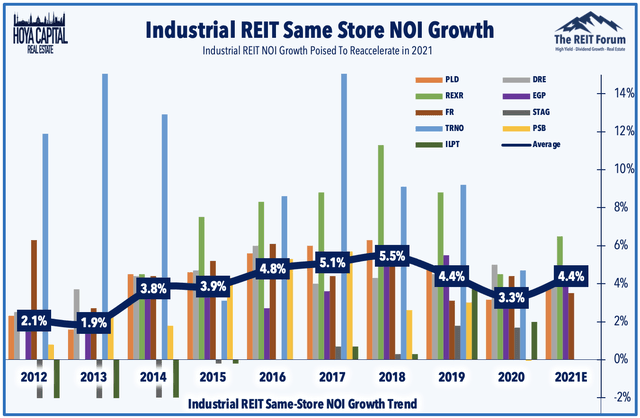 Poised to record the strongest dividend and FFO growth rates among major property sectors in 2020 at nearly 10%, industrial REITs have thrived as the pandemic has significantly accelerated the adoption and penetration rate of e-commerce. Nine of the thirteen industrial REITs raised their dividend last year and we've already seen three more boosts this year and there should be plenty more to come as these REITs see another year of mid-to-high single-digit FFO growth as fundamentals remain highly favorable.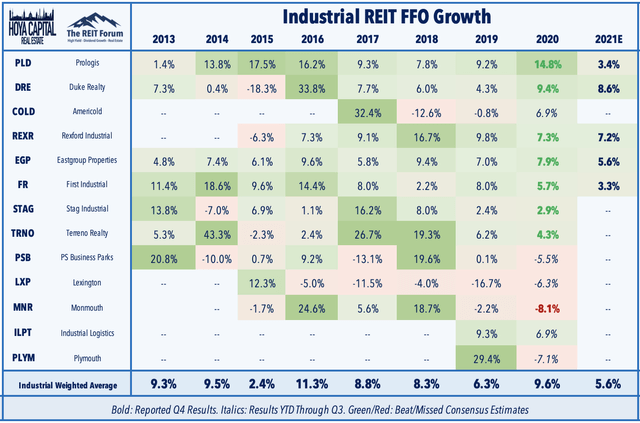 Data Center: (Midterm Grade: B-) We've now heard Q4 results from three of the five data center REITs. The top-performing REIT sector in 2020, data center REITs have taken a breather so far in 2021 as earnings results have been solid but not spectacular. Equinix (EQIX) recorded full-year AFFO per share growth of 9% in 2020 and guided to another 9% rate of growth in 2021. Disappointing investors, however, EBITDA guidance was slightly below consensus estimates and "same-store" growth on stabilized assets slowed to 3% in Q4, reflecting the increasingly competitive pricing environment.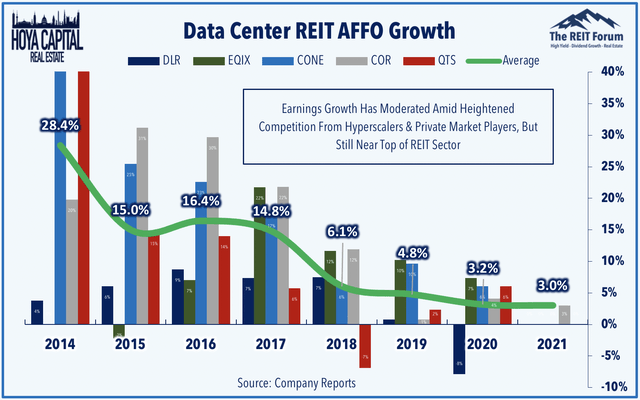 We're watching to see if leasing activity will bounce back in Q4 after a pullback in Q3. With two REITs still left to report, the combination of Digital Realty (DLR) and CoreSite (COR) was already enough to eclipse the $138 million in incremental annualized revenue. A pair of strong quarters from CyrusOne (CONE) and QTS Realty (QTS) could be enough to break the previous record set in Q2 of 2020 which would certainly be a positive sign that the hyperscale cloud giants - Amazon (AMZN), Google (GOOG) (GOOGL), and Microsoft (MSFT) continue to lean on these REITs to power their growth.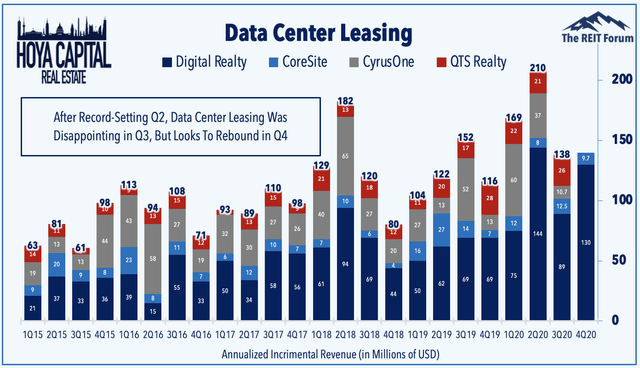 Cell Towers: (Midterm Grade: B) Just one of the three cell tower REITs has reported results thus far. Crown Castle (CCI) reported in-line results excluding the "Non-Typical Items" which were the result of previously-expected cancellation of some Sprint locations that were redundant with T-Mobile (TMUS). After removing these items - which resulted in a temporary boost to AFFO and EBITDA metrics - the results were still slightly above prior guidance. AFFO per share rose an impressive 7.2% in 2020 and CCI sees AFFO/share growth of 9.7% in 2021. Better-than-expected iPhone sales from Apple (AAPL) in Q4 reinforces our belief that the iPhone 12 launch represented the true "arrival" of 5G, the next-generation network that will reach its full potential as post-pandemic mobility rates normalize.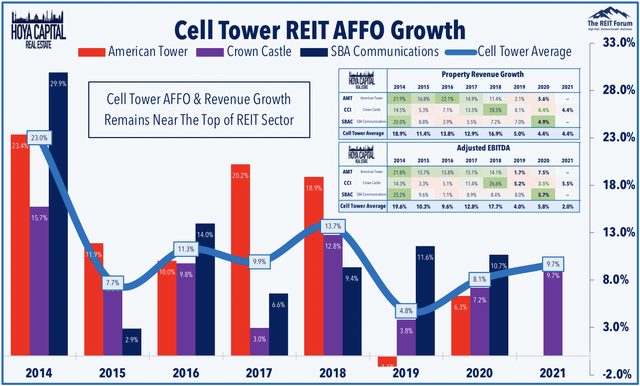 Residential Real Estate Halftime Report
Homebuilders: (Midterm Grade: A+) The U.S. housing industry continues to fire on all cylinders and recent earnings reports from homebuilders indicate that housing will continue to lead the economic recovery in 2021. Low supply is turning into a double-edged sword, however, as homebuilders are literally selling homes as fast as they can build them and several builders have reported that they simply can't keep up with the demand. The fifteen builders in our coverage have an aggregate backlog totaling 125,000 units. So while order growth has surged nearly 50% year over year, these builders expect to deliver "only" about 15-20% more units in 2021 than 2020, which suggests that it's far too soon to be worrying about oversupply.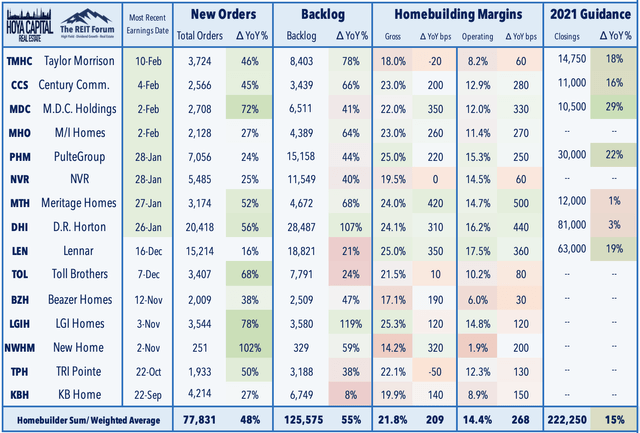 Apartments: (Midterm Grade: C+) We've now heard Q4 results from nine of the thirteen apartment REITs. The "urban exodus" theme was again on full display this quarter as apartment REIT properties in the "shutdown cities" - NYC, L.A., Chicago, and San Francisco – have seen residents flee to lower-cost and safer suburban markets and more business-friendly Sunbelt metros. While rent collection remains strong at roughly 97-98%, rental rates and occupancy dipped considerably in urban markets underscored by dismal rent growth results by Equity Residential (EQR), AvalonBay (AVB), and Essex (ESS). EQR, which breaks out the lease rates collections by segment, revealed that "urban core" rents plunged more than 25% year over year in Q4.

Sunbelt-focused REITs including Mid-America (MAA), Independence Realty (IRT), and Camden Properties (CPT) continue to see positive year-over-year rent growth with signs of a further acceleration in January. While the coastal REITs recorded a -5.8% average decline in same-store NOI growth in 2020 and expect another 5.9% decline in 2021, sunbelt REITs saw positive SSNOI growth of 0.9% in 2020 and expect another 0.9% growth in NOI this year.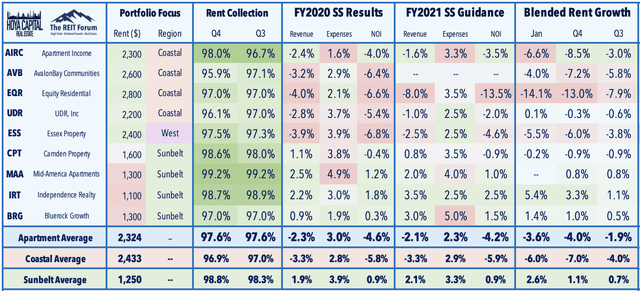 Manufactured Housing: (Midterm Grade: A-) Just one of the three manufactured housing REITs has reported results. Equity LifeStyle (ELS) ended 2020 with full-year same-store NOI growth of 2.9% and Normalized FFO growth of 3.8%, powered by a strong recovery in the back-half of 2020. ELS provided 2021 guidance calling for impressive FFO growth of 6.5% in 2021. The headwinds from early 2020 - the shutdown of RV parks and the slowdown in manufactured housing and RV home sales - have suddenly become robust tailwinds amid a broader revival across the housing industry and we expect Sun Communities (SUI) to deliver a similarly strong Q4.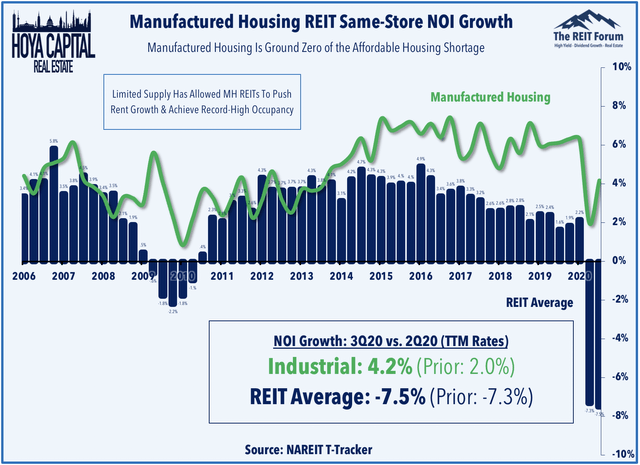 Mortgage REIT Halftime Report
Residential mREITs: (Midterm Grade: B) Nine of the twenty-three residential mREITs have now reported results and so far, tangible Book Values Per Share (BVPS) have climbed by an average of 2.9%, putting them back within 11.4% of pre-pandemic levels. Redwood Trust (RWT) has led the way so far with a 5.6% increase in BVPS followed by AGNC Investment (AGNC) at 5.2% and Dynex Capital (DX) at 4.5%. Residential mREITs currently trade at an average 11% discount to their most recently-reported tangible book value.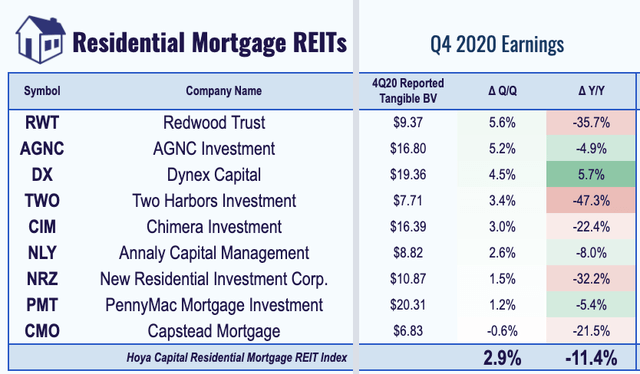 Commercial mREITs: (Midterm Grade: N/A) Just two of the nineteen commercial REITs have reported results thus far. Last week, we published our Mortgage REIT Earnings Preview. We discussed the three trends we're watching this earnings season: 1) Updated dividend commentary, 2) Updated book values, and 3) Commentary on the mortgage and housing markets. We discussed how the robust rebound and ongoing strength in the U.S. housing sector averted outright catastrophe for many mREITs, propelling the Mortgage REIT ETF (REM) to 100%+ rebound to end 2020 with total returns of -23.5%.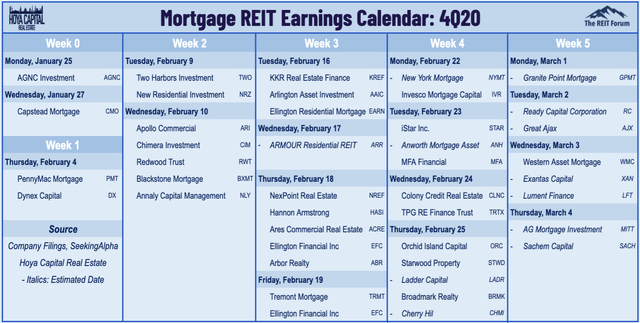 Healthcare REIT Halftime Report
Healthcare: (Midterm Grade: B+) Consistent with our discussions over the last few months, mid-pandemic fundamentals are actually stronger for several healthcare REIT sub-sectors including skilled nursing facilities as government relief funds continue to pour into the healthcare sector. Underscoring these themes, skilled nursing REIT Omega Healthcare (OHI) reported that its AFFO rose 5.2% in 2020, a stunning turnaround for the SNF sector which was previously on a steady downward spiral. Medical Properties Trust (MPW), the largest hospital owner in the United States, reported FFO per share growth of 20.7% in 2020 and expects another 10.8% growth in 2021. Meanwhile, the lab space sub-sector remains very strong as Alexandria Real Estate (ARE) reporting full-year FFO growth of 4.9% in 2020 and expects 5.5% growth in 2021.

Conditions in the troubled senior housing space have shown signs of improvement as well. Welltower (WELL) reported that 77% of its SHO communities reported no confirmed cases of COVID-19 during the trailing two weeks after over 90% of its SHO portfolio have completed their first vaccination clinic. Healthpeak (PEAK) won't be around to see the rebound in senior housing, however, after reporting that it sold $2.5B of its $4B in planned senior housing sales, and now considers that segment as "discontinued operations." With senior housing removed from the same-store portfolio, PEAK's same-store NOI growth for full-year jumped from 1.0% to 3.8%. PEAK's stated objective is a "targeted Life Science, Medical Office, and CCRC (Continuing Care) portfolio and strategy" portfolio.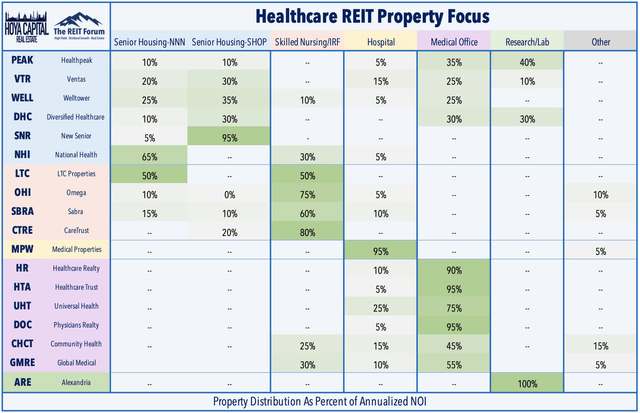 Previewing The Second-Half of Earnings
We just passed the halfway point of another newsworthy REIT earnings season. Results thus far have generally been better than expected with more than a dozen REITs boosting full-year FFO guidance and twelve additional REITs raising dividends above pre-pandemic levels. We should note, however, that larger "blue-chip" REITs tend to report earlier in the earnings season, so the back-half of earnings season could bring more fireworks as many of the smaller and more highly-levered names report over the next three weeks, including the full slate hotel REITs many of the more troubled retail REITs.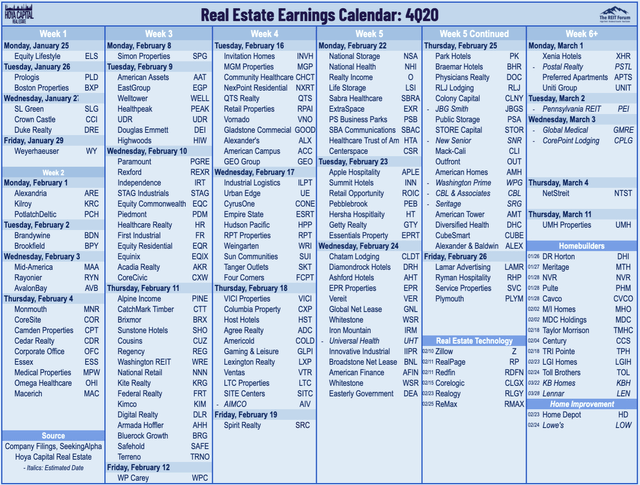 If you enjoyed this report, be sure to "Follow" our page to stay up to date on the latest developments in the housing and commercial real estate sectors. For an in-depth analysis of all real estate sectors, be sure to check out all of our quarterly reports: Apartments, Homebuilders, Manufactured Housing, Student Housing, Single-Family Rentals, Cell Towers, Casinos, Industrial, Data Center, Malls, Healthcare, Net Lease, Shopping Centers, Hotels, Billboards, Office, Storage, Timber, Prisons, Cannabis, Real Estate Crowdfunding, High-Yield ETFs & CEFs, REIT Preferreds.
Disclosure: Hoya Capital Real Estate advises an Exchange-Traded Fund listed on the NYSE. In addition to any long positions listed below, Hoya Capital is long all components in the Hoya Capital Housing 100 Index. Index definitions and a complete list of holdings are available on our website.