The iShares MSCI Taiwan Capped ETF (NYSEARCA: NYSEARCA:EWT) is an exchange-traded fund that offers U.S. investors the opportunity to gain direct exposure to Taiwanese equities, specifically large and mid-sized Taiwanese equities. EWT's expense ratio is 0.59%, in line with other similar funds. The ETF provides one with the ability to express a single-country macro bet in a way that is not prohibitively expensive.
Taiwanese equities have risen significantly since 2020. After crashing in March 2020 alongside other major equity markets including the United States, Taiwanese equities have surged since. EWT is an ETF listed on NYSE Arca, and shares are denominated in U.S. dollars. Therefore, in USD terms, EWT has risen by over 40% since the beginning of January 2020.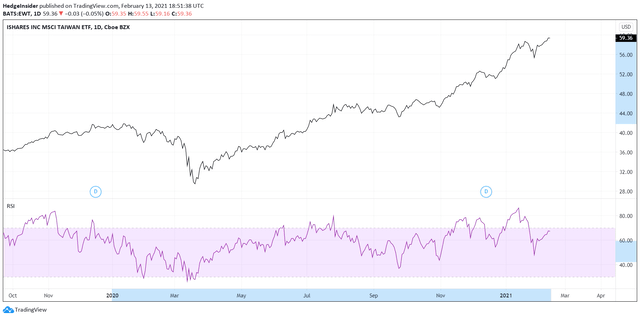 (Source: TradingView)
As the chart above also illustrates with the bottom panel, the 14-day RSI (Relative Strength Indicator), EWT has been in "overbought" territory on numerous occasions recently. I have watched Taiwanese equities, as while they continue to offer good value, their fairly rapid ascent makes one feel a little cautious. Still, the chart is somewhat irrelevant, only the present price and value should be of concern.
At the time of writing, per Morningstar data, EWT trades at a (forward) P/E ratio of 16.05. If we divide 1 into 16.05, we can invert the P/E ratio to find the forward earnings yield. In this case, it is 6.23%. The Taiwanese 10-year bond yield closed at +0.32% on February 12, 2021, and therefore the spread between 6.23% and 0.32% is not only positive but also relatively wide. If we compare this to a popular U.S. equity tracker, the SPDR S&P 500 Trust ETF (NYSEARCA: SPY) has recently traded at a forward P/E of 21.66, an earnings yield of 4.62%. The 10-year bond yield of the United States has recently edged higher to 1.21%.
Therefore, while the spread between EWT's earnings yield and the Taiwanese 10-year is circa 5.9%, the U.S. comparable is just 3.4% (over 70% wider, in favor of Taiwanese equities). While some geographies trade at lower P/E ratios because of greater non-growth-sector concentrations, Taiwanese equities are actually fairly tech-centric, with an EWT fund concentration in 'Technology' stocks of 64.5% as compared to SPY's 24.78%.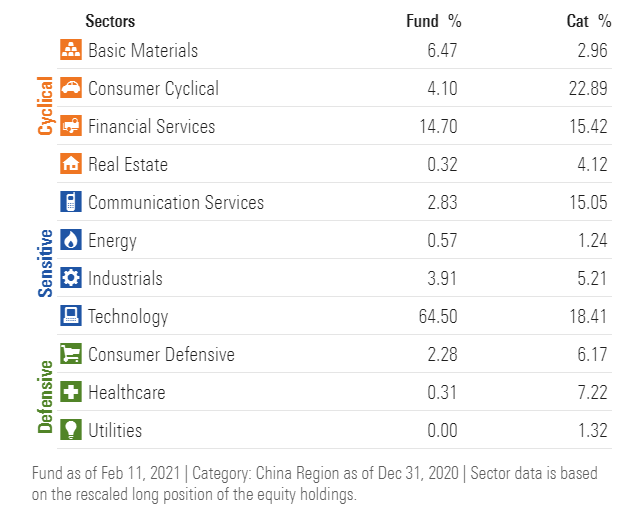 (Source: Morningstar)
The technology sector in Taiwan is strong and certainly helped substantially by the recent shortage of semiconductors. Taiwan Semiconductor Manufacturing Co. (TSM) is one of the global semiconductor industry's behemoths, and the industry itself is somewhat of an oligopoly. Taiwan Semiconductor Manufacturing Company, or TSMC for short, is part of the EWT portfolio and has risen by over 86% since the start of 2020.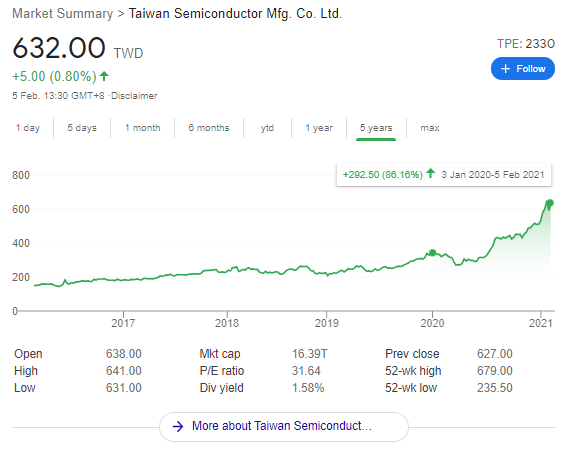 You can read more about what's causing the semiconductor shortage here, but in short (no pun intended), COVID-19 lockdowns sent us all indoors, and we as consumers loaded up on electronics that require semiconductors (microchips that conduct electricity and that practically all modern electronic devices use). Yet modern cars also require semiconductors. Electronics demand ramped up as car production was slashed. Now, as car demand is picking back up, there is a shortage of semiconductors left, and so automotive manufacturers have become price-takers. While a logistical challenge, this has largely been good news for semiconductor manufacturers.
TSMC represents 24.58% of EWT's portfolio. Since the company's position in the industry is likely to remain strong, and since it is unlikely that semiconductors are going to become less important in the world any time soon, this is probably not too much of an issue. However, the size of this holding relative to the overall portfolio is notable and reminds me of Samsung's (OTCPK:SSNLF) concentration in the iShares South Korea fund that I analyzed previously towards the end of 2020. The rest of the fund is diverse, although as mentioned there is certainly a Technology bias, which I would say is a source of strength rather than weakness, or a curse.
What's more, the New Taiwan dollar (the official currency of Taiwan) is probably undervalued. Using The Economist's Big Mac Index, as of January 2021, the Taiwanese dollar is estimated to be 55% undervalued relative to USD, and still, 36% undervalued when we adjust for GDP per capita (a way to account for differences in local consumer purchasing power). In other words, using the largely homogeneous product that is the Big Mac, it would appear that TWD is undervalued relative to USD, as it implies that goods in Taiwan are relatively cheap when priced in domestic currency terms. Weak currencies indicate the potential for arbitrage from an import/export perspective, and the weak TWD shows that TSMC is extremely well-positioned from an FX perspective to quench the thirst for semiconductors across the global automotive sector.
EWT may be priced in USD, but its holdings are domestically listed in TWD terms. If TWD strengthens in the long term (because it is probably undervalued), this will increase the value of EWT's holdings in USD terms. And if TWD does not strengthen, EWT shareholders could still benefit, as it will mean that Taiwanese businesses' exports will continue to look internationally cheap, all else equal, and therefore EWT earnings should find support there. In a perfect scenario (for EWT shareholders, at least) both may occur; strong Taiwanese exports coupled with a rising Taiwanese dollar. This could conceivably happen over the medium- to long-term given the potential level of undervaluation here.
In short, Taiwanese equities continue to look attractive from both an equity valuation and FX perspective. The strong price performance feels a little prohibitive, and yet, if we are to view Taiwanese equities completely rationally, now would not be the time to reallocate elsewhere. Taiwanese equities offer better value than U.S. equities at present, and therefore I believe they do deserve exposure. EWT may also be an attractive way to gain exposure to the semiconductor industry (specifically in TSMC) without the single-stock risk of investing in TSMC only and directly.