Fannie Mae (OTCQB:FNMA) and Freddie Mac (OTCQB:FMCC) are two profitable companies that are retaining earnings on their path out of conservatorship that just put out their annual reports this past week. Last month, two letter agreements were signed between prior Treasury director Steven Mnuchin and FHFA director Mark Calabria (1) (2). These agreements finally put a complete stop to any government cash sweeps that prevented the companies from being able to recapitalize and exit conservatorship. As such, the cash sweep was terminated starting in September of 2019 and completely in January of 2021.
Even though the cash payments are no longer being made, the economics of the net worth sweep that prevents non-governmental equity holders from having any material economic interest in the companies were left in place. This makes the companies uninvestable. At their current rate of earnings and capital level, it would take them over a decade to retain enough earnings for them to exit conservatorship. On top of that, when they do eventually retain enough earnings to trigger an end to conservatorship, their current agreement continues to sweep all of their earnings to the government.
Investment Thesis
Government officials are arguing that the companies are at risk in failing in the next housing crisis until they are able to raise private capital. In Section IX of their most recent letter agreements, Treasury and FHFA have committed to restructure the equity to make this possible as part of the letter agreements. Settling the litigation is a pre-requisite to raising third party capital as part of the letter agreement as part of amended section 5.2. The focus then shifts to Treasury and Janet Yellen's willingness to take the actions necessary to settle the pending litigation. Assuming Treasury writes down the liquidation preference of its senior preferred stock, Fannie and Freddie will be investable and able to move forward and raise third party capital, which is really the goal behind shareholder lawsuits. In this event, preferred most likely get par via conversion and common have some upside. Since FHFA finalized the capital rule junior preferred have significantly underperformed common and I largely expect that is a result of 13 years of conservatorship and the burden of owning the most valuable companies on earth and watching government officials make promises that at first glance this past month fell extremely short of what we were hoping for. Given capitalization and liquidity, this presents an incredible opportunity that I didn't accurately anticipate and so I will not be able to capitalize on this as a buying opportunity and so I will continue to hold a maximum preferred position, worth about half of what it was fairly recently. My pain is your gain if you're considering what to do with an extra dollar.
Fannie Mae Talks About Raising Capital
Fannie Mae held a call to discuss their annual results. There was a lot of discussion around recapitalization and release, emphasis added.
The CEO says he firmly believes recapitalization of Fannie Mae being the best way to protect the taxpayer. He also says that the new amendment provides for the possibility of raising capital and that Fannie Mae cannot be properly capitalized unless they are investible:
CEO Hugh R. Frater
Finally, we began 2021 with Treasury's amendments to the Preferred Stock Purchase Agreement.

I firmly believe that a responsible exit from conservatorship and a recapitalization of Fannie Mae is the best way to support our mission to serve America's housing needs for future generations, while protecting the taxpayer and creating a substantial layer of loss-absorbing capital.

The amended agreement continues us down that path. It allows us to continue to grow our capital through retained earnings and it provides for the possibility of raising private capital. And it creates a potential path to responsibly exit conservatorship when we achieve certain levels of capitalization, while also providing optionality for policymakers on the path forward.

For our part, we recognize that safety and soundness, including a strong capital base, is critical to our future as an independent, mission-driven commercial enterprise. While we put our mission first, we cannot fulfill that mission through market cycles unless we are safe and sound and properly capitalized, and we cannot be properly capitalized unless we are investable and can attract risk capital from the private sector.

We continue to believe that a Fannie Mae that is reformed, well-regulated, well-capitalized, and out of conservatorship will best serve the needs and interests of our nation's housing markets and our housing mission. It will help us ensure stability and a steady supply of liquidity through all market cycles. And just as importantly, it will help us deliver more dynamic and innovative solutions to expand housing opportunity, address racial disparities, and help manage and mitigate the growing risks from climate change.
This makes it pretty clear that Fannie Mae is looking to become investable so that it can protect taxpayers by raising private capital. After the CEO spoke, he handed it off to the CFO who followed suit to explain the details.
CFO Celeste Mellet Brown
The CFO is excited about the new PSPA because it allows for the retention of enough capital to exit conservatorship as well as provides a pathway to finally exiting conservatorship, emphasis added.
Turning to Capital, FHFA recently issued its final capital rule. Compared with the conservatorship capital measures established in 2018, the final rule has higher buffer requirements, counter cyclical requirements, risk weight force and reduced relief from CRT. All of this will result in a material increase in our capital requirements. While our net worth at year end was $25.3 billion, the estimated total capital requirement under the new rule would have been approximately $185 billion, including $135 billion in Common Equity Tier 1 or CET1 capital.

As I noted before, the amended PSPA offers a path to exiting conservatorship once our CET1 reaches 3% of Adjusted Total Assets, which we estimate would have required CET1 of $124 billion at year end. The amendment allows us to continue to retain capital and promote – permits our raising external capital in the future if certain conditions are met. We are evaluating how to best meet our capital requirements in a prudent manner.

...

We are also excited about the changes that the new PSPA amendment will allow.
Seeing management share a similar perspective as I do on the PSPA amendment is a good thing. To them, it would appear that the words have the same meaning to them as they do to me. The CEO specifically says that they cannot be properly capitalized unless they are investable and that being recapitalized is the best way to protect taxpayers.
Freddie Mac - Prepared For Transition Out Of Conservatorship
In Freddie Mac's Annual 10-K, FHFA says that Freddie Mac achieved all its goals to prepare for a transition out of conservatorship:

The elements of this goal were itemized elsewhere in the annual report: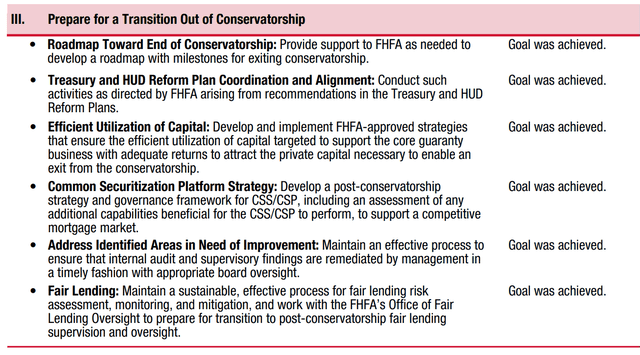 Just because Freddie Mac is prepared to exit conservatorship does NOT mean that Treasury and FHFA will let them out of conservatorship just yet. Treasury is currently preventing this by restricting their access to capital markets where they would have to raise third party capital to be able to exit conservatorship this decade.
Mark Calabria - The Named Defendant
When Mnuchin and Trump chose a co-author of HERA 2008 Mark Calabria to head FHFA they enabled the courts to cite a named defendant multiple times in favor of plaintiffs thereby incriminating the government for violating the law the named defendant drafted. In the shareholder lawsuit that is now being reviewed by the supreme court, Mark Calabria is a named defendant: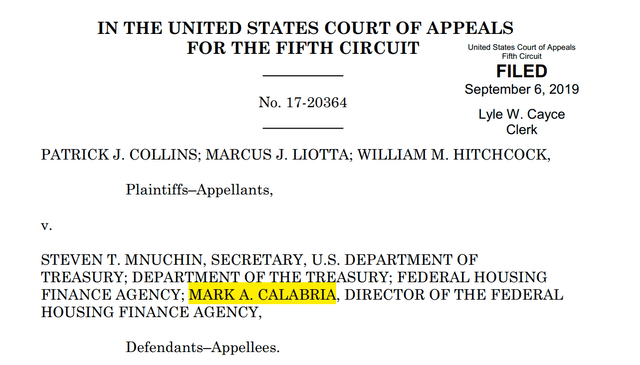 On pages 16, 36 and 40 of this en banc legal opinion he is cited in favor of plaintiffs in his paper that earned him his post at FHFA entitled: "The Conservatorships of Fannie Mae and Freddie Mac: Actions Violate HERA and Established Insolvency Principles."
It would seem that it may have taken Calabria becoming director of FHFA for the correct legal interpretation of HERA to begin prevailing in courts with emphasis on his direct utility in being cited by the judge's opinion to cement their argument in favor of the rule of law. The outstanding problem is that this ruling was the first of its kind and so the way the court system works is that when there is a conflict between circuit court rulings, the Supreme Court can choose to step in, as it has in this case, and establish across all circuits the prevailing approach that they all should use to interpret the law (HERA 2008).
In addition to having written papers in favor of shareholders that earned him his post at FHFA that have subsequently been used to rule in favor of shareholders, Mark Calabria is also aligned with the CEO of Fannie Mae in this most recent quarterly conference call. Mark Calabria has argued that Fannie and Freddie to be able to raise private capital in order to protect taxpayers:
Until the Enterprises can raise private capital, they are at risk of failing in the next housing crisis.
The time to raise third party capital is when the sun is shining. The way the companies are currently structured prevents the companies from being investable.
SCOTUS Ruling May-July
Shareholder plaintiffs won on their APA claims in the en banc that is being appealed to the Supreme Court. If the shareholder plaintiffs win on the APA claims at the Supreme Court, then the government will be faced with a choice of whether to settle the lawsuits by writing down the liquidation preference of the senior preferred or to keep fighting. In the past this was a much easier choice to make because the government was paying for its lawsuits out of net worth sweep money that it was taking. Since September of 2019, however, the government no longer is able to pay for its legal defense out of money that it is taking from Fannie and Freddie.
Assuming in a few months we have a SCOTUS ruling in favor of plaintiffs that a conservator can only take such actions that preserve and conserve, the government would then be fighting a losing battle over its profit sweep. While they are free to continue fighting, all they would really be doing is preventing Fannie and Freddie from being able to raise capital for a few more years while the lawsuits progress through the legal system and possibly result in significant legal rulings that result in major losses for Treasury that are otherwise avoidable via settlement. Without a settlement that would make Fannie and Freddie investable, taxpayers would continue to be at risk if there would be a housing downturn.
Taxpayers are at risk now and not for any particular good reason either. That's why I see this SCOTUS ruling as one having more political ramification than legal. It paves the way to allowing Janet Yellen to justify settling the pending litigation whereas it is generally reasonable to doubt that she does before the SCOTUS ruling for political reasons, but who knows.
Final Capital Rule - Effective This Week
FHFA's final capital rule that determines how much capital Fannie and Freddie need to be considered adequately capitalized becomes effective February 16, 2021: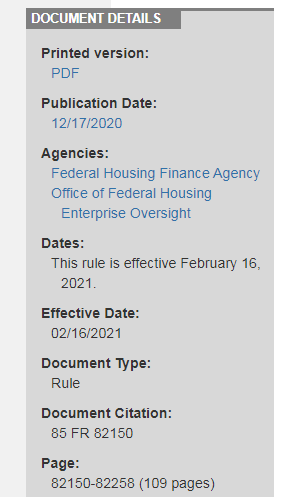 I don't expect this to lead to imminent settlement talks between Treasury and shareholders in an effort to raise capital and meet these capital requirements, but it is nice to have the goal posts firmly in place. Note that section 5.15 of the PSPA prevents Treasury and FHFA from moving these goal posts as part of the recapitalization process.
Summary And Conclusion
Being a shareholder has been painful during a time when FHFA and Treasury have made significant progress towards getting Fannie and Freddie out of conservatorship via recapitalization. I own preferred shares only. In order for JP Morgan and Morgan Stanley to make money underwriting the equity offerings that they were hired to help facilitate for Fannie Mae and Freddie Mac, the companies need to be restructured and the litigation settled. More important than the SCOTUS ruling is the contract claims that were remanded to Judge Lamberth's court room, where the government originally won on Mario Ugoletti's sworn affidavit but now is losing. In addition, if the court system doesn't want to correctly interpret the APA claims, this becomes a takings case and there are legal cases moving forward in the court of federal claims.
As such, the patchwork of legal cases brought by plaintiffs makes it impossible for Fannie and Freddie to raise money without the government working with shareholders to restructure its equity. The only question is one of timeline. Given that the preferred trade at less than 20 cents on the dollar, you would think that it would be another 10 years before the equity is restructured, but I think that the equity restructuring is likely this year because fighting a losing fight from the government's perspective after a potential summer SCOTUS loss seems like a bad idea. Remember that the net worth sweep was put into place because there was money to take out of Fannie and Freddie. That's no longer the case here. There has not been any money coming out of Fannie and Freddie for over a year and the only way for the government to get any money out of Fannie and Freddie is to restructure its equity. Otherwise it is just left paying legal expenses to defend against its net worth sweep that no longer really is generating any value. To me, without the cash sweep, there really isn't anything worth fighting for unless you just like to fight, but I'm not the government.