This article was originally published on 30-Jan.
Tax-exempt municipal bonds are a key component of many income portfolios. In this article, we take a look at this CEF sector, with a particular focus across the two key allocation dimensions of duration and credit risk. We also highlight a number of funds that continue to look attractive in the space:
A Broader Picture
The tax-exempt sector remains appealing for a number of reasons, one of them being that it has proved to be pretty resilient over the past year with one of the highest returns in the fixed-income CEF space.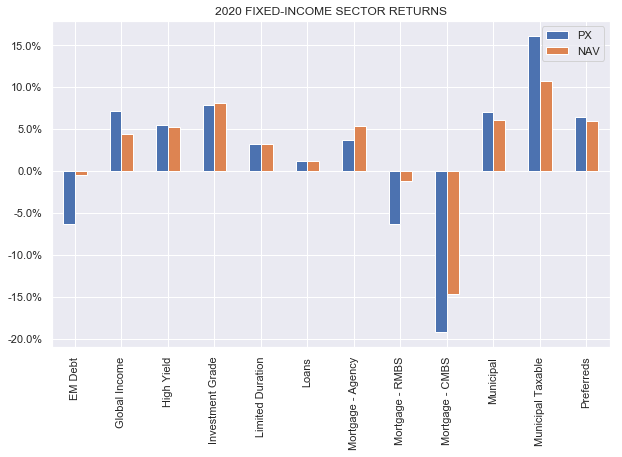 Source: Systematic Income
This relative resilience of the sector also was on view on Jan. 27 when the S&P 500 fell nearly 2.5%. Muni NAVs rallied on lower risk-free rates while discounts widened only marginally. Of course, for a massive drawdown in stocks, muni sectors are not going to be as resilient but for fairly small bumps in risk appetite they can provide some ballast to income portfolios.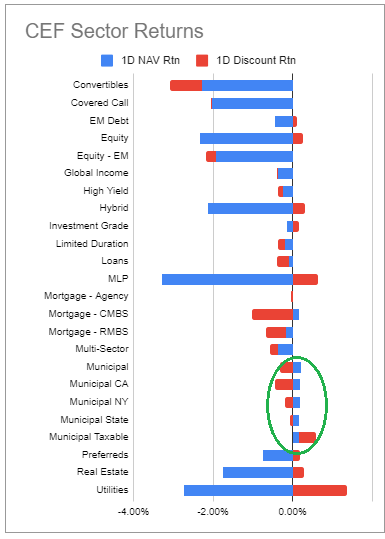 Source: Systematic Income
So far in 2021 the muni sectors put in a respectable showing despite the headwind of higher risk-free rates. Interestingly, the sectors outperformed preferreds despite the higher duration of muni fund portfolios.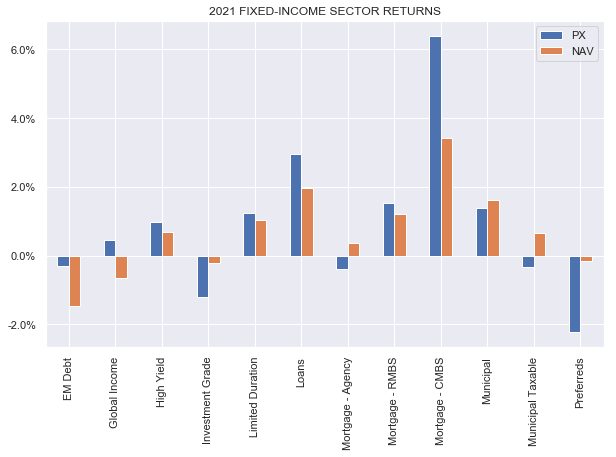 Source: Systematic Income
Policy looks to be broadly supportive of the sector in the medium term. If we do see higher marginal income and corporate tax rates, they are likely to be helpful to municipal bonds. Separately, an additional fiscal package, particularly, if it has direct assistance to municipalities, will provide another tailwind. The recent $910bn fiscal support package provides indirect aid to municipalities via sales tax stability, grants to education institutions as well as mass transit.
The fundamental outlook for states has proven to be much better than expected with Moody's revising down their local government shortfalls. For instance, Connecticut, which projected a $2bn 2021 deficit, is now projecting a $70m surplus. On average, municipal government tax receipts declined only about 1% on average in 2020, according to Nuveen.
In terms of valuation, the sector discount has retraced most of the widening we saw in 2020 and is close to the early-2020 tights. Over the longer term the sector discount is, roughly, in the middle part of its range.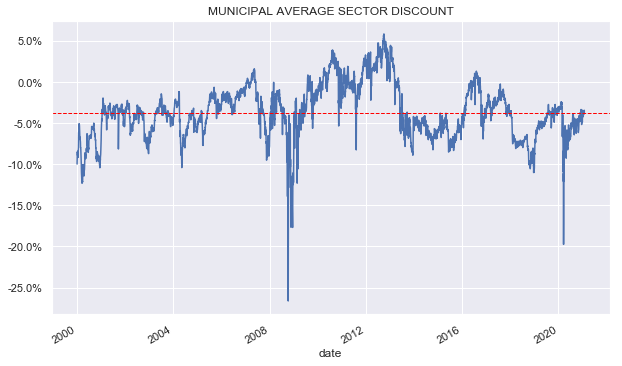 Source: Systematic Income
One obvious question for investors who like to allocate across different CEF sectors with a value perspective in mind is whether the tax-exempt sector valuation is attractive or not.
There are different ways to approach this question. One obvious way is to simply use the chart above as a guide. The basic conclusion from the chart is that tax-exempt national CEF discounts look to be roughly in the middle of their 20-year history so they're fairly valued.
Another approach takes a different tack. Muni CEF discounts don't exist in isolation but are related to other financial assets and market variables. This means we can build a fair-value model that takes these other market variables and compares it to the sector discount. If we use Treasury yield realized volatility, the VIX, five-year inflation breakevens, 10-year real rate and the 10-year Treasury term premium, all of which are highly statistically significant in relation to the tax-exempt CEF sector discount, we come up with something like the following chart.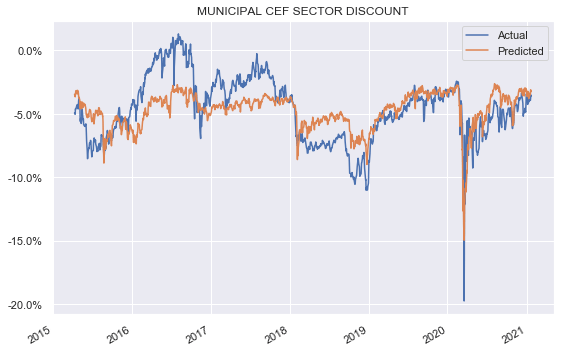 Source: Systematic Income
This chart is interesting because it shows us whether the tax-exempt sector discounts are cheap or expensive relative to other important market variables. The chart reveals a number of historic divergences between this fair value and the actual sector discount. At the moment, the sector appears to be fair valued according to this model as well.
Another approach to the question of whether the sector's valuation is attractive or not is to simply compare it to other CEF sectors. We can do this in both absolute (actual discounts - y-axis) and relative (discount percentiles - x-axis) terms. A low discount percentile means the sector's current discount is on the wider side of its five-year history. Using these metrics, sectors on the lower left i.e. those having both wide discounts and low discount percentiles are "cheap" and vice versa. By this metric, the national tax-exempt sector is not particularly cheap or expensive, the taxable muni sector looks quite rich and the state tax-exempt sectors look on the cheaper side.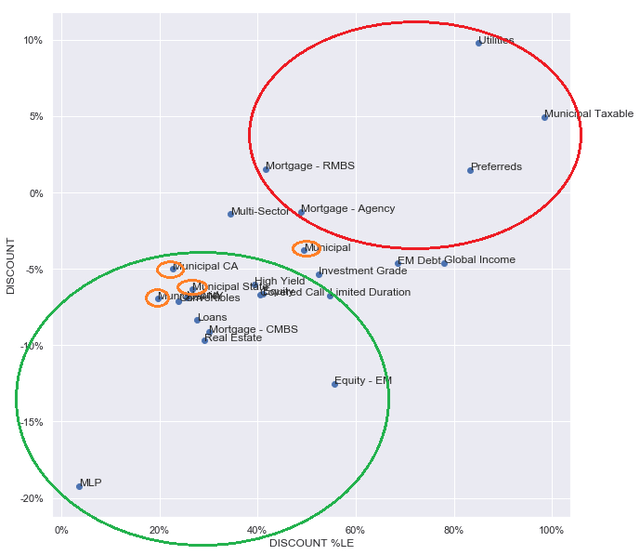 Source: Systematic Income
Another perspective on muni fund valuations is to combine underlying municipal bond valuations alongside CEF discount valuations. We can do this by looking at the history of muni yield-to-worst differential over roughly duration-matched Treasury yields on the x-axis in the chart below and the average tax-exempt sector discount on the y-axis with the top-left quadrant (circled in red) being least attractive with tight credit spread differential and tight discounts over the last three years. The current month is marked with a red dot - and it looks fairly rich across both bond valuations and CEF discounts, at least on a three-year basis.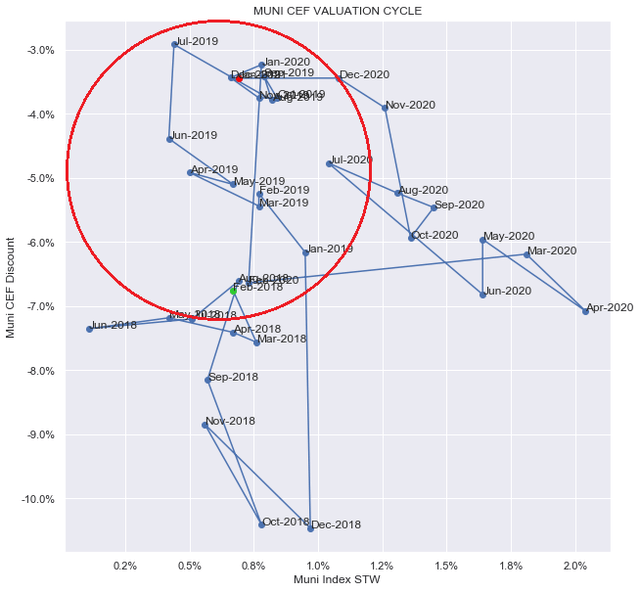 Source: Systematic Income
What's interesting, however, is if we look at the high-yield / unrated sub-sector the picture is more promising. Here, there's still value in both discounts and underlying bond valuations. Of course, this could be because investors perceive this sub-sector to carry more risk in the current moment but from a relative yield perspective investors are getting paid more today in this sub-sector relative to its three-year history.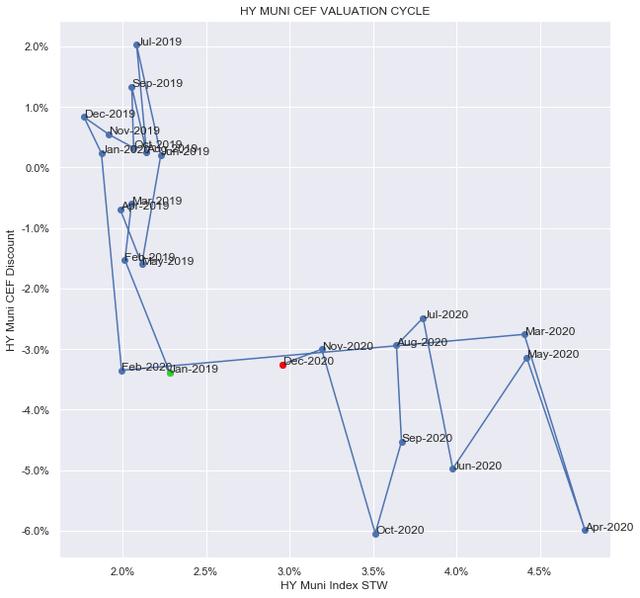 Source: Systematic Income
What all of this tells us is the following. Broadly speaking, the national tax-exempt CEF space is no longer cheap, either across underlying bond valuations or CEF discounts. Pockets of tax-exempt space that look more attractively-valued are the high-yield sub-sector (across both bond and CEF discount valuations) as well as state-focused funds in terms of CEF discount valuations.
Key Allocation Decisions For Investors
When making allocation decisions within the tax-exempt sector investors are making explicit or implicit decisions across a number of key market variables.
The first one is duration. Tax-exempt CEFs tend to vary in their duration of between 6 and 12 with the average being 9.2, according to our CEF Tool. That figure is, very likely, the highest duration across all CEF sectors. And with many interest rate forecasts pointing to higher rates, investors may be understandably concerned with this kind of exposure.
Our own view is that higher interest rates, as always, is a serious concern. However, investors also are compensated for this risk in various ways. First, and most obviously, investors earn longer-end rates through their tax-exempt allocations and these are still well off zero. Secondly, the yield curve is fairly steep by historic standards which generates a tailwind that is commonly referred to as yield curve "rolldown." And thirdly, long duration exposure provides a tailwind in case of a macro shock that causes rates to move lower - exactly what we saw over the last several risk-off episodes in markets.
In our own Muni Income Portfolio we have two strategies to address duration risk. First is a defensive holding in a number of open-end funds with relatively low duration.
The second strategy to address duration risk is, perhaps counter intuitively, an allocation to long-duration high-yield focused CEFs. These funds tend to hold bonds with wider credit spreads and, because credit spreads typically tighten when interest rates move up, these funds will often perform well during episodes of rising rates. The chart below shows the NAV performance of the national tax-exempt CEF sector from the start of the year until the 12th of January when 10-year Treasury yields rose 0.23%. The chart clearly shows that high-yield focused funds, which are marked with a red star, outperformed the sector.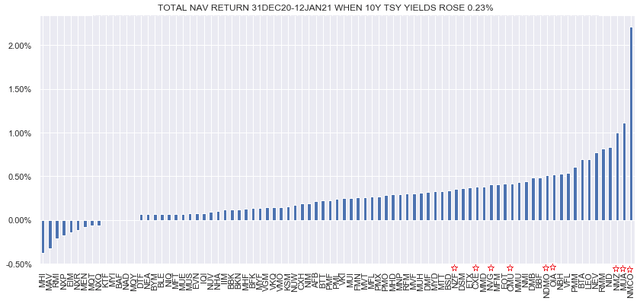 Source: Systematic Income
The second key factor for investors is where to allocate along the credit dimension. We have recently updated the credit rating profile of the entire national tax-exempt sector on the CEF Tool. The average investment-grade allocation is 79% with the lowest being 19% and the highest 98%.

Source: Systematic Income CEF Tool
In terms of relative valuation between investment-grade and high-yield tax-exempt sub-sectors, the yield differential between the two has continued to fall after widening from 2% to more than 3.5%. We fully expect the yield differential to continue to compress as the economy continues to recover. It may not seem realistic for the yield differential to compress all the way back to just below 2% given the added stress on project bonds from a sharp drop in revenues, however, this misses the point that overall yields are much lower as well so the yield differential between the two sub-sectors should fall below its early-2020 level.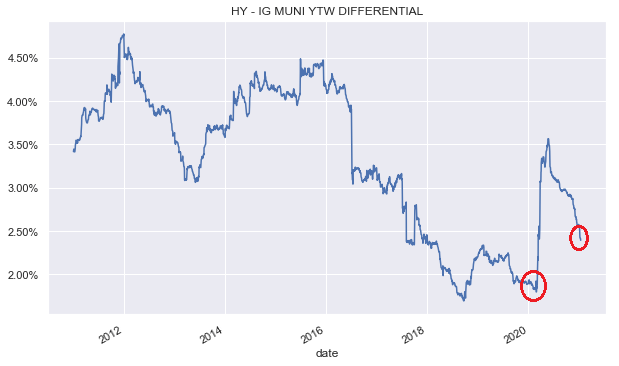 Source: Systematic Income
We have been overweight high-yield focused tax-exempt funds since the inception of our Income Portfolios and they have outperformed investment-grade-focused CEFs, particularly, over the last few months.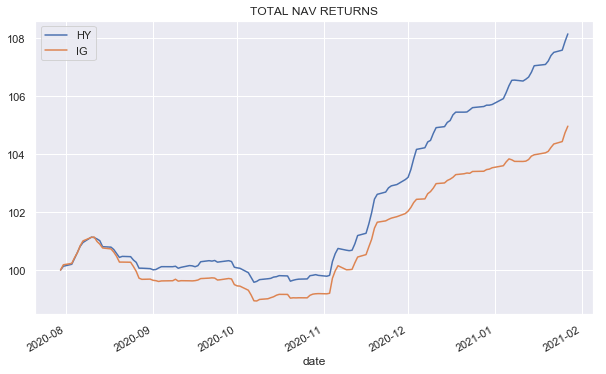 Source: Systematic Income
Our top holdings since portfolio inception in August of last year have been in the MFS High Yield Municipal Trust (CMU) and NMCO which reflected the strength in the high-yield / unrated focused sub-sector. The chart below shows the NAV return of all national tax-exempt CEFs since mid-August when our portfolios were set up with CMU and NMCO highlighted.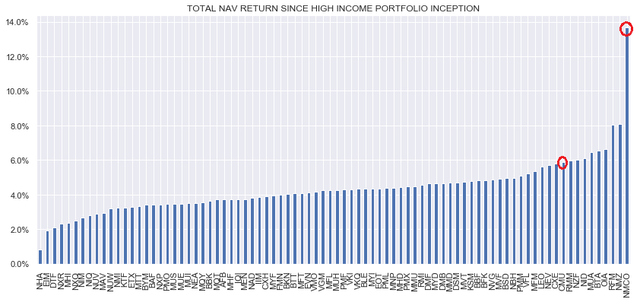 Source: Systematic Income
Another factor to consider for investors is the funds' call exposure. We don't put a ton of focus on this metric for two reasons. First, many high-yield / unrated bonds are not trading much above par, according to Nuveen figures, so the drop in bond coupons from issuer refinancing is unlikely to cause a significant drag on income. And secondly, fund managers are well aware of the call exposure of their portfolios and balance total return against income, both of which are important for supporting sustainable distributions. That said, the average tax-exempt CEF has about 8% of its portfolio at risk for redemption over the coming year, according to our CEF Tool.

Source: Systematic Income CEF Tool
Sector Views
We have recently updated our CEF rating methodology, putting more emphasis on longer-term historic returns alongside other key metrics such as discount valuation, fee levels, risk metrics and other key pieces of information.
On the higher-quality side of the spectrum two funds that should appeal to total-return focused investors are the BlackRock Municipal 2030 Target Term Trust (BTT) and the Eaton Vance Municipal Income Trust (EVN), both of which have our highest ratings in the sector.
Both funds have generated exceptional returns over the last five years in NAV terms, of 5.9% and 6.4% per annum versus 5.1% sector average. The performance does not look like a one-off flash-in-the-pan. One metric we use to gauge fund returns is the percentage of years that the fund's NAV has outperformed the sector - the metric is 67% and 72%, respectively which is on the very high end of the sector. It shows that the funds' returns have not just been strong but they also have been consistently strong.
Part of the reason for this performance is that the funds' management fees are well below the sector average which allows the funds to outperform without taking on additional risk. The NAV drawdowns of the two funds are in line with the sector average of 19% this year though the NAV volatility is somewhat elevated.
For investors who prize not just gross NAV returns but the stability of the fund's NAV, both funds have increased their NAV by double-digits in total versus 6% for the broader sector.
The two funds don't have exceptional distribution rates at 2.89% and 4.24% respectively, but their coverage is strong, particularly for BTT, and the normalized UNII trajectory is on the upswing as well.

Source: Systematic Income CEF Tool
In terms of discount valuation the funds have clawed back the widening in the discounts in 2020 but are still trading off their five-year tights.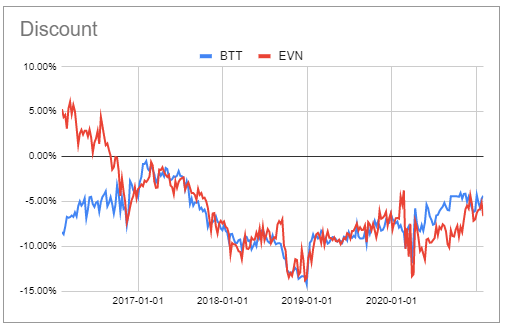 Source: Systematic Income CEF Tool
When viewed with the perspective of the broader sector the funds don't seem particularly cheap in discount terms. Their discounts (y-axis) are slightly below the sector average but their discount sector spread percentiles (a measure of historic relative valuation versus the sector) is fair or on the expensive side. Our own view here is that the funds' relatively wide discounts are driven by their uninspiring distribution rates and that, on a fair-value basis, their discounts remain very appealing due to the funds' very low management fees and, in fact, should be trading tighter to the sector average, rather than wider.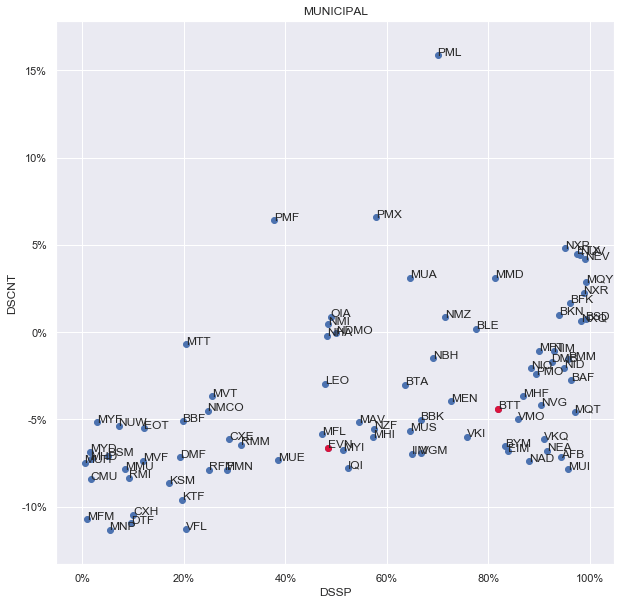 Source: Systematic Income CEF Tool
On the high-yield side of the sector, we continue to like the Nuveen Municipal Credit Opportunities Fund (NMCO) as a more of a pure-play high-yield sub-sector fund as well as the Nuveen Municipal Credit Income Fund (NZF) with a 38% sub-investment-grade and unrated bucket.
NMCO remains a higher-octane option for investors willing to tolerate a bit more risk. The fund did have to deleverage significantly earlier in 2020 due to its elevated leverage and the sell-off in high-yield munis so it continues to carry additional risk. Its discount also has compressed from near double-digit levels to 4.5%, retracing its weakness relative to the sector. Although the fund has hugely outperformed the sector already it still offers value, based on our view that underlying high-yield tax-exempt bond valuations remain attractive and that the fund's discount is likely to tighten relative to the sector, reflecting the fund's very high distribution rate - among the highest in the sector.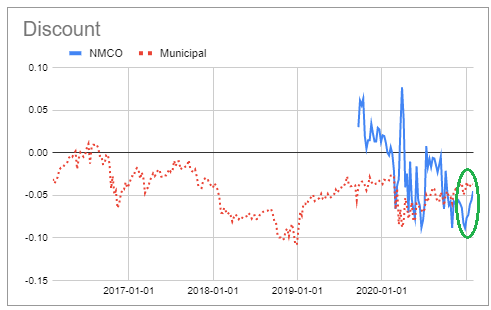 Source: Systematic Income CEF Tool
NZF is a lower-octane way to play the high-yield sub-sector. Despite the underperformance of high-yield munis over the past year, the fund managed to outperform the sector in NAV terms over this time frame. Over the past five years the fund delivered much stronger performance, beating the sector by 1.4% per annum in NAV terms. NZF continues to trade at a wider discount to the sector despite its much higher distribution rate, a management fee that is only marginally higher than the sector average and strong alpha - or risk-adjusted sector performance.
The coverage and normalized UNII figures look very good for both funds.

Source: Systematic Income CEF Tool
Takeaways
The tax-exempt sector has come back a long way and then some after a sharp drawdown in 2020. Investors who are looking to allocate capital to the sector should consider the two key dimensions of risk: Duration and credit. For investors looking to manage duration risk, a barbell allocation to shorter duration as well as wider credit spread funds makes sense in our view as both can handle rising rates relatively well. On the credit front, we still find value in lower rated bonds in terms of both underlying bond valuations as well as fund discounts.
If you enjoyed this article, click Follow at the top of the page to make sure you get all of our timely updates and blog posts.