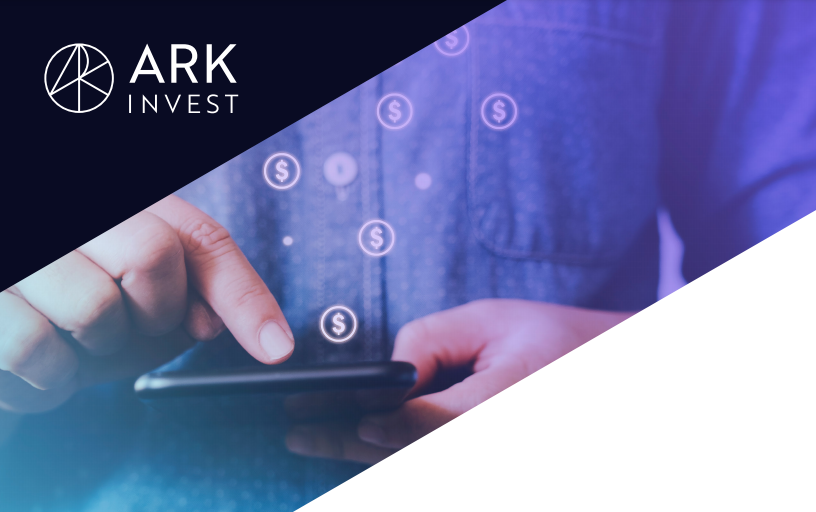 Investment Thesis
All five of the actively managed ARK ETFs have performed at a torrid pace over the past year, with total returns ranging from 134.5% from the ARK Fintech Innovation ETF (NYSEARCA:ARKF) all the way up to the ARK Genomic Revolution ETF (ARKG) returning 210.1%. While I have been bullish on ARK since I was turned on to the family of funds, and have expressed that on Seeking Alpha previously in regards to ARKG both in September and again just this month, I feel that ARKF may provide the better opportunity based on current price and potential for thematic growth.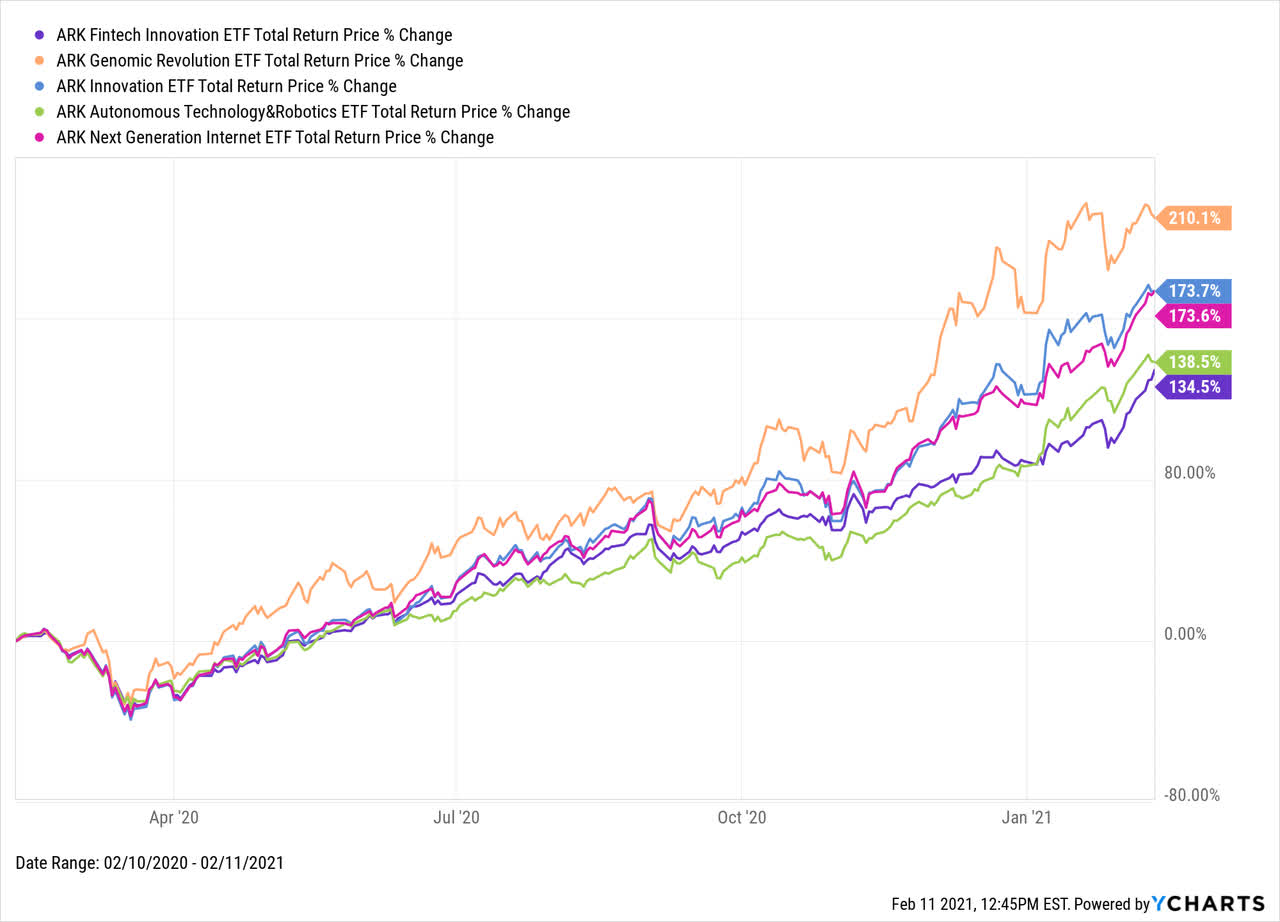 Source: Ycharts
In my last discussion of ARKG, I concluded that the high price now was making me hesitant to add large purchases and drive my cost basis per share up, making for an interesting battle between my sensibilities and my fear of missing out. In the case of ARKF, I don't need to have that battle to nearly the same degree because I see large amount of growth that is not yet reflected in the price. The growth potential in digital wallets and Bitcoin (BTC-USD) as an institutional investment are laying the groundwork, in my opinion, for a price explosion on par with, or greater than that of ARKG over the past 12 months. Of course, many things need to go right for this to happen, not least of which is the projections becoming reality and the fund managers being on point with both their investment choices and their timing. On the second point, I have little worry, as Cathie Wood and the ARK team don't seem to miss often. On the first point, I am less certain, but will refer to the expertise in the ARK team again and trust in that the track record they have amassed was not by luck.
Another factor that makes ARKF attractive, extremely attractive in fact, is that it has beaten comparable ETFs focused on FinTech consistently since inception. Beaten them handily to be precise. If you are sold on the upside potential of FinTech as an investment, and I certainly am, there are several options to choose from for deploying your investable dollars, but what we will see here is that none are able to match the returns that the active management offered by the impressive ARK team has been able to provide.
ARKF Provides The Lowest Point Of Entry, Per Share, Into The ARK Actively Managed ETFs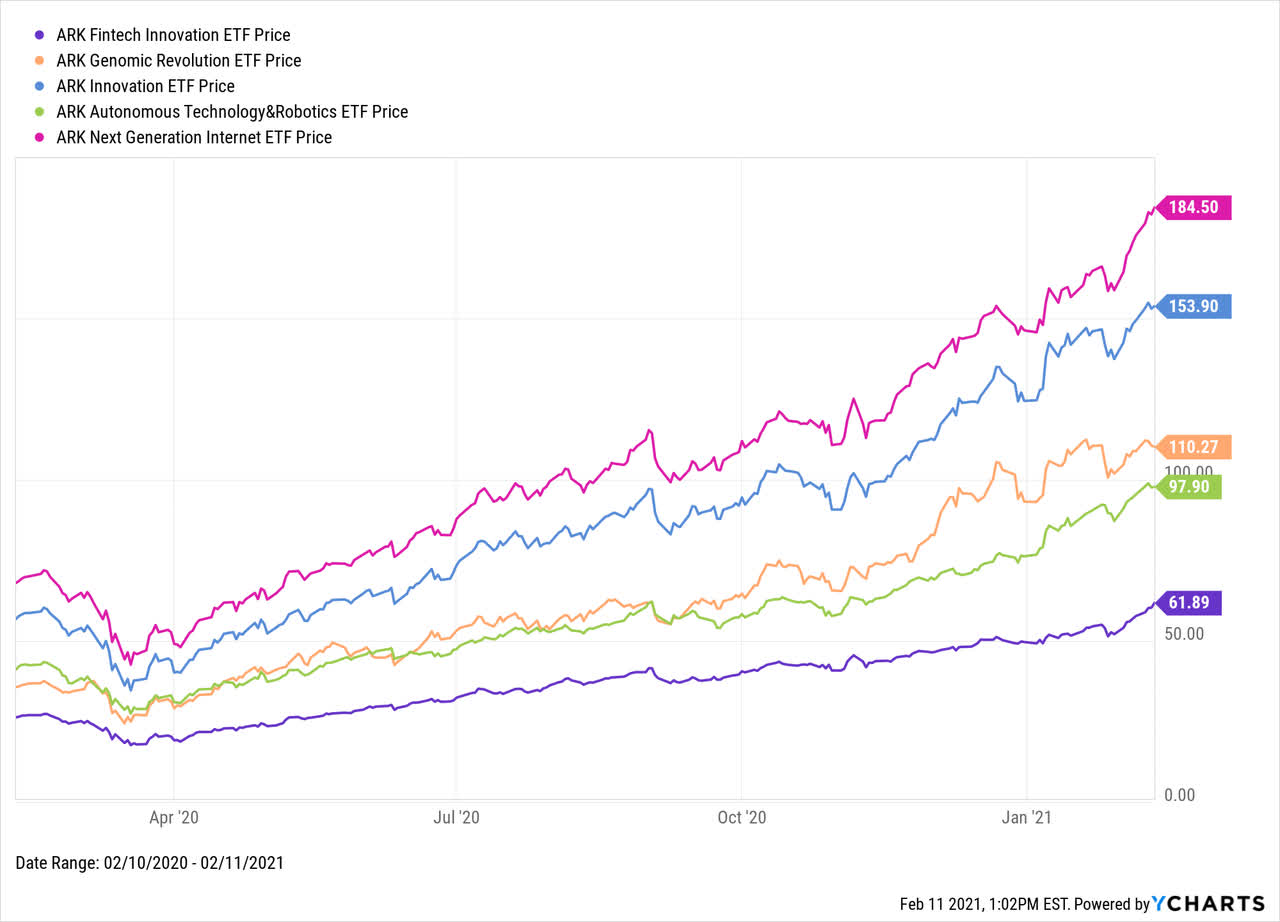 Source: Ycharts
Above we can see that ARKF, at $61.89 is almost 30% less expensive than the next lowest point of entry into the ARK family of actively managed funds, ARK Autonomous Technology & Robotics ETF (ARKQ) at $97.90. I am of the opinion that this is due in large part to it being the newest offering and not having grown into a proper valuation yet. ARKG and genetic and healthcare innovation was forced to the forefront this past year in part because of the coronavirus pandemic shifting attention onto all manner of vaccine and therapeutic manufacturers, and any company engaged in driving health through medicine and medical innovation. FinTech received a bit less attention, while still having a strong year for adoption of digital wallets and frictionless lending, aided by people having to stay at home and begin to shop in a contactless way.
ARKF also gets significantly less attention than most of the other funds in the ARK family. Using the Seeking Alpha follower metrics as a quick and easy benchmark shows that ARKF likely has less investor attention than other funds. ARKF currently enjoys about 19.5K followers on the platform, as opposed to ARKG and its 35K or ARK's largest fund, ARK Innovation ETF (ARKK) with 51.76K followers. While Seeking Alpha is not necessarily the be all end all when it comes to investor interest, I do think it provides a good gauge, but to further illustrate the point below are Google Trend results for those three ARK funds, and it is clear that ARKF enjoys the most anonymity of the three, for now.

Source: Google Trends
FinTech Geared ETFs Are Set Up For Potential Outsized Growth
Opportunity in Digital Wallets
The global lockdowns of 2020, and now into 2021, have vastly accelerated several large-scale shifts that were already under way. Work from home is probably the first to come to mind for most people, and second is likely e-commerce. With the rise in e-commerce has come an acceleration in the acceptance and use of digital wallets. The forward-thinking research team at ARK believes, and I am inclined to agree based on the following information, that we are unlikely to go backwards on this trend, and it is likely to continue to roll downhill like a snowball and build fast.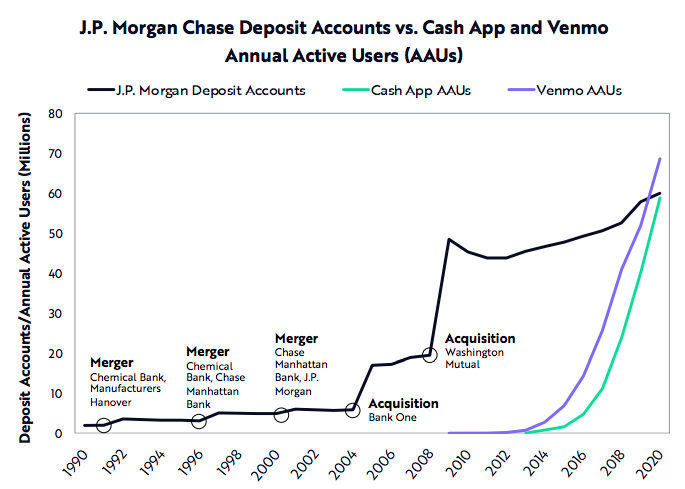 Source: Ark-Invest.com
The leading digital wallets in the US are Cash App, from Square, Inc. (SQ) and Venmo, from PayPal Holdings, Inc. (PYPL). Both have been recording near vertical increases in annual active users (AAUs) over the past 7-10 years. Venmo has reached a point where it has more AAUs (69 million), the JP Morgan Chase & Co. (JPM) (60 million) and Cash App (59 million and counting) are firmly on course to do the same. The chart above shows the lightning speed at which both digital wallets have added AAUs, as well as the different drivers for growth, as JPM has used mergers and acquisitions as a tool to grow AAUs as a steady build up since 1990 to approximately 60 million AAUs. Conversely, the drive to, and above, 60 million AAUs for the digital entrants has been organic growth in less than one-third of the time. At some point, the growth will begin to level off, and then stop, but they may have to run out of people first.
Part of what helps to drive the organic growth in digital wallets is the significantly lower customer acquisition cost (CAC) compared to other financial platforms.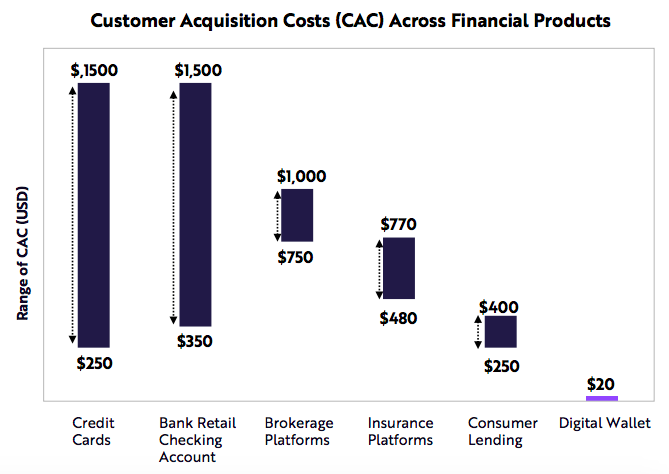 Source: Ark-Invest.com
CAC of bringing a new customer to a digital wallet costs only $20. Compared to the CAC for a bank to bring a new customer to a retail checking account of between $350 and $1500, we are looking at a cost to the traditional bank of 17.5-75 times more. It is a similar case with the CAC for credit card customers, ranging between $250 and $1500. Favorable cost structures, combined with the peer-to-peer nature of digital wallets provide a massive advantage to companies like Venmo and PayPal, getting them significantly more bang for the buck, so to speak.
The future, and likely near future at that, of digital wallets is very likely to go beyond a simple peer-to-peer payment application, or even a credit and savings vehicle. The rise of online brokerages like Robinhood, frictionless funding opportunities, and insurance offerings from less traditionally structured insurance companies provide the opportunity for digital wallets to become a one stop financial dashboard for users, encompassing all of these financial products.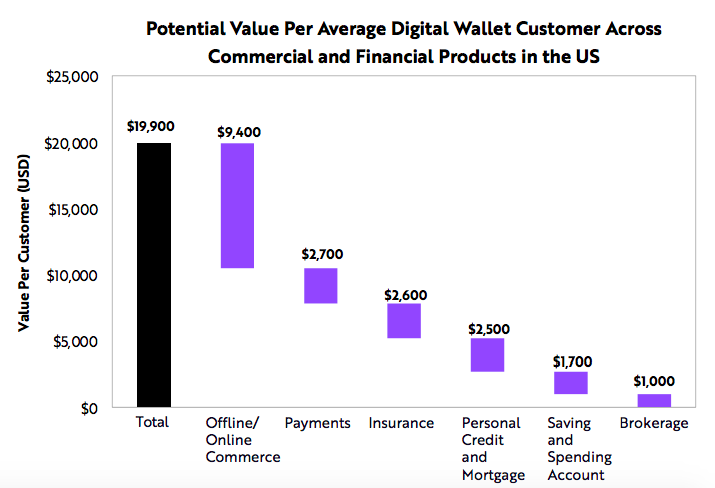 Source: Ark-Invest.com
ARK estimates that these financial products' net present value total over $10,000, with a commerce component (both online and offline) potentially adding another $9,000+ dollars to the total net present values of revenues. That puts an average digital wallet customer's potential value at almost $20,000. When zooming out only a few years, to 2025, and multiplying that potential average value by the estimated number of digital wallet users in the US by that time, the total value of the opportunity is immense. The math puts it at $4.6 trillion dollars. Staggering.
Bitcoin As A Balance Sheet Cash Alternative
SQ has a balance sheet investment in Bitcoin, and just this week Tesla, Inc. (TSLA) let it be known in a SEC filing that it had purchased $1.5B in Bitcoin, which is the first step to accepting payments for cars in the cryptocurrency. This opens up the very real possibility that we are moving towards a world where S&P 500 companies have a cash allocation on their balance sheets.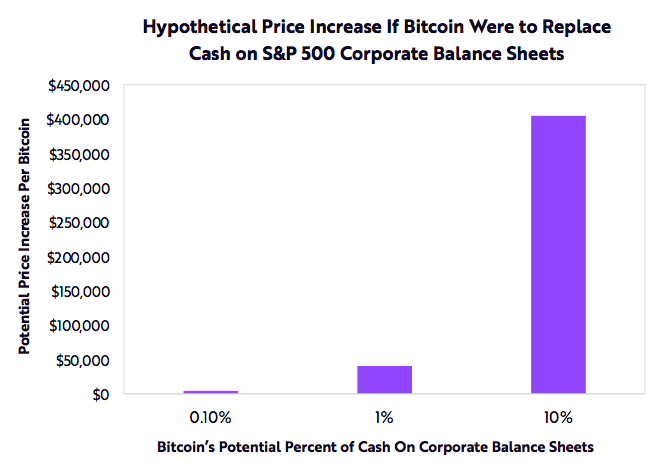 Source: Ark-Invest.com
The price of Bitcoin has been fluctuating, but for has been more or less soaring since December. Based on the constant and sometimes large changes, I am sure that this number will change, and potentially a great deal in either direction before this article makes it to your screen, but right now, Seeking Alpha is telling me that BTC-USD is at $47,171.21. According to what ARK estimates, if all S&P 500 companies allocated just 1% of their cash to Bitcoin, the price would potentially move up $40,000, which is in the 85% neighborhood. It's probably unlikely this would happen at all with S&P 500 companies in a short time, or at all, but if companies like TSLA and Amazon (AMZN) or SQ leaned in at rates higher than 1%, it could be a possibility that the absolute dollars being held on balance sheets in Bitcoin could be enough to drive a delta in that amount. Obviously, this would have huge implications for any fund or individual invested in Bitcoin and supporting technologies prior to that.
Diversity And Flexibility Have ARKF Positioned To Optimize Growth
ARKF covers several different business platforms that the fund invests and the ones listed on the ARKF website are transaction innovation, blockchain technology, risk transformation, frictionless funding platforms, customer facing platforms and new intermediaries, though the fund is not restricted or limited to these platforms. As of December 31, 2020, the portfolio exposure breakdown by elements was reported as below: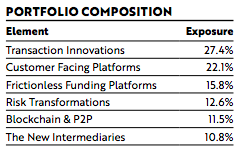 Source: ARK-funds.com
The Top 10 Holdings stood as below on 2/10/2021: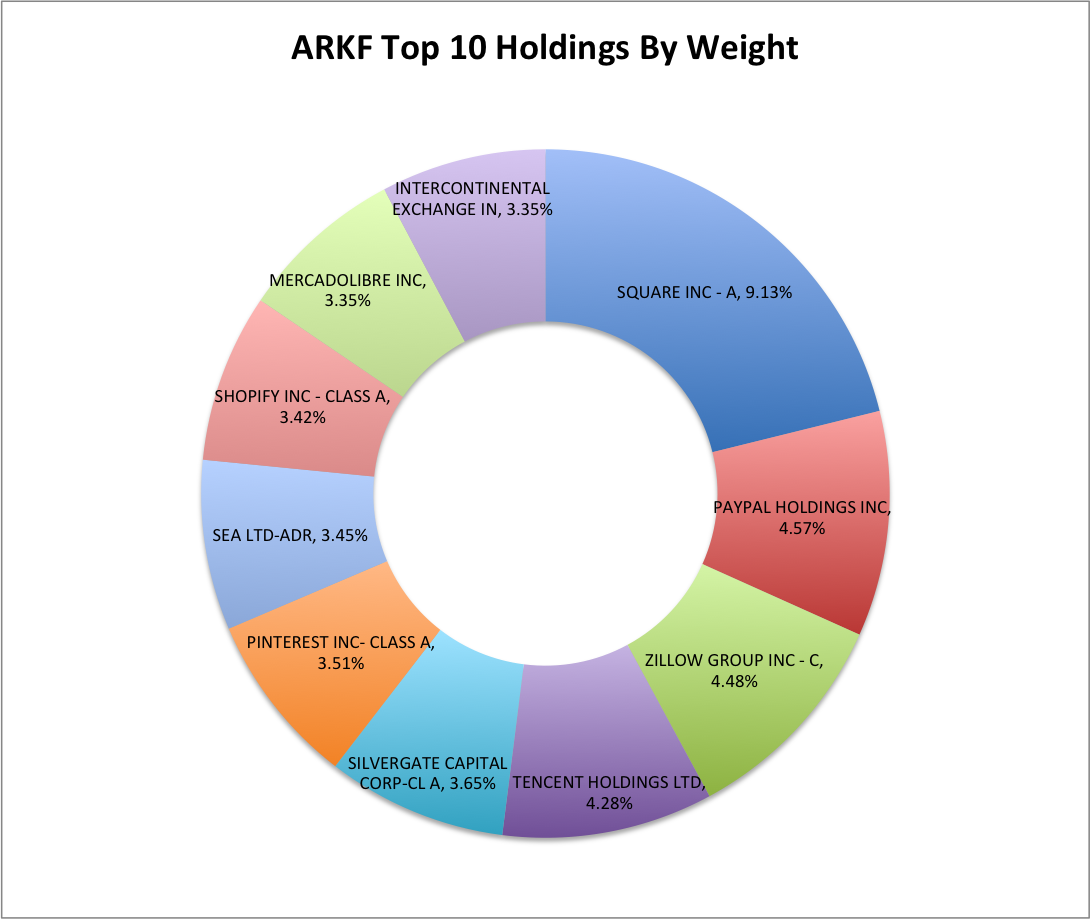 Source: Data from ARK-funds.com, graph is the author's.
This all ties in nicely with the information provided in the previous section. First off, ARKF's two largest holdings, SQ and PYPL are the owners of the top two digital wallets in the US, and are positioned to benefit significantly from the potential explosion of digital wallets. At current that is 13.7% of the total fund positioned to ride a massive transformational wave in finance.
As of December 2020, 11.5% of the fund was invested in blockchain technology, not including the potential upside in the SQ investment in Bitcoin potentially driving the overall value of SQ, and by extension ARKF up.
ARKF Stands Well Above Other FinTech Focused ETFs and Enjoys Significant Advantages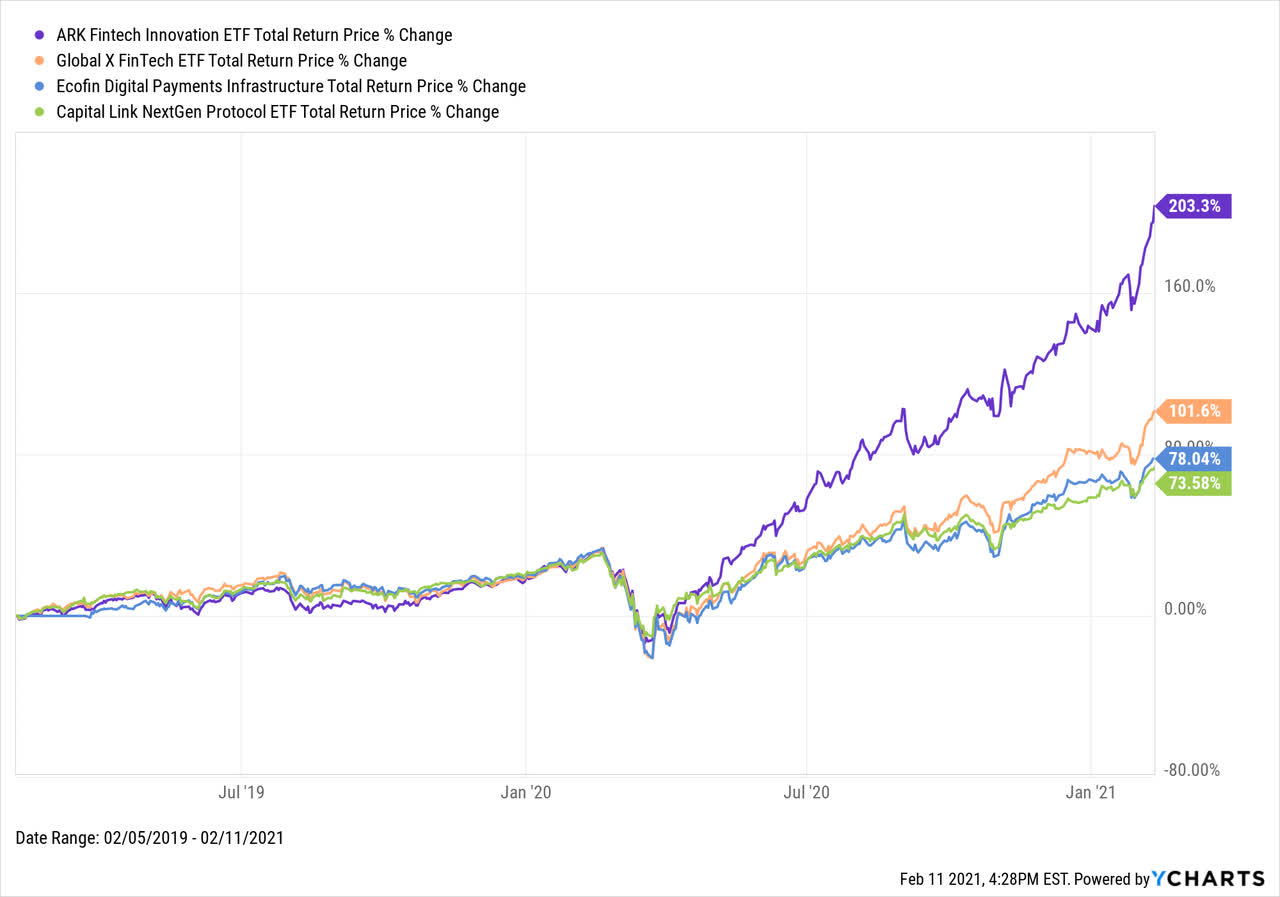 Source: Ycharts
FinTech ETFs have performed extremely well, above I took a snapshot of the total returns of ARKF and three other FinTech ETFs. ARKF has returned 203.3% since inception. Global X FinTech ETF (FINX) was the best of the rest returning 101.6%, and being the closest comp based on its defined index. Ecofin Digital Payments Infrastructure ETF (TPAY) and Capital Link NextGen Protocol ETF (KOIN) both returned similarly 78.04% and 73.58%, respectively, though they operate in much narrower areas. TPAY is, you guessed it, focused on payment infrastructure, and KOIN is blockchain focused. Both are positioned nicely against the above-discussed potential, but have been held back in past returns by a narrower focus.
ARKF holds the distinct advantage of being actively managed. If you have read either of my ARKG articles, you might be a little tired of me espousing the virtues of active management for emerging innovation focused funds. My feeling on this is that when investing in a segment that is changing rapidly, and will often times have companies operating in it that are difficult to evaluate from an investment standpoint because they might have not turned a profit yet and are in the incubation stages, I find it helpful to turn to the experts. I also prefer the nimble nature of the actively managed ARK funds in these themes, as they can enter and exit investments as the market changes without being tied to a tracking index and rebalancing schedules. Lastly, I enjoy the flexibility that they enjoy in adding a company that may not, in the strictest sense, meet the criteria of the theme, but is closely associated enough to make good common sense. I believe that this has served all of the ARK funds extremely well, and as FinTech grows, it will serve ARKF just as well.
Conclusion
As an investment theme, and generally a part of everyday life, FinTech is poised for growth. The ways and technologies that we use for payments, lending and borrowing, investments, and even the currencies through which those things happen are evolving at a rapid pace. Several ETFs are positioned to varying degrees to capitalize on this and provide possible huge returns in the process.
I believe that ARKF is in the absolute best position to do this. The fund has the flexibility to invest in all aspects of FinTech, as well as in companies that might not fit a more narrow definition of FinTech innovation. The active management style of ARKF also allows for swift action and decisive reaction to emerging and changing trends, which can allow for maximizing gains and limiting loss. That flexibility and agility is only as good as the shot callers that make the final decisions on the trades and investments. Since Cathie Wood has been elevated to near super-hero status in past year, and deservedly so, I am extremely comfortable with her being the guiding force behind the direction the funds, and by extension, my investments, will follow.
As the price of the other ARK funds shoot sky high, I am enjoying the gains, but also looking for a way to continue to invest in ARK and reaping maximum benefit. I've been nibbling at ARKG, especially when it dipped to under $100 not too long ago, but hesitating to make larger additions based on the price run up since my initial buys. ARKF is a different story. I don't feel that ARKF has grown into its full price just yet and that there is a fair amount of room. I am figuring that ARKF will eventually be in the $90-120 range that ARKG has been in. With that being my frame of reference, I am happy to continue to add to my position at $60-65 level, and above, waiting for it to break $100.