AMC Entertainment: Dilution, Dilution, And Even More Possible Dilution To Avoid Bankruptcy
Summary
AMC raised $1.322 billion cash over the last few months.
The total number of shares outstanding has risen from 109.3 million last August to 460.3 million currently.
Investors seem to be ignoring the massive equity dilution.
AMC continues to burn huge amounts of cash each month.
Movie releases keep getting pushed out to later dates.
The timing of the recent stock market trading insanity rescued AMC Entertainment Holdings (NYSE:AMC) shareholders from being wiped out by a possible Ch.11 bankruptcy. There was a very real possibility a few months that AMC would be filing for bankruptcy in early 2021, but that is now not going to happen or at least not in the near future. The company was able to raise $1.322 billion by selling new shares and by borrowing additional money. The new reality facing shareholders is the extreme increase in dilution. The market either does not understand the dilution issue or it is ignoring the problem when pricing AMC stock. AMC is currently way over priced.
Current AMC A Shares Outstanding
There seems to be significant confusion over the current number of total AMC shares outstanding. This is how I am calculating the current number of A shares outstanding:
356,498,711-stated in a prospectus filing that assumed all 50 million shares would be sold in the offering, which were in fact sold.
Plus
44,422,860 from the conversion of the convertible secured debt by Silver Lake.
Plus
46,103,784 by Wanda converting their AMC B shares to AMC A shares, after subtracting 5,666,000 shares that were forfeited by Wanda when Silver Lake converted their debt to shares under a prior agreement.
Plus
13.3 million shares -from a press release indicating 63.3 million shares were sold, including shares sold under a prior offering (63.3 million-50 million=13.3 million) (13.3 million might be a rounded amount)
460,325,355 Total Class A AMC Shares Outstanding
No Class B AMC Shares Outstanding
Market Capitalization
Using 460.3 million shares and the latest AMC stock price of $5.60, the current market capitalization is $2.58 billion. FINRA's website shows $1.90 billion and 339.07 million shares. Seeking Alpha shows $2.09 billion capitalization. I do not think the media keeps track of shares outstanding in real time and they use prior reported figures.
The total number of shares has increased dramatically since August 3, 2020 when their 10-Q cover sheet reported 57,634,593 A shares and 51,769,784 B shares were outstanding (109,319,377 total).
To demonstrate the current irrational pricing of AMC shares, divide the current market capitalization of $2.58 billion by the 109.3 million shares outstanding in August 2020. The result is $23.60 per share. So the market is currently pricing AMC stock at an effective price/capitalization that last happened in June 2017 when AMC traded in the low $20's. Traders seem to be ignoring Covid-19, increased competition from internet movie providers, and increased debt in their valuations of AMC. Actually, I think many traders are completely irrational and are clueless about finance. Too many only pay attention to statements on social media when buying/selling stock.
Looking at the reality of the very dilution caused by issuing so many shares, you need to look at the dilutions impact on future earnings per share. Using $110 million annual net income, which is about the same as when AMC actually had net income (2018 $110.1 million, 2016 $111.7 million, and 2015 $103.9 million), and using third quarter 2020 average number of shares outstanding of 107.695 million, EPS would be $1.02. Using the same $110 million net income and the current number of shares outstanding of 460.3 million, EPS drops sharply to only $0.24. I am not forecasting net income of $110 million, I am only using that number as highest net income one could reasonably assert that AMC will earn to illustrate the impact of dilution.
Using those same EPS numbers and an EPS multiple of 14x, the stock prices for $1.04 would be $14.28 and for $0.24 it would be $3.36. Dilution has a very negative impact on the stock price. I am using a modest 14x because I think the increasing competitive pressure from other media platforms to view movies will have a negative impact on future multiples and the risk factor caused by company's very high financial leverage will put downward pressure on future multiples. The price of $3.36 is using a very unrealistically bullish future net income, in my opinion. Even using a somewhat bullish future net income of $55 million, the stock price would be only $1.68 or $2.40 using an unlikely 20x multiple.
Five Year AMC Price Chart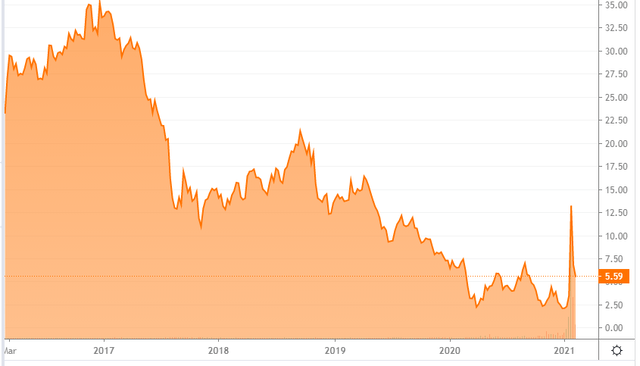 Source: Seeking Alpha
Raised $1.322 Billion Cash
AMC was able to raise $1.322 billion since December 10. This includes multiple stock offers totaling almost $811 million ($506 million issuing 164.7 million shares at an average price of $3.07 and $304.8 million issuing 63.3 million shares with an average price of $4.82). They also raised $100 million selling first lien debt to Mudrick Capital Management and raised $411 via a Euro revolving credit agreement. (Note: It is unclear when AMC would actually receive the $100 million. The parties entered into a commitment letter on December 10, but since interest payments were set for January 15 and July 15, I am assuming the effective date was in January.)
Their balance sheet was strengthened by Silver Lake converting their $600 million convertible secured notes into stock. Silver Lake then sold the shares for $713 million or about an average price of $16.0 per share. It is interesting to note that AMC did not issue new stock at those high levels. As stated above, AMC sold stock at an average of only $3.07 and in different offering at an average of $4.82. It is unclear if Wanda sold their Class A stock, but their filing indicated that Wanda converted their B shares for A shares "in order to permit sales of its common stock".
The conversion of Silver Lake's secured debt to equity reduced debt by $600 million, but the new $100 million 1lien debt and the new $411 million Euro revolving credit facility increased debt by $511 million. The net result was corporate borrowings were reduced by $89 million to $5.7148 billion (not including PIK any payments), but that still represents a $981.4 million increase in corporate borrowings from the end of 2019. There is also about $4.9 billion in operating lease liabilities. AMC still remains extremely leveraged both financially and operationally.
Cash Burn
The editors at Seeking Alpha wanted me to include an estimate of the company's cash burn rate to determine when they might run out of money in an article I wrote last September. I resisted because I thought it was almost impossible to estimate their future cash burn rate with any degree of accuracy. That is still a problem. According to a December 11 filing, AMC had "an average monthly cash burn rate of approximately $125.0 million during October and November". Using various reported numbers by AMC, they burned $123.6 million in December, which in the past was a very busy month for them. (These reported burn rates are much higher than my own "pencil" cash burn rate I had estimated in September for the rest of 2020.)
Since AMC was able to raise a significant amount of cash, I would expect landlords will be more aggressive in forcing AMC to pay full or almost full rents going forward. Prior negotiated rent concessions might also be renegotiated to reflect the AMC's new cash position. It is also unclear if some of these prior rent concessions were actual rent reductions or just deferrals of part of the rent until the movie business improved. My "pencil" cash burn rate until August is $115 million average per month. I am expecting continued high cash burn rates in early 2021 and somewhat improving rates during the rest of the year, which results in an average estimate for the seven months of $115 million per month. I am also expecting renegotiated rent concessions to have a negative impact on the monthly burn rate.
Using my estimated $115 million average burn rate per month for the first seven months of 2021, AMC is estimated to burn $805 million cash from December 31, when they reported a position of about $308 million cash. Using the $1.2104 billion cash raised (total of $1.322 billion minus the amount of new equity raised just during December of $111.6 million) and a total burn amount until August 1 of $805 million, AMC would have about $404.4 million cash in addition to the December $308 million cash position or $712.4 million total cash on August 1. Is that enough cash until movie operations return to a positive cash flow? If it is not enough cash, I would expect additional large new stock offerings, even at very low stock prices, which would make the dilution problem even worse. At this point, I can't even estimate a "pencil" burn rate past August.
Covid-19 and Movie Releases
There seems to be a trend that continues to separate the public's day to day activities from developments in the Covid-19 crisis. Just as people in Wyoming deal with 10 below temperatures and try to go about their normal activities, much of the public in the US has decided that they are just going to have to live their lives with the various issues associated with Covid-19 and make rational choices.
I do not, however, consider going to a movie theater during a pandemic as a rational choice. In a dark crowded movie theater you have no idea what type of people sit near you. A person a few rows back may cough/sneeze without following healthy protocols to prevent Covid-19 infected water droplets from spreading to people in front of them. Some people might assume that risk, but I think many will just watch movies on their large screen TVs at home instead.
I still don't think the general public understands what the effective rates of the two current vaccines in the US really mean. These two vaccines were tested to determine how effective they were to prevent moderate and severe Covid-19 symptoms. They were not tested to see if they prevent a person from being infected. Even now it is still unclear if either vaccine actually prevents infections/transmissions.
There is potential for increased spreading of the virus by those who received the vaccines, if the current vaccines don't actually prevent infections/transmissions, but only prevent symptoms. First, vaccinated people may ignore prevention guidelines, which could cause the spread of the virus. Second, if a vaccinated person does in fact get infected and does not show any symptoms because the vaccine stops the symptoms from developing, that person is much less likely to get tested/quarantine than if they showed symptoms, which again could cause more spreading of the virus.
Releases of major movies keep getting kicked further and further into the future or released on various media platforms instead of in movie theaters. There is major uncertainty even by movie industry insiders who have discussed the issues in various media publications. A January 29 article on the Box Office Pro website by Shawn Robbins gives a very interesting outlook for the movie industry this year. This is Robbins' forecast for the total US movie industry box office revenue for the first quarter 2021:
All told, based on current and very tentative modeling, the first three months of 2021 are pacing to generate an estimated $150 million at the domestic box office. That would be down from Q4 2020's estimated $230 million and Q3 2020's estimated $170 million.
The same article gives an indication of various future movie release dates, which keep changing.
Future Reported Numbers Could Be Misleading
Reported earnings/losses per share numbers are based on the average number of shares outstanding during the reporting period-not the current number of shares outstanding at the end of the reporting period. For example, because of the large increase in the number of AMC shares at the end of January after almost 1/3 of the quarter is over, the average number of shares outstanding will be less than the number of shares outstanding at the end of March.
Just for the sake of discussion, assume the losses for AMC are the same for the first quarter and second quarter 2021, the reported loss per share in the second quarter will be lower than the first quarter only because the average number of shares used to calculate that number has increased from the first quarter. I would not be surprised to see media reporters and AMC bulls asserting that because losses per share are lower in the second quarter compared to the first quarter that AMC operations are improving-an incorrect assertion.
AMC Unsecured Notes As A Potential Trade
While I am bearish on AMC and the movie theater industry, for investors who are bullish, buying unsecured AMC notes might be a more rational trade than buying AMC stock at current price levels. The yield to maturity on the 5.75%'25 unsecured notes is 29.24% (Note: yield to maturity assumes reinvestment of the coupon payments at the yield to maturity rate, which is most likely unrealistic.)
5.75% 6/15/25 Unsecured Notes CUSIP 00165AAH1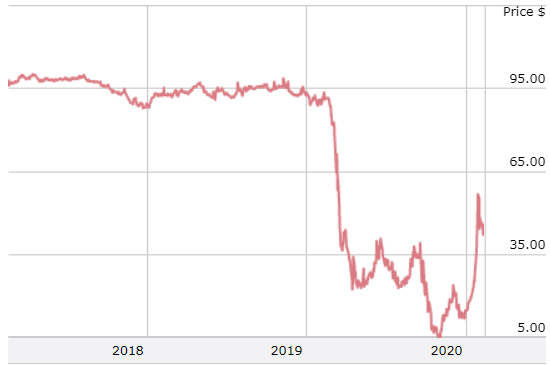 Source: FINRA website of Morningstar data
There are a number of AMC note issues which have very high yields to maturity and have soared off their lows from a few months ago. AMC stock price would have to rise sharply (almost 3x) over the next few years to beat the returns from these notes at current prices. The notes benefitted from all the new cash from the issuance of additional shares, which made bankruptcy less likely in the immediate future. Noteholders also do not have to worry about equity dilution from the large increase in the number of shares.
Conclusion
I am both bearish on the economy this year and on AMC. Personally, I have no plans to go to see a movie in a theater ever again. My large TVs are just fine to watch movies. Until there are significant enough vaccinations using vaccines that prevent getting infected/transmissions. not just preventing symptoms, to achieve herd immunity, I think the movie theater industry will face a very difficult future.
AMC got very lucky. Shareholders seem to be ignoring the extreme dilution caused by the large increase in the number of shares outstanding. Even if AMC is able to manage a turnaround, EPS will be very low because of the dilution. These low earnings means low AMC stock price. I, therefore, rate AMC common stock a sell.
This article was written by
B.A. in Economics; M.S. in Finance. I usually write about distressed companies and companies in Ch.11 bankruptcy. I am semi-retired after spending decades in investments.
Analyst's Disclosure: I am/we are short AMC. I wrote this article myself, and it expresses my own opinions. I am not receiving compensation for it (other than from Seeking Alpha). I have no business relationship with any company whose stock is mentioned in this article.
Seeking Alpha's Disclosure: Past performance is no guarantee of future results. No recommendation or advice is being given as to whether any investment is suitable for a particular investor. Any views or opinions expressed above may not reflect those of Seeking Alpha as a whole. Seeking Alpha is not a licensed securities dealer, broker or US investment adviser or investment bank. Our analysts are third party authors that include both professional investors and individual investors who may not be licensed or certified by any institute or regulatory body.