Amazon (NASDAQ:AMZN) and Alphabet, Inc. aka Google (NASDAQ:GOOG) (NASDAQ:GOOGL) both performed well in the last year, significantly outpacing the S&P500. Despite their size and trillion dollar plus valuations, both companies are still growing at impressive rates.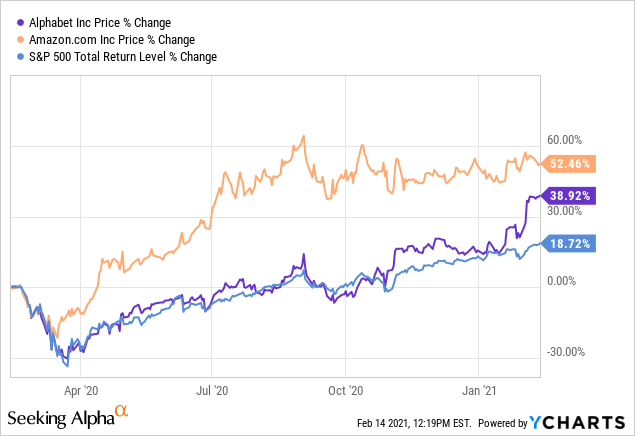 As we begin looking ahead to a future without COVID and the associated lockdowns and restrictions as the dominant theme, which one of these two companies is the better buy?
Quick Note on the Methodology
Google and Amazon are two of the most widely followed and analyzed companies on the planet. Amazon has 45 analysts providing estimates for it, Google has 35. Unlike smaller, less followed companies where I believe I can add alpha by seeing things that market doesn't yet appreciate, the likelihood of me doing this for an Amazon or Google is remote. I say this even though I believe many analyst estimates are little more than extrapolation of recent trends and performance.
In that spirit, this comparison is more about my perspective on the valuations and longer macro trends that may impact them, and is less about better refining near term estimates from the dozens of analysts doing this already.
Google Stock Overview
Google now reports operating income for 3 distinct segments
Google Services: Search, Youtube, Android, Chrome, Gmail, Google Drive, Google Maps, Google Photos, Google Play.
Google Cloud: The 3rd largest cloud service provider, behind Amazon's AWS and Microsoft's (MSFT) Azure.
Other Bets: A collection of aspirational business ventures, including

Access (Google Fiber)
Calico (Biological R&D)
CapitalG (Equity Investment Arm)
Google Ventures (Venture Capital Arm)
Nest (Smart Home)
Verily (Health care record startup)
Waymo (Autonomous driving)
X (Division to solve "hard problems")
The recent Q4 earnings was the first time Google broke out operating income for the Google Cloud segment, giving investors a better ability to value the various components of the larger company.
Google's Valuation
Google is a unique company to value because they run significant losses on two of their three reporting segments. This is helpful because I view the current operating losses in Google Cloud and Other Bets as investment, rather than true operating losses.
Despite the operating losses, Google Cloud and Waymo are extremely valuable. Morgan Stanley recently estimated Google Cloud at $330B and Waymo at $105B. Because these losses obscure the profitability of its core business, I believe valuing each Google segment independently provides a clearer picture of the overall value of the company. After all, if Google was focused on maximizing near term profitability, they could close, sell, or spin off most of these businesses producing losses.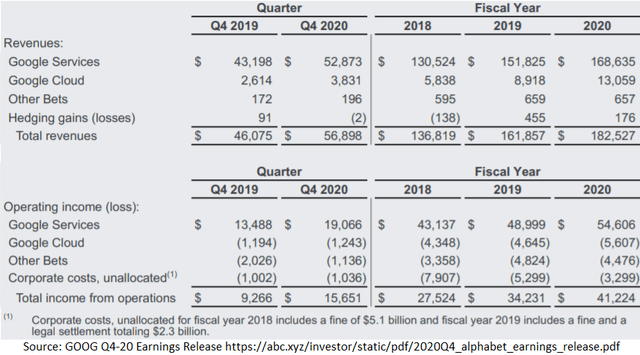 Google Services: $1.4 - $1.75 Trillion
The biggest component in valuing Google is assigning an appropriate multiple to the core Google Services business.
Google Services grew double digits on both top and bottom lines in FY20, which is impressive considering these businesses were impacted by COVID. Google's overall revenue was down 1.7% YoY in Q2, but rebounded and accelerated in Q4 when Google Services increased revenue 22% and operating income 41%.
At some point in the future, Google Services revenue growth will eventually decelerate, with some estimates showing that more than half of advertising dollars are now spent online. But when that time arrives, I believe Google will have substantial opportunity to streamline and grow operating income at higher rates than revenue like it did in Q4.
With COVID depressing earnings somewhat in Q1/Q2, coupled with the strength shown in Q4, I believe Google Services has a line of sight to $70 billion in operating earnings for 2021. Considering the growth and quality of this business, I believe a 20x pre-tax multiple would be a conservative valuation and a 25x pre-tax multiple would closer to what I consider fair, especially in the current interest rate environment.
Google Cloud: $150 Billion
Google Cloud is the 3rd largest cloud service provider behind Microsoft Azure and Amazon AWS. The business grew revenue 46% to $13 billion in FY20. Last quarter revenue came in at $3.8 billion, compared to Microsoft Azure $14.6 billion (23% growth) and Amazon AWS at $12.7 billion (27% growth.) Google is investing heavily in the business which lost $5.6 billion in FY20, up from a $4.6 billion loss in FY19.
Amazon earned $13.5 billion on $45 billion in revenue in its cloud segment in FY20, showing how well this type of business can perform once it gets to scale.
Morgan Stanley recently valued Google's Cloud opportunity at $330 billion. I'll use a conservative estimate of less than half, $150 billion.
Other Bets: $100 Billion
The Other Bets segment is particularly difficult to value given the limited information available. The crown jewel of the portfolio is autonomous driving company Waymo.
Morgan Stanley recently valued Waymo at $105 billion, consistent with their bullish outlook on autonomous driving. In November, MS analyst Adam Jonas ascribed 30% of Tesla's (TSLA) valuation to "Software and Network Services," which includes Autopilot and Full Self Driving packages.
For simplicity, I'll round down to $100 billion and assume nothing but Waymo has significant value.
Net Cash and Investments: $144 Billion
Google has $137 billion in cash and marketable securities along with a $21 billion carrying value for non-marketable investments. It carries $14 billion in long-term debt.

Google has a successful recent track record of investing which gets recorded in Other Income. For this analysis, I'm not ascribing any value to this track record beyond the net value of the assets.
Google Fair Valuation: $1.8 Trillion - $2.15 Trillion
FY21 "true" P/E closer to 25
At the current market cap of $1.42 trillion, I see GOOG as 23-50% undervalued, depending on how conservative I want to be.
Google earned $40 billion in net income in 2020 ($58.61/share.) If we assume $10 billion in incremental earnings for FY21 between business growth and COVID rebound, and we separate out the $10 billion in losses between Google Cloud and Other bets, we see 2021 true earnings power of $56 billion or $80/share range.
Viewed this way shows Google with a forward P/E of ~25x rather than the headline 30x estimate. I believe this is a better way to view the company, and that the headline forward P/E estimates understates Google's real earnings power.
Amazon Stock Overview
Amazon also reports operating income in three segments:
North America
International
Amazon Web Services ("AWS").
Within these operating segments are many other businesses: Products (Kindle, Echo, FireTV/OS, Tablets), Whole Foods Market, Amazon Prime Video and others.
Amazon's Valuation
Because all of Amazon's business segments are profitable, the sum of the parts analysis isn't as necessary, especially since we can't tease out many of the included businesses, like Prime Video, that would be enormously valuable as stand alone companies.
My thinking on Amazon is straightforward: a massively innovative company that has an impregnable moat in online retail, that is just beginning to show its true earnings power. Once Amazon exits its hypergrowth phase (whenever that may be) I believe a 8-10% net profit margin is readily achievable.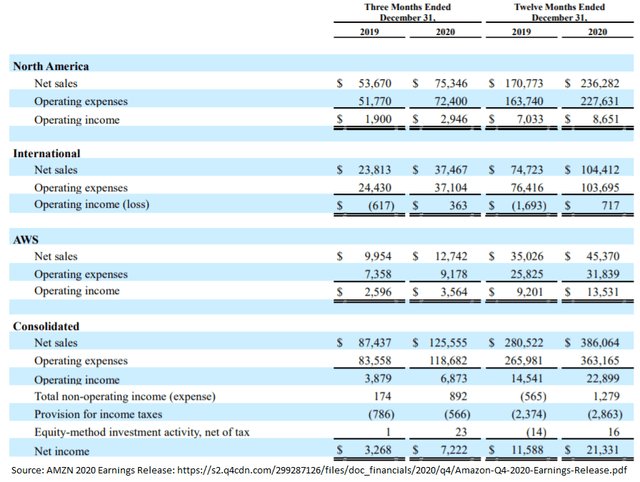 Amazon share price rose significantly between mid March and August as it became obvious that they would benefit from the current environment. Even with the impressive performance in North America and International, AWS was the real star in the portfolio, showing impressive operating leverage. AWS increased revenue by 30% but increase operating income by 47%.
Amazon's net income in 2020 was $21.3 billion, or $41.83/share, almost doubling the prior years results of $11.6 billion, $23.01/share.

Official estimates show Amazon growing more slowly in 2021, before re-accelerating from 2022-2025. Normally I would be skeptical of estimates forecasting earnings quadrupling in a 5 year period after already doubling the year before. But in Amazon's case, the enormous scale of Amazon's retail operations, coupled with the operating leverage already being shown in AWS, I believe this is achievable and has upside.
Consider this very high level analysis:
Amazon 2025 Revenue Estimates range from $710-979 billion
Using the lowest estimate at $710 billion and assuming a split of $610 billion North America + International and $100 billion for AWS.
Assume net margin on North America and International improves to 6% by 2025.
Assume AWS incremental revenue translates into operating income at the same 47% margin we saw in FY2020.
This would produce North America/International operating income of $36 billion, and AWS operating income of $39 billion, for a total of $75 billion or roughly $147/share. This is inline with official estimates, and could be conservative if revenue growth or net margin are higher than my assumptions.
Which stock is the better buy: Google or Amazon?
While I do not consider either company cheap, I think both are good buys at current levels.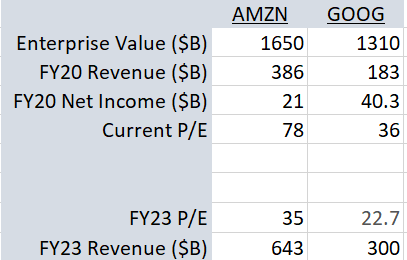 Of the two, I consider Google the stronger buy, even after the recent run, for several reasons
Valuation Gap
Looking out 3 years at FY23, Google is projected at 22.7x earnings while Amazon is at 35x. This is a meaningful difference, especially considering my belief that the headline P/E number understates Google's true earnings power.
Economy reopening news
Amazon nearly doubled from its low $1675 on March 12, 2020 to $3450 in late August, primarily on excitement of Amazon outperforming in the COVID shutdown environment. But even after crushing estimates in Q4 with 44% year over year growth, Amazon remains 5% below its 52-week high set in August.
With vaccine distribution accelerating and cities starting to relax COVID restrictions, it would not surprise me to see Amazon sell off in the Spring as spending (or investor sentiment) shifts to travel, entertainment, and other reopening plays.
Leadership Change at Amazon
Jeff Bezos is stepping down later this year and will be replaced by Andy Jassy, who currently leads the Amazon AWS team. I believe the transition will be smooth, but it does leave an open question on future direction of the company with a new leader.
Anti-trust Risk
Amazon wields enormous power over households and small businesses, and is frequently the target of political criticism. This past June, Democratic Rep. Mary Gay Scanlon questioned Jeff Bezos during a congressional hearing and accused it of driving small companies out of business. This included testimony showing Amazon.com selling diapers at a loss to target Diapers.com parent Quidsi, Inc., which it then bought for $545 million in 2010 before shutting down in 2017.
This is not a new theme, for sure. With the current political climate in the US, I believe there a chance that Congress acts to limit Amazon's ability to continue to grow unchecked in the next few years. I believe the risk of something similar happening to Google is far lower.
Conclusion: Google vs Amazon Outlook
Google has had a 22% run up since the beginning of the year, from $1728/share on January 4th to $2104/share currently, while Amazon has remained rangebound despite impressive Q4 earnings, likely due to economy reopening and leadership concerns.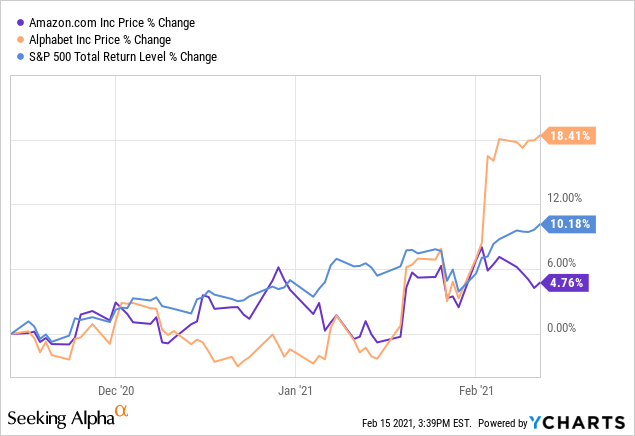 Long term, I'm bullish on both companies, and anyone with a 10+ year time horizon can safely buy or average in at these levels.
Shorter term, a pullback would not surprise me given the strength over the past year and a broader shift favoring reopening plays. I expect any dips to be shallow and short lived and should be treated as buying opportunities, and I will be purchasing Google aggressively if it falls back near levels from the beginning of the year.
Considering the levels of froth seen in the broader market, I consider both of these companies to be solid long-term investments trading at reasonable prices. While I don't expect Amazon or Google to perform as impressively in the next 5 years as they have in the past 5, I still like the risk/reward offered by both.
As Warren Buffett has said, it's far better to buy a wonderful company at a fair price than a fair company at a wonderful price.