Timber land is once again becoming of interest to a broad range of investors. Demand for wood for construction decreased dramatically due to the decrease in U.S. housing starts over the last few years, and has subsequently stayed at depressed levels.
The cost of many raw commodities, including timber, is expected to increase if inflation rates increase in the coming years. Additionally, due to reduced demand for timber in homebuilding, prices are now depressed and most timber growers are allowing their trees to grow. They will be left with more trees and an older stock, and those older trees should yield superior, higher priced wood product in the future, when demand does again increase. Moreover, the timber industry is likely to undergo some price increases between now and when housing does finally fully rebound.
Many now believe that housing has bottomed, which could bode well for the timber business. As such, many consider one of the best ways to get exposure to timber is through timber real estate investment trusts. REITs must distribute at least 90% of their taxable income in order to eliminate the need to pay income tax at the corporate level.
Under the current tax laws, timber REIT dividends are taxed as long-term capital gains, and not at the corporate dividend or ordinary income tax rates. Most REIT dividends are treated differently than timber REIT dividends, and are taxed at a significantly higher rate than are timber REITs. This makes timber REIT dividends different than most REIT, bond and traditional equity dividends, and makes them a somewhat unique asset class.
Below are four timber REITs that are publicly-traded in the United States, listed in alphabetical order: Plum Creek (NYSE:PCL), Potlatch (NASDAQ:PCH), Rayonier (NYSE:RYN) and Weyerhaeuser (NYSE:WY). I have provided their present yields, as well as their 1-week, 2012-to-date and 6-month share performance rates. I have also included the Guggenheim Timber ETF (NYSEARCA:CUT), which holds large positions in timber REITs as well as other business types.
Click to enlarge: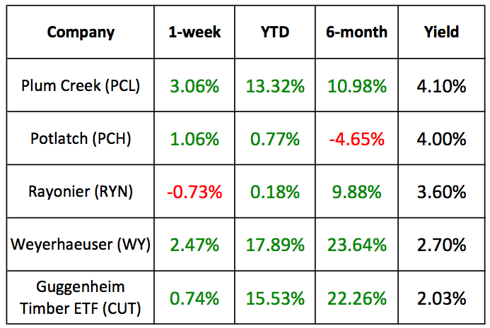 So far in 2012, these five equities have appreciated by an average of 9.54%. Over the last six months, the group has appreciated by an average of 12.42%.
The timber ETF holds significant positions in companies that produce and sell products made from trees, such as paper and packaging, which have also performed well so far in 2012. The lack of present demand for timber products, made many of these REITs structure themselves in a manner that minimizes expenditures and overhead, including divesting some basic materials and consumer goods segments to other companies that might be included in the timber ETF, CUT.
See a recent performance chart for CUT: (Click to enlarge)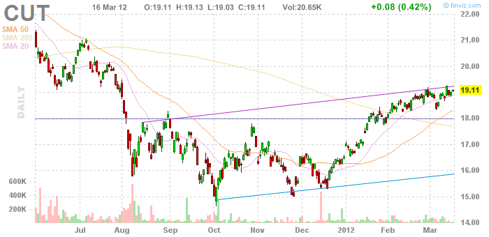 Some of the largest owners of timber acreage within the United States are these above-listed real estate investment trusts.
Disclosure: I am long WY.
Disclaimer: This article is intended to be informative and should not be construed as personalized advice as it does not take into account your specific situation or objectives.