In honor of St. Patrick's Day, I thought it would be worthwhile to review three unique ETF alternatives to the greenback, also known as cash. These three ETFs from sponsors like PIMCO, iShares and Guggenheim all provide a unique set of characteristics allowing investors to fine tune their credit quality, duration, volatility and distribution. Although they are only a sample of the fixed income ETF evolution, these ETFs represent a great place to begin the search for a cash alternative ETF.
PIMCO's Enhanced Short Maturity Strategy Fund (NYSEARCA:MINT) is the most successful active ETF in terms of assets with over $1.4 billion currently. It "seeks greater income and total return potential than money market funds," and has delivered on its promise. With a 30 Day SEC Yield of 1.06%, MINT brings home the bacon. While it does not sport an ultra low expense ratio, currently it is priced at 35bps, it continues to gather assets due to its attractive distribution. In addition, it offers a very diversified set of holdings which currently number over 550 and are spread out across different countries and credit quality ranges. Here's the breakdown of MINT's credit quality exposure from PIMCO's site.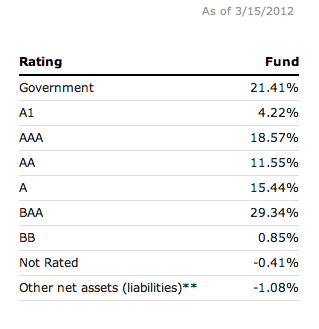 For some however, MINT's attractive distribution comes with a duration that might pose too much volatility or interest rate risk. Currently MINT has a one year duration which is fairly high in the world of cash alternatives. For those who need considerably less duration in the cash alternative bucket, there's another ETF option.
The iShares Barclays Short Treasury Bond Fund (NYSEARCA:SHV) is a traditional index based ETF that seeks to deliver:
investment results that correspond generally to the price and yield performance, before fees and expenses, of the short-term sector of the United States Treasury market as defined by the Barclays Capital U.S. Short Treasury Bond Index.
SHV is priced at a rock bottom 15bps and has racked up over $2.4 billion of investor assets. Its effective duration is .39, quite a bit lower than MINT. It also provides more relative safety as it concentrates its holdings in U.S. Treasuries. The 30 day SEC yield suffers however, coming in at .07%. Along with that lower distribution, however, comes less volatility, not a bad characteristic for a cash alternative. Here's the performance chart from stockcharts.com comparing the movement of SHV to MINT over the last year.
Click to enlarge: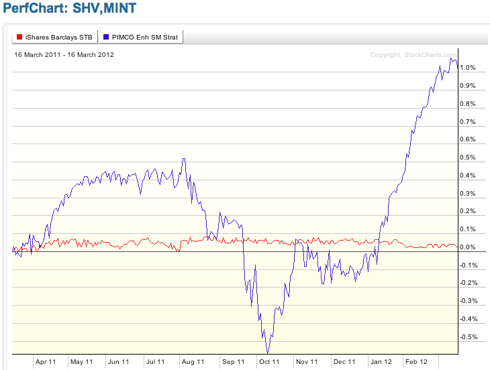 If MINT generates too much excitement and SHV is just not compelling enough, perhaps it's time to check out another alternative from Guggenheim.
The Guggenheim Enhanced Short Duration Bond ETF (NYSEARCA:GSY) is an actively managed ETF that:
Uses a low duration strategy to seek to outperform the Barclays Capital 1-3 Month U.S. Treasury Bill Index in addition to providing returns in excess of those available in U.S. Treasury bills, government repurchase agreements, and money market funds, while seeking to provide preservation of capital and daily liquidity.
In plain terms, GSY has a dramatically shorter duration than MINT and thus carries less interest rate risk. It comes at the expense of income, however, as the current average duration of .21 is producing a 30 day SEC Yield of .26%. Thus GSY sits more towards SHV than MINT. GSY is less expensive than MINT at 27bps, and has attracted about $150 million thus far. With 41 holdings, it also has a more concentrated portfolio versus MINT. Here's GSY's credit quality breakdown from Guggenheim's website.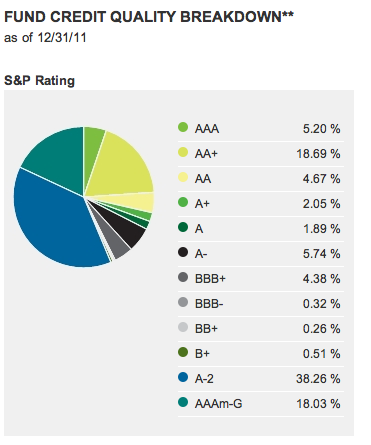 So there you have it, three very different cash alternative ETFs. Whether yield, duration or credit quality are your focus, one of these three ETFs will likely be a good starting point for an ETF cash alternative.
Disclosure: I have no positions in any stocks mentioned, and no plans to initiate any positions within the next 72 hours.