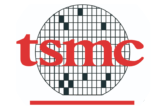 Source: TSMC
Taiwan Semiconductor Corp (NYSE:TSM), or "TSMC", is the world's largest and best semiconductor foundry with a 57% share of the global foundry market - a market it started in 1987. TSMC processed over 12 million 12" equivalent wafers last year, many of them at the leading-edge 7nm technology node - for which it recently was named the winner of the 2021 IEEE Corporate Innovation Award.
The company has left Intel (INTC) in the dust when it comes to semiconductor leading-edge technology. As if that isn't a big enough hurdle for Intel, it has another problem to overcome: the coming obsolesce of its x86 architecture. The combination of these two hurdles means that TSMC is likely to dominate the semiconductor market for the next few years, and likely much longer.
Technology Matters
Semiconductor competition typically comes down to a handful of metrics that separates the winners from the losers: performance, power, density and yield (i.e., cost). At the end of the day, most all of those metrics are intertwined and come down to who can manufacture the smallest "fin field effect transistor", or FinFET: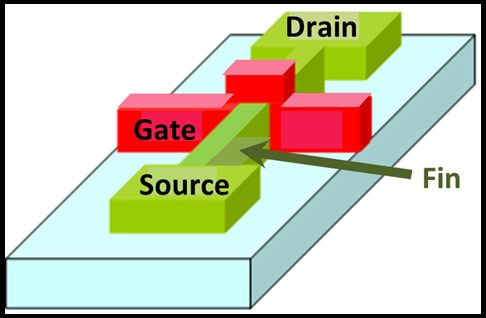 Source: Wiki
Commercial FinFETs were available in the early 2010s and became dominant at the 14nm, 10nm, and 7nm process nodes. TSMC began producing 7nm-based 256 Mbit static-ram devices in 2016 - two years before Samsung began mass production. TSMC is now producing processors at the 5nm node and has left Intel at least one generation behind (if not two):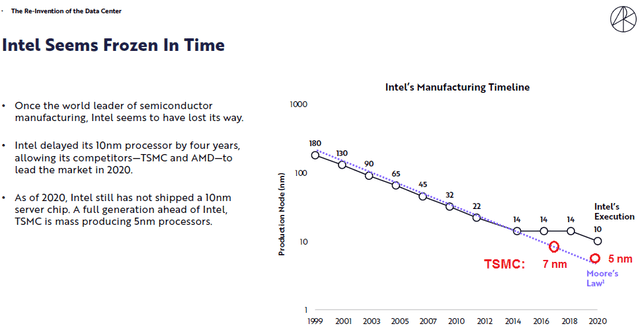 Source: ARK Invest "2021 Big Ideas" (available here).
This is important because if a semiconductor company can reliably (i.e., high yield) manufacture at the smallest dimension technology node, that company can typically offer the highest-performance, lowest-power solutions to the market. And in an age where processor speed and power are prime considerations (whether we are discussing an Apple (AAPL) iPhone or data center high performance computing ("HPC"), to lead the field means that company will be in high demand and it can command a premium price. And that means high profitability. Clearly, TMSC's roadmap is in the lead: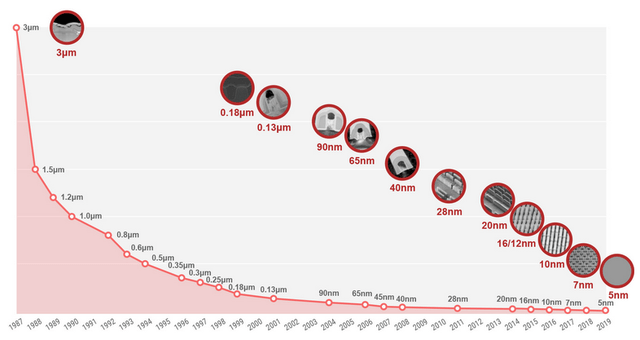 Source: TSMC
What some investors may not realize is that leading the field in semiconductor processing technology isn't as simple as going out and buying the best equipment from LAM Research (LRCX) or Applied Materials (AMAT) or ASML (ASML) - just to pick three of the leading semi-suppliers that came to mind. Design tools are also intimately involved in the evolution of technology nodes: signal integrity, clock management, power management - all these are considerations that must be embedded in the design tools to make sure what the design engineers are designing actually matches what the process engineers can deliver (i.e., that the chips actually work with decent yield). Intel, for many years, has had used proprietary in-house tools that were highly tuned to its processes. I am not sure if it is still that way today, but my guess is that it is. The point is, it will likely take years for Intel to catch up with TSMC on a process level even if it went out and bought all the leading semiconductor equipment tomorrow.
The Second Hurdle Intel Faces
Meantime, there is another headwind facing Intel: the phasing-out and ultimate obsolescence of the x86 architecture that has dominated the PC and HPC markets for years. In fact, earlier this year, it was reported that Intel was already ordering GPUs from TSMC and if Intel wants to keep its CPUs (i.e., x86 chipsets) at the high-end performance level, it will likely need to order those from TSMC as well.
Meanwhile, ARM processors - long dominant in smartphones and mobility - are expected to take over the high-performance CPU space as well: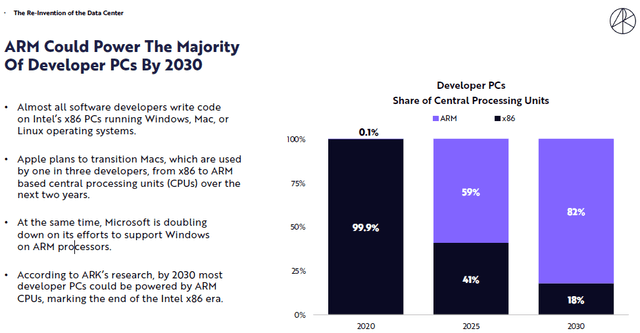 Source: ARK Invest "2021 Big Ideas" (available here).
As can be seen above, ARK Invest expects that by 2025, ARM will be the market leader in the developer PC space, and by 2030, the x86 architecture will pretty much be obsolete. Note I predicted back in 2012 that Apple would eventually move to ARM (see An ARM-Based Mac? You Bet), although I must admit it took much longer than I expected. Note that at the time of that article, Intel could have easily bought ARM a few years earlier for under $10 billion. I am sure the bean-counters that took over Intel from the engineers had wished they had done so. Regardless, the fact is that both Apple and Microsoft will both are transitioning to ARM, and I expect by 2030, new engineers will say "what's an x86?".
Note that Amazon (AMZN), the world's largest public cloud provider, has already designed its own ARM-based Graviton CPUs using 64-bit ARM Neoverse cores. That's a big win for ARM considering we are talking about a design space that puts a premium on both processing-power and power-efficiency (electricity costs are a major design consideration for data centers). Also, cloud computing is obviously a very large and growing market going forward.
The leading-edge Nvidia (NVDA) Tensor A100 GPU is fabricated in TMSC's 7nm N7 process. The chip has 54.2 billion transistors with a die-size of 826 square mm. An ARM-based CPU option is in development.
Not to be outdone, Google (GOOG) is designing its own Sycamore processors for AI, a Coral line of processors to accelerate machine learning, or ML, and home-grown processors for its Pixel smartphones and edge-computing.
The point is, Intel faces competition across a wide section of high-performance processor applications. Many of these will be fabricated at TSMC and Samsung - but not at Intel.
Consequences
Intel is in a tough position. To satisfy market demand for its x86 CPU architecture in the highest-performance applications, it will have to order them from TSMC - basically funding its top competitor.
And in the long run, any attempt to try and "save" the x86 architecture from being obsoleted and replaced by ARM cores will prove futile in my opinion.
Game, set, match: TSMC.
Going Forward
Meantime, and no doubt under political pressure by the country that sells Taiwan its high-end defense equipment to protect it from the Chinese, TSMC got government approval (i.e., the Taiwan government...) to build a 12" wafer fab in Phoenix, AZ that is expected to cost as much as a $12 billion. I don't know this, but I suspect TSMC management, after discussions with the Taiwan government, will make sure that its highest-end technology is not in Phoenix, but back home in Taiwan.
Meanwhile, US chip manufacturers - after apparently being more concerned about funding dividends than innovation - have run to the Biden administration for help to fund a US semiconductor industry renaissance. I can't tell you how much it pains me to see this, but at this point, the US has no choice if it wants to secure supply chains. More corporate welfare to fix what Intel and other semiconductor companies should have fixed themselves - years ago.
Meantime, TSMC announced a strong January revenue report last week that showed excellent monthly sequential and yoy growth:

Source: TSMC
I expect TSMC revenue to grow from 20-25% this year, led by high-margin smartphone and HPC chips, which should combine for an estimated 80-85% of total revenue.
As I have been writing for quite some time now, the semiconductor industry has changed significantly from the cyclical times when it was so dependent on the PC and automotive markets. Today, there is strong demand across a multitude of markets: networking, 5G, mobility, IoT, cloud computing, GPUs, and special purpose custom designs to run highly-tuned AI/ML algorithms for everything from data-analytics to Google's Deep Mind medical applications - all are contributing to strong demand for chips.
The point is, the future for semiconductors is very bright, and it is brightest for the leader-of-the-pack. And that is clearly TSMC.
Summary & Conclusion
No doubt TSMC stock has been on a strong run of late (see graphic below) - but as I have just explained, the move is totally rational in my opinion. I put in a bid some weeks back at $88, and of course, I was $1 too low, missed it, and then it went up in a straight line. I am now too stubborn to give in and buy it now. Instead, I increased my more diversified semiconductor investment in the VanEck Semiconductor ETF (SMH), in which TSMC is the #1 holding with a 14.7% weight. But you can bet TSMC is on my watch list and I will take advantage of any market weakness to establish a full allocation in the shares. I want to own it for the next decade, or longer.