Since I wrote my latest, bullish piece on Louisiana-Pacific Corporation (NYSE:LPX), a little over two months ago, the shares are up about 12.5% against a gain of ~7% for the S&P 500. Since the company has just released financial results, I thought I'd check on the name to see if it makes the most sense to hold, buy more, or sell. I'll make this determination by updating readers on the highlights of what's happened with the firm, and by poring over the latest financial results. I also want to look at the stock as a thing distinct from the underlying business, because, as my regular reader-victims should know by now, a great company can be a terrible investment at the wrong price. Finally, I want to update investors on the put options that I recommended in my previous article. I want to do this because I think it'll be instructive, and, more importantly, doing so will feed my very brittle ego.
In case you missed the title of this article, and somehow managed to skim past the bullet points above, and randomly landed here, 186 words into this latest missive, I'll come right to the point. I think Louisiana-Pacific remains a good buy at the moment because the shares remain reasonably priced in spite of the spectacular results the company posted in 2020. Although this is definitely a cyclical business, there's not much evidence that we're near the top of the cycle, so I think investors would be safe adding at current prices. For those nervous about a general market meltdown, I think the deep out of the money short puts that I recommend below make a great deal of sense.
Update and Short Term Forecast
Investors have much to be excited about in my estimation. In the following section, I'll briefly outline both some of the very positive developments the firm has seen recently and what they anticipate in the near future. For instance:
The company completed $200 million of its authorized share buyback, and $300 million remains.
The company increased quarterly dividends by 10%
The company exceeded their 3 year growth efficiency target with an EBITDA impact of ~$178 million.
The company expects SmartSide and OSB sales to be ~35% and ~15% higher respectively in the next quarter relative to the same period a year ago. OSB sales will be higher on similar volumes, indicating superior pricing.
The company expects to spend between $220-230 million on Capital Expenditure in 2021. Fully $100 million of this will be toward maintenance, $80-85 million will be for Houston conversion, $10 million is allocated for Peace Valley, and $30-35 million is for other strategic growth projects.
Financial Update
The financial performance here has been remarkable in my view. In the teeth of a global recession brought on by a pandemic, revenue increased by about 21%, and net income swung from a small loss to just under $500 million. EPS also grew from $-.04 in FY 2019 to $4.46 in FY 2020. This was a remarkable performance in my view. The company managed to grow the bottom line by more than the top line by controlling expenses. Specifically, cost of sales was down ~4.3% or $87 million, and SG&A was down about 8.25% or $19 million.

Source: Company filings
That said, I think it's worth remembering that this is a cyclical business. It's obviously undergone positive improvements, but I think investors would be wise to keep the volatility here in mind. For your enjoyment and edification, dear reader, I've produced a small table that outlines the percent changes in revenue over the years, along with the approximate stock price in the week the earnings were announced. If you absolutely need to thank me for my heroic efforts, reach out and I'll forward you a wish list of various gifts you can forward me.

Source: Author calculations and compilations
Since this is a cyclical company that's going through a growth spurt, I think investors with a longer term view might get lulled into buying at the peak of the cycle, and I think this will lead to disappointing results. I think the only way to mitigate this risk is by insisting that we not overpay. In other words, I'm comfortable buying more, but only at the right price.
The Stock
Welcome to the section of the article where I try to express the same, rather tired idea in a slightly different way. I want to make the point, again, that there's a negative relationship between the price paid for an investment and the returns on that investment. The more you pay for $1 of future economic benefit, the lower will be your returns over time. That's as much of a tautology as you get in the investing world. I'll try to make the point by using Louisiana-Pacific as an example. Had an investor bought shares in this company exactly a year ago, they'd be up about 35%, which is certainly not too shabby. Had they waited exactly one month and bought only 11 months ago, though, they'd be up about 170%. The latter price was obviously much lower, so the returns were much greater. Given that investing is inherently risky, we should insist on only ever buying when shares are sufficiently cheap.
I measure cheap in a few ways, ranging from the simple to the more complex. On the simple side, I look at the ratio of price to some measure of economic value. Specifically, I want to see the company trading at a discount relative to both the overall market and its own history. In my previous diatribe on this name, for instance, I droned on about the fact that it was a good investment because the shares were trading hands at price to free cash flow of about 13 times. They're now about 15% more expensive on that measure, per the following: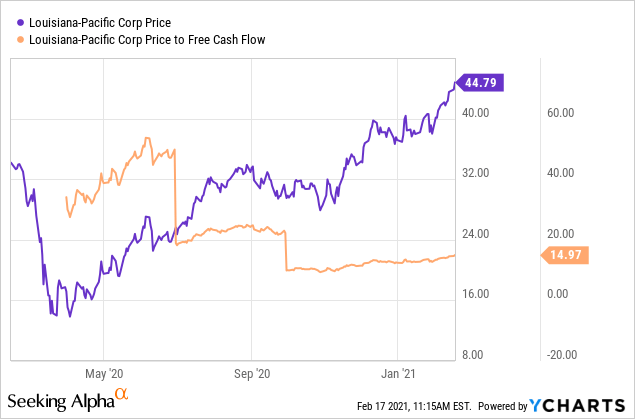 Given that I think there's ample evidence that free cash flow will actually increase over the next several months, I think the valuation remains as compelling now as it did 12% ago.
Options Update
In my previous missive, I suggested that investors also consider selling put options on this name as a way to either benefit from a rise in the stock price or to acquire this great business at an even greater price. Specifically, I recommended selling the May 2021 puts with a strike of $32 for $1.80. These are currently priced at $.45-.60, so I think that trade worked out rather well. At the time I published the article, the shares were trading at about $39. Investors who were comfortable buying at a net price ~23% below the then market price were able to generate some income immediately. This is yet another example of the fact that selling puts is a much less risky (buying shares 23% below market price is less risky by definition) and highly rewarding (generating premia boosts returns) enterprise. I think there's a high probability that these will expire worthless, so I'll take no action with them. Given that I like to repeat success when I can, I'm going to recommend yet another, similar trade.
At the moment, my preferred option trade here is the January 2022 Louisiana-Pacific with a strike of $32. These are currently priced at $2.35-2.60. If the investor simply takes the bid here, and is subsequently exercised, they'll be obliged to buy this excellent business at a price ~32% below the current market price. If the shares remain above $32 over the next 11 months, they'll simply pocket this 7% premium. I consider this to be a very good trade at the moment.
It's that time again, dear readers. It's time for me to absolutely spoil the positive vibes elicited by talk of "win-win" trades by writing about risk. Short puts, like every investment ever conceived comes with risk. We do our best to navigate the world by exchanging one pair of risk-reward trade-offs for another. For example, holding cash presents the risk of erosion of purchasing power via inflation and the reward of preserving capital at times of extreme volatility. The risks of share ownership should be obvious to readers on this forum.
I think the risks of put options are very similar to those associated with a long stock position. If the shares drop in price, the stockholder loses money, and the short put writer may be obliged to buy the stock. Thus, both long stock and short put investors typically want to see higher stock prices.
Puts are distinct from stocks in that some put writers don't want to actually buy the stock - they simply want to collect premia. Such investors care more about maximizing their income and will, therefore, be less discriminating about which stock they sell puts on. These people don't want to own the underlying security. I like my sleep far too much to play short puts in this way. I'm only willing to sell puts on companies I'm willing to buy at prices I'm willing to pay. For that reason, being exercised isn't the hardship for me that it might be for many other put writers. My advice is that if you are considering this strategy yourself, you would be wise to only ever write puts on companies you'd be happy to own.
In my view, put writers take on risk, but they take on less risk (sometimes significantly less risk) than stock buyers in a critical way. Short put writers generate income simply for taking on the obligation to buy a business that they like at a price that they find attractive. This circumstance is objectively better than simply taking the prevailing market price. This is why I consider the risks of selling puts on a given day to be far lower than the risks associated with simply buying the stock on that day.
I'll conclude this rather long discussion of risks by indulging my tendency toward beating proverbial dead horses. I'll use the trade I'm currently recommending as an example. If an investor is exercised on the puts described above, they'll buy this great business at a price ~1/3 below the current, very attractive market price. In my view, that's the definition of "lower risk."
Conclusion
I think Louisiana-Pacific had an excellent year in spite of the economic slowdown, and I think the next three months at least are going to see more positive developments. In spite of that, the shares remain very reasonably priced in my view. For that reason, I'll likely be adding a few more shares at current levels. I'll also be selling the puts described above because I consider them to be excellent "plays" on the stock. I like them in particular because they represent great return potential at lower risk. If the shares remain above $32 for the next 11 months, the investor enjoys a 7% yield. If the shares drop in price, the investor picks up a great asset at a great price. Over time, that's how we win at the investing game. I also think short puts might be a great alternative for those who are nervous about general valuation levels, margin levels, etc. There's no rule that says that high quality stocks like this one won't fall along with the overall market, and I think selling deep out of the money puts is a great alternative for that reason. In sum, I think the performance here has been excellent, and I think the shares remain reasonably priced in spite of that fact.