At 25% Of Merged Company Value, Torchlight Looks To Be Worth Only $0.35/share
Summary
Torchlight Energy is engaging in a reverse merger, we believe because it has accepted that its assets are practically worthless.
The company it's combining with, Metamaterial, has no interest in TRCH's business or assets. It appears to only want the Nasdaq listing.
TRCH will sell its assets or spin them off before the business combination happens; the combined company will get none of TRCH's assets.
TRCH shareholders will get 25% of the combined company, which at MMATF's market cap, puts TRCH's current value at 35c per share, assuming its assets are worthless.
At TRCH's current share price, it is trading at a whopping 1050% premium to its arbitrage value.
Metamaterial Only Wants To Merge With Torchlight For The Nasdaq Listing
On 4/29/19, we published a report that stated we believe that Torchlight Energy (TRCH) assets are worthless and that "we do not believe Torchlight will be able to successfully complete the sale of the company or its asset(s)."
The company hasn't made any significant progress since our report with selling or developing any of its oil and gas assets. It did sell its interest in its Winkler Project in November for $450K, but that's not a significant sum.
Torchlight Energy and Metamaterial (MMATF) announced the signing of a definite agreement on 12/14/20 for a business combination. TRCH shareholders will receive a 25% equity interest in the combined company, while MMAT shareholders will receive a 75% interest.
Metamaterial designs, develops, and manufactures advanced materials specializing in nanocomposites, nanofabrication, and machine learning to control light and electromagnetic waves. It's a totally unrelated company to TRCH's oil and gas exploration business. This confirms to us that our analysis on TRCH is correct. Its assets are practically worthless, and the stock is worth a fraction of its current market cap that has runup on the merger agreement.
The purpose of the merger is only so Metamaterial can be listed on the Nasdaq. Therefore, the current value to TRCH shareholders is only 25% of that of Metamaterial's current market cap plus the value of TRCH's oil and gas assets.
As of the close of 2/16/21, Metamaterial was worth $3.01 CAD x 83.6M shares outstanding = $251.6M CAD. That equals $251.6/1.27 = $198M USD.
Assuming that TRCH's assets are worthless, based on Metamaterial's market cap, that values TRCH at $198 x 25% = $49.50M, which equals a share price of $49.5M/143M = $0.35.
At the time of the merger announcement, on the close of 12/14/20, Metamaterial was valued at much less. It has gone up significantly since the merger announcement. Metamaterial closed at only $0.58 on 12/14/20. That gave it a market cap of only $48M. Using that market cap, that puts TRCH's value at only $48M x 25% = $12.12M. $12M is about the value of a clean empty shell Nasdaq listing.
That would bring a per share value to TRCH of $12.12M/143M = ~$0.08.
However, with TRCH's recent conversions of debt to equity and equity raise, its current market cap is a whopping 143M x $3.90 = $558M. It has appreciated substantially. The following is the 3-month chart for TRCH: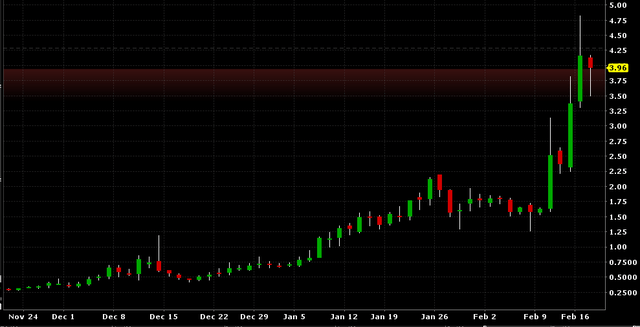 TRCH closed at $0.46 on 12/17/20. And that's AFTER the merger definite agreement was announced.
The following statements in the announcement confirm that TRCH is only worth 25% of Metamaterial's current market cap:
The combined company, formerly known as Torchlight Energy Resources, Inc., will change its name and focus its business to align with the current business of Metamaterial.

NASDAQ is the world's premier technology exchange, providing us with the best platform to expand awareness of Metamaterial on the global stage and fully realize the value of our portfolio of innovative, sustainable products." commented Ram Ramkumar, Metamaterial's Chairman.

It has been our goal for META to be a NASDAQ-listed company," stated George Palikaras, President & CEO of Metamaterial. "When the business combination with Torchlight closes, obtaining a national exchange listing in the United States is anticipated to provide META with significant value and increased access to global capital markets.
As shown in Metamaterial's executive statements above, there is no mention at all of any value to TRCH or its assets. Only the Nasdaq listing.
Torchlight's Assets Appear To Be Worthless
MMAT has no desire to keep any of TRCH's assets in the combined company. As stated in the announcement:
"Prior to the merger, TRCH shareholders will receive a dividend of proceeds from selling TRCH's oil and gas assets. If no sales occur, then they will receive an equity interest in a spin-off entity that holds TRCH remaining oil and gas assets."
The original planned business combination PR, on 9/21/20, states:
The Combined Company shall use its commercially reasonable efforts to cause the Torchlight oil and gas assets to be sold by June 30th, 2021.
We believe its oil and gas assets are worthless, or worth very little, and that will be confirmed in time if the company won't be able to sell them, as we expect to happen. We predict the spin-off company will be put into an OTC stock. Effectively, TRCH's business will be extracted from the Nasdaq listing and put aside into an OTC listing where it will go to "die".
If The Merger Happened Today, Torchlight Shareholders Would Suffer A 90% Decline
The merger between TRCH and Metamaterial will likely happen after shareholders vote on it on March 12th, as stated in this PR. Again, assuming that TRCH's assets are worthless and not including any special dividend, if the merger happened today, TRCH shareholders would face a 90% loss on their investment. Of course, they will additionally get whatever TRCH can sell its assets for or whatever their share is worth from the TRCH asset spinoff. We don't think the spinoff will end up being worth much more than what TRCH shares were worth in November, which was about $0.25-$0.40 per share.
A short is more appealing when there's a clear endgame in sight. Once the two companies combine, it will just be Metamaterial. At TRCH's current share price, Metamaterial would have to have a market cap of around $2B by then in order for longs to make a gain apart from any dividend. Whatever value TRCH's oil and gas projects end up being won't be significant in our opinion.
The Reason For the Recent Rally
TRCH has risen as much as 400% since the beginning of the year, and has doubled over the last week. We believe the reason for this is speculation over the merger and sale of the assets. As well as the conversion of the company's debt to equity. As stated in this recent Motley Fool article:
On Feb. 16 Torchlight Energy announced that one of its lenders had converted $1.5 million worth of debt into 1 million shares of the company's stock. That was a huge move for the exploration and production company because it helped to clean up Torchlight's balance sheet. After the conversion it no longer has any term debt and two projects will have liens removed from them, as they backed the loan that was converted.
However, what the MF article doesn't seem to realize, is that the conversion of debt to equity is part of the merger agreement. Metamaterial wants a clean balance sheet for the merger to happen, it has nothing to do with freeing up the debt for TRCH's oil and gas projects.
Risk To The Short Thesis
We believe that it's been proven over time that TRCH's assets are worthless, and that the money received from selling them or the value of a spin-off isn't a risk to short sellers. What could be a risk, is if the merger is called off. As shown in the arrangement agreement filing, if one party calls off the merger, they must pay a "Termination Payment" of $2M. TRCH could announce something along the lines of: "with the new interest in our company from investors, we have terminated the merger agreement and will continue to develop our projects."
Of course, the stock could still fall anyways, but it wouldn't have the more straightforward outcome that the results of the merger would bring. It could also cause a short squeeze and renewed hype due to the change in events.
However, a termination of the merger would likely a be a bad event for Metamaterial's share price, because then it would be stuck trading on the Canadian exchange and would have to find a new Nasdaq reverse merger candidate. It would probably fall on this news, as it has also appreciated significantly over the last few months likely due to the anticipated merger.
Conclusion
As we believe TRCH's assets are practically worthless, we don't believe they will be able to sell them for any meaningful sum. Therefore, they will be spun-off into another company. The process will essentially be TRCH starting all over again with the same assets, but not as a Nasdaq company anymore. It will likely be spun off onto the OTC exchange. Trading on the OTC, TRCH won't be able to command nearly the valuation or attention that it could on the Nasdaq. Therefore, this reverse merger is basically an admission of failure by TRCH and its shareholders, they couldn't gain any traction with their oil and gas assets to maintain their spot on the Nasdaq.
This article was written by
We provide deep research and valuable information on small cap stocks to hedge funds and high net worth individuals. We specialize in the technology and healthcare sectors. We have an over 80% success rate, see our reports at whitediamondresearch.com. See the 3rd party verified return on each of our bearish reports over the last 24 months at: https://breakoutpoint.com/as-summary/white-diamond-gvmtg/To inquire about becoming a premium subscriber, send a PM here or email us at research@whitediamondresearch.com.Follow us on twitter @whiteresearch.
Analyst's Disclosure: I am/we are short TRCH. I wrote this article myself, and it expresses my own opinions. I am not receiving compensation for it (other than from Seeking Alpha). I have no business relationship with any company whose stock is mentioned in this article.
Seeking Alpha's Disclosure: Past performance is no guarantee of future results. No recommendation or advice is being given as to whether any investment is suitable for a particular investor. Any views or opinions expressed above may not reflect those of Seeking Alpha as a whole. Seeking Alpha is not a licensed securities dealer, broker or US investment adviser or investment bank. Our analysts are third party authors that include both professional investors and individual investors who may not be licensed or certified by any institute or regulatory body.