Introduction
Polyus (OTCPK:OPYGY) is one of the world's largest gold producers with an output of almost 3 million ounces of gold per year. As this is a Russian company with a primary listing in Moscow, a secondary listing in London while its US listing is just tertiary and less relevant than the two aforementioned main markets, the company tends to fly under the radar despite its output and market cap (of in excess of $25B).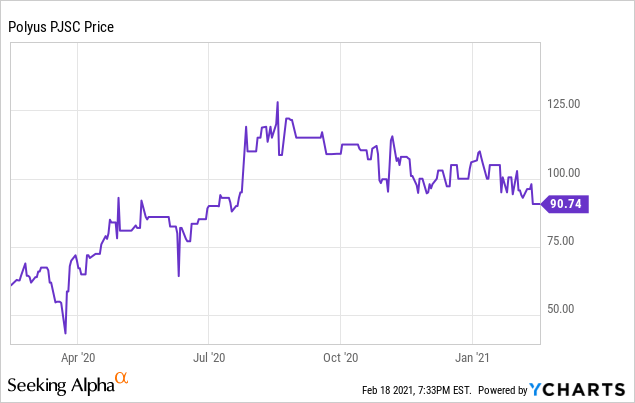 The shares in the US are trading with OPYGY as the ticker symbol and each GDR trading at around $90 represents ½ of an underlying share. Polyus is trading in Moscow with PLZL as its ticker symbol and is currently trading at about 13,660 Rubles which is approximately $185 at the current exchange rate. 1 GDR thus currently has a fair value of approximately $92.50. As the US listing is quite illiquid, the London listing of Polyus may be more helpful as the GDRs tend to have a higher volume there, with in excess of 100,000 GDRs traded on Feb. 18.
The Q4 production report came in a bit lower than expected but the gold price will make up for it
While the company hasn't published its full-year financial results yet, it did already publish a 14-page trading update which contained the production results as well as the detailed breakdown per project. The total amount of refined gold produced in the fourth quarter was approximately 688,000 ounces which is down 2% compared to Q3 due to the simple fact the production of alluvial gold obviously nosedives in the winter months. In Q1 2020 there was virtually no alluvial gold production and that likely won't be different this year.

Source: trading update FY 2020
However, despite the lower production results, the revenue will likely exceed the Q3 results as Polyus sold some of its inventory during the fourth quarter. Whereas the gold production was just under 710,000 ounces of gold, it sold in excess of 820,000 ounces of gold and considering the average gold price in the fourth quarter was approximately $1872/oz, a small decrease of approximately 2% compared to the Q3 sales price.
But as about 100,000 additional ounces will be sold, the slightly lower gold price will only have a minimal impact and Polyus may report a record revenue and free cash flow in the fourth quarter considering the AISC per ounce sold has been trending at around US$600/oz in the first nine months of the year and should come in lower in Q4 considering more ounces will be sold.

Source: Q4 update
As mentioned, we have to wait a few more weeks for Polyus to report its full-year financial results, but the company already mentioned its net debt increased to $2.46B, an increase of just over $150M. This may sound surprising, but it really isn't. During the quarter, Polyus paid a $414M dividend and spent $268M on stock buybacks and excluding these two elements, the incoming free cash flow was a very respectable $500M+. Of course, we have to wait to see the detailed results as there may be a contribution from working capital changes which may skew the results by a little bit.
Looking back at the Q3 performance indicates exceptionally strong cash flows
Although I expect the Q4 results to be better than the Q3 results, I think it makes sense to take a minute to actually look at the financial results of Polyus in Q3.
As you can see on the image below, the company reported an operating cash flow of $1.05B in Q3, but we should still deduct the $122M in income taxes (I prefer to work with the taxes due ($122M) based on the quarterly performance rather than the taxes paid ($107M). We also need to deduct the $76M in interest expenses and $4M in lease expenses and thus end up with an adjusted operating cash flow (before changes in the working capital position) of approximately $840M.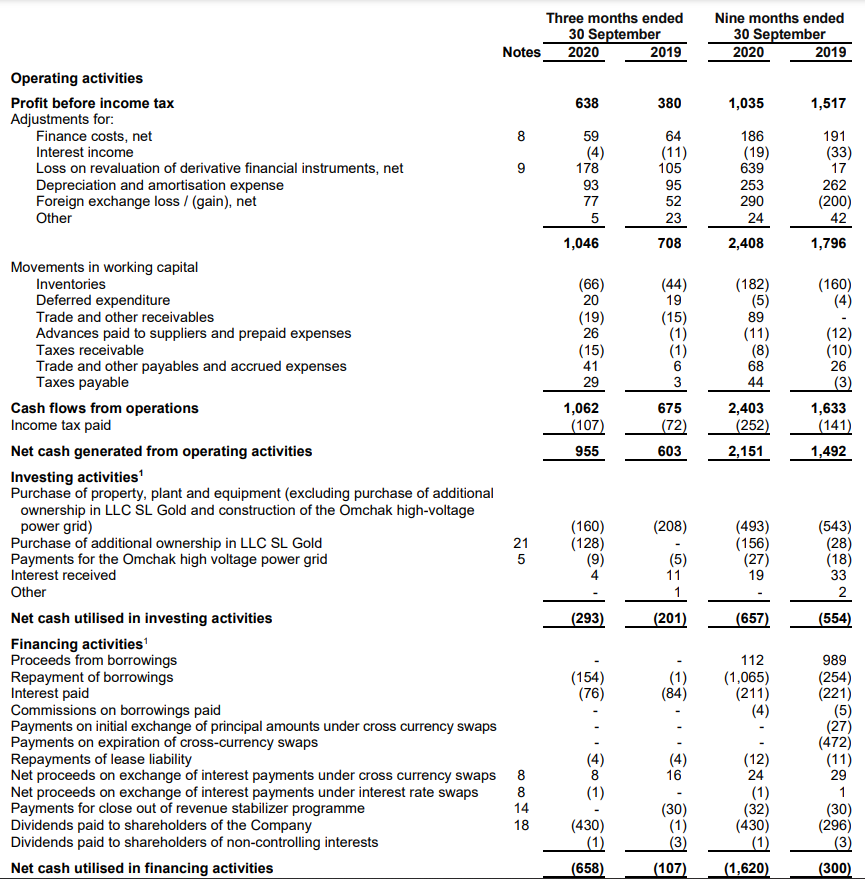 Source: Q3 financial report
And that's an excellent achievement as the total capex in the quarter was just $160M. This means Polyus generated a free cash flow result of approximately $680M in the third quarter.
A good chunk of that was spent on a $430M dividend during the quarter, while the company also spent an additional $128M on acquiring an additional stake in SL Gold which is the owner of the Sukhoi Log claims. The Sukhoi Log project is another megaproject of Polyus which is currently entering the feasibility stage after the pre-feasibility study showed impressive economics.
For an initial capex of $3.3B (which could be funded from the company's free cash flow), the 67 million ounce gold deposit (!) would be producing 2.3 million ounces of gold per year at a cash cost of just $390/oz (and an AISC of just around $500-550/oz) and this would catapult Polyus into the league of a handful 5 million ounce producers.
Investment thesis
Polyus Gold will likely generate close to $2B in free cash flow in 2021 using $1,800 gold and we can continue to expect the company to pay dividends while I also wouldn't be surprised to see a new tender offer to buy back stock. In November, Polyus announced a stock buyback offer at a determined price of $210 per share (so $105/GDR) and approximately 1.42 million shares (the equivalent of 2.85 million GDRs) were repurchased, which reduced the share count by approximately 1%.
Polyus is trading at attractive levels, but considering the company is a pure-play on Russia it clearly isn't suitable for every investor profile. But given the low AISC per ounce produced and the strong balance sheet (the net debt of $2.6B sounds high but will likely represent less than 0.75X the EBITDA in 2020), it could be a more exotic diversification for a precious metals portfolio. The Sukhoi Log PFS is impressive and at $1500 gold, the payback period would likely be just two years based on a full production scenario and less than 3.5-4 years including the commissioning phase.