President Biden wants to approve a massive new stimulus package totaling $1.9 trillion including checks of $1,400 for most tax paying Americans. In this article I will detail why this is a really bad idea. The prior stimulus packages have created numerous bubbles in the stock market and elsewhere. These are detailed below. What is more, the stimulus is not needed. The economy is actually doing quite well as shown below.
The stock market (S&P 500) is up 21% since the start of last year. Consumer savings are at record levels. There are few consumer and commercial bankruptcies versus most other recessions. Banks have few problem loans for this point in the economic cycle GDP growth was 4.0% last quarter and is expected to be strong in 2021
Why More Stimulus isn't Needed
With a strong economy, the last thing we need is more stimulus; it's like pouring gasoline on the fire. How can too much growth be a bad thing? Well six words; bubbles, higher interest rates and inflation. Interest rates are already moving up rapidly. The ten year treasury rate declined from 1.52% on January 1, 2020 to a low of 0.54% in July 2020. It has since steadily climbed to 1.30%. A climb much higher will unwind the TINA trade. There was no alternative to stocks with bond rates so low. Push the ten year treasury past 2% and a lot of money will flow out of stocks and into bonds. That could significantly hurt the stock market. Also, those who hold longer term bonds will face large portfolio balance losses. So, it could hurt both the stock and bond markets.
Meanwhile inflation is picking up. Many commodities in particular, such as lumber, copper, corn and even crude oil are surging. Housing prices and costs are accelerating. There is talk of a $15 minimum wage. The three charts below show some of the pickup in inflation.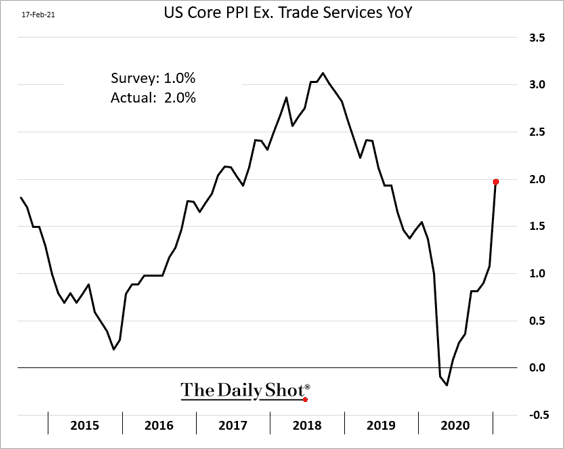 Source: DailyShot.com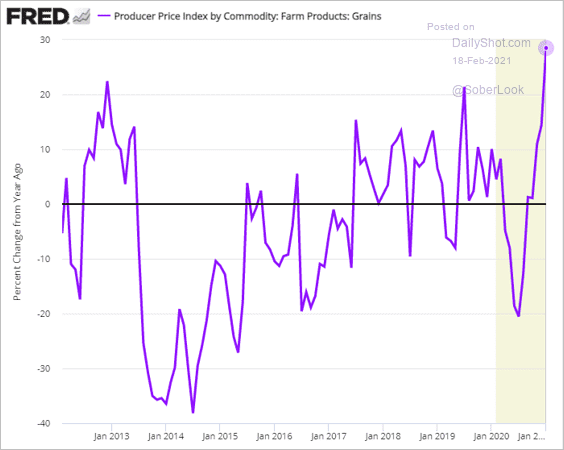 Source: DailyShot.com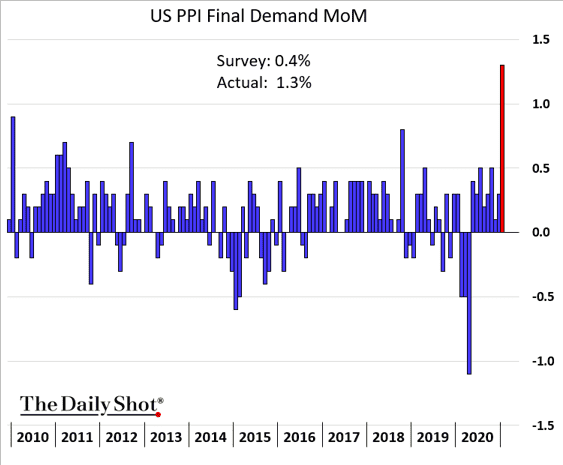 Source: DailyShot.com
The third chart, just above, shows that the Producer Price Index which measures producer inflation is starting to accelerate.
Stimulus Pulls Forward Demand
Another issue with stimulus is it pulls demand forward. That leads to spikes followed by large drops. This happened repeatedly in the 2007-2009 recession. Federal government fiscal stimulus programs failed miserably during the last recession. The first stimulus was the stimulus checks in the summer of 2008. The economy picked up, then fell off a cliff within months after these refunds stopped. The next large stimulus was housing tax credits. These drove up home sales a bit and slowed the decline of home prices. Once the tax credits ended, home sales resumed their decline at an even faster rate. The government also tried cash for clunkers to stimulate car sales. Automobile purchases immediately returned to their former depressed rate once this stimulus ended. The federal government also tried to stimulate the economy by transferring hundreds of billions to the states. This led to states' dependence on federal dollars, at a time when state revenues were declining. The ultimate result was delays by the states in cutting expenditures or raising new revenues. It also increased our federal debt by over $1 trillion.
This time around the stimulus was even larger despite the economic damage being much less. This has resulted in more success in the short term, but more danger longer term. The largest stimulus to individuals was stimulus checks. As the chart below shows, retail sales boomed immediately after the checks went out in April and May 2020, and eventually went negative because demand had been pulled forward. The red line is January 2021 after the second but smaller stimulus checks went out.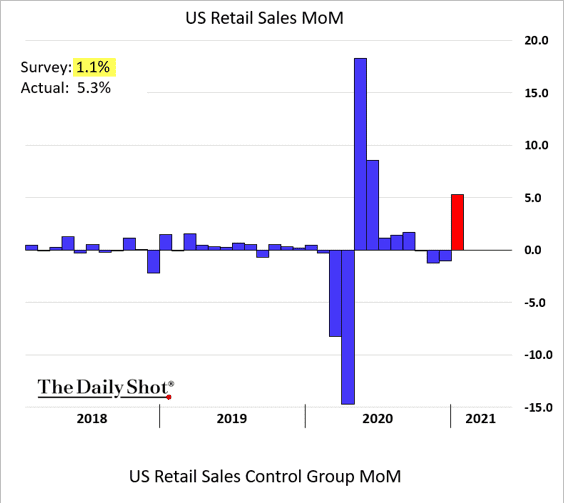 Sure, the economy faces issues, but they are low to moderate versus other recessions. The biggest issue is an unemployment rate of 6.3%. But even this is lower than we faced coming out of most prior recessions. Certain industries such travel and leisure that are hurting will recover on their own without stimulus as the pandemic recedes.
Adding a massive stimulus now is like trying to kill a fly with a sledgehammer. In fact, it is totally unnecessary as we just had a large stimulus package. It is dangerous as it is likely to further inflate the asset bubbles described later in this article, accelerate inflation and increase interest rates. It also needlessly increases our deficit and national debt, both of which are already way to high.
There are ways to do this more effectively with much less cost and after affects. Provide a safety net, maintain orderly financial markets and let pent up demand do the rest, like it has done every other recession except one.
Where Stimulus Checks Went
The first chart below clearly shows that much of the larger first stimulus checks went into savings. The second chart shows that those savings were plowed into Robinhood and other discount brokers.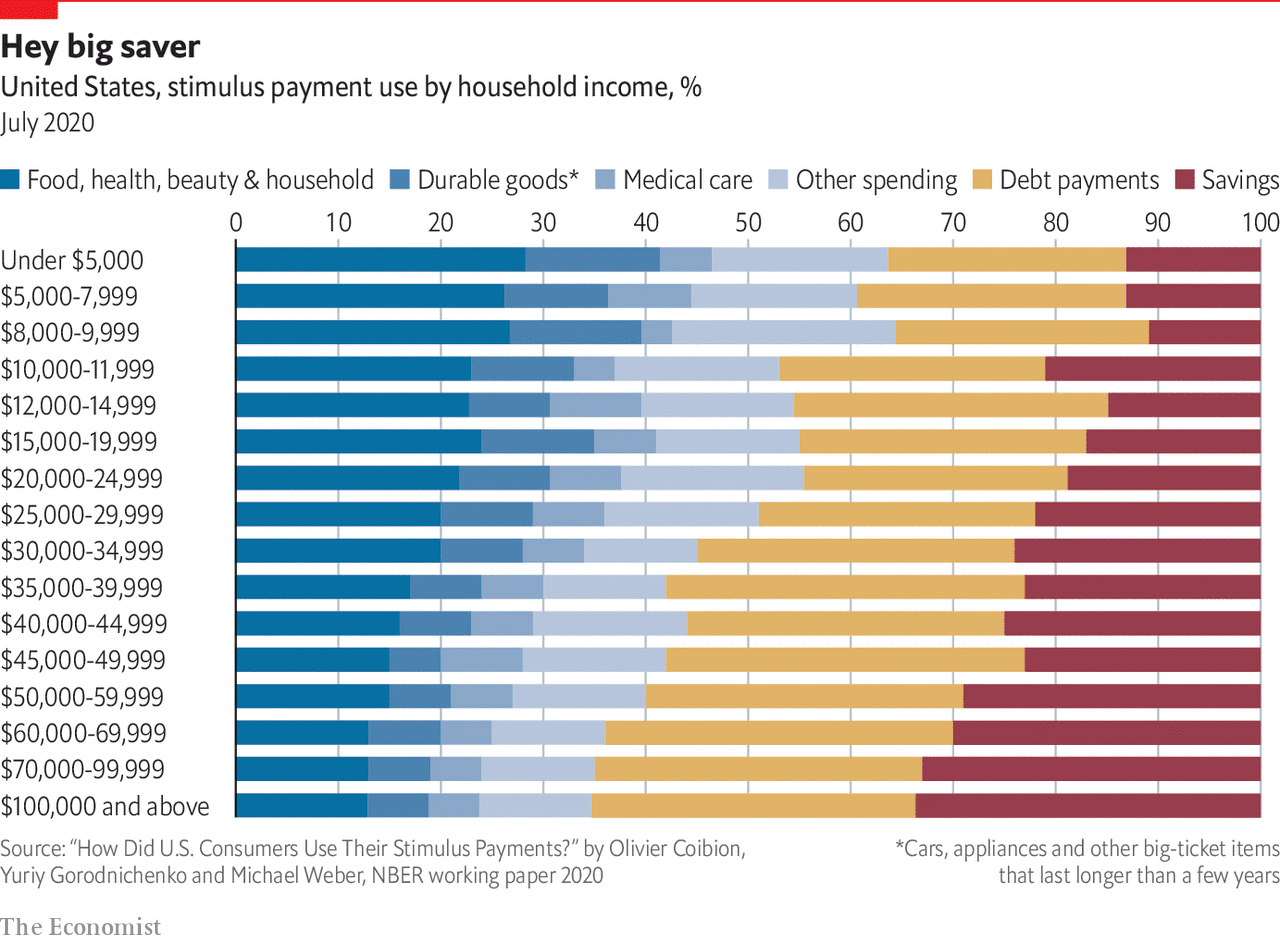 Source: The Economist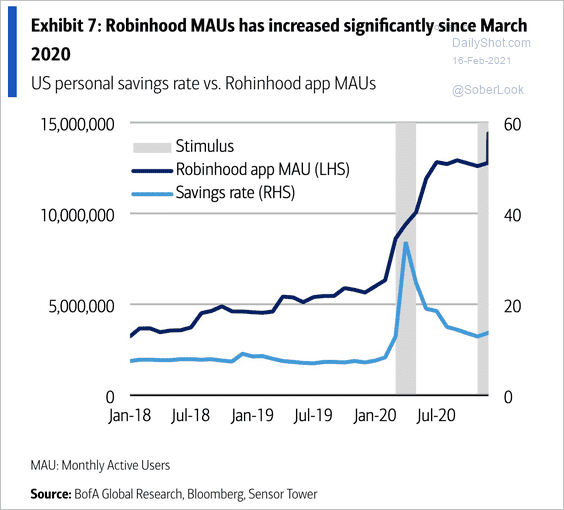 The massive flows into Robinhood were mostly done by newer and younger investors, many with little experience. The results were predictable. A lot of money chasing the riskiest stocks, often magnified with the use of margin and options.
The next chart is particularly disturbing. More than before people plan to put money into savings if they get a third check. That means more money going to Robinhood and other brokers. That will add fuel to the fires.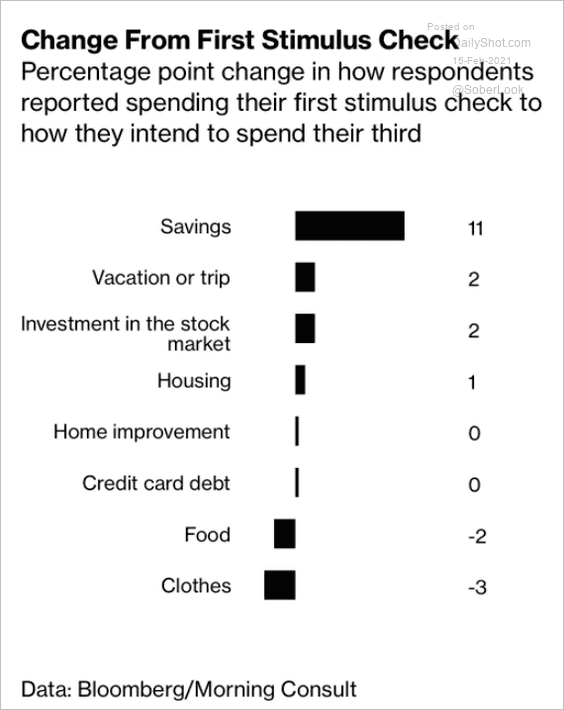 Bubbles Bubbles Everywhere
It seems every day there is another bubble or rocket ship happening over the past nine months. Recently it was GameStop (GME) and several other heavily shorted and struggling companies. Newer investors have no fear of risk, having not been burned before. They are chasing anything that has momentum or appears to be cutting edge. I will start with listing of many of the higher risk bubbles we have seen recently. Not all of these bubbles will pop, some may be grown into. But history shows most will end poorly and some already have. Further down is the confluence of factors that came together to create this mania will be discussed.
1. Large Cap Growth Stocks - It really started last Spring as the market started to recover from the shock of Covid-19. Large Cap growth stocks, which had been outperforming for at least 5 years, accelerated their gains. Most were cutting edge, large and with strong balance sheets. These companies also mostly benefitted from the pandemic, primarily being online, tech or software related. By the time I wrote an article about them last August they had an incredible average PE ratio of 96 and an average price to revenues of 18. Some of the biggest movers include Tesla (TSLA), Etsy (ETSY), Shopify (SHOP), Twilio (TWLO), Square (SQ), Nvidia (NVDA), and Carvana (CVNA). Non-profitable tech stocks in particular have been on a rampage as shown in the chart below.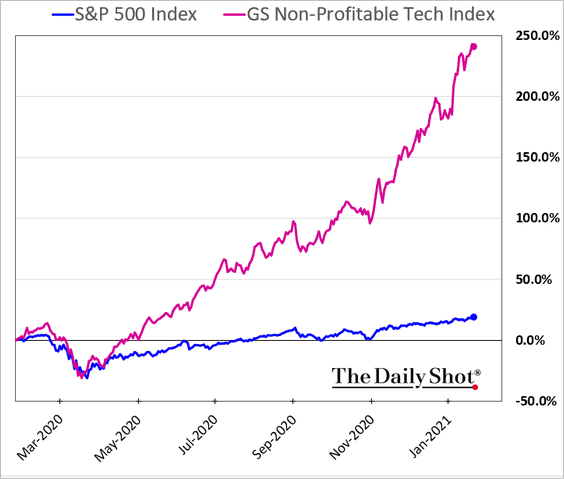 2. SPACs - Next on board was the Special Purpose Acquisition Companies (SPACs). SPACs had been sneered at in the past due to poor performance. They now represent the majority of IPOs coming to market. With almost everyone being successfully launched, promotors doubled down and added seconds and thirds. Even fading companies such as Emmis (OTC:EMMS) used the opportunity to get free investments by sponsoring new ones.
3. Clean Energy - Once it became likely Joe Biden would be elected, anything clean energy related took off. They surged again on his election and again on his inauguration. A prime example is Sunworks (SUNW), a company on its last legs suddenly surged 1000%, then surged another 500%. Clean energy ETFs like Invesco WilderHill Clean Energy Portfolio ETF (PBW) and First Trust NASDAQ Clean Edge Green Energy Index ETF (QCLN) are up over 200% in the past year. That is just an average, many are up way more.
4. Cryptocurrencies - About the same time, cryptocurrencies which had been slowly building steam popped. In about three months, Bitcoin was up 500% through today. Many smaller cryptos were up even more. The CMC 200 Crypto Index was up 215% during that time period. This bubble will probably continue until there is a regulatory crackdown.
5. Nanocaps - Starting with the new year, nanocap stocks started skyrocketing 50-100% in a single day with no news. Many appeared to happen after promotions on the WallStreetBets page on Reddit, an older platform put to new use. Some of these stocks include Innovative Food Holdings (OTCQB:IVFH), Express (EXPR), Koss Corp (KOSS), Blue Sphere (OTC:BLSP) and AAGH. Most start in the premarket when volume is normally thin so can be manipulated up quickly. These are now happening daily. Some like BLSP have no operating business or net worth.
6. Short Attacks - Another very recent phenomenon is the concentrated short attack, also primarily coming from the WallStreetBets. In fact, looking at a list of the highest short interest stocks is also a list of stocks that have jumped hard. These include GameStop, Bed Bath & Beyond (BBBY), AMC (AMC), fuboTV (FUBO), and SunPower (SPWR). GameStop is the poster boy for the group. In an interesting phenomenon, the buying of GameStop and others has become more than an investment. It is now a crusade against short sellers and hedge funds on Reddit and other sites. The total market short interest has been shrinking due to all of the above and that move appears to be accelerating. This bubble appears to have burst. The damage cause has led to congressional investigation.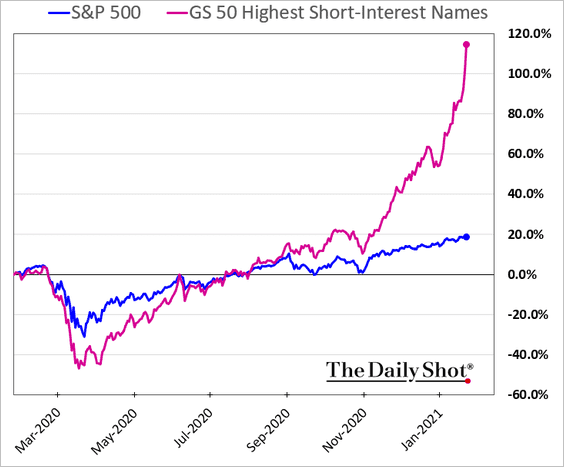 7. Options - As shown in the two charts below, call option activity has surpassed those before the 2007-2009 recession. Most of the options are calls, not puts. This shows excessive optimism and speculation.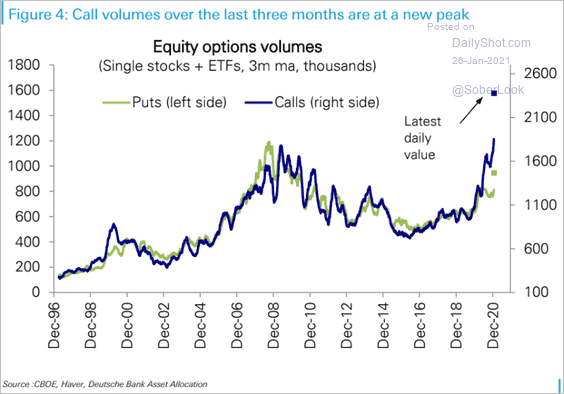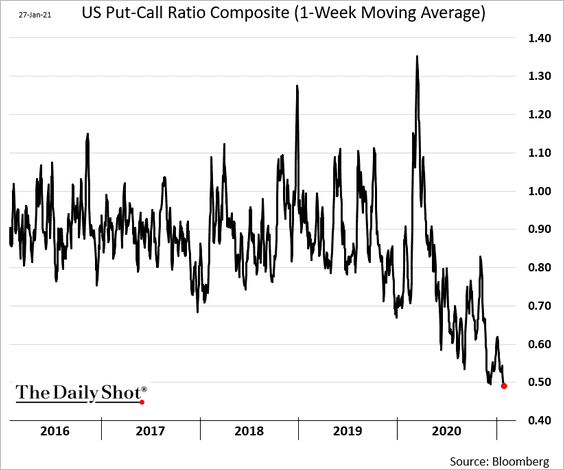 8. Margin - Investors' use of margin has also taken off, mostly in the past 6 months.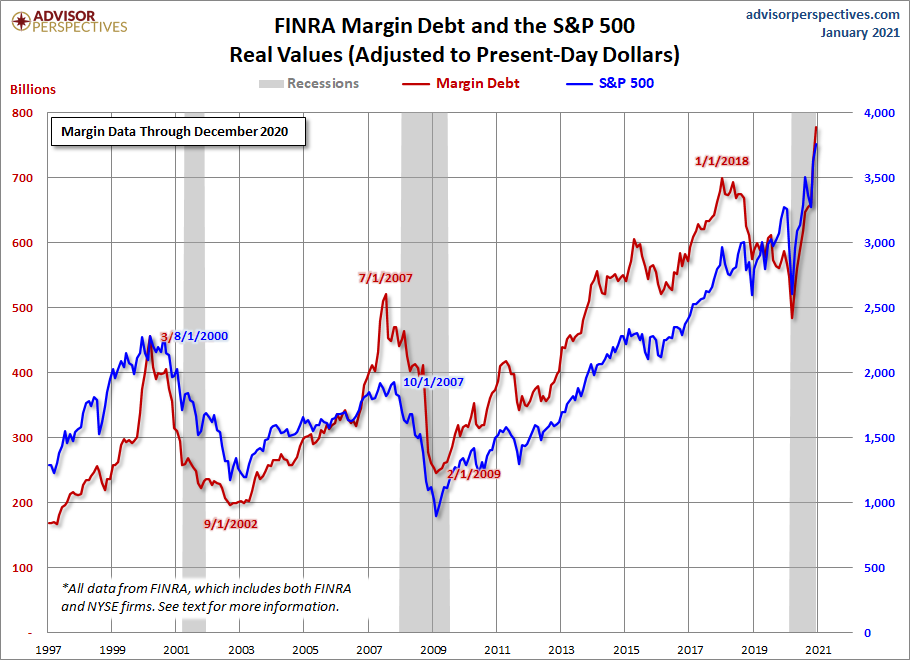 I'm sure I'm missing a lot. Commodities are skyrocketing but mostly remain within historical levels. Cathy Wood of Ark Investments just called bonds a bubble. That one appears to be unwinding.
Another interesting phenomenon is a lack of stocks hitting new lows. There are almost none. Most lows are either recent issuances or foreign. But even most of those are not hitting lows. I have used a January Effect strategy successfully in 2018-2019 and 2019-2020 quite successfully. That strategy involves picking stocks that were at lows in mid-December and selling them in mid-January. I had to abandon it this year as there were none to pick from.
Why It's Happening - The Perfect Storm
There has been a confluence of factors that has come together at once in addition to the stimulus. It starts with the stimulus checks and the Fed. A list of factors is below.
1. Stimulus checks - As shown in the first two charts of this article, money that flowed into Robinhood mostly happened immediately after stimulus checks were sent out. That money was then used on the riskier investment as detailed in the next section.
2. The Fed - The Fed is forcing risk taking. It has lowered longer term rates so low that bonds are essentially uninvestible. Bond rates are currently 1.3% for a 10 year rated AAA and 2.3% for a 10 year rated BBB. Not only do you get next to nothing, you risk large declines in price if yields go up. I recently wrote an article about this (given an Editors Pick) which concluded gold is now a better choice than bonds. But for the younger investors driving the market, gold and bonds are old school.
3. Robinhood - The emergence of Robinhood has made it easy to speculate. Robinhood is the Millennials and Generation Z broker of choice. Not only did it drive down the cost of trading to zero, it has become a cultural phenomenon. Congress is holding hearings this week which include whether Robinhood is encouraging speculation.
4. Free trading - All of the other discount brokers followed Robinhood to $0 for stock trades. The difference between $5 per trade and $0 may not be a lot for an established investor with a retirement sized portfolio, but is a lot for small traders. It brought in many new investors (a term I use loosely). These are exactly the people driving manias listed above.
5. Idle workers - The pandemic has resulted in millions of people sitting at home. This is both from loss of job and remote working. So many people sitting at home with stimulus checks and above normal unemployment compensation has led to much higher trading volumes.
6. Redeployment - This and the next item results in the manias feeding on themselves. As institutional and private investors take profits they redeploy into similar stocks. Few are leaving the money in cash. Larger profits mean more cash to buy more mania stocks and more sense of invincibility. Many institutions are limited to sectors they can invest in so this leads to whole sectors taking off.
7. FOMO - Fear of missing out is at full force during a mania. Too many people know friends and family members making serious money. Of course those losing money rarely talk about it.
8. Animal spirits - Watching GameStop go parabolic releases the endorphins if you own it, similar to a big win in the casino.
9. Short covering - Short interest has fallen considerably. The result is less short bets to hold back the market. Short sellers have become a target. As they cover, it will drive stocks higher. Less short selling means less market ability to reduce rampant speculation.
10. Earnings estimates - Earnings estimates are jumping as the economy recovers.
Takeaway
We do not need more stimulus. The prior stimulus in conjunction with numerous other factors has led to at least eight bubbles. When these bubble burst they cause real damage. This is shown by the congressional hearings this week on the fallout from the Heavily Shorted Stock (GameStop) bubble.
What's more, the economy doesn't even need stimulus. The stock market (S&P 500) is up 21% since the start of last year. Consumer savings are in record levels. There are few consumer and commercial bankruptcies versus most other recessions. Banks have few problem loans versus other periods coming out of a recession. GDP growth was 4.0% last quarter and is expected to be at least that strong in 2021 by economists.
Further, we just had a major stimulus package. The proper approach is to see how it works and what problems it causes first. It is already causing new bubbles.
Finally, the cause of the economic weakness is a pandemic that we have a vaccine for. That should lead to the pandemic ending on its own as a major force by mid-year. The one variable there is mutations making the vaccine impotent. But that is unknown yet.
Any stimulus now results in diminished economic returns, dangerous speculation which causes asset bubbles, and quite possibly inflation and higher interest rates. Both monetary and fiscal stimulus are causing the bubbles described in this article. It's time for the federal government and the Fed to back off and let things settle first.