If we look at a long-term chart of Xinyuan Real Estate (NYSE:XIN), we can see that shares have just given a buy signal through the MACD indicator. This indicator is a solid read on both momentum and trend and is especially significant on the long-term chart. The histogram which has just popped up into the positive territory gives further confirmation of the bullish technicals. In fact, given how far the MACD crossover has taken place from the "zero" line, we would argue that this stock has not presented a better buy signal since 2011.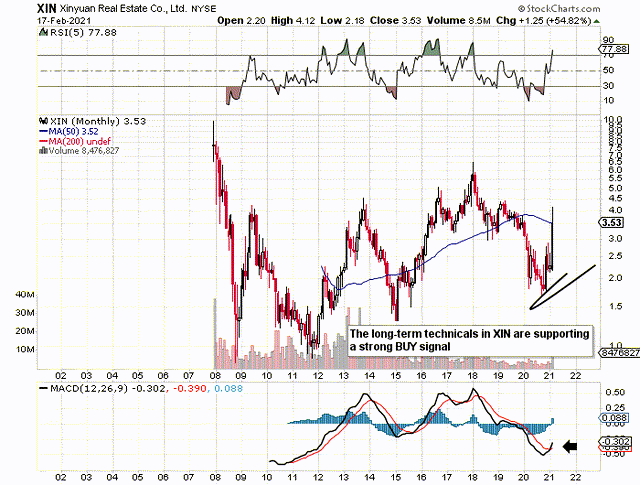 Although shares have been in bullish mode since their September bottom last year, shares finally broke out on strong volume of their multi-month trading range this month. What was once strong overhead resistance ($2.60 level) should now become very strong support going forward. Furthermore, this recent strong move to the upside should now result in a noted upturn in the 200-day moving average. We expect the more long-term averages to follow on soon after.
The technicals are only one aspect of analysing a company. To ensure that we are reading the charts right, we like to delve into recent profitability trends, the valuation as well as the balance sheet. Followers of our work will be aware of the fact that we like to reduce our cost-basis (through options) as much as possible in low-priced companies. It is easier to reduce one's cost-basis when implied volatility is high (which we have now). Rising trends in profitability usually result in a rising share price. Furthermore, a low valuation and a strong balance sheet consequently reduce risk to the downside. We will first delve into Xinyuan's profitability trends.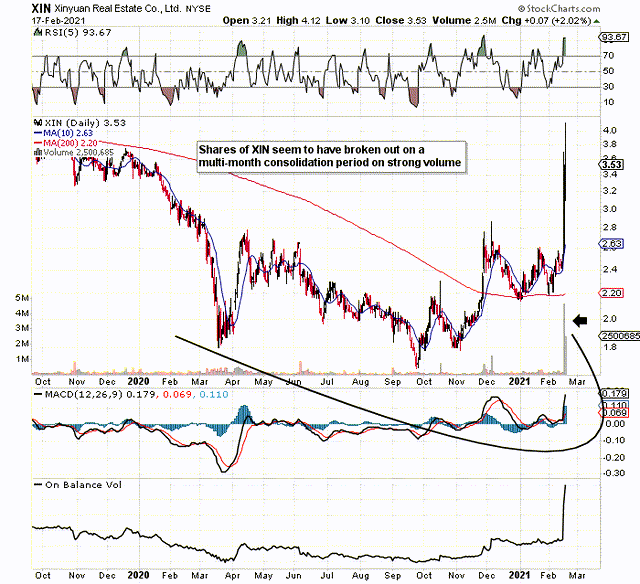 First off, as we can see in the latest third quarter on the income statement, Xinyuan did $655 million in top-line sales which returned $29.5 million in net profit. These numbers were strong from a sequential standpoint as well as a rolling quarter basis. The company reported a $30 million loss in Q2 and was only fractionally profitable in Q3 ($5.4 million) of 2019. Suffice it to say, the trailing bottom-line number remains in negative territory, but we believe investors should be looking more at how the financials are trending at present. The first couple of quarters in 2020 saw a noted decline in top-line sales due to a clear lack of demand. With the pandemic though for the most part now under control in China, demand looks to have recovered significantly. Sales for the fourth quarter are expected to top $924 million which would be an impressive 41% sequential increase. Momentum is expected to continue into 2021 which is why we expect to see much higher bottom-line numbers going forward.
At the end of the third quarter, although long-term debt increased by approximately $346 million, this increase for the most part was offset by a corresponding decrease in current liabilities, the majority of which was short-term debt. The reduction in short-term debt buys the company time (as it protects liquidity) to really grow its sales in earnest. Furthermore, the $1.2+ billion of cash on the balance sheet means the company should be able to pivot if it gets thrown an unexpected curved ball from something like another spike in coronavirus cases. We acknowledge that debt levels remain very high but management has done a good job in restructuring this credit which essentially buys the company time. Short-term debt now comes in at $1.3 billion or 38% of the total debt load which is a significant reduction.
Suffice it to say, the company's cash position, inventory (projects), plant & equipment & investments make up the lion's share of the company's assets. These are all hard assets and are not prone to being written down quickly.
From a valuation standpoint, shares remain trading well under book value and the company's cash/flow multiple as well as its sales multiple remain at ultra-low levels. We would expect some type of mean-reversion event here concerning the valuation in 2021 if trends pan out as expected. We state this because despite the very difficult start to 2020, management was still able to pay down debt, pay dividends as well as buy back stock over the past four quarters. Suffice it to say, these trends are testament to the firm's ability to generate strong cash flow which again reduces downside risk.
To sum up, we like how the financial trends of Xinyuan Real Estate have been trending of late and we do not believe the market has properly valued this stock. With profitability expected to be to the fore in 2021, growing earnings should drive the share price forward before long. We look forward to continued coverage.